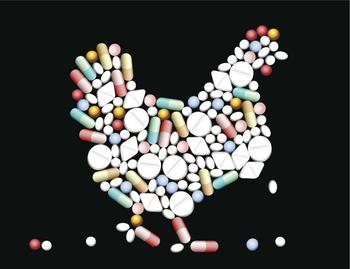 Federal health authorities and major meat suppliers have been slow to respond to widespread objections about antibiotic use in animals raised for meat, so a coalition of food safety and animal welfare groups are pressuring national restaurant chains to phase out antibiotics voluntarily.
Experts warn that antibiotic-resistant bacteria is one of the gravest public health threats in modern medicine. Factory farming, in which animals are often fed antibiotics so that they grow faster, has been identified as one of the main sources of antibiotic-resistant bacteria.
The combined efforts of the Natural Resources Defense Council, the Center for Food Safety, US PIRG, and several animal welfare groups have been met with relative enthusiasm, according to a joint report the groups recently published that graded restaurants on their antibiotics policies. 
Subway's chicken image improves
The Canadian Broadcasting Corporation paid a DNA researcher to test the components of fast food chicken and reported in February that the chicken sold in Subway sandwiches is 57 percent soy and only 42.8 percent chicken. Subway did not take the news well.
Describing the researcher's conclusion as "absolutely false," Subway's spokesman Kevin Kane asserted that "this report is wrong and it must be corrected." Those demands were ignored, and Subway is now trying to sue the public broadcaster for $210 million dollars.
But Subway's chicken is now getting some better publicity. The sandwich chain recently earned a "B+" score from the food safety coalition for its 2015 decision to switch to antibiotic-free chicken. Whatever the soy to chicken ratio may be (the food groups' report does not address the soy allegations) the chicken itself is completely sourced from poultry raised without antibiotics.
"Our U.S. restaurants only serve chicken raised without antibiotics and we continue to work towards the elimination of antibiotic use in our Turkey, Pork, and Beef supply,"  John C. Scott, Subway's Vice President for Corporate Social Responsibility, tells ConsumerAffairs.
A report card with many failing grades
Panera bread and Chipotle both received the top score, an A grade, because they are the only two chains that serve pork, beef, and poultry raised without antibiotics. Subway promises to implement the same policy by 2025, but for now it only guarantees its chicken as antibiotic-free.
Overall, the report found that most of the progress made by individual companies is limited to chicken. KFC, Chick-fil-A, Taco Bell, Wendy's, and McDonald's all received satisfactory scores thanks to their promises to phase out poultry raised with antibiotics, but the chains have not made any firm commitments yet in regards to pork and beef suppliers.
The remainder of the 25 restaurants fared significantly worse. Eleven restaurants earned 'F' grades "for failing to adopt and disclose effective antibiotics stewardship policies," the food safety groups explain. The failing chains are Sonic, Cracker Barrel, Olive Garden, Applebee's, Domino's Pizza, Chili's, Little Caesars, Buffalo Wild Wings, Dairy Queen, Arby's, and IHOP. 
Some companies that pledge to cut back on antibiotics didn't provide details
Many of the chains that did poorly have also pledged support for cutting back on meat raised with antibiotics, but the food safety groups found their stated policies to be vague or not ambitious enough. Starbucks, which earned a D+, tells ConsumerAffairs they are planning to only serve poultry raised "without the routine use of medically important antibiotics" by 2020. 
Domino's, one of the failing restaurants, claims that their chicken will be "free of antibiotics that are important for human health" by 2018 and that they have simply opted not to promote their important work. "You don't hear about that, because we do not choose to use this fact as a marketing message." writes Domino's spokesperson Jenny Fouracre-Petko.
In fact, the food safety groups say that Domino's did not respond to a survey that they sent seeking clarification and transparency on how this policy will be enforced. 
 Cracker Barrel, which claims to sell "only beef, pork, and poultry raised without human-grade, medically important antibiotics," also neglected to return the food safety groups' survey asking for more details. "Truthfully, I don't know where it went within the organization," said a spokeswoman at the company's media hotline. 
In the absence of a response, the food safety groups looked for evidence of a third party auditor or other measures to ensure transparency in Cracker Barrel's stated policy of avoiding antibiotics that are "medically important," and found none. 
Arby's, which also did not respond to the survey, made a point of noting their compliance with FDA guidelines. And DineEquity, the company that owns Applebee's and IHOP, says in a statement that they are "exploring positions on a variety of issues important to us."