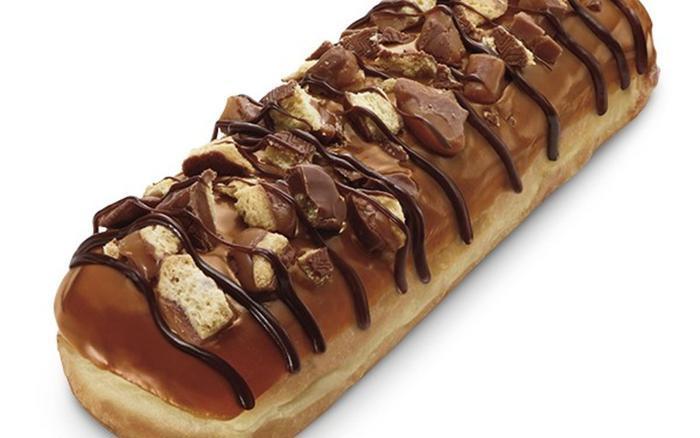 Somewhere, Homer Simpson is smiling.
Convenience store chain 7-Eleven is making an addition to its donut case. For those who just can't get a sugar rush from glazed donuts with chocolate sprinkles, the company is combining a donut with a candy bar.
The Caramel Bar Made with TWIX Donut is just what it sounds like. 7-Eleven says it is a yeast-raised rectangle bar topped with caramel icing, drizzled with chocolate and topped with chopped up TWIX candy bar pieces.
"People want to have fun with their food, especially treats," said Terrell Smith, 7-Eleven fresh bakery category manager. "Premium and specialty donuts are becoming an all-day impulse item that our customers are purchasing when they crave something sweet. With our Caramel Bar Made with TWIX donuts, they get two treats in one, a delicious donut topped with one of our best-selling candy bars."
Calories? Who's counting?
How many calories consumers will get, 7-Eleven doesn't say. According to Livestrong.com, a single glazed donut, minus the candy bar on top, contains about 255 calories if it measures four inches in diameter.
"The calories in donuts are primarily empty calories, as donuts are low in nutrients," the Livestrong editors write. "Donuts have small amounts of calcium, magnesium and potassium along with trace amounts of iron and many vitamins. They do not have significant amounts of any nutrient."
But they do have quite a bit of fat. One medium donut contains over 12 grams fat, some of which may be saturated.
This isn't the first over-the-top donut 7-Eleven has introduced. Previous offerings have included one with pink sprinkles, similar to those features on TV's "The Simpsons." It debuted Slurpee donuts to mark the 50th anniversary of its iconic frozen drink.
For its part, 7-Eleven says it's simply following a hot bakery trend, introducing fun specialty items with unexpected flavors. And the donuts are only meant as an occasional treat, not a regular snack. Besides, the product is only available for a limited time. While is is, though, it will sell for $1.69.