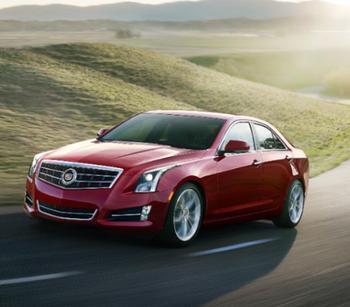 Luxury cars, by their very nature, are expensive and many can easily set you back $50,000 or more. But there are cars in this class that can be had for less. True, they won't be in everyone's price range but for those who can afford it, Kelly Bluebook has identified 10 luxury vehicles that can be purchased for less than $40,000.
When you consider that many mid-level cars loaded with options can run $30,000 or more, that price threshold might not seem so intimidating. The Kelly list includes both sedans and coupes, but also features three SUVs, all of which have a starting price under $40,000.
Cadillac ATS
"In these days of escalating vehicle prices shoppers might be pleasantly surprised to find a wide variety of affordable luxury vehicles on our 10 Best Luxury Cars Under $40,000 list," said Jack R. Nerad, executive editorial director for Kelley Blue Book's KBB.com.  "The American market is now filled with a wide variety of luxury offerings, and many luxury manufacturers are venturing downscale while maintain their brand values. The 2014 Cadillac ATS took the No. 1 spot with a compelling mix of bold style, surprising performance and a starting price in the low $30,000 range."
BMW 3 Series
Coming in at number two on the list is the 2014 BMW 3 Series, which we were able to find in the Richmond, Va., area starting at $34,175. BMW has made the 3 series for three decades, competing head to head with the likes of the Mercedes-Benz C Class and Audi A4.
Audi A5
Speaking of Audi, the 2014 A5 is third on the list, brushing up against the $40,000 price barrier. We found one for $39,987. KBB calls it a wonder to drive. Engines range from the surprisingly strong turbocharged 4-cylinder, increased to 220 horsepower, to the 3.0-liter supercharged V6 of the S5 with 333 horsepower, to the 4.2-liter V8 of the RS 5 with 450 horsepower. Needless to say, tricked out this one can easily go over $40,000.
Lexus IS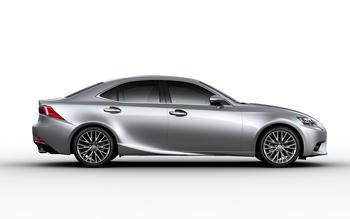 Number four on the list is the 2014 Lexus IS, starting at around $36,000. It wins praise for a bold design, with some automotive writers calling it a credible threat to European rivals from Mercedes, BMW and Audi. Engine choices are have been used in previous Lexus models, which means middle-of-the-road fuel economy. Still, a higher degree of refinement combined with an exemplary reliability record make the 2014 Lexus IS a solid choice for an entry-level luxury sedan, according to KBB.
Infiniti Q50
In the middle of the list, at number five, is the 2014 Infiniti Q50, starting at around $34,000. It comes with a choice of gasoline or gasoline/hybrid models and features and a lot of advanced electronics and updated luxury features.
Lexus ES
Lexus' second entry on the list comes in at number six – the Lexus ES, which starts at about $35,000. The ES wins high marks for "bulletproof reliability and resale" and a modest but capable V6. The hybrid version of the ES – the ES 300h – starts at around $38,000 but boasts 40 mpg.
Mercedes-Benz CLA Class
The 2014 Mercedes-Benz CLA Class earns the number seven spot, starting at just under $30,000. At that price Mercedes considers it an entry-level luxury vehicle, but one with plenty to style to appeal to younger drivers. Borrowing styling cues from the bigger and more upmarket CLS, the CLA-Class offers a more aggressive version of those looks into a smaller, tighter package.
Acura RDX
At number eight is the Acura RDX, an SUV starting at under $37,000. Its no-frills character, strong-yet-fuel-efficient V6, and expansive list of standard equipment make the 2014 Acura RDX a serious contender in the small luxury SUV segment, according to KBB editors.
Buick Enclave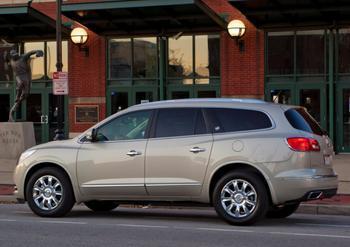 GM makes a second appearance on the top 10 list at number nine, with the Buick Enclave, starting at around $37,000. It's a luxury SUV that feels more like the sensible station wagons of the past, but with all the modern advances in style, technology, road manners, efficiency and safety required by the times.
Volvo S60
Rounding out the top 10 is the 2014 Volvo S60, with the T5 version starting at around $32,000. Depending upon trim level, there are three strong and efficient engines from which to choose, with the strongest delivering 325 horsepower and, for those who must deal with bad weather and slick roads, all-wheel drive is available.
Leasing these vehicles instead of buying them makes them even more accessible, considering low interest rates and high residual values for those with excellent credit ratings. For example, the Cadillac ATS carries a 36-month lease payment as low as $299 a month but requires a hefty $3,599 at signing. On the other hand, the Lexus IS 250 sedan is $349 a month but only requires $1,999 at signing.