Consumer Complaints and Reviews

I owned a 2008 BMW 335i. My car got caught in fire yesterday and it covered with flames. Luckily I got out the car quickly and nobody is hurt. It's too dramatic and I would never have expected this. I used to love its apparent and the car's handling, even though there are numerous problems I had to deal with (random misfires, water pump, fuel pump and crankshaft position sensor failures). Up to this point, I am hesitated to buy another BMW in future. I Googled and there is a list of news reported about BMWs get caught in fire.

I own BMW 2009 335i and had fuel injector went wrong. I took it to import car specialist and diagnosed/ready to be repaired when I read the article about the injector recall on 2010, previously produced BMW. I called toll free to confirm if that is true. A representative responded my call and told me it is not the recall, but they extended warranty and told me to take it to the dealership. I was about to spend $1700 at the import specialist, so I was so excited about it. I called repair shop right away and canceled the repair, and told them I just spoke BMW representatives and he said I have warranty. The repair guy congratulated me saving a lot and asked me to tow my car since the sounds are real unstable so I towed my car to dealership. They took my statement took my car.
The next day, the dealership called me and told me I don't have warranty and call the company again to confirm. So I called the same number, the representative who answered my phone was so rude (and she will contact me several more times to tell me the exactly the same story) and asked my VIN number, and the VIN number I gave her doesn't have the warranty. I tried to explain to her what had happened a day before, but she wouldn't listen. She kept saying that she doesn't have any record of me calling, even if I copied my phone call photos and Verizon statement. Several uncomfortable conversations/emails/proof of BMW dealer's statement of it saying I believed that the warranty was covered at the time of my vehicle was received at the dealership, they denied their responsibilities, and treated me like I am the liar.
Who would go through that trouble not believing having warranty, paying $700 more than the imported specialist and towing and double dipping diagnostic fees. My car is still in dealer's while I argued with them to admit their mistakes, but no apologies, but I became a liar of calling them, they couldn't find my number that morning calls... etc.
I still don't have car two weeks later (still in the dealership) and wrote a last email, I gave up. All I can do is let my friends and family know what they've done to me, how they treat their customers and encourage them not to be in a situations like me. It is not only pain to deal with people who doesn't believe me with all the evidence I presented, but also ignore their responsibilities of what they informed to their customers. I ended up will pay close to $2500 to change the problem injectors, but I ended up not suffering from them ever because I will never take my car to the dealership and never buy another BMW.
I really regret my friend's recommendation not to buy one years ago, all I would get is trouble... and yes. Anyone out there, know this. They will tell you, while looking at the image of your phone record, "You never called us, we don't have a record of your number". Not honest, soon or later the business will pay the price for it. Just like our lives.

I just want to say I love my BMW and have never had any problems with my car. It has run beautifully since the day I bought it used from a private party with 48,000 miles on it 2 years ago. I only have 1 major complaint and that is the underside of the front bumper being that it seems to be too low. When parking, those cement stoppers? The car will easily park where the bumper is rested above the concrete stopper which is normal parking. HOWEVER if you do this BEWARE, because when you back out? KA-KLUNK! Sounds like someone was thrown into your vehicle but no, there's a piece under the bumper that gets caught on the cement piece and when you back out it gets caught on your bumper and nearly pulls it off! This has happened too many times to count as you cannot see the cement bumper and should not have to and should be able to park normally.
The result is a separated bumper which will eventually get torn off. I've had to have mine reattached several times. The clips have been broken numerous times and it is now held on with a strong black wire and the bumper has literally been screwed on. Unless I nearly park 3/4s of the way into a spot or back in it will inevitably happen again. Other than that the front seat does not recline flat. At best it reclines to a 30 angle which is weird for a luxury car.
Otherwise I love my BMW. People don't understand these cars are very complex and technologically advanced. If taken care of properly... (using the proper grade fuel, proper fluids, etc.) Your car will run as good as the day it left the showroom. The red no " in between" with these cars, if something's not right it wont run like crap. It just wont run at all until it's dealt with.

I leased a 2 series as a third car - Just returned with 6k miles. Half way the car went dead - Ok, it happens. But it took 24h and 5 or 6 calls - Yes - For BMW roadside assistance to tow the car to the dealership (And then I had a few issues with the dealership, but minor so won't make this too long). I then proceeded to return it a couple weeks ago. They did an inspection a month before lease return (Just like my Range Rover went through, which showed a lot of charges, but then to my surprise US Bank did not charge any of them as I believe someone actually checked it and saw they were unwarranted - Kudos to them).
Anyways, BMW are now charging me the same exact 2k from the "Inspection" even though I changed one tire at the dealership as requested (I deemed that to be right) AND the key that was "Missing" wasn't and was returned - They said the inspection was final, and it is upon me to show all receipts. Plus they are charging me for minor wheel scratches and other things I had never heard of before from Mercedes or Range Rover or anyone else I've dealt with for that matter. BMW never, ever again.

My wife bought a used BMW X3 2014 with about 35M miles on it. After a couple oil changes and 42M miles the engine had a drivetrain fault and BMW said it was a computer issue and we needed to pay to update our program. A month later we got another drivetrain malfunction fault but this time the oil pump quit on the way to the dealership and the engine seized up. BMW insists this is not their fault and they have no liability.
How do I know I can trust these reviews about BMW?
820,717 reviews on ConsumerAffairs are verified.
We require contact information to ensure our reviewers are real.
We use intelligent software that helps us maintain the integrity of reviews.
Our moderators read all reviews to verify quality and helpfulness.
For more information about reviews on ConsumerAffairs.com please visit our FAQ.

I purchased a used 328i from BMW of Columbia in Columbia SC. The first year I took it back for so many reasons. It was unbelievable. Yet it was suppose to be certified pre-owned. I have fibromyalgia and it was very frustrating for me. I lost all confidence in the car. I have depression, anxiety, and the car when bought only had 24,000 miles. The problems I had was not call for with a BMW.

We purchased a 2010 BMW 535i station wagon from Bob Smith BMW in Calabasas 4 years ago. We even paid for extended warranty to 100k miles. The engine broke down on 89k miles. Contacted BMW North America AND Bob Smith to repair, no one takes responsibility to help us. After the car had to towed to Bob Smith for diagnosed (it was already diagnosed elsewhere to determined the engine went bad already) they told us it will cost over $1600 to diagnosed. Then they told us it will cost us over $20,000 to replace the engine. Yes, you read it correctly... $20,000 NOT $2,000.
Bad customer service when it comes to warranty. Only if we could beg the public not to purchase BMW, we would. If you're thinking of owning one, please think twice before you do it. BMW will give you the best service when everything is going well, but the minute something is seriously wrong with the car they will show their true color. So sad & extremely disappointed with the way BMW handled the whole situation. We've owned 4 BMW but we are going a different direction now. Unfortunately we still have another BMW 328i, can't wait to just get rid of it as well. Sighed.

I own a 1999 BMW 328i e46. At 0715hrs March/23/2017 I was driving to work when out of nowhere and for no reason the drivers side A-pillar and door airbags deployed striking my left arm leaving a bruise and pushing me towards the center console. I contacted BMW of North America and spoke to a representative and was asked to deliver the vehicle to the nearest dealership so they can perform an investigation. At 1525 hrs April/11/2017 I contacted the representative at BMW, she told me that the sensors sensed an impact even though there is no recent physical damage to the undercarriage of my car. She then proceeded to tell me my car's suspension is worn out and could've caused enough shock to set off my airbag.
Instead of taking responsibility for an obvious manufacturer issue she then tried to blame it on age then changed back to a sensor recorded an impact. Then offered me $1500 to "Help" with repairs to my car "in-house only". I need my car. It's how I get to work so I can take care of my family. I can't cover the existing amount of $3000 to cover the rest as quick as I need my car! BMW should pay for all the damages! Airbags should NEVER deploy without an accident! The car broke itself and tried to kill me in the process. Luckily I am 230 pounds and 6'1" tall. This could've killed anyone smaller!!! Very scary and disappointing!

Our BMW M235i coupe, was involved in an accident, another car hit it from the back, so they are responsible. The car has been sitting in the body shop for over 2 months as it is missing one piece that BMW USA does not have available. They are not giving us any estimation as of when this piece will be ready but minimum it could be another month! And in the meantime not compensation for the lease payments while we are waiting for that piece from BMW! It is unbelievable that BMW leases cars that they don't have the all the spare parts available and they expect customers to continue renting a car until it's ready! Over 3 months or more... Also their customer services is appalling! They don't bother to even be nice or understanding of the situation.

I recently waited 3:15 minutes in my car for the towing company that BMW contracted to get to me. I'm in the Chicago metro area. There are literally hundreds of towing companies and absolutely NO reason for this to happen. I hit a pothole and blew out my right front tire. I called BMW RA and received the confirmation email and ETA at 4:14 pm. The ETA for the tow truck was originally set for 5:53 pm, a full 90 minutes from the time I placed the call. That time came and went and no tow truck.
I called back and BMW RA said, "We contacted them, they are running a little behind and will be there in 30 min." That was a bold-faced lie, because I then received another text from R.A. stating that the NEW ETA was 6:40 pm, which was a full HOUR longer. 6:40 pm came and went and I called AGAIN. I was told at that point, "We contacted the company and the driver is 15 minutes away. That was a bold-faced lie because shortly after that call I received another text changing the ETA to 7:12 pm. I called back and started screaming and they said they contacted a 2nd towing company "just in case" the original company didn't show.
At 7:30 pm a different company showed up and that driver showed me his phone to prove to me that he had just been dispatched 15 min. earlier. The original company NEVER SHOWED. This is proof that the BMW RA people were lying right to my face and is also BEYOND PATHETIC that I had to wait in my car for 3:15 min. no bathroom, no food, running out of gas in the Winter in Chicago. This is the 2nd bad experience I've had with BMW Roadside Assist. and I have to tell you I will think twice about purchasing another BMW. I didn't have these issues with Mercedes.

I bought a 2003 Dinan 525i used with ~60K on it. In the last 7 years I've logged another 180K+ on it. While I have had to do repairs (I work on it myself) it is nothing out of the ordinary; tires, brakes, coolant system rebuild (pump, radiator, fan clutch, overflow tank and pulleys/belt), alternator, O2 sensors, vanos seals and intake rubber ducting, all gearbox fluids changed. It is all to be expected for a car of this age. I have no complaints as the car has served me well. Some interior trim has broken or weathered and has been replaced, and the sunroof tracks will get replaced this summer. I am getting it detailed to celebrate its 250K milestone. This car owes me nothing! It has served me well and I have no indication that it's getting tired.

I purchased a BMW 550i new from the dealer ($75K). I was sold a maintenance warranty on the understanding that it covered the cost of replacing the brakes at 80K miles. When it reached the 80K I was told that the brakes still had too much life on them to replace and since the 5-year warranty was expiring, they would not replace the brakes. There's some small print that was not clear that allows them to do this. DON'T BUY THE EXTENDED SERVICE WARRANTY if you decide to purchase a BMW. It's a total rip off. Unless you drive very aggressively, you will basically overpay for for oil changes and windshield wipers. Read on about whether you should buy a BMW.
While I liked the car, it has had an endless set of repairs. This was fine while it was under warranty but a money drain once it was off warranty. DO NOT BUY A BMW. Better off choosing another German engineered car or something Japanese. Will never buy another BMW and will share my story with anyone who will listen.

I have had my BMW for 3 years and it was time to turn in my lease. Autovin had come to my house and inspected the car - they reported no problems at all to me. Called BMW FS to confirm that everything was fine a few days later and was informed that everything was good to go and I could turn in the car. I return the car a few days later to BMW Freehold & that evening I called BMW FS to inform them I dropped off the car and that I had fulfilled all responsibility on my end including paying for mileage overages. At that time, the representative advised I had to pay $300 for a tire that was 3 on the tread since they allow 4 and above.
This was complete news to me & I called spoke to manager Asha ** who was the least bit helpful and all she could say was, "Sorry, we cannot do anything else." I spoke to another supervisor Erin ** who also "had no authority" to make any changes & said this is how it is. It would have been nice to been informed of any wear on the tire as I could have replaced it myself and saved $200. I am about to get a new BMW in two weeks but definitely will not get that anymore. Word to the wise - DO NOT LEASE FROM BMW, they will screw you at the end and won't tell you about it until later when you are helpless.

For the past 10 months I have been unsuccessful in getting BMW North America to pay a rebate. If this was the first time I would accept this as just bad luck - however in ALL cases that I have applied for rebates the same BMW policy/process has been adopted to reject a rebate claim regardless if all documents have been submitted correctly. BMW should not offer rebates if the intent is not to pay the rebate or they make it so difficult that the average person just gives up as the rebate value does not warrant the effort.
I have received excellent (amazing) service from Darian BMW for the past 7 years, however BMW's corporate policy regarding automatic rejection of rebates is an unethical business practice and is going to drive customers like myself to support competing manufacturer like Discovery who honor their programs and pay rebates promptly. I have applied for 3 rebates in the past 6 years from BMW, with only one rebate been paid after many months of continues arguments and re-submissions.
Rebate 1: After months of following up I was informed that the first rebate was received by BMW but the voucher needed to be submitted by myself as the program had ended. BMW North America informed me that it is the customers responsibility to retain advertising documents as proof of rebate. As I did not retain a copy of the advertising documents, and was unable to get a copy from BMW the claim was rejected and not paid.
Rebate 2: I submitted a rebate claim with advertising documents and BMW invoice. As with rebate 1 the application was in the system and been processed, however after 3 months of continues follow-up I was informed that the application was rejected as not all of the paperwork was received (even though BMW had confirmed previously that documents had been received and payment was been processed). In this case I had proof of submission and that all paperwork was provided.
BMW apologized and said they would process, however 2 months later I followed up to query why I did not receive the rebate. BMW informed me that they are unable to process the rebate as they have no record of the rebate program. Having learnt from the first rebate I retained all documents. I resubmitted (3 times) the paperwork with a copy of the rebate advertising documents etc. BMW once again apologized and finally processed the rebate. Total process time over 8 months with numerous calls, emails and re-submissions.
Rebate 3: Rebate 3 was submitted with Rebate 2 (same time) as the work was completed at the same time. BMW received all paperwork but in this case BMW North America "forgot" to process this rebate with rebate 2. BMW apologized and at first agreed to honor the rebate. After 9 months of continues follow-up BMW North America have informed me that they do not have the money to pay this rebate and that payment will need to be processed from BMW Germany? BMW North America acknowledge receipt of all the paperwork including the advertising documents. Today (02/07/2017) I receive a call from BMW North America notifying me that I am refusing to submit the paperwork and therefore BMW are unable to process the rebate???

I leased a 2015 320i BMW. The check engine light turned on. When I took it to BMW they told that unfortunately they have put a sensor in the bottom of the car and that the sensor has no cover. Since BMW are low cars and the city is full of bumps and potholes the cables of the sensor broke. They told me that the warranty doesn't cover that. I had to pay for the part and hours of labor. I believe it's not fair to any bmw customer that because bmw (unfortunately) located a sensor in an inappropriate place and decided not cover it, we have to pay for that when it should be included on the warranty.

I have owned several cars, and in the modern Era, the E60 535i started off with tons of trouble, along with my X6M. My E85 Z4 was an amazing car, even if it was not a driver's car with the electronic steering, but I loved it. I got the 535i as a daily driver. Water pumps (2), fuel pumps (2), disintegrating chargepipe, multiple injector replacements (2x had all of them replaced), the mystery 30ff error nobody can fix, the seat mat/airbag issue, the wastegate rattle and it would not be a BMW without a leaky valve cover gasket. There was always something wrong. So I bought an X6M a few months ago. Airbag recall, battery recall, injector recall... I have owned E30s, E9, E38, E39, E85 and an E31. Mostly trouble-free cars, then came the turbos and BMW's total inability to make a good engine that does not start causing issues, interiors that look dated and recalls that keep it parked more than I drive it. Even the driving experience has gone to hell.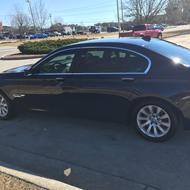 Problem 1: Transfer case have been replace several times and I'm still having problems with this high price Junk. Problem 2: About 6 months ago the car started sputtering when you accelerate. I found online that you can take your BMW 2011 750LI xdrive in for a customer care package (They did not call it a recall but a customer care package). I thought this would correct the problems because they replace some sensors and vacuum hose but the problem is still there. BMW did a full diagnostic and said "Remove and replace all injectors (x8), ignition coils (x8), and spark plugs (x8)." (During the inspection found the vehicle misfiring).
Final cost will run $6777.00. My warranty company will refuse to pay because they wanted to know what would you replace all 8 injectors and all of the other parts because all 8 injectors cant be bad. The warranty company think BMW know they have a faulted Injection systems and trying to upgrade and correct the problem at the customer expense. The car burn major oil, BMW claim this is normal. I will get a second opinion. This is the worst car I have ever own and when you spend a 100,000 on a car you expect to drive it more then 4 years without all of the problems these car has cost us. I thought BMW quality meant something. I will never, never buy another BMW in Life.
Problem 3: Car have 114k now they are telling me the Transmission needs to be replace. This car have been a nightmare from hell. BMW NEED TO BE ASHAMED OF THEMSELVES FOR PUTTING OUT SUCH horrible quality. YOU HAVE LOST US FOR LIFE. Now when I see a BMW commercial I laugh. "They are truly the new Ford in the world of Automobiles".

I bought Blizzak winter tires from Bridgestone for the 2 time in 3 years. This last time I had an issue with one of the tire after 3 weeks. It was deflating. I stopped at the BMW garage in Oakville and they had to replace my tire. I wrote to Bridgestone from their website. They never got my request and realized when I called that did not even know where the web inquiries went!!! They basically wash their hands of any support. You spend $3,000 in tires in 3 years and they won't stand behind their products for $300!!! I will never buy any Bridgestone tires again, not because of their products but because of the lack of vision and consumer care from the company. I gave them an 8 on 10 for their products but a 1 on 10 for their consumer care service.

I purchase a BMW X5 diesel in December 2014. Since then, I have been having problem. I took the vehicle to NJMVC inspection station in Edison, NJ. I failed for emissions. To date, I have spent $3200. I have replaced the oxygen sensors, the active tank, the catalytic converter and now the dealer is saying that I need to replace the passive tank. This vehicle seems to have a fault. I wrote to the Federal Trade Commission and even spoke with Rebecca Franks from BMW, NJ and the issue is still unresolved.

I have purchased 3 consecutive BMW's. I love the brand. I've had my most recent vehicle for 3 months, a 535i, and it's a great car. I noticed that one of my door handle trim pieces was missing and the other was loose. I looked for damage and there wasn't any. I went to the dealer and they were very helpful and accommodating. They took pictures, took notice of there not being any damage, and they said they would contact BMW on my behalf. A few days later the dealer called me to let me know that BMW would not offer assistance. The resolution they suggested is that I purchase new door handles plus the cost of programming comfort access because the trim pieces are not sold separately. ($500+ Per Handle.)
After, I have spoken to BMW independent of the dealer and they are asking for more pictures. I don't understand this since they already have them. I conclude that the trim pieces have fallen off due to a problem with the adhesive not performing to specs (The trim piece itself is made of plastic with tape strip on the inner side). I am very disappointed that as a loyal customer, I would be dismissed in this fashion. I just spent over $60k for this vehicle.

As a midlife crisis buy, I sold my very dependable 05 Honda Pilot and opted for a 1 owner, exceptionally clean, 3rd row X5 with 96K. I got it for a good price at the auction, but it was an as is sale. Immediately after purchase, I noticed an intermittent clunk and bounce in the transmission/motor area about 1 second after startup. I took it to the dealer, and they told me the fix was a software issue for which I paid $340 for. Well, that didn't work. The repair rep told me there was no other fix, that it would be a waste of money looking for the problem, and to live with it till it broke completely. That was comforting.
Then the other day, the radiator reservoir blew up which cost me another $290, because it happened in the middle of nowhere and the only repair shop knows that. I knew the windshield washer pump wasn't working, now the fluid is leaking out and the the washer fluid low light is permanently on. To fit it, you have to take the right tire and wheel well liner off. Another $200 fix. There is a loud clicking noise from the motor which seems to come from a design flaw in the head which doesn't allow oil to get to the lifters fast enough. I've only had this POS for 3 weeks. I can't wait to see what failing item sucks my wallet dry next. I've never had roadside assistance insurance with any of my cars, and never needed it, but with BMW, it's a must. Definitely won't be buying a money sucking BMW again.

Have owned Chevys, Fords, Hondas, Lexus, Jeeps, but none of them compared to the Junk of a BMW. I thought Ford was the worst vehicle I have owned...until I decided to purchase "The ultimate driving machine" against the advice of my 5 uncles who are mechanics. Thought "Why not see what these "High class cars?"" I am now a believer that these cars are sold to wealthy people mostly who know nothing about cars other than the reputation they have amongst the wealthy. With under 100k I had a leaky valve cover gasket, which caused my ignition coils to go out and have to be replaced. After that repair the fuel pump needed replaced then following that the injectors needed replaced. Luckily for me, I bought the extended warranty and those repairs were covered. After it broke 100k miles I pulled out of my driveway and noticed a bunch of steam coming from under the hood.
After further examination I found that BMW used a cheap assistance black piece of plastic literally comparable to the material a plastic straw from McDonalds is made out of. Well that cheap piece had crumbled. After repairing that problem, the check engine light came on again, from leaky valve cover again, fouling the ignition coils, again.
Immediately following that repair... It has snowed and I was sitting in my car with the heater on, when a big plume of smoke came out from under the dash. I immediately shut the car off and located the problem. Hindsight I should have just let the car catch fire and burn to the ground. Turns out that there has been a slow drip coming from the cabin air filter, which dripped down behind the dash onto the heater fan, which made its way slowly down to the heater fan regulator and eventually made its way inside the regulator, which with a well engineered vehicle, should have just blown the fuse.
Instead of the fuse blowing, the regulator grounded out melted the connector inside the regulator and melted the wires down to copper wire about 3 inches down the wire harness. When the repairs were finished, hooked the battery back up and started the car, went to look under the hood to check everything going out just to notice a ton of oil that was spewing out of my oil filter housing between the engine and housing. Oh yeah and heater doesn't work still.
Next is the heater fan which had no sign of a short but is now fried too. For how great these cars are suppose to be, I would take it from someone who has a familiarity with working on vehicles. Buy Honda, Toyota, Acura, or Lexus. DO NOT BUY A BMW!! Unless you want to ride in a stylish unreliable Piece of Junk. It is fun to drive when it works. However being stranded on the side of the road, especially in a subfreezing climate sucks. I have had as many problems with this car than I have had with an old 1996 Honda Accord with 300k plus miles on it. There's now only 112k on the BMW and I am driving the old Honda again. Even my 91 Honda crx with 160k miles has had fewer problems than this car. My BMW HAS even had more problems than my old 92 Ford 250 with 212k on it.
If you have the money for a BMW, save yourself the headache and get a Lexus or Acura. I will never recommend a BMW to anyone. In fact I have kept 4 people at work from making the same mistake as me. When I get it fixed to drive again, I am getting rid of it. I will never own another nor do I recommend buying one, unless you like to spend thousands and thousands and thousands on repairs or you like to work on cars. The amount of money repairs and maintenance cost, a person could buy 2 cars instead of 1 BMW.

I have had a new rear differential installed on my x3 for $3600. After 4 months and 4000 miles it started to make noises. I checked and it was only halfway filled with fluid. The fluid I removed was black and full of metal shavings. When I took it to the dealer he says he did not see any problem with the unit. So he would not replace it. I was told until it totally failed it's mine to own. If it falls while under warranty he will replace. But if it falls a day later it all my issue. You can easily see it's wearing too soon but they will not admit it. Where do I go now??? The oil from the old unit that did fail was nothing like this. It brownish and see through, no metal. But I cannot get them to admit this is not correct for such a new unit. They want to wait out the warranty and try to not replace it.

I have owned the car 2.5 years and have 9 flats high could not be repaired due to the issues of the side walls near the rim punctured. When took in they stated could not replicate the issue. The tire purchases show up on carfax. I have left town 4 different times in a car that I pay 650 a month for and have had a flat just driving down the highway each time. They could not replicate the problem so basically said not their problem

My wife and I have 2 vehicles. A 2008 Mitsubishi Outlander with 130k miles and a 2007 Ford Edge with 128k miles. We decided to buy a certified pre-owned 2010 BMW X5 with 64k miles on it in March of 2016. Over the last 9 months, we have only put 6k miles on this vehicle and it has been serviced numerous times. We bought an Elite Plus, 2 year warranty. When we do drive this car, we baby it. This past week, we backed it out of the garage and instantly heard the engine fan going at max speed. About a mile later, warning messages came on to drive the car moderately and then to pull over and turn it off. Said the engine temperature was too high. We had it towed into BMW and after reading BMW forums, the exact same problem had happened to many X5 owners. The fix was nearly all the same: Failed electric water pump requiring replacement along with thermostat.
Most people had their vehicles fixed for $1400 or less. Local BMW dealer said we not only need to replace the water pump and thermostat, but also coolant hoses, need a coolant flush and the reservoir replaced. $3500 in cost. My "warranty" is only good for $800 contribution to this problem. I was amazed at the vast number of BMW owners reporting on this problem at 60-70k miles for the exact same issue. One would think there would be a recall on this, but no. I bought a BMW for the "Ultimate Driving Machine" experience and had heard of its reputation as a reliable vehicle. 2016 has been a disaster for this vehicle and I am not only disenchanted with the need to replace the water pump and thermostat, but I also feel like the BMW dealer is trying to bilk me by replacing coolant hoses and the reservoir when I don't even have a leak problem.

Time, stress and money wasted. I bought my BMW X3 2008 in 2010. It was a pre-certified model. I got the extended warranty for 2 extra yrs. which gave me 4 years of coverage Expiration: 4/11/2014. I had the car serviced near my office JMK BMW in Springfield NJ. After 7 months after my warranty was over I've had gasket replaced and coils replaced. I called BMW HQ and was perplexed how I went to the dealer for all my services and all of sudden these major problems were occurring. HQ helped. I had to fork out 2k however.
I'm a safe driver. Only accident I've ever had in all my years of driving was backing up to a van in a parking lot and it wasn't with this car it was with my Subaru in 2008. I never abused any cars I had. I've been always good about changing my oil and bringing my car for service. After these problems were fixed, my past year and a half has been utter nightmare. I have 100k miles. Washer pump and water pump replaced. Coils replaced. Transfer case actuator replaced. Power steering replaced. Thermostat needs to be replaced and transfer case needs to be replaced now. Battery obviously replaced but now my starter had to be replaced.
I thought BMW made high quality cars and that's why I bought it hoping to have it for at least 10years. I barely reached 100k. To me this is unacceptable. I've already put 8k into the vehicle and I'm utterly exhausted beyond belief from renting cars to get to work and waiting for my mechanics to finish the job and not knowing what will happen next. I called BMW HQ again to let them know my frustration and amount of money I had spent on this awful SUV. They were going to give me an incentive of $1000 to BMW Springfield NJ to fix my car or buy another. BMW Springfield serviceman not the manager pretty much said it's not a good car and I should get rid of it. I was glad he was honest. But at same time I felt robbed - all that money and time and exhausting amount of stress. Car not starting, 4x4 not working in snow, on and on.
I booked the appointment at BMW Springfield but manager to figure out what to do but was a no show. Never followed up. I called their GM and no call. I recall when the suv was under warranty I went to the dealer and told them about Idling issues which was never fixed. My thought was it was ok since it went through their service.
At the end I wonder if they did anything when it was under the warranty to maintain my vehicle? A BMW specialist L&M foreign Cars in Utica Brooklyn tells me they never applied the fluid in the transfer case. How was I suppose to know this? This part costs 3k and labor 800 to replace now. I felt robbed of my extended Warranty which cost 2K. What was the point of getting it? I will never buy another BMW and will never recommend this junk. The philosophy's all wrong. It is the ultimate money pit. 8k later and more. Now to trade it in, it's worthless with all the problems it has. It should be worth at least 8k. A dealer offered for me at 3K. What a huge loss in every way. I just feel robbed.

Today I went 25K regular service for my 2016 X+ BMW car. And I waited almost more than 2 hours and service just finished. Service manager told to me My X4 and many X4 has some problem about on back seat babe sitting fixing problem. This is fabrication error for all X4 BMW models. And they told to me this between 2-5 days service and they offer me complementary car replace with my car and fix my car. I accepted and I waited more than 1 hours. After that they took my car and they offer me TOYOTA COROLLA for one week driving for free. But I bought less than 1 year ago paid 59 K and bought BMW X4 and service try to give me Corolla. Ridiculous and I didn't accepted and go back to my house and I waste my time for with stupid paper works.
I won't refer to anyone and BMW driver do not choose this Service... And service guy extremely rude too. His name is Joseph **. Don't waste your time and try another BMW service and dealer. Before I used 2 different BMW service dealer and both gave to me wonderful service. I am stupid to try Lauderdale BMW of Pembroke Pines but again hell NOOO.

I purchased this vehicle brand new. During the warranty period, there were issues that were resolved. However, at only 67k miles the car is no longer under warranty and starting to fall apart. My problems have been a bad blower motor, steering angle sensor and water pump. It's unfortunate that BMW strives on quality when their vehicles cannot reach 100k. From my experience, BMW is overrated and their customer service is even worse.

Reliable, fast, safe and well built. I had an old BMW that just kept on running even when it needed repairs. It kept going and got me to where I needed to be. This 20 year old car looked no more older than most 10 year old cars and with over 250,000 miles on it. Ran and started up better than many newer vehicles of lesser years and miles; that is until admittedly my dog and I caused interior damage that aged the vehicle's appearance. That 1996 BMW 740il was still running and reliably starting every day right up until when I sold it to someone who was willing to fix it up a bit and run it some more. I have spoken to many people that state, BMW's are known to last beyond the 300,000 miles that few other cars make it to.

The car worked pretty well overall, but occasionally there were issues with the iDrive. The iDrive just shut down a few times. Also the UI of the iDrive is annoying - using the radio is a hassle. I had the car for 5 years and never really learned how to use the radio. I liked the All-wheel drive feature though. Overall I was satisfied and would consider getting another 5-series. I'm 6'7 and the car fit me well enough. I never had to spend any money on repairs. There were some issues such as Bluetooth not working great that bothered me, but no dealbreakers.
Company Name:

BMW

Website:

http://www.bmwusa.com/