Consumer Complaints and Reviews

Purchased my 2014 C300 a week ago. Has 10,000 miles. Traded in my 2011 C300 with 75k miles. Had 2 other previous Mercedes also, 2002, 2009. All had approx 75k miles when traded and NEVER an issue with previous 3 cars. 2014 has the ECO start/stop feature which if you research is not a FEATURE but a problem. Roadside Assistance tech who came out yesterday to try to assist me was floored when he could not even jump start it as he believed the starter was gone. He called Tow company, who also could not jump and gave same opinion, crazy that the starter could be gone! The ECO start/stop is believed to be the cause and if you read other problems it does a number on the wear of a battery and starter due to the excessive starting and stopping compared to vehicles without this!!! VERY IRATE AND DISAPPOINTED out of my new car for 2 days and everyone is "sorry for my inconvenience".

I have a 2010 C300 MB and the driver seat tore at the seam. It tore at about 65,000 miles. I didn't report it until over 100,000 miles. I guess supposedly that was my biggest fault but quite frankly now I don't even believe they would have done anything about it back then. The seat is made cheaply from low quality fake leather... even if it did tear at 100,000 that is not ok either. I have had many lesser brand name cars with many more miles than this and I can say not once has a driver seat seem given away. I would only see this issue for a fraction of a second as I entered the car to sit down... out of sight out of mind. (My bad!!?) That being said I am just warning people not to buy the C300 series due to poor quality seats... poor quality that the MB USA won't even stand up for when it fails prematurely... unless you think a seat failing at 65 or even 100k miles isn't premature.
The passenger seat motor also failed which I didn't complain about and had to pay to replace myself. I didn't want to pay again for another sub par piece of equipment so I reached out to MB and got no assistance. Even after going by the dealer they supposedly talked to MB USA and they refused to help I was told. After calling MB USA they had no record of me going to the dealership with this issue. Shocking! Very very poor customer service and basically standing up to do the correct thing. I have driven BMW's the past 25 years.
It looks like I am going back to a BMW!!! They just made my decision easy!! Maybe BMW would have said the same thing I do not know, but I drove many for the past 25 years with more miles on them than this MB and funny enough I never had to call BMW (or Ford or GMC) to ask them to fix it BECAUSE IT NEVER TORE IN THE FIRST PLACE!!! I have to admit I always put MB sort of on a pedestal but this experience surely brought them crashing down to earth!!! And they have landed in a ditch!!! Btw, I am now also driving around in a car that MB told me could kill me because of a faulty air bag, but they "can't replace it yet... keep on driving it..." Sounds like a great idea too!! Not!

Worst service ever! I recently got a flat tire and called Roadside Assistance for Mercedes Benz. When they sent me the FIRST guy he was so rude even went as far as saying HELL NO when I told him where I needed to be towed to. Mind you the only reason I needed a tow was because he was unable to put my spare tire on because he did not have the proper tools. So I called Roadside back. I let them know I needed someone who had the tools to unlock my tire (mind you this is Roadside for Mercedes so you can assume how annoyed I would be after someone who wasn't qualified was sent to me.)
So here we go two hours still stuck on the side of the road, they send me out another tow truck and surprise it was the same guy from earlier and of course so charming "I guess they rerouted me to you so I have to take you." I call Roadside imminently so that I can have someone else sent out AGAIN. Mind you I remind them that he must have the special tools that Mercedes requires to take the tire off. Of course they send me someone who AGAIN is not qualified. At this point I am livid and had been stuck from 7:30pm-10pm.
Once they were unable to take my tire off the guy starts setting me up for a tow, and then informs me that the only place I can be towed for free would be the dealership which at this point wasn't open so would have been pointless but was my only option unless I wanted to pay 200$ to be towed home. Great surprise considering all that has happened at this point. Mind you I choose to discontinue my triple AAA account since they had assured me Mercedes Roadside was the best to have. What a mistake.
I ended up having to call triple AAA and reinstating my account so I can get towed to my home. At this time it was 11:45pm still on the side of the Freeway. Finally speak with a Roadside rep AGAIN and of course "A manager will call you back Tomorrow." It's been a day so BLANCA if you are reading this I'm still waiting for your call. What a Joke Mercedes Roadside is. WORST EXPERIENCE EVER. Definitely regretting even purchasing one at this point.

Mercedes-Benz totally ignores the customer complaint. Will even go as far as lie to you and literally hang up the phone on you! I bought a slk280 used with only 14,000 miles on it within a year and a half. I noticed that the clear coat was starting to come on. I contacted the dealership where I bought it. They told me that it was probably acid rain so I contacted Mercedes and they said that they had no problems with their paint. I believe them. 2 years later my problems way worse and then I find out that other people with the red and silver paints are having problems with the clear coat peeling! If you're having the same problem please contact me through Facebook. I would like to help, by way of getting people together who have the same problem to start a class action lawsuit. Apparently Mercedes will pick and choose who they are willing to help and usually it's those who can afford an attorney!

I cannot express in words my disappointment and disgust in my recent experience with Mercedes-Benz. I will never own another model. It is certainly not what I would expect from a luxury car or a first-class dealership. I researched for several weeks before choosing to purchase and finally deciding on the GLA. The fact that it was a Mercedes made the decision easier for me as I knew it would be a car that would be flawless and have unmatched resale value.
I purchase a new 2016 GLA 250 on July 18, 2016. After driving my brand new GLA for only 2 weeks, I took it in for an unusual wind noise coming from the driver's side window. I trusted that because the car was sold to me with an obvious factory default, the dealership would make every effort to remedy this problem and ensure customer satisfaction. I was heartbroken to be told that it could not, and would not, because the noise was due to the way the car was factory-made and attempting to do any repairs would void the extended warranty that I had purchased. To date, no one from the dealership or Mercedes-Benz has contacted me or made an attempt to remedy this situation.
Unfortunately, because of this experience, this will be the first and last Mercedes-Benz I will ever own. The unfortunate thing for Mercedes-Benz of Beaumont, whether they realize it or not, is that my husband is a bank president in a small town about 25 miles west of Beaumont, that has three locations, and I work in a thriving school district in a town 30 miles east of Houston. Between the two of us, we know a great deal of people. We know first-hand, about customer service and how vital it is to a business, large or small. We intend to tell everyone we know of our horrendous experience with that dealership.
To add insult to injury, I have since received an email indicating that I have received new inquiries on my credit, which may lower my credit score. It did indeed change my credit score by significantly dropping it several points. The report details show they are all due to inquiries from Mercedes Benz. After contacting MBUSA by phone and in writing, this is the response I have received: "Hi Pam, thanks for your patience. Your comments have been shared with our colleagues at MBUSA and we regret to hear of your continued dissatisfaction. Our colleagues advise, that they have already confirmed their position with regards to your vehicle. For this reason, they will not be making further contact with you at this stage. We appreciate your understanding. Kind regards, your Mercedes-Benz Social Media Team."
I have started the process to cancel my extended warranty and will be selling my GLA as soon as possible. I have reviewed the GLA on several websites unfavorably and plan to file a report with the Better Business Bureau regarding the horrendous customer service at Mercedes-Benz of Beaumont. For a company known for first class customer service and satisfaction, you should be embarrassed to have colleagues such as those at MB-Beaumont in your employ. I have since read countless reports of the same wind noise from other owners on various websites. DO NOT PURCHASE A GLA!!! As for me, I will NEVER drive another Mercedes. There are plenty of other luxury models to choose from.
How do I know I can trust these reviews about Mercedes Benz?
609,643 reviews on ConsumerAffairs are verified.
We require contact information to ensure our reviewers are real.
We use intelligent software that helps us maintain the integrity of reviews.
Our moderators read all reviews to verify quality and helpfulness.
For more information about reviews on ConsumerAffairs.com please visit our FAQ.

Took the car for a thorough checkup prior to the factory warranty expiration. This car has only 25,000 miles. Service agent said car checked out fine. She did some minor work. To my dismay 4 months later there is an oxygen sensor issue and the engine light is on indicating either sensor or a computer panel issue which could cost thousands. The service agent Lorena was extremely rude and even told me why don't I have my friend who tested this and found out, fix my car since it's out of warranty. This is unbecoming of Mercedes Benz and she should not be working there period.

I leased a Mercedes ML350 in 2012. We loved it, so we purchased the 2012 (husband drives it) and ordered a 2014 ML for me. From day one we have had so many electrical weird glitches on the 2014. It has an automatic lift gate that worked when it felt like it for almost two years. I took the car into the dealership constantly and of course they said all was fine and they could not find the problem. Particularly helpful is for the lift gate to not go up when you have your arms full of groceries. Finally, one day (2 years later), the lift gate got stuck halfway open. Went to the dealership and this time they said that the motor was defective. Really??? The lift gate door still doesn't always release and open but at least it works 90% of the time. The automatic unlock on the 4 doors also worked intermittently since the day I picked the car up. I brought the car in countless times for all these issues.
Finally they did something to the doors and it is better now. I would say it works 80 to 85% of the time. And, I am pretty excited about that! I still have to dig my keys out of my purse which again is generally when I have packages in my arms or late at night in a parking lot. As I write this I realize that these are first world problems but when you pay upwards of $65,000 for a car, you expect the quality to be there and your features that you have excessively paid for, to work. My favorite thing about the car is... it has a forward collision warning system that senses a car in front of you has slowed down or stopped and if you do not slow down it gives a very loud beep, beep, and a flashing warning on the instrument panel. The first time this engaged was on a country road where I was the only person on the road going about 50 MPH. No one in front of me for miles and then the load beep, beep and flashing red triangle appeared. It scared me to death!
Mostly it engages when no one is around. Randomly, loudly and making me jump out of my seat. One time that feature actually engaged when it was appropriate. Today I was driving home and the traffic came to a complete stop and I was slow to notice it. But of course, neither did my car. I slammed on my brakes and all was well. I have taken the car in to see if they could fix this problem and of course they NEVER find the problem. I have cup cooling and heating (yes, first world problems) but that doesn't work either because the fuse that runs that and the cigarette lighter blow constantly whether I use the items or not. Well, I don't smoke but it would be nice to use my phone charger. In the two and 1/2 years I have owned the car I managed to coordinate once having a hot beverage that I wanted to stay hot whilst driving and the heating cup holder actually working.
Finally at the dealership they gave me a bag of fuses so I could change them myself. NICE!!! How about we fix the the problem!!! My complaints have fallen on deaf ears. There is a lot of talk at the dealership about taking care of the problems but they never do. I am now convinced that when I service my car they take it back to the bay and park it and don't really try to do anything to it. Mostly I am so extremely disappointed in the Mercedes product. Shortly after we purchased our leased 2 year old 2012 ML with 38,000 miles on it, the driver's seat MB-Tex wore out and started tearing. We had a ten year old Mercedes with the MB TEX that had over 120000 miles on it and the interior was pristine!
We had another ML AMG that had 168000 on it and that leather interior was perfect. I think the product has seriously deteriorated. I don't think my leather in my 2014 will make it to lease end date. The service department at our local MB dealership is deplorable. Our family has owned 5 Mercedes but this is my very last one. I fear that our 2012 won't make the 50000 mile mark. I CAN'T WAIT TO GET RID OF THIS CAR! I strongly suggest you buy ANY brand but MB.

My car developed a water pump issue - it was changed at a dealership. 12 months later it developed the same problem but this time the dealer wanted £180.00 as a contribution because it needed a new pipe. It was then I discovered Mercedes Benz are having problems with water pumps. My car Mercedes Benz C200 CDI a 2011 model now requires its 3rd water pump. This could be an international problem Mercedes Benz are not going to admit

Both ML 350 and ML 320 vehicles have problems with power starting fluid leak, which is a defect in manufacturing, also the 2006 ML 350 which has only 55,000 miles has a problem with the transmission for long time. The dealer of San Diego doesn't care to solve issues, they are looking to charge the customers as much as they can. Also all the inside parts are cheap and getting broken very easy for no reason. I advise all not to purchase those vehicles, and we should seek a legal way to protect the customers interest.

After my car had A3 service at the Lonestar Mercedes-Benz dealership in Calgary, Canada on June 21, 2016, the car started an oil leak. The car was diagnosed of a problem with the dipstick seal on July 27. However, it wasn't the real problem after the second check up was done in August 4. The dealer told me that it was the oil cooler seal which is a completely different thing. The problem wasn't really solved since I found the car still had an oil leak the next day and had to send it back to the dealer again.
The worst thing was when I picked up the car on August 10, 2016. There was a big crack found on the windshield which was not on the car when I dropped it off at the dealership. Jeff, a customer service mgr, immediately denied and said that it wasn't their responsibility without even investigating the problem thoroughly. I was told that they can only replace the windshield at my own cost, and has formed no room for negotiation. Followed by a conversation with Doug, an operation mgr, who insisted that they wouldn't take responsibility, but would like to share the cost. After a couple of hours of discussion, the thing turned out to a disagreement of what they offered as I strongly think my car was under the dealer's roof when it was being repaired. The dealers must be responsible for the problem they caused. How come I have to pay the damage that I didn't do anything about! The issues just keep coming with this dealer.
These guys hang up phones, and even impolitely terminated the conversation and left me alone in the office. I felt bullied when they said, "We will only give you this offer whether you accept it or not, the offer is firm and unchanged." I don't need any offer. What I need is the full compensation for the damage occurred at the dealer shop!

I took my Mercedes Benz two weeks ago for service. The vehicle while idling accelerates on it own. Another issue when I press on the brake, squeaky sounds manifest. The button that ascends the rear shades doesn't work. As of today, Mercedes in White Plains has not called me to let me know what's wrong with my car. It appears Mercedes Benz reputation for good customer service is truly in decline. The staff has been nothing but unresponsive and inattentive to customers needs. Jeremy was the intake service person.

My C300 Mercedes Benz with approximately 52,000 miles started to have an electrical problem about June 1, 2016. While driving at night, the headlights just went out: completely dark. I was very concerned about my safety, pedestrians and other drivers on the roads & highways. This problem occurred repeatedly over several nights and I decided not to drive at nights for next weeks. I took the car in to Mercedes-Benz of Miami (AutoNation) in Miami Gardens, FL. The diagnosis was that the wires to both headlamp units was corroded and would steadily deteriorate to where the headlights would become totally inoperable. This is outrageous that Mercedes Benz has used inferior quality electrical material that would corrode in a car with only 50,000 +/- miles. Of course, the repairs are not covered because the warranty expired at 4 years or 50,000 miles and the extended warranty expired 4 years ago.
The car's sunroof also leaked and flooded inside my car on two (2) separate occasions. I paid the Dealerships to fix these leaks but the last repair was not done properly so now I have water and leaks every time it rains which is now nearly every other day during the summers here in South Florida. This leaves a damp, musty, moldy smell inside my car.
I'm unable to open the sunroof to dry out inside properly because the little PLASTIC lever broke as I'd attempted to open the sunroof some months ago. Everything about Mercedes Benz quality has steadily declined to using inferior, cheap quality and plastic materials. That is why there is so many increase of RECALLS on all makes and models of Mercedes Benz cars and SUVs. Poor "INNOVATION, PERFORMANCE & SERVICE": MB's Motto!! Customer Service Manager, Atlanta, Corporate Mercedes Benz USA offered a $260 - discount towards repairs to me, a twenty-eight(28) years loyal repeat Customer who has owned several Mercedes Benz cars since 1988! What an insult!!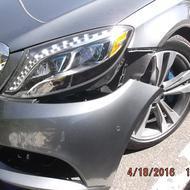 My brand new 2016 Mercedes was damaged during delivery on 4/16/2016. The car has been sitting in the body shop since that time because Mercedes couldn't ship a replacement left headlight to the body shop. Mercedes provide us more than 5 delivery schedules, but each time they failed to deliver the part. Talked with Mercedes Customer Assistance Center (CAC) representative multiple time. They are clueless on why they couldn't ship the headlight part and have no idea when the parts will be available. CAC couldn't answer how they provided us multiple delivery dates, but never able ship the part. Is the parts department just lying to us on the delivery dates? They couldn't answer that either. I told them I don't understand why Mercedes can't ship a headlight part, but Mercedes has no problem continue shipping S550 cars!!! They have no answer. #mercedesbenzusa #MBsummer #S550

Purchased a new 2015 GLA250 4matic. Had nothing but problems with the car. Last Saturday it was not drivable at all anymore (so much for a almost new car). Roadside assistance from Mercedes made me wait 4 hours after they decided not to show up at all. Me, my friends called them several times. We got hanged up, put on hold for a total of 75 minutes. Had to go back on Sunday so they finally could tow it. Called customer service and they did not care at all. Too bad. My last Mercedes and also as a shareholder I am disgusted by their behavior.

Are you experiencing a design engineering defect with your MB E350 which leaves black stains on the molding beneath your 4 doors? I have it on my 2014, and see it on almost every white E350 that I pass. It is caused by a drain defect in the doors, which MB will not even acknowledge. Their arrogance is beyond belief. Their answer to me was to use Murphy's soap.

Mercedes Benz s63 - This car going bad. The intake manifold at 40000 miles is a back order for 2 years they don't make anymore. And Mercedes-Benz dealers do not accept the car in a trade in. DO NOT RECOMMEND THIS CAR.

With documentation: Purchased a 2010 ML350 Mercedes with 55,000 miles from a local/reputable dealer. Engine light was on when I test drove. Return visit the engine light was off and I was told it was a minor situation and after through check the car was in excellent condition. (Body, interior, like new.) Purchased the vehicle. Engine light continued to come on then go off. Weeks later the engine light came on and stayed on for several local miles. Immediately took for service. Had 60,000 maintenance done, oil change, other. Engine light stayed off. Drove to S Florida. Engine light came on again. Took to reputable foreign car specialist. Needed # 4 engine coil. Engine light off. Few (short) weeks later - engine light on.
Immediately returned to shop. Needed # 4 coil replacement. Few (short) week(s) later - engine light on. Then engine light off & stayed off. Shipped to VA. Engine light off. Drove short miles - engine light on again - this time I returned to the VA foreign car specialist to determine why the light keeps coming on. Same symptoms over and over since before 55,000 miles on a well serviced car. Summary: This car needs a # 4 cylinder (head?) replacement, plus there is a TSB from Mercedes on this engine for known problems. Mercedes Corporate (told me I was "not loyal to the brand") refuses to stand behind the vehicle. Corporate passed to a dealer whom I did not purchase the car from. They of course are unwilling to help.
I have not gotten help anywhere. NOW I ASK YOU - Will you purchase a Mercedes knowing it could need a new engine @ 55,000 (+/- ) miles? No car with 55,000 miles should have these kinds of issues let alone what used to be the top luxury car. It is not the customer who is not loyal to the brand - it is the company who is not loyal to the customer and dropping the maker's ranking from number one to number three (or below). I need a sound engine in my car. BUYER BEWARE when buying Mercedes Benz. [Note: If this saga ends on a reputable note - I will update this posting.]

When you paid premium price for purchasing and routine maintenance of a MB 350E, you expect a solid car with good quality. You would be wrong! My 2011 MB 350E has shown poor quality of materials. The control buttons of the steering wheel were wrapped with a piece of plastics and starting smearing. Moreover, the car seat cover has been torn apart, while the main driver of the car is lighter than 120 lb and the car has been parked mostly in garages. You can see that in the attached photos. I have never seen a premium car deteriorated so early so fast. It seems that the car was built with too many low quality artificial materials, or plastics, and not built to last! Maybe MB is expecting people to spend money every other year to buy a new one. Well, with such poor quality, people may have to to buy a new car in a year or two after an MB, but another brand!

This is my second C class and the tire quality has definitely deteriorated. The tires don't reflect the high quality and brand name associated with it. I have had several punctures over the past 2 years, the tires wear rapidly. My husband drives his BMW very similar to my C class and his tires and service is far superior. Every tire mechanic seems to concur. It's such a shame.

I am having the same issue with Mercedes Benz Walnut Creek, CA. My check engine light came on within a few days of purchasing the car. The salesman Jimmy ** says that the previous owner told him that when you put gas in the light went off and sent me on my way. I came in twice more with the same complaint only to be sent away again. A short time later the cel stayed on. Eventually I had to get my car registered and have the car smogged. The smog place so the cel on and would do no more work. He suggested that I take the car back to MBWC where I purchased the car. I had an extended warranty that canceled but was told it could still be used.
I was given a loaner car for a month but when MB could not get paid with the extended warranty they took the loaner back with no charge. I thought this strange. I called the general manager to discuss with him. After he spoke with his people he told me what his people said but did not have an ear for anything I had to say. My car has been at the MBWC dealership since April and after calling AGAIN general manager called to tell me they had not realized my car was still there and that after a couple of days they would start charging me storage.
The last attorney I spoke to told me I didn't have a case because the amount of money I would get would not be enough to cover his attorney fees. He is greedy. I am still making payments on my car. Also result of the cel being on the problem with the transmission was missed. I now need another transmission which I got an estimate of $2200+ and the cam shaft issue $7000+. I really need help. There is a lot more but so much to type. Is there anyone willing to help steer me in the right direction?

My GL350, 65k mileages has a problem with check engine after I brought my car to the dealership for service B... Every time when I bring my car for service B, it cost over thousand dollars for services. They told me there is an oil leak with my engine and estimated over $6500 for repair. I don't know why the Mercedes car engine is not really good like its brand name and they did not warranty for that... Too bad.

Purchased this vehicle in Nov 2015... Today 6/5/2016 is the THIRD time my vehicle has malfunctioned. I will call the dealership again on tomorrow to pick it up and bring me courtesy car to use. Same problem over & over. The car will for no reason chug chug to a halt w/o warning... all the warning lights on the dash come on. It will barely coast and crawl. Luckily it has happened close to my home.
The first time MB replaced the wiring harness and a control unit. Was fine for 3 wks then happened again. SAME THING. They kept it 2 wks... Told me it was safe and fixed!!! I received the repair order w/ nothing done to the car on it. Now it has happened again. I will NEVER purchase a MB ever again. I don't feel safe in this vehicle. I paid a lot of $$$ for a STAR emblem... and nothing more.

2 years ago we purchased a 2011 Mercedes Sprinter van and have spent close to $14K on repairs. We use it for our travels for my son's motocross racing throughout the US. We have had nothing but problems and have had multiple breakdowns where we have gone into Limp Mode mostly due to the diesel particle filter. After reviewing some of the broken parts with a certified Mercedes mechanic it was known that Mercedes builds their engines with plastic parts banking on the fact that they fail within so many miles. Good example: who puts plastic parts for the throttle body on the valves?
My wife just recently traveled with our 12 yo son 1100 miles to Oregon just after replacing the DEF pump and heating element system which cost me over $3k and was told we were good to go. Again she broke down. Your Mercedes a Roadside Assistance reassured me that they would take care of my wife to tow it to a local dealership but then wanted to charge us... Thank god for AAA. So where do I go from here? Does Mercedes have a solution to let me and my family feel safe?

As of May 24, 2016, I spoke with the General Manager, Dan **, several times this week, at the St. George, Utah, Mercedes-Benz Dealership. He was professional and promptly investigated my complaints and concerns. Dan stayed in constant communication with me. Upon completion of his investigating the facts; he determined that since his organization diagnosed the problem on my vehicle incorrectly, that he would in his words, "make it right", and honor the initial estimate and make the repairs on my vehicle accordingly at no additional charge to me. He ordered the additional parts and apologized for any inconvenience this ordeal has caused me and my family. At this point, I am very satisfied with the outcome and looking forward to picking up my vehicle by Saturday.
It is refreshing to me to see that good leadership does still exist in business today. As a consumer, it is very important to give the decision makers and people in positions to affect outcomes an opportunity to solve the problem. Sometimes, things are not as they appear on both sides of a disagreement. I would like to thank Dan and his Service Department Team at Mercedes-Benz of Saint George, Utah, for again making me a satisfied customer. I would recommend this organization to all potential car buyers, my friends, and family, without reservation. This dealership has impeccable integrity and will go above and beyond to satisfy their customers. Respectfully submitted, Lieutenant Colonel (Retired) Pete Webster.
Original Review
Report of Poor Service and Complete Fraud: On or about April 29, 2016, I took my 2009, E-350, into the St. George Mercedes department because it would not shift out of first gear and the speedometer was not working; my second complaint is that my radio/GPS command module would just turn on and turn off by itself and not stay on for more than 30 seconds; prior to arriving at the dealership; I researched the problem myself and had two separate mechanics run a computer test to see what was wrong. Nothing showed on the command module test for the command unit and the Transmission Speed Control Sensor showed as having a problem... Further research by me on the internet and from other certified out of state Benz Mechanics indicated that this is a commonly known Mercedes defect in their transmission and changing the TSCS would most likely solve the transmission/speedometer issue.
Since my radio/command unit was coming on and attempting to complete a self-test showing the MB emblem on my command center screen at each attempt; all research indicated that the problem was one of four components in the system, not the entire command module itself... Research also indicated that Mercedes Benz already knows that this issue does not show on a computer diagnostics test, but if the unit comes on and attempts a self-test, it is not the entire unit that is bad. (This is a fact.) Here is where the fraud and poor service occurred:
I told the service manager Jason of my problems with the car and my research. He called me later that day and stated that he found the transmission issue and it was not the TSCS. It was a more expensive part and further that fixing the part would solve the shifting problem and the speedometer problem. He further stated his mechanic could not duplicate the Command Unit issue and the radio works fine. He will order the more expensive part and fix the transmission in two days for $1200. I agreed. The next day, he told me the part arrived and it was a six hour job for the labor...I said, "great", thank you. He called me back 1.5 hours later and told me the car was done, and I could pick it up. (I live about 50 miles from the dealer, so it took me over an hour to get there. Upon arrival, I paid $1000 cash and the additional $180 on a debit card.
When I got the car, the service manager, Jason, told me he just washed the car, because last night, it rained and the car was parked under a small cliff that had desert rain red clay run off pour all over it last night... He thought this was cute. I did not think much of it because I was in a rush to get back on the road. But when my car was delivered, and I started it up, the speedometer was reading 10 MPH while sitting still in neutral, the radio station was blasting on some Hispanic station, and kept turning on and off by itself, and I attempted to drive the car off the lot and it would not shift out of first gear.
I promptly returned the car and showed the service manager the speedometer issues and allowed him to see and hear the radio issue that had been happening for over a week consistently every time the radio was used. I told the manager to his face that he or his people flat out lied to me about the radio, and that his mechanics changed the wrong more expensive part. (I do not know at this point if that even happened.) But I already paid $1180 for nothing.
To date, this dealership still has my car, and now the service manager Jason originally told me he wants another $2500 for a newly rebuilt entire command module, and that the speedometer issue is unrelated to the part his mechanics already changed and that the speedometer problem is in my dash, that will be another charge. He stated his mechanics ran codes again which show other new problems. Does anyone see an issue with these fraudulent and demeaning practices? I am now taking the issue up to the General Manager.
At this point, I have no confidence in this service department: its mechanics, or the integrity of this organization. Please do yourself a favor and avoid this dealership. I am a Disabled Iraqi War Vet. (Lieutenant Colonel in the MP Corps 24-years). Unless the GM can address my concerns and make changes to how his service department operates, I cannot recommend or endorse Mercedes Benz of Saint George, Utah.

Ever since I was a child, I dreamed of owning my first Mercedes Benz. That was one of the big purchases that I wanted complete, once I finished college. 3 years ago I accomplished that goal and it was an exciting moment. Unfortunately, the experience of owning a Mercedes Benz quickly faded away after 3 years. My 2010 C300 doesn't even have $75,000 miles on the car yet and I have had to complete 3 expensive repairs on the car. Those don't included the repairs that had to be done before my warranty expired. 4/19/16 - Steering Lock Replacement ($1130 cost for repair), 10/10/14 - Blower Motor Replacement ($616 cost for repair), 10/10/14 Driver seat MB-Tex Replacement ($580 cost for repair). The reason for the letter is to vent my disappointment in the Mercedes Benz quality for my first car. Your slogan is, "Mercedes Benz, The Best or Nothing", but unfortunately my experience has not lived up to that.

One of the most incredible thing. I bought for my daughter (16Y) a GLC300 for 60K in Delray Mercedes with no park aid assist (bip bip bip), amazing nobody telling me that I need to buy a totally useless package in US named "active parking assist" to have this, absurd. Korean, Chinese, American, Italian and even the majority of German cars this is standard, but Mercedes force you to buy a useless huge package to have this small and totally necessary sound warnings park assist.

I bought my 2016 C300 Mercedes approx. six months ago. Three months after I bought it I started hearing a beeping noise that is coming from the engine when it's turned off. The beep last 2-3 seconds and happens every 6 seconds. The dealer initially told me they've never heard of something like this but after I showed them my google search they said they'd look into it for me. Today I sent them a video of the noise and they said that it's coming from the AC equalizing pressure which is normal. I'm very frustrated because I've never had a car that makes any noise like this. We purchased this Mercedes and expected to be getting a well-built car. We are very disappointed in the quality and that Mercedes expects us to just live with this noise because it's normal.

I purchased this car in Bogota, Colombia. I had to get my second servicing. I called in advance and they did not have availability for two weeks. Meanwhile, my check engine light comes on. When the servicing date finally arrived I am told that the camshafts are messed up and they can't do anything until they hear instructions from the main headquarters. When they received instructions, the instructions were to dismantle and document and nothing else. 10 days later, the car is still sitting in their garage. They don't even offer a loaner car or an actual date of completion. I can't get ahold of anyone in Bogota. When I call MB America, they also cannot help. Have been trying to get in touch with Germany no luck as well. It seems like Mercedes-Benz does not care about customer service and or its clients.

E500 2005 40k miles. Routine check up as MB suggested! Problem: oil/fluid leaked on garage floor with a big spot (a lot of fluid). 4/19/2016 drop off the car for MB dealer service. 4/22/2016 they sent me a report about the leaking oil/fluid. Reason: The fluid leak appears to be coming from the transmission pan/13 electrical connector. The repair would be similar to a transmission service. Open transmission pan, replace filter, gasket, electrical connector and torque and clean area of leak. $758 VIP discount = $658 + tax.
I called and emailed MB customer service to help about this situation. I believe they stand behind their products. They called me back to let me know that it is out of warranty even the car is 40k and take a good care. They can not do anything. I found out she never talked to the service dealer to find the issues of the car. Bad customer service, irresponsible! She needs to understand the issues before she talked to me but Nope! This really bad customer service and bad products too. I hope MB get this message and talk to her about how to solve the problem!!! My car is still at Fletcher Jones of Fremont 5760 Cushing Parkway, Fremont Ca 94538.

Power steering is leaking on our 2008 ml350 with only 54000 miles. You would assume that power steering in a Mercedes will last longer than that. No parts available, have to buy a whole new steering wheel column $3500. Had to replace the lift gate motor at a cost of $2000. The power steering rack developed a leak causing the oil pressure to the unit to fail resulting in loss of power steering function. This vehicle does not have a warning system to alert the driver of this type of failure. A previous safety recall was issued January 2009 (safety recall #2008-120011) for 2008 ML 320's for a defect such as this. However, this particular vehicle was not part of that recall. We feel this part should last the life of the vehicle without failure.

ConsumerAffairs Research Team
The ConsumerAffairs Research Team believes everyone deserves to make smart decisions. We aim to provide readers with the most up-to-date information available about today's consumer products and services.
Mercedes-Benz has its roots in Karl Benz's Benz Patent-Motorwagen, which was manufactured in 1886, making it the earliest gasoline automobile. The Mercedes-Benz company was founded in 1926 and began importing cars to the United States in 1952, and Mercedes-Benz USA was founded 13 years later. Today, the company manufactures luxury sedans, coupes, convertibles, roadsters, SUVs and wagons in 93 countries.
Mercedes me: Mercedes-Benz drivers can register for Mercedes me, an online resource that includes owners manuals, how-to videos, financing and account summary, service schedule, mbrace® and warranty information.
mbrace®: Mercedes-Benz's onboard technology, mbrace®, allows drivers to call for roadside assistance or for emergency services in the event of an accident. It also lets drivers talk to a specialist who will give them live, personal driving directions and local recommendations. It is complimentary with new purchases for five years.
Online shopping tools: Interested customers can learn a lot by visiting the Mercedes-Benz website. They can compare models, check local inventory, see special offers and customize any model. Financial resources are available for customers to apply for financing through Mercedes-Benz and determine the value of their trade in.
Safety: Mercedes-Benz was the first company to introduce many safety features that are now standard on all passenger vehicles, including the crumple zone, anti-lock brakes and airbags. Today, ATTENTION ASSIST makes minor corrections for drivers and alerts them when their driving habits indicate they may be fatigued. ATTENTION ASSIST is available on select models.
Certified pre-owned: Mercedes-Benz's certified pre-owned inventory offer potential owners a significant savings. All vehicles undergo a road test and an inspection after the road test as well as a 32-point inspection of their appearance. The limited-warranties include unlimited mileage and are valid for one year.
Best for Mercedes-Benz vehicles are designed for those who want a mix of innovation, performance and safety.
Mercedes-Benz Company Profile
Company Name:

Mercedes Benz

Website:

http://www.mbusa.com/mercedes/index