Consumer Complaints & Reviews

The problems with this car are too many to list. Very disappointed with my purchase of the 2016 XC90. It has been in for service at least 8 times since January this year. I will not even drive it on long trips due to the lack of trust with this vehicle.

Searched and waited for the color combo and features on this car. While waiting I should have done some homework!! I take my car to the Mission Viejo Volvo for service, when purchased a seam of the leather was coming out, had to take it in three times to get if fixed and made sure they didn't just shove it up with a screw driver like the first two visits. THE CAR RUNS OUT OF GAS!!! Your control can say "you have 30 miles or 50 miles... you will still run out." We don't let it go below 100 miles, the GM at Viejo after bringing me in his office and closing door said there is just no fix for it.
The parking brake goes on while you are driving or stopped in traffic or at home and can't get it out of park... Very nice with the other patient drivers honking!!! This is my second time back in 6 weeks for brakes. First week in July they said they replaced brakes, pads and rotors! However I keep ending up in the middle of the intersection, well you guessed it less than two months later same problem. Manny says I have a lot of miles on the car so makes sense, never checking the records to see that it was just done. Just told me it was going to cost a lot.
Also brought it in because the car sounds like a muscle car, the service guy asked me if I made it sound that way... Oh yea, sure. Pretty blonde mom with three kids wants to sound "Gangster." No it's only that the catalytic converter has gone out, they have ordered one. Maybe another week. They have had it this time three weeks. They said they were working on all the other computer problems while they wait, and may have to send a guy to school about how to fix the whole parking brake issue. My reason for buying the car was I have two new drivers in the family. They won't touch this cheered "safety vehicle." It's a nightmare. Since I have had the car 10 months, they have had it 10 of those weeks and counting in the service department. Help, anyone, help me get free of the monster on wheels!!

Car died. Battery was already replaced at just over 50,000 mile. Have 81000+ now. Could not get car to start and then it would not shut down lights on and ac going. Dealership cannot give a date when they can diagnose. No loaner cars avail. All of this technology on cars just presents an opportunity to have errors and problems. No more Volvos.

S40 - So 2 chums and I were out on the town and decided to acquire us a few fine quality bean bag-type chairs. And lo and behold we get our fine seatery out to our automotive transport only to find that we don't have enough room for the newly acquired chairs in the car. Now I know that a sedan isn't the biggest car in the world, but I feel as though we were short changed on adequate bean bag storage.

If you have a Volvo car I hope you do not have to buy Volvo parts for it. I needed the plastic back part of a wing mirror and had to pay 120 for it and had to fit it myself. It is just a rook off for something they paid no more than £5 for.
How do I know I can trust these reviews about Volvo Penta?
596,777 reviews on ConsumerAffairs are verified.
We require contact information to ensure our reviewers are real.
We use intelligent software that helps us maintain the integrity of reviews.
Our moderators read all reviews to verify quality and helpfulness.
For more information about reviews on ConsumerAffairs.com please visit our FAQ.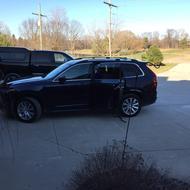 I love my 2016 XC90 Volvo. We built it and in three months picked it up at the dealership. Maybe I am old school but I just don't understand all the hype on the key Fob. It stinks. Most women like me keep their keys in their purse. I placed my purse on the floor in the back seat of my vehicle and then strapped my two year old in his car seat; like I always do. It has been a routine I followed with all three of my children. After I closed the back door I opened my driver door only to find it locked. I went to the back door and that was locked. It was 90 degrees outside and my car was not shaded. My son was inside baking as I screamed and swore. I called my husband to come and give me his spare key.
To make a long story short, somebody called the police and he was able to unlock my car quickly. My child was fine. There is no warning or sensor in the vehicle that detects the car key inside. I learned the car will ding if you leave your Fob in your coffee cup holder. No place else! If you drop them on the floor, in the back, anywhere you will get no warning. I still do not know how the doors all got locked. Nothing like technology trying to think for you and doing a lousy job. All these safety features end up hurting all of us in the long run. I learned that I had the child lock feature on in the car and that may have been the reason for the car doors locking.
I still don't know and lost confidence in this Fob technology. I am very nervous every time I leave my car and rarely do I have pockets to put the Fob in. I will no longer put the Fob in my purse so I end up carrying it with me trying to unstrap my child from his car seat with one hand while holding this darn Fob in the other. Please Volvo, go back to the key in the ignition. Lighten up with the locking mechanisms making it safer; really. I am a prime example of why cars should not be locking unless you press a key from inside. That is how it use to be. All these sensors for safety nearly hurt my child.

Purchased this car, and while driving on the freeway ran out of gas. Estimated mileage had shown I had 50 miles to go, when I ran out. Since I was on the freeway, I had to quickly pull over and it caused me to hit some home. A bit of damage happened to the front of the car. Sensor cap fell off. Volvo offered to only replace that. Dealership had to replace the fuel gauge, and the gas door (that wouldn't open). A lot of faulty sensors with this car. Rear camera stops working when it gets wet. Air conditioner randomly stops working. Front driver's side window rolls down slowly. Can keep the air conditioner running when you lock the car from the outside, as it shuts down the engine. Radio always seems to be playing when car is off. The self braking system goes off randomly, almost causing crashes. Bought this car because it's a Volvo. Suppose to be safe for the little family... It's not.

I am the happy owner of a Volvo V60 T6 2015, my first Volvo, in replacement of a Subaru Forester XT 2014. I just want to say how I'm happy with my car. I know most of people on that website are writing about problem they have and that's ok, but I think it is important to also tell people when you don't have problem. :-)
I have my car for one year now, only 16000 km, not a lot, but enough time to say if you like the car or not. Most of the problem usually appears during the first year.
The engine is great, the old one, the six cylinder with turbo, 300 hp, you really have that power fast on the highway, very secure car, not a sporty car but enough sporty for me. I have some fun with that car, a pleasure to drive on any way, great and wonderful sport seats, great finish and quality inside AND outside. Zero problem! I am Canadian and the awd works perfectly, not as great as the Subaru one, but a very good one! You have plenty of space in the hatch, that's why I love wagon (I'm European :-)).
Also, customer service is perfect at least at the dealer, everything perfect there. Also, price for services is the same as Subaru. If you compare year and kilometers (every 10000km for Subaru!!! Every 160000 km for Volvo) Subaru is so expensive and so bad quality with so many problems... So, go away and take a Volvo, at least a model which is on sale for a while, because for new ones, I suggest to wait for at least two years to avoid any problem on the first production years!

On August 20th, 2016, my wife and child ran out of gas in her brand new 2016 Volvo XC60 which she paid $43,000 for. She purchased the Volvo because of reputation and safety. Volvo uses their "roadside" assistance as a selling tool. My wife and child sat for 2 hours after being told it would be less than one hour. No one followed up with her, gave her any update at all. It was 90 degrees and they were not close enough to walk to any store. A kind gentleman finally stopped, gave them water and snacks and then came back with gas. He did not take a dime. I called Volvo to voice my displeasure and it was then they called my wife. At this point, it was too late. Roadside assistance is good but only if they actually "assist."

2016 XC 90 Fuel Gauge. My family members and I have ran out of gas 3 times and had to call AAA. I have owned Volvos exclusively since 1994. The fuel gauge is RIDICULOUS! It is just a tan line at the bottom of the screen behind the steering wheel that turns muted orange. No sound or voice warning. This car warns me if its thinks I am tired, but doesn't do a damn thing if I am about to run out of gas!

I have a 2005 XC90 2.5 AWD since new. It now has 132000 miles. Best car I've ever owned. I am planning to keep it forever. The car has been super reliable and still looks brand new without having to do much maintenance other than oil changes, brakes, and tires. Fantastic SUV.

March 2016 our Volvo truck was taken due to breakdown. Diagnosis was that the fuel pump needed replacement. It took about 4 weeks at Gateway Trucks & Refrigeration in Collinsville, IL. May 17 truck shows errors. Took it to M&K Trucks in Des Plaines, IL. It turned out it was an engine overhaul. Truck was again down for 4 weeks. A week after we picked up truck we got an error on the screen, and M&K diagnosed to the problem as having metal shavings in the fuel line. They asked for paperwork from Gateway and after a week we got our truck back, and they said that the issue was covered under warranty. July 1st same error returns. Took the truck back to M&K and the same diagnosed metal shavings in the fuel line.
3 days later we are told that Gateway only warranties labor for 90 days, although according to M&K this was a workmanship problem, and Volvo can't cover. It is Gateway's responsibility. M&K has tried to get Gateway to review case showing that the truck has only work a few weeks and that only 20K miles has been run since their repair. I opened a case with Volvo directly, Case #**, and a week later I called to get update, and was told case was closed, and I should deal directly with both Volvo dealers. 7/15 I asked for case to be reopened and escalated. 7/19 Volvo informs me that they have escalated case to a FSM and that is as high as it goes, but this person has not updated the case yet. M&K on the other hand is trying to mediate through a Cummins rep with Gateway.
In the meantime we have not been able to work with our truck for over 2 weeks due to negligent work and lack of work ethic from Volvo-approved dealership which means over $12K in lost revenue. As a word of caution, Volvo informed me that both dealers are independently owned and operated, and that if I ever break down again and want Volvo to be responsible for the work I should call their toll-free number and get an owned Volvo dealer. So disappointed that the end customer gets a runaround. I am sure it is because we are are not a big company so nobody cares about the impact their negligent work has on our lives.

My parents bought the new 2016 XC60 in Dec 2015, arrived Jan 2016 - we have owned XC90 2004 in past with no problems, bought another for the safety and reliability. However the car dealership have been an disappointment. It has an electrical problem somewhere they can't trace. First replaced the amplifier a few months ago but the "random" & "frightening" loud sounds continue. It's unnerving to have the loud electrical sounds occur. It can be when you start in the garage, or just driving down the street - no warning. The Dealership says they've not heard of this problem and are not offering a solution. I think the beautiful new car is a lemon and makes me doubt if I want to keep the Volvo. It's disappointing to see the dealership be dismissive of a senior adult couple who just wanted to buy a new car and are having this experience.

I have a 2015 Platinum XC60 for which I paid a lot extra. It has the leather interior which I thought until just recently was awesome. Has anyone who has a similar car experienced that the leather fabric on the dashboard area below the front window is totally peeling up? I keep my car garaged 99% of the time when it is not being driven and for unknown reasons, the panel below the window is coming apart. The dealer has turned the matter over to Volvo and I am waiting to hear what they will do about it. The dealer said they have never seen this before. The car only has 12,000 miles on it and the upholstery is now shot? I don't get it.

I have owned two Volvo, XC 90 and C70. Both are 2008 models. I have put over 120,000 miles on the 90 without any problems and have over 90,000 on the C70 with no problems. I service them according to the manual and it has been a pleasure to own a Volvo. I have recently purchased a 2016 XC 60 and look forward to driving it for a long time also. I buy Volvo for the safety of the vehicle. I can always replace a car but I cannot replace my family. It might wear tires out sooner than other vehicles and I have to replace the brakes sooner than I do on other vehicles, but that is the price I will pay for safety.

This has been the bane of my existence for numerous months now (5 months to be exact)... My 2007 S40 Volvo with 60K miles will not pass the smog check. I've been back to my smog guy 6 times, had my car towed for too many parking tickets due to no registration. Paid over $1600 in fees, called Volvo numerous times, the Volvo dealership nearest me, my Volvo mechanic... etc. and I've driven over 1200 miles. Apparently because I changed my battery a few weeks before the smog check, I have to just keep 'driving' my car (illegally I might add). Well... I have driven and driven and driven and still not passing. No help from Volvo.

Feb. 11, first occurrence. After filling up gas tank, I stopped at store for a few minutes, I came back to Volvo 2008 XC90 and it starts but immediately dies. After a few tries, I have it towed to local mechanic. He pulls code for fuel pump. Replaces fuel pump with Volvo part, but gas gauge is not working. $600 for labor (owner says won't charge), $598.00 for fuel pump.
Feb.14 - Leave for cross-country trip (car reeks of gas), runs for about 2 or 3 hours then starts acting up. While driving at 75 mph, car starts missing slightly. Works issue through for a few miles then gets progressively worse until accelerator is totally unresponsive and car starts down shifting until after pulling off the road engine stalls out. After letting the car sit for about 10 min car starts up and runs like nothing is wrong for another 20 or 30 minutes. The problem starts up again until car is on the side of the road again stalled out.
This happens 3 or 4 times until we're near Birmingham, AL. and the check engine light comes on and displays slow down or shift up in message window. Have it towed ($65.00) to another local mechanic who specializes in imports. Have to stay night in hotel ($107.00) while he finds that fuel line connection to newly installed fuel pump is leaking (reason for gas fumes in car) and tries to clamp it tight. Check engine light still on. Cost $325.
Feb. 15 - Start on road again. Seems to run fine for about 2 1/2 hrs. then same thing starts to happen again! After 3 or 4 more stops we finally pull into Volvo dealership in Jackson, MS. Feb. 16 - After Volvo tech examines previous work he finds that 1st mechanic has damaged connection between fuel pump and fuel line to pump irreparably. Because he can't be sure of previous installation, his recommendation is another new fuel pump and fuel line to pump. After installation, fuel gauge is working again. Cost $1,924.52.
Feb. 18 - Leave for CA. 3 long days of hard driving, no problems. Seems like it is fixed. Feb. 20 - after arriving in CA have 3 days of short drives, with no incidents. Feb. 23 - While driving in town, car stalls out at stoplight. Restart car but check engine light comes on. Drive it to local Volvo dealer. Feb. 24 - Run full diagnostic on it next day. Can't find anything, test-driving, and no problems for them. Return car. No cost. No problems for us rest of CA stay. Some freeway high-speed driving, no more than 2 hours at a time. Frequent town driving.
Mar. 13 - Leave CA. No problems for most of day. Then later in day, after maybe 7 hours driving with a few stops for gas, problem begins again. After pulling off-road at high-speed a few times we make it to our hotel. Mar. 14 - Problems again, but not until late in day. Make it to hotel. Check engine light comes on at end of day when problem occurs but after resting overnight it's off in morning. Mar. 15 - Drive 2 hours to Taos, NM. and back to Santa Fe for the night, no problems. Mar. 16 - Drive about 5 hrs. before problem occurs once again. After 4 or 5 stops for problem we make it to hotel.
Mar. 17 - Once again, no problems for about 5 hours then it starts up acting up. Crawl into Jackson, MS Volvo dealer once again. Check engine light on, leave engine running, they pull it into garage right away and are able to pull a few codes. They track down each code and decide its the fuel pump electronic module which they replaced. Cost: $718.56. March 22 - Leave for home. 4 hours in, problem starts again but much worse. After 4 or 5 stalls we finally make it home barely.
March 25 - Car is continually stalling, even after just a few minutes driving. Deliver car to my local Volvo dealer; give him all the mechanics numbers that have worked on it for past month or so. After over a week they call and say they found debris in the fuel pump. They suggest wait for it replacing the fuel pump AGAIN!!! I ask them to call the dealer in Jackson before moving forward which I had suggested when I dropped the car off. April 5 - 6,000 miles, many unscheduled stops and nights staying over waiting for car to be repaired and about 4,000 or more (counting unplanned hotel stays) later and still unresolved.

2010 Volvo XC60 T6. Bought car new in 2009. Ran great for first 2 years. At 150,000 km the rear differential failed ($11,000) and was replaced with no assistance from Volvo. The heater fan developed an annoying chirp. The oil consumption increased drastically (was originally 12,000 km - now is around 6,000). The Led and left front parking light stopped functioning for approximately one year. The windshield wipers stopped working. When this was checked, the computer was found to be jammed with unnecessary messages. When the computer was cleared; the wipers AND the two previously mentioned lights began to work. Both front wheel bearings failed. Replacement at considerable cost. The electronic lock control on the passenger door fell into the door. Despite Volvo's reputation; I would not recommend buying one to anyone! PS - Why would anyone design a vehicle with 2 rear fog lights and then not have one of them work?

Bought a Volvo V70, very low miles, around 65000 miles for a 14 year old car is not much. Bought it from a dealer, test drive it, seemed to be fine. I paid 5000 dollar for it, and yes, I overpaid this I found out later. After a while first problems, the sunroof was leaking bad, all carpets got wet, check on internet, had a look at some videos. I did not even try to clean those sunroof water drains, put silicone all around the sunroof that can be opened, now it can't be used no more.
A couple of days later, the rear wiper at the trunk didn't stop from running no more. I disconnect it, problem fixed... Still have wet carpets, foul smell even though we dried everything after this sunroof leak. Take the carpet out on the driver side, drive the car a couple of day without the carpet, every time I used the AC, there was condensation water accumulating. Okay, I see a rubber hose that should lead AC condensation water through the body to the engine compartment and outside the car. That rubber hose is not in place as intended, and water is therefore lead to the inside in the foot room area under the carpet.
Of course, now I knew why there always was a mold smell, even before we bought the car. It was not the sunroof problem alone. This rubber hose not in place caused water accumulation under driver side carpet. Put that hose back in place and secured it with silicon to make sure the water goes where it is intended, out into the engine compartment. Drive the car another couple of days to see how it is doing, now see coolant that is leaking into footwell compartment, not much, but it is coolant, must be from the heat core that is leaking. Use that stuff from autozone. Looks like aluminum particles in a transparent bottle. Put half of it in coolant liquid, drive it a couple of weeks, seem to stop the leak.
Later, all of a sudden we have gasoline smell in the car. We change the fuel cap, doesn't help. We bring it to a local mechanic, they do not know much about Volvos, he can't find problem. My wife drive the car, all of a sudden complete oil loss. All like goes on, my wife stops in time, tow the car, local mechanic after a long time figuring out what it could be. Borrowing the right tools, he change the timing belt, 1000 bucks less on my account. Still that smell of gasoline in the car. The local guy can't find out why. He tells me it must be a cracked fuel tank, some hole in the upper part of the fuel tank... on right curves especially, veritable streams of fuel leave marks on the ground. I say to my wife, "That's it, do not drive it no more." She is in Knoxville, brings it to a dealership. They check it, it is the fuel pump, 985 bucks including labour and tax, wow.
Days later I see a video how to change the fuel pump yourself, owning a Volvo. It is a good idea to check videos online and try to be a mechanic yourself, because if not... you go broke!!! Now there is a transmission check light on, the transmission oil is not as clear as it used to be, I check on some volvo blog sites, and no good news, the tranny seems to be going bad. Well, I will tomorrow try to go and flush the transmission fluid, see if this helps. We put about 12000 miles on that car, we own it about a year now. It is a trouble maker big time, not a good idea to have such a car where we live, closest dealer over one hour drive away. Local guys do not know how to fix those cars, and do not even want to try... and dealerships are crazy crazy expensive.
I always thought that American cars are crappy, and since I am from Europe myself, always thought that Eurocars, Swedes, German Cars are top of the line... that is what Volvo's reputation is, but this will be something of the past, cause this car is a piece of S. I will not even think about to buy a Volvo again, I will drive it till it stops. Just do whatever is necessary to keep the wheels turning, but this car is like a leaking barrel, you plug here a leak, and the same time the next leak pops up somewhere else. Volvo had a very good reputation, since I remember as a kid, Volvos go on forever all the people said. Well, that was once upon a time. Today Volvos go on forever back to the mechanic... Nice car to drive. Enjoy this rare moments when you do not have it in a shop.

Purchased my 2008 Volvo S40 in 2009, so it was just over a year old. I hadn't had any real problems with it until last summer (2014)... granted the car was 6 years old, but still the things that went wrong were just... odd. BOTH the driver and passenger side view mirrors (just the mirror part) came loose and I had to constantly glue them back on. There were moments I was on the expressway, praying that it wouldn't fly off! The windshield wiper spout (where the fluid comes out) was loose -- had to glue that back onto the hood of the car a few times. MY A/C started not working, so I got recharged -- thankfully that lasted the summer. And my favorite... so the transmission is placed SUPER low to the ground, near the front of the car. There were 2x last winter where the transmission line broke from "driving over snow" where I was left stranded on the side of the road.
Also had to worry about the towing and rental. Both times it cost $300 at the shop to repair. It is also probably the WORST car to drive in snow, rain, sleet. SLIDES EVERYWHERE. My brother is a mechanic and told me at about 75,000 miles that the timing belt was looking 'rough' and to get it replaced sooner vs later. Mind you, the 'recommended' time to replace is 120,000 miles. I never did get it fixed, and traded my car in this past week with 94,000 miles on it. I can only imagine things continuing to go downhill. Now it will be someone else's problem.

This new Volvo is a real success and is very advanced (re. media, etc). It reads your SMS f.i., but DOES NOT WARN YOU when you will be out of petrol. I am expecting an alert (sound, flashing sign, or...), but this car has none of this. The very small petrol pump (invisible on the dashboard) turn orange, that is all. As a result, I got stuck 6 time in 15000 km including on motorways, costly and humiliating experience. I wrote to Volvo Sweden, but did not get even a receipt, and the garage told me this is like this and Gutbrod has NO plan so far to add an alert, which you would find on a DAF in 1980! I am disgusted!

My 2013 Volvo XC90 has a warning to service the Anti Skid system. This first happened on Jan 9th, 2016. I called Glen Cove Volvo the first thing on Monday, Jan 11th. Glen Cove Volvo said they could not even look at my car for two weeks due to capacity issues. I offered to have it fixed at my local shop if they reimbursed me (since this is under warranty). They said that is not an option. I was told to check other Volvo dealers, the next closest one is 30 mins away and they had a one week wait. So Volvo has left me with no options. I now have to drive a week in NY in January with potential snow and ice with no anti skid system because Volvo obviously does not care for its customers. I will never deal with any Volvo dealer again.

I have 2014 Volvo s60 r-design. 2 months ago 1 year old car gave warning that the engine cooling water is low. I have send my car to dealer and they couldn't find out what is the problem for 1 week. Then a reply came from Volvo Sweden was saying that "OPEN THE ENGINE AND CHECK IF SOMETHING IS WRONG." I told them to stop. I was expecting that Volvo replace with a new car. 1 year old brand new car driven for 35.000 km which has a problem in the engine mean that customer needs to be satisfied. I will definitely never get a Volvo car again. You pay almost same money as BMW or Mercedes but Volvo doesn't stand behind of its product as German brands does.

My 2010 Volvo is currently at the dealer for windshield replacement due to leak above the driver's side. I returned to my car after heavy rain and snow to find water dripping from the ceiling and a sizable pool of water on the driver's side floor. My car is no longer under warranty, so the dealership is charging me for the replacement of the windshield. I was told that a re-seal was not sufficient, therefore, an aftermarket windshield would be ordered and installed since the original broke upon removal which costs $450-$500 plus $250 to install. The service department rep. has kept me informed throughout the process, however, that has not lessened the financial impact on me due to Volvo's faulty manufacturing process and materials.
I will definitely be contacting Volvo North America and seeking legal guidance. I just purchased this vehicle 'as is' from the dealership in July of this year. Although I enjoy my new XC60, I will not endorse nor buy another Volvo if such defects are not corrected and additional issues arise. Safety and reliability should not be a concern especially in less than 6 months after purchase. The company must compensate customers for failure to secure reliably manufactured vehicles. Too many hard working consumers have unjustly paid for a subpar product.

2016 Volvo XC90 Two Months Old - Electrical Issues: Dealership was very good about giving us a loaner car but they are clueless about what is wrong with our vehicle. We had been having issues with the center console and dash screen going out. It would go out twice and then reload. Very dangerous as the speedometer blanks out while driving. My husband and I were on a trip when it blacked/blanked out and after it load we smelled a burning smell and smoke came out of the Center Screen. I have had this car only two months and have rough 4,000 miles on it. The dealership had it for a week and did not know what the problem was and indicated it was probably because it needed a software update. Common Sense would tell you if there was smoke and a burning smell that it is something more than a software update.
I contacted Volvo who sent out a tech only to be told the same thing. When they went to move the car. The car would not start and the car had to be jumped. They indicated that they put meters on the battery and that nothing was wrong but they would keep it overnight to make sure it would start in the AM. The car did not start and again I am hearing that it must of happened as a result of the software updates they made. This is the fifth Volvo I have owned and never have I had these types of issues.
While I can appreciate it is a new vehicle and a total redesign of the vehicle they really should know how to address these issues or at least say they will work on it until they can find out what is wrong rather than expecting me to take it home which is an hour and half away until the next time it happens. So disappointed given their corporate philosophy on safety as clearly there is an issue one that involves safety and waiting on the shoe to drop is not OK especially given the amount of money we paid for the car because they don't know what the issue is. They released today photos of the new S90. I would definitely steer clear of either of these cars until they gain experience and knowledge of all of the electrical components of these vehicles.

I had considered trading my Volvo which is made in Sweden, however now the brand has gone in to Chinese which happened two years ago. I will not buy another Volvo. For one thing they are to prone to breakdown. I probably will buy a Korean made vehicle.

I loved my 2011 XC90 when I first bought it. The interior was more luxurious than my previous BMW's. It was spacious, had amazing storage space, and had all the bells and whistles one would expect from a car that cost more than $50,000. The car is almost 5 years old, but from the beginning, there have been numerous unexpected problems. The first came when the CD player broke. For some time after the dealer fixed this, which involved taking apart the dashboard to remove the broken stereo, I heard an odd cracking noise. It turned out to be a long, hairline crack forming in the glass panel that housed the odometer. The crack originated from under the dashboard and was about 3 inches long - no doubt caused when they took apart the stereo.
When I took it in for repair, Volvo warranty refused to cover this saying that I had deliberately cracked the glass! There is no way this was possible seeing how I would have had to take apart the dashboard. Nuts! The Volvo repair people believed me but said they weren't authorized to fix it given that the regional Volvo repair guru had said "no." They told me to call Volvo customer service, which I did, but was denied because they took the word of the idiot who evaluated my car. So whatever, I had to let it go. After all, it was just a crack.
Since then, my air conditioning has imploded, shooting shrapnel throughout the hoses and the car and causing two weeks of repairs. The leather on the seats is coming apart and wearing thin. I have to replace my tires every 17,000 miles because of the way the Volvo drives. I am constantly running low on oil between service appointments. And now - and this one is my absolute favorite - rats have apparently decided to get inside my hood and eat through the engine wiring while I sleep at night. Oh yes, Volvo wires must just taste better than those in our BMW or Toyota. This is just another reason why I will never buy another crappy Volvo. I should have stuck with BMW.

XC60 2009 Too much money for such a bad made car - The first day I took it they had forgotten to disable the software safety that prevents the car from running more than 20km/h. I took it back. After that I had problems with all the door locks. 3 of them were replaced and the started to malfunction again. 4 years from date of purchase, I noticed water inside my car. The windshield was leaking. I replaced it (the company used my insurance - they did not take responsibility for the fail). They replace some things that had to do with the turbo (turbo sensor, Turbo Tube, wastegate and some other) and now they are going to replace the Turbo. All my letters to Volvo had the same result: NOTHING. The technician suggested to get rid of it, sell it, but how can I sell a bad car. Worst buy I have ever done. My biggest problem is that the mother company takes no responsibility for the mistakes. Bad company.

Had 2003 V70.. Great car, No problems. Bought 2014 XC60 and we still have temporary tags and this car has already been towed in twice, died (battery) second, overheated. Volvo of Triad in Winston-Salem, NC lied about everything! There were scratches on hood and they took touch-up and made a mess. They told us it was "Local", it came from FLORIDA!!! They sold it to us past 30,000 miles and then we found out 30,000-mile service had never been done! And it was a "certificated pre-owned". Now key fob does not recognize. Stay away.

I bought my Volvo in 2012 and it was brand new at the time. I have had minor, manageable issues with Volvo ever since (replacing fuses, replacing a rear shock, etc...). However, while bringing it in for my last service, I completely ran out of oil on a secluded road with very little cell service (I was so lucky I could call for help). My oil pressure light came on and I pulled over immediately. When I checked the oil, there was not even a drop. I called Volvo and they said to continue driving until my car could go no further, seriously?! I called my father-in-law and he brought 4 quarts, which we added, and it barely registered on the dipstick.
Volvo currently has my car, is replacing the piston rings, since that is what caused the engine to burn oil. They gave me a loaner car for a week. They admit that this is Volvo's fault and are replacing the rings at no charge to me. However, after I started doing extensive research into this issue, I stumbled across a recall on my car. Volvo recalled certain 2011-2012 vehicles that were not alerting the driver of a low oil pressure situation. After calling and talking to the General Manager at Smother's European in Santa Rosa, I was told that they have made at least 10-12 of these piston ring repairs, and replacing the rings is what Volvo has advised them to do. I don't think that is acceptable. Any kind of engine problem, especially running on no oil, really damages the entire engine. I would be happier if they replaced the whole engine, but not satisfied.
For something that is a design flaw with Volvo, customers are being forced to accept a flawed product, which will greatly reduce the car's resale value. This is unacceptable and Volvo needs to compensate customers appropriately to stand by the company's claim that their core values are "quality, safety, and environmental care" and that they are "working with energy, passion, and respect for the individual".