Consumer Complaints and Reviews

Bought a 2016 Buick Verano for my son. Monday morning he was coming home going 65 miles per hour. The car stalled or completely turned off. He managed to get to the emergency lane. Today is January 4, 2017. This car was purchased on November 29, 2016. His first payment isn't due till January 13. He called the dealership. They wanted him to bring it in the next day. I talked to the salesman. They got him a loaner car for Monday. They called me today and said there were no codes and they took it out to drive and everything is OK. Well it's not OK for me. They have no idea what's wrong. The GM rep at the dealer told me the same thing I've seen on other sites. No codes no problem it drives OK. Finally this car had 29 miles on it when bought it. Now has just under 300 and the first payment hasn't been made yet. My son is worried about driving the car. I hope this isn't a lemon.

I had this vehicle 3 weeks only 27 miles on it when purchased. At time of problem there was 1000 miles on car. Pulling onto Highway at highway speed vehicle began to shudder and lose power. Pull off Highway shut down engine waited 10 minutes. Try to start engine it would not start. At time of problem check engine get mechanical service and traction stabilizing lights were on. I am writing this review because I have read so far 6 similar complaints. Car is now at dealer and I am waiting to hear what they say.

We have a 2007 Buick with 25,000 miles on it and the GM engineers cannot figure out what is wrong. First we took the car to Richard Kay Superstore in Anderson, SC. They had it for 3 weeks, told me they called the GM engineers but never documented it. Gave us the car back, said it was fixed but the engine light came on within one hour driving the car home. Called the dealer back, they offered no solution, left us very disappointed. We decided to try the local Chevrolet dealer, Sonic Chevrolet in Walhalla, SC. They had the car for two months, replaced a number of sensors. Contacted the GM engineers, started a issue ticket with them. Sonic Chevrolet took the time with us and said if the light comes on again there are only two things left, one that will cost $700.00 and the other that costs $1,000.00. They said the engineers told them they have never seen this happen before.
Well after two days the light is back on. Since we have already spent $1,000 on parts and another $650 on new tires. I should say we originally purchased the car new and always had it serviced by GM dealers and mechanics on a regular basis. We will be bringing the car back to Sonic Chevrolet in Walhalla SC. With this issue, one needs to ask, why would anyone want to buy a GM vehicle when the computer or engineers cannot find out why the engine light is on? Seems to me that if there was no computer you wouldn't need all of the sensors and there wouldn't be a issue with a engine light, and I wouldn't have had the car tied up for three months or had to spend the money on top of the regular service we had done.

Everyone of my family that has owned one in the past says they're a very well-put together automobile, and highly recommended them. I would suggest checking Buick out, they are a very good automobile. They are very dependable, and all the ones my family has ever owned lasted for a long time. When they do need to get checked out, for any type of problem, they're usually not in the shop very long, as whatever's wrong is easily fixed. And they're a relatively low priced car.

I purchased a brand new 2016 Buick Encore end of August. I had issues with the car when driving under 40 mph where it would appear to cut out or shift hard. I had researched and found where other people had the issue and it went away a few thousand miles. Then in November at 3500 miles, it happened going down the highway at 50 mph and threw me forward in the car. Then once coming to a stop, I was unable to move in reverse, it made an awful sound and would not move. It would still go in drive but again cut out heavily. The car was towed to the dealer for repair.
I am now told that the "tool" needed to repair my transmission was just ordered last week, over two weeks of having my car, that the tool would not be received until the end of December or first part of January. I am disappointed that GM would not approve for a complete transmission replacement as opposed to repair. I purchased the car loaded with every feature and I am most upset how long I am being deprived from the car.
How do I know I can trust these reviews about Buick?
666,787 reviews on ConsumerAffairs are verified.
We require contact information to ensure our reviewers are real.
We use intelligent software that helps us maintain the integrity of reviews.
Our moderators read all reviews to verify quality and helpfulness.
For more information about reviews on ConsumerAffairs.com please visit our FAQ.

This car has almost 300,000 miles and is still a decent car. My Buick Lesabre has almost 300,000 miles and is still going. I purchased this vehicle due to great reviews on the engine Buick used for this vehicle. I have kept my oil changed and regular tune ups. And I believe that makes a difference in the life of your car. I recommend this vehicle. I see a lot of older Buick Lesabres on the road daily. So they must be doing something right.

I bought a 1995 Buick Regal Custom with a 145000 on it from my neighbor. It was his granddaughters. A few people owned it before her. I guess they never used the locks. I used the remote to lock and unlock the doors. After a few weeks I was locked out of my car. It kept making a clicking sound. The key would not even unlock it then. This went on for an hour before I could finally open the door. Then after that on another day my husband, my 5 yr old grandson and myself pulled into our driveway I hit the lock button in the car to unlock the doors so we could exit the vehicle. No such luck. The clicking noise started again. We sat in the car for an hour, still could not get out of the vehicle. I called my son who lives 20 minutes away, we drove to his house listening to the clicking in the doors all the way to his house.
After we arrived we still could not exit the car until he disconnected the auto lock. After that, I figured everything was good to go. Guess what, I locked the drivers side door manually, my husband locked his door the front passenger door manually and I locked the back doors manually. When we made it back home we could not get out of the car. We manually unlocked our front doors but they were not unlocked. I had to take my door key, put it in the lock on the outside of door and unlock it while I was still sitting in the drivers seat.
After I got out of the car I had to unlock the passenger door. The back doors unlock from the inside but not the front doors. I had called Buick. A Foreigner told me since I bought the car used and for how old it is, she could not help me. That it was not under warranty. I told her if I ever get stuck in this vehicle from a wreck, fire, etc. There will be a big lawsuit. I have never in my life had a car that would lock me out of it or in it. I never lock the doors while I am in it. But when I park it at home or out shopping I lock the doors. This car should of been recalled years ago. Is there someone that can help me with this problem.

Bought a used 2012 Buick Enclave with just 60k miles on it. I was told it was a great safe family vehicle (by sales associate). 3 days after purchase the #2 injector failed and stranded us. We brought it back to dealership and they took it to Buick hall and had it repaired. A week later we were stranded again for the same issue (reduced power, smoking, fumes in car, stabilitrak alert all the same symptoms). This time we took it back to Buick hall and they said it was just an injector misfire, refused to replace it. We asked about recalls and they said there were none.
A few weeks later all the same things happened and we called them. They wanted 200 to test fuel system, knowing we knew what the issue was, then said if it was in fact the injectors again it's eight hundred per faulty injector. I have NEVER had so many issues with a vehicle in my life. We are a single income household with four young boys, we can't afford to shell out all this money and now we are stuck in an unsafe lemon that has stranded my family on the side up the road for this same issue several times since. Total of 6 months we've had this LEMON!!!

Just purchased my 2012 Lacrosse in March 2016. It's been at the dealership twice for a total of 23 days, and as of today they still don't have a diagnosis. They can't tell me that my car is safe to drive or that it isn't going to leave me stranded. Only that they don't know what causing the very loud noise that's coming from somewhere in the engine. My car only has 50,000 miles. I could have purchased a new car for what I paid for my used car but I really thought I wanted a Buick. Not...

Purchased this 2013 vehicle used in 2015 from GM dealership. Noticed immediately that the airbag warning kept coming on and going off.. When I asked about this, I was told, not a problem. Over the years, other problems are creeping up... All electrical. Car will not start for no apparent reason, (often) battery good, alternator good, starter good, but car just won't start. I've had more jumps in the last year than I can count. In fact, I'm sitting in this car now, waiting for another. I'm sooooo disappointed. All I wanted was an American made car, reliable and lasting. I barely have 42k miles on this car and it is difficult for me to express just how truly disappointed I am. Although, in instances such as these, gender doesn't matter, but as a lady, this frightens me.

I purchased this car almost 2 months ago and have driven it all of 4 days. During that time the vehicle shut off and lost power while I was going 75 to 80 miles per hour on a freeway. I almost got in a horrible accident each time. I took the car back to the dealers so they could figure out what was going on. After having the car for almost 30 days, they call me and say they have no idea what is making it do that. Told me I need to pick up the vehicle and release the loaner and want me to drive this unsafe vehicle! They are crazy!

We bought our 2013 Buick Regal brand new from Castle Buick in North Riverside IL. We purchased the car thinking the 4 cyl. engine would be more economical than our Chevy V6 cyl. Impala. The Buick 4 cyl. has yet to come even close to the E.P.A. mileage ratings and after 60000 miles still can't touch the overall mileage of the Impala V6. At 32000 miles we had to replace right rear wheel bearings and a engine pulley that turns the pumps. Which the dealer Castle Buick replaced under warranty. Then a few thousand miles later the wheel bearing went out again. The dealer replaced the bearing for real this time under warranty. Now 69000 miles the engine pulley went out again and the dealer claims it's out of Warranty even for the one they replaced at 36000 miles 20 months later and charged us $443.00. Very disappointed in the Buick Regal and Castle Buick. I'll think twice about another Buick. Honda here I come.

This 2010 Buick Enclave CXL has been a problem from start, it's had the steering system changed, the front end changed, water pump, thermostat, wiper motor, ignition key security system failed, motor mounts, the A/C went out, navigation failed, radiator and fans replaced, etc. I have had more problems with this vehicle in 6 years than I did with a 12 year old Infiniti. And it's still not working right, that's why I went out and purchased another Infiniti, I was going to buy another GM Yukon Denali but not after going through so much headaches. And recently I have the engine idle is working rough almost stalling, warning that engine power has been reduced, and the other day the engine would not shut off after taking key out of ignition, it's like if it were possessed. This is a definition of lemon. Won't recommend this vehicle to anyone.

I have a 2010 Buick Enclave. It recently started having steering issues at low speeds. I took it to my local repair shop and recommended a rack assembly replacement. It did not fix the issue. I did some research and found that Buick has been problems with this issue. I took my car back to the repair shop and they looked and found that there was a special coverage adjustment for this. It extended the coverage for 10 years or 150,000 miles. They say they will pay for the expenses if they have already been done. I was told I was mailed a recall in 2014, which I did not. This was about the time I purchased the car used. The representative had my mailing address as MA not MS. Then said it was MS.
Bottomline, they refuse to pay for it, saying my deadline was 2015 and I should have taken it to a dealer. I had no knowledge there was a recall (even though it had been in dealer earlier in year) and did not have issues until late 7/2016. If I did, why would I take it to a local repair shop. Guess the 10 year extension really does not mean the paper it is printed on. The local dealer would not even attempt to help with getting a refund, even though on page 14 it says they should help. Not please with the Buick family with my first Buick. Likely to be last due to this.

We are NOT off to a good start with Buick! My wife just purchased a brand new Buick Encore, and her A/C failed completely on the first day of ownership! Ironically, one of the reasons we went with Buick was because of the supposed excellent reliability of the brand, as indicated by what we read on the internet (J.D. Powers, etc.). The car was brought to the dealership, where they are looking at it as I type. I hope we didn't get a 'lemon'! Time will tell...

I purchased my 2011 Buick Regal CXL Turbo October 2013. There has been multiple issues with this car, ALL electrical. The signals and headlights continues to blow and I had to change my battery twice in 2 years. I really like the idea of purchasing an American made car but this car is going to bankrupt me. I am now dealing with a blown fuse. GM had really failed with this vehicle. I ran into a lady with this make/model vehicle and she is experiencing the same issues. GM really needs to be held responsible for this. I have all of my receipts for service and with this vehicle, something has to be done!

While driving my 2014 Buick LaCrosse to exit from the interstate, I let off the gas to reduce speed and when attempting to pick up speed, car would not accelerate at all but the start button was green. There was no jerking or shaking or any noise from the auto. Turned on my hazards, placed car in park, turned the car off and restarted. The engine light did not come on and car worked as normal. Not sure what happened but wanted to place the incident on record.

I have taken my Buick Regal turbo 2011 in for repairs 19 times. The serpentine belt is squeaking again so that will be 20 times. I also have a suspension light on which they report will be a 1000 dollar repair. The lemon law gave me a small amount of cash but I think Buick should have replaced this car. It all started with 2000 miles on it. It also had a cracked turbo which needed to be replaced. The dealership has been rude and horrible. I will never buy a GM product again.

My Buick has issues with my coolant. I had to install a water pump and a new thermostat was installed. Now they tell me my motor mount is broken. Also one day my 2006 Buick Lucerne would not shift out of park. I take it to the dealer and they tell me I need a shifter assembly. This is starting to be very costly. I did some research and a lot of people have these same problems. How would I file a complaint directly to GM.

I owned a 2010 Buick Lacrosse Touring with less than 55,000 miles that was diagnosed as having a serious lower engine problem and malfunctioning transmission by a GMC/Buick dealership here in St Louis, MO. All but $1000 of the $4000 repair bill was covered by the 5 year drivetrain warranty. So I sold it at a big loss and found a 2012 Lacrosse Touring with low miles because my wife insisted on buying an American car. Guess what people, same problem. Bad engine and transmission. My engine sounds like it's ready to quit any minute and my transmission revs up to 1500 RPMs to shift gears. It's my experience and opinion that the Buick company officers should be held accountable for blatant fraud.

I have a 2012 Verano. Paint started coming off hood. It has never been parked under trees. Now paint on roof and top of truck is all faded. The sides are starting to look the same. Out of my bumper to bumper warranty 3000 miles ago. It has to be defective paint. GM is going to look at it they said.

I have a 2014 Buick Regal. This morning I took it to the dealer because there it was a message on the car regarding the power steering. They changed the car battery cause they said that was the reason of the message. I just want to let people know that I previously had a brand new Buick Lacrosse 2013 that I changed for this Regal and that it gave me the same problem with the battery in less than 2 years. I'm not a mechanic specialist but how it is possible that 2 different brand new cars are exactly giving the same problem? It means that the manufacturer it is using a very low quality batteries on their cars to reduce their costs. I was thinking to buy a Lacrosse again but I will think it three. What a shame because I really like Buick. However, I recognize that the service at the dealer is extremely good. The guys over there are awesome, excellent attention. Thank you guys!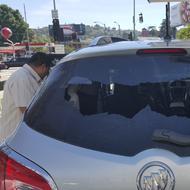 I was waiting at a signal in my 2015 Buick Enclave, I heard a loud boom. I looked thru the rear view mirror as I heard the sound of the glass shattering then it exploded. The glass exploded into my car, landing on the front seat, mid row seat and on the dashboard. The lady behind me witnessed the whole thing. She said nothing hit my car window as we looked for signs of anything on the ground and in the car. I'm so thankful my children (who love the third row) were not in the car.

No battery. Called Buick roadside service. Help came shortly. Took to Buick garage. No problem found. Must be a Poor quality battery. No replacement. Shame on Buick for inadequate battery on my LaCrosse.

Frustrated and disappointed owner of a 2010 Buick Enclave CXL with 86,000.00 miles. I cannot begin to describe how awful my experience with Buick and this Enclave has been. I've owned this vehicle for 3 years bought it used at 30,000 miles with full maintenance records including tune ups and oil changes. Since I've had the vehicle I have experienced the following: I have been left stranded on the freeway 4 times with 3 small children ranging from ages 3 months of age to 5 years of age with the same recurring issue Reduced engine power. I kid you not, the vehicle begins to fail locks up and then shuts off.
I can't begin to describe how incredibly dangerous and frightful that experience is of having your vehicle shut off on you while traveling at 50-70 miles an hour with small children in the vehicle. And to make matters worse it's out of warranty so I have paid over 13,000.00 in repairs alone. At least once a year our beloved family car shuts off and leaves us stranded in an incredibly dangerous situation and all Buick can say is "we are sorry, you have had such a negative experience with this vehicle. Maybe it's just a bad batch, let's offer you a newer model."
As delightful as that sounds it's not something I cant afford to do when I have paid you in full for a vehicle that doesn't work. And these vehicles are not cheap. Yes it's a beautiful vehicle and has great features such as on star, blue tooth, heated leather seats, full 3rd row, towing capabilities, wood trim and all the other bells and whistles but I've spent more money than any consumer needs to pay for a newer vehicle with low mileage. Since May of 2013 I've had the following issues, power steering failure, reduced engine power (yearly occurrence), replacing a water pump twice, fuel injectors twice and transmission issues and those AC failing on one side of the vehicle.
My biggest concerns are Safety and Reliability, your vehicles are not safe. I am proof of that and I have all the towing documents and dealership repair receipts to prove it. When you hear "Oh my goodness, you are all lucky to be alive" from your own Buick service technicians and other customers when explaining to them why your car is not working and why you were walking in from a ride on a small and uncomfortable tow truck with 3, yes 3 small children in car seats... you might just want to reach out to your customer and offer them a replacement or reimbursement.
This is not how I would handle my business, this is not the type of poor service or experience any customer should endure, especially a client who has been loyal and understanding and paid their vehicle on full. I hope this helps other very frustrated consumers like myself who do not plan on remaining silent while companies like Buick continue to make money and make mistakes that might one day cost us our lives.

I drove to the grocery store this morning. All of 2 miles. Then to the drug store. Total round trip, 4 miles. I came home, put the car in the garage. I had to go into the garage to put something away and the fan was running from the engine. I thought that was strange as the car wasn't even hot. It shut off so I thought it was ok. About 5 minutes later, I went back into the garage and once again the fan started again! I opened the car door and my inside fan was blowing at high speed. I came in the house, got my car keys and locked the car. Now it isn't turning on. It concerns me as I know most cars a fan will run after you have turned it off but never have I seen a car's fan turn back on. Anyone have this issue?

I went to service my car for the ABS. They ran a diagnostic and told me it was my left front hub. The mechanic never checked it. I took it to a mechanic and ordered the front left part. Buick wanted to charge 400, my mechanic charged 280. They installed the part, but ABS was still on. I took it back and they checked my car and found out that it was the left rear hub that was completely damaged. I showed them the estimate from Buick and they told me to go there and ask for a reimbursement for a false diagnostic. They started throwing out words like speculate and can't confirm. I spoke to the General Manager and he was a complete sarcastic ** with a snooze you loose attitude. What the hell. Did I pay them for inaccurate information and a waste of my time?

Anyone having rodent/mice problems? Well, apparently the auto industry in attempt to go "green" has put SOY in their wiring, making your wiring very attractive to mice. My vehicle is currently in shop being repaired, although I have comprehensive coverage and the damage is covered, however, I have to the $500 deductible. Does anyone know who I take up the $500 deductible with, I don't feel I should have to pay this whatsoever. I've read several class action lawsuits being taken against Honda right now for the same reason, I have not seen anything for Buick/GM as of yet. Any advice would be great, thanks in advance!

Have a 2016 Buick Enclave with only 1,400 miles and the brakes are fading already. Took it in and they found nothing. Said they are working like they are designed to do. General Motors is walking a thin line with this. I just hope my wife never gets into an accident.

Just leased a 2016 Buick Encore, base with interlink radio, non-touchscreen display. Can't see out back due to glare, fog or general distortion. This could be dangerous! I went to my Buick dealer, he took out another 2016 Encore to compare the camera. Same effect, blurry on second Encore. Appears problem is in camera lens. I tried adjusting the contrast, dark, light on the dash display switch. No effect except darker, blurry. Dealer had no remedy. I just traded in a 2013 GMC Terrain, and received a recall notice from GMC concerning the backup camera with interlink radio. There is a new software patch for the terrain. Perhaps there is a new software for the Buick Encore??? Any advice, fix??
Company Name:

Buick

Website:

http://www.buick.com/