Consumer Complaints and Reviews

Whether you're looking for a car with speed and lots of power or a family car, Acura has what you are looking for. They have any variety you could think of - minivans, compact cars, coupes, SUV. They include navigation systems, internal and outer cameras so you know you have a safe distance from others. You can personalize and add more options to your car such as style, color, extras included. They also have a lot of options for the right car for you. Whether you need lots of space or just a little, they have it all. I have 3 kids so I needed something with lots of space and I found exactly what I was looking for. Love these cars. Very stylish and safe family cars. Very minimal to no problems. Would highly recommend.

Love the Acura deluxe. The car is beautiful and also has a perfect shine to it. I love the black color interior. It's perfect to go to the beach and does not get wet very easily. It's very big and has a perfect warm seat. It is perfect if you have kids, and the kids and love ones love it. Also the deal I have made for this car is perfect. Did not pay that much. The best machine and engine. The best car for me.

Many models to choose and I liked the way the car moved on the road because the way it drove was colorful and bright and lovely and swerve so really today I will drive to work forever. So many features of this car to deal with. It was so cool to put the windows down and ride around in the fancy car with the leather seats and carpeting to dress up the fur. Got to upgrade all elements with leather seats and heaters and sunroof and satellite radio and automatic windows and trunk space and tires. You can fit so many people in the car. It is almost like you are going to the zoo and take your whole family.

There are a number of models to choose from and they range from the lower, cheaper models to the more expensive models with all the bells and whistles. It is a relatively higher end brand – not going to be on the lower price of cars but there are other brands that are much more expensive. There were a lot of personalization options available but of course they are all pricey but you get what you pay for. Overall I was pretty happy. It is fairly roomy and a little bit bigger than other cars. I am satisfied with passenger capacity.

The Acura has a variety of different cars and usually all fuel efficient. When I purchased my car I looked at a variety of Nissans and chose the Acura due to the fuel efficiency of the product. I have a black model and love it. It is shiny and always stays shiny. I like the red color in this car. I did not do any upgrades on my Acura since I was trying to keep the cost down, but many are available. The best one in my opinion is the navigation system. The passenger capacity is also good and sits 5 including the driver. I don't think you can get better than that but I am completely satisfied with it. I am very happy with my Acura.
How do I know I can trust these reviews about Acura?
697,568 reviews on ConsumerAffairs are verified.
We require contact information to ensure our reviewers are real.
We use intelligent software that helps us maintain the integrity of reviews.
Our moderators read all reviews to verify quality and helpfulness.
For more information about reviews on ConsumerAffairs.com please visit our FAQ.

We had leased our Acura MDX through a local Acura dealer. The experience was fair. The showroom tries to portray the brand as a true luxury car, but most salesmen seems fast-paced, with the typical gimmicky talk and cheap suits. The Service was even worse. Anytime the car would require scheduled maintenance, they always tried to upsell us on things like Automatic Transmission fluid change, stating it was "very dirty" (after only 8,000 miles?), despite the fact that the maintenance schedule doesn't require this fluid change until 20,000-40,000 miles. Filter changes are also their favorite, stating that they're very dirty and it's bad for the vehicle.
I never got the impression that the Acura brand is synonymous with luxury, unfortunately. Just a dressed-up Honda, and this trickles down all the way to how they sell and service these vehicles. The car itself has a few, very annoying issues. For one, the front windows are extremely loose, and when opened even slightly, rattle beyond belief. Acura Service techs state this is how "they're designed", and that it's normal. It pretty much renders driving around with windows lowered impossible, and from the sound of it, Acura owners have gotten used to it. After almost 3 years, we're still struggling with "getting used to it".
The infotainment is brutally slow. If you click on "Settings" or any other option, it often takes 2-3 seconds for the screen to refresh and show the desired information. Having rented a BMW X5, or even a Volkswagen Touareg, the computing power of their infotainment systems is much more up-to-date and intuitive. The interface design on the infotainment touchscreen buttons is also very primitive. Like something you'd find a first-grade graphic design student do. Certainly not the "luxury" experience they're selling.
Overall, the exterior is neat, slim, with touches of chrome here and there. The interior is also nicely done. I am surprised as to why the third-row seats do not have A/C vents (like the Honda Pilot, which sells for considerably less does). The power liftgate has failed us more than once, and the remote engine starter oftentimes just stops working, requiring me to manually disconnect the battery to reset everything. I've given-up taking the car to the dealer for every little nuance. Driving-wise, the car is light and responds well to steering input. Power is adequate, and AWD system performs remarkably well. Despite all of this, we won't be leasing another Acura again. We feel that too many corners have been cut, and not enough attention to detail has been paid to areas that really need it to qualify this vehicle as a luxury one.

I highly recommend this brand for many different reasons. They have wide selection of models as well as colors and has a lot of wonderful features from DVD to CD player to choose from. The styles are one of a kind. There are many wonderful exterior colors and the interior comes in leather or your basic interior. You can upgrade your vehicle but it will cost. If you don't like the features on the inside of the car you can have it changed to fit your personal needs and style. This brand of car has plenty of room for family and friends. I know that is definitely a plus.

Not many different models, but there are great colors and have different engine sizes. The car itself was great looking and I loved the easy going body. It didn't look like some weird spaceship like other cars look. The car had a nice sleek looking dash and is easy to clean too. My immediate space, and front seat passenger space was nice and did not feel confined. However the backseat was small and not very comfortable. Also, whenever I had issues with my car, the parts were very expensive and that was the downside for myself.

Acura has many different styles of which I chose one that was underrated and I was correct about the style being underrated. I was luckily judging by the quality. This car has a great design on the steering wheel as well as fast working brakes which lead to a safe drive and this makes me feel safer at night or plain daylight. The upgrade is as amazing as rescuing a cow from a trapped low quality fence. It is always an amazing thing to look forward towards when it comes to cars. Plus this vehicle can hold up to 5 people at once. It can hold more if squeezed in or even if little children were to be put in.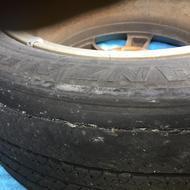 I bought my Acura 1 year this past November. My front tires look like this!! I have been through 2 oil changes (One this past November) and tire rotation, only for Acura of Memphis not to mention anything about an alignment. I asked to speak with a service manager and the rep sent me to Doris ** (I knew she wasn't a manager), who made me feel really bad. She said it's my fault that I didn't get an alignment. I'm suppose to get it twice a year (who does that? Who knows that?) She also asked if I read the manual for the service codes??? NO!
When service due comes up, I go to Acura of Memphis. I thought this was a one stop shop, but it looks like I have to turn into a mechanic! When I bought the car, I was told oh yeah, oil changes and tire rotations 2x a year. Well according to Doris, it's suppose to be 2 oil changes, 2 alignments, air filters, etc. Sounds like $1000 for maintenance 2x a year. I'm stuck after 1 year, 30k miles, buying two tires ($244 ea and alignment $99).
After writing the post above on Facebook, the General Manager, Clifton **, called me very upset. He stated that I post incorrect information. He also stated that Doris was indeed a manager, in which the website stated that she was a service advisor. Per Mr. **, she was promoted 2 weeks or 2 months ago. Mr. ** clearly wasn't trying to resolve my problem, but was very argumentative. I told him multiple times that my problem clearly isn't a tire problem, but an alignment problem. He totally ignored me and started reading some script talking about what Acura does for their customers. His tone was very negative and I don't ever care to speak with him again. I am not sure why a General Manager would call a customer irate. I have replaced the two tires and got an alignment. No help to Acura of Memphis or the General Manager.

Acura offers vehicles for whatever your reason and needs. They offer the TL models, TSX, ILX, sedan. SUVs include the RDX and MDX. Sedan models seat up to 5 people. SUV models can seat up to 8 people and plenty of room for cargo and can be adjusted for smaller families as well. Their cars are very sporty and luxurious. Clean lines and sharp features are often found in these brands. Comes in colors white, black, and grey. Features include navigation in the touring models, CD player, remote alarm, seat warmers, blue led lights, window defogger. Upgrade stereo to DVD player or in dash system. Personalize every driver's seating preference like the navigation system and music settings and volumes. Overall great customer service and luxury models always come fully loaded. Warranty is awesome and great efficiency in gas mileage. Value of car is worth it in the long run.

The dealership had multiple cars available in their inventory ranging from the different models, colors, years, and new and used vehicles available. I really enjoy the upgrades that come standard in all Acura Vehicles which led me to the purchase of my new vehicle as well. Each model comes basic with navigation, leather seats, and sunroof. Overall I feel like there could be more leg room added to the back seats of the vehicles. However they are comfortable and provide a sense of security and luxury.

I love everything about my Acura - from all of the safety features to the the storage to the comfort. The speakers are top of the line and the stereo sounds wonderful. You can upgrade OnStar and Sirius radio which is awesome. I love the color, the seats are very comfortable and the trunk has a wonderful space. Seat warmers and camera options can also be upgraded which is really cool as well. Not only do you have the standard 4 seats but you have to appreciate the middle seating being very spacious. Your guests have lots of leg space. You'll love this car.

Acura has a wide variety of coupes and sedans. As well as the SUV if that's your preference. You can drive off the lot in a family car, sports car, daily driver, or work truck. The color selection was great. They had plenty of features and amenities for every kind of driver. They had big and small cars, and chrome rims and alloy hubcaps. No matter what you wanted in your car they can fulfill your need. For the older customers you can get a backup camera. Acura offers a good selection of stereo upgrades as well for the music enthusiasts. The coupes didn't have as much leg room as the sedans or SUV so they were a bit cramped. Other than that, they were quite roomy. If you are a larger person or got a big family then stick to the larger cars.

The car has great mileage and its size is not too big or little. Anyone can fit inside the car. It also has a good window tint. The seats are comfortable and made of good material. The car parts are not too expensive if needs to buy for it. Plus the gas is not expensive, and only $35 will fill up the tank.

Acura has a lot of options depending on the size of the car that you are looking for. I would recommend that you try different ones. They also have a lot more of high tech options that are necessary in this age. Sports car SUV sedan has great stereo equipment and easy to learn how to work things. As with technology there are many options that you can gauge which ones are more important and fix those ones and personalize as to your comfort. Plus their cars are very roomy have plenty of room in the back of the car space for cargo and really good amount of leg room in front and back. Even with car seats can fit 3 in the back.

I am writing this review to improve this service. It appears that only the people who have had trouble with their Acura vehicles have left reviews. Think of how many people own an Acura. Hello people. This is only a handful of owners. I am sure there are just as many complaint with any other manufacturer. Here is a better idea. Lease your vehicle before you buy it. If you don't like it, and you bought the malfunction/replacement protection plan, you aren't out anything. It sounds like most of these people are just ignorant, and like to cry about something they were too cheap to buy. You people bought a luxury vehicle. Buy the protection plan. It isn't that expensive. If you bought the vehicle, buy the protection for it. You obviously have the money. I just got my first Acura, and I feel you are just trying to scare potential buyers, because you had problems.
I love my car. It is the best car I have ever owned. It's comfortable, stylish, has plenty of space, a V-tech engine, heated seats, GPS navigation, all leather interior, power everything, moon roof, and it handles like a dream. On top of all of that, I have their cheapest vehicle, an ILX. I have only had it for two weeks, so my opinion might change, but as of right now, you people sound like spoiled adults who have always got what they desired. Why did you buy it? I tell you why. You heard they make luxurious vehicles that run forever. Why have you heard that? Because they are made by the same people who make Honda, and everyone knows Honda makes great cars. If you want to whine, buy something else. You won't hurt their business. Buy a cheaply made Mitsubishi or Hyundai. Quit trying to ruin people's driving experience, because yours was.

It's been about 3 weeks now and my car battery drains over night. I have already purchased 2 batteries and have checked my alternator and it's neither. There's nothing on that I can see and when I looked online this was a very common problem with Acuras! If I would have know I would of never purchased. Very disappointed!! Took car to dealership and they couldn't find anything wrong and again they said that's all they see with these Acuras!!! And their unknown causes!!

Me and my family have roughly owned 20 Acuras in the last 15 years including buying 4 in the last 2 years. Had our ups and downs. The bad - losing my key. Running my Credit without my permission then making me pay for it to fix it... Messing up payments that were being taken out of my account (extra money). Lots of overcharges in any transactions. Whatever. I am over it. Everyone messes up. The good - great lease rates. Mostly reliable. Great looking car. So I bought another used Acura for a winter beater. There was apparently a recall for MDX active suspension struts. 5k repair up to 160 kms. I am sitting at 180. I called them and said "hey I don't expect a full repair but some help would be great considering I am probably one of the best customers." I also own a body shop and obviously we pump parts from Acura.
You know how the story goes. I was in talk with them for two weeks. They told me to beat it. "We won't even look at it" was the answer. I don't know if the people I am speaking with just also made an error but I am getting rid of all my Acuras after they are off lease and simply going to try something different and see how customer service treats me. I know grass is not greener on the other side but hey Mercedes makes some nice cars of all types.

When driving on a highway in a snow storm my dash lights up like crazy telling me that the Collision Mitigation and adaptive cruise control has stopped working. The voice on the warning said to turn off the engine and restart it. If this didn't help see the dealer. When I went to Pauly Acura to find out about the problem I was told that was normal. When I called Acura directly I was told to check the owner's manual and basically this is normal.
We bought the car for its safety features. Wouldn't you want all features to work in bad weather? I asked what Acura was doing to correct the problem and was told nothing. I asked to talk to a supervisor and the lady I talked to would not connect me. My other car has the same type of system and works perfect in bad snow storms. This TLX 2015 with 3000 miles on it is not as good as our old 2001 or 2006. If I knew that this safety system had a problem I would of bought a different car. Who reads the owner's manual before they buy a new car?

It is very reliable, holds the road well, they run forever and ever. It's very comfy to drive or ride in, and it has all the options I like. I have had several different cars through the years (drove several types through my job as a repo agent), but as far as dependable, good gas mileage and feeling safe driving the Acura is honestly one of my favorites. If you maintain them they will run forever. My last Acura had 247, *** miles on it when I got rid of it and the young lady that now owns it is still driving it around...

I use this car mostly in the city so for its purpose it is solid. However when I do hit the highway there is no question I am secure in this vehicle. Performance: not the best off the mark but it handles well. Put some snow tires on and your good all winter. ACURA is part of the HONDA family and I am a Honda fan so I felt confident in this purchase. This car is a mid level SUV which stands up very well. It drives not as smoothly as some higher end makes but certainly delivers a quality comfortable ride. The Nav system needs work and maybe they've fixed it since my 2014 but for now I don't get to use it. I drive off my phone instead. I can't really speak to gas consumption as I drive very little but so far, is reasonable.

Well built: roomy-comfortable interior yet look small from outside. Fun to drive, very responsive. But needs premium gas. After 12 years and 132000 miles, needed new alternator/driver-visor keeps falling down, several lights on dashboard need to be replaced-electrical problems. Acura dealer can't determine whether seatbelt and airbags are good because car computer is not responding!

New car but I love it! The ride is smooth and comfortable. Gas mileage is good. I have had the car for a little over a month. It has a luxurious feel and ride. I only have positive things to say about the Acura.

Hoping someone might have some insight on this... I bought a TLX October 2015 and babied it. A few weeks ago my husband asked me what I hit, because he noticed spidering of the paint to the front bumper. I know that I didn't hit anything, but I figured "sure, there's a chance someone hit my car". But the more I looked at it, it appears that there's a bubble in the paint, and then the spidering is stemming from that. The bizarre part is that the clear coat is flawless; not an imperfection or scratch. Wouldn't one think if something hit it enough to cause a bubble and spidering, then the clear coat (which took the impact) would be affected?
I took it to the Bedford Acura where I purchased it. The mechanic looked at it and said it was probably from impact, it's $275 to repaint that half of the bumper. The manager then looked at it and said "I agree with you (myself), that's odd, if there was impact there should be damage to the clear coat". He took a picture and sent it to the regional sales rep and today I received a phone call back that they believe it's from stress impact and it's not covered in warranty. I know I'm not paint or car specialist, but I'm truly having a hard time accepting this, so hoped others might have insight... but I'm very unhappy with the mixed opinions I've had, and the instant rejection by the company. I will certainly be pursuing this further!
Not sure if this factors in (I mentioned it at my most recent visit but they said it was totally unrelated), but December 2016 I came out to my car and noticed a silver plastic accent piece on that same side had just popped out from the bumper; the clips holding it in place were broken. Again, there was no surrounding damage, and no damage to the piece itself other than the inner clips having broken off. I took it in and they replaced that piece. I'm now starting to wonder if there's something wrong with the whole bumper itself and that's what's causing all of these non-impact problems! And I'm rather address it before it is out of warranty. Ugh.

2012 Acura TL Power steering fails. From the "airbag" recall to the transmission recall I can handle. Now the fact that my power steering suddenly seizes and leaves me in the middle of an intersection with a non functional vehicle I cannot handle. The answer? Pay to have the EPS replaced. Now, going on blogs this is a COMMON issue and should be a recall warranty issue! Not self pay. Someone is going to die until Acura/Honda notices. It's not right. I have been a Honda or Acura owner for years. I will tell you, this will be my last. It is dangerous and someone will die then they might listen.

We have an 03 MDX with 130,000 miles. We have already had trans replaced a little over a yr ago and last night it went out again. No warning signs, nothing. Driving 35 mph and the tachometer went to 4500rpm and we coasted to a stop. I did see the D5 light on dash, that tells us which gear car is in, was flashing. We simply can not afford to fix this again. We will never buy Acura again, and will tell all our friends to stay away from them. Even if I do find the means to fix it, it will go up for sale immediately, and I will be looking at Chevrolet for replacement vehicle.

I got the MDX 2016 and I have about 12000 miles and the suspension is so bad I went to the dealer to look at it, they fix the system on 2017 models so I have to stick with it or buy the new one 0.

My family has been a loyal Honda customer for 30+ years and 6+ Honda cars. We've loved their reliability and dependability. That being said, it is unfortunate that I have had a negative experience with most my recent vehicle. I drive a certified pre-owned 2012 Acura TL Tech Package, which I purchased in 2014. Since the purchase, the car has driven very well, showing no indication of any issues. Though I purchased this vehicle in a metroplex, I live in a rural area. I drive 60 miles round-trip to and from work.
Last Wednesday, while driving on a rural highway between offices, the car lost all power without any warning traveling at 75mph. The RPM dial went crazy, and then the check engine lights flickered (check charge system, check ABS, check VSA). Luckily, I was able to pull over to the shoulder. I let it run, hoping it would stay on until I could get assistance. After about 5 minutes, it shut down completely. I was stranded in between 2 small towns on a rural highway with spotty cell phone coverage plus the inconvenience of missing work. I could not restart the car—absolutely no lights came on. Thankfully, I was able to contact a tow service to tow the car back to my house (28 miles away). I assumed the battery was the issue and replaced it, which worked for 5 minutes before it was completely drained. I live 350 miles from the nearest Acura dealer, so I had to tow it there.
When I got it to Acura on Saturday, they ran diagnostics on the car and determined it was a faulty alternator, covered by my extended warranty and fixed the problem. My main concern with this situation is that there was no warning whatsoever to alert me of a problem. Had I been alerted, I would have acted proactively to prevent this from occurring, especially since I live so far from a dealer. I can only imagine how much worse this could have been had it happened in the middle of the night in this rural area, or if this happened on a 5-lane highway in a big city during the morning or evening commute.
When I mentioned the lack of warning to the Acura service guy, he said, "Sometimes there is no warning on these things." That is a problem. There should always be some form of warning before a relatively new vehicle is malfunctioning. Acura needs to determine why their vehicles are not warning the drivers of potential repairs for the safety of its drivers and all other drivers.

Having purchased 5 new Acura from Crest Acura in Syracuse NY I expected some consideration for being a very loyal sales and SERVICE customer. When considering purchase of a sixth Acura I encountered Jim **, a very disappointing encounter. Upon having my TL (purchased new at Crest and fully serviced at Crest) looked at for trade in, I was offered far less than book value. When I questioned this, I was told by Mr. ** that he couldn't pay more for my car than he could buy one for at an auction, no consideration for a one owner fully serviced Acura from his dealership.
He then challenged me to visit a competing dealership to determine if I could get a better deal. I did and I did. Upon learning that I had traded elsewhere Mr. ** spent 5 minutes running my new vehicle into the ground and telling me how unhappy I will be. What a very sad individual he is. He could have saved a very loyal customer if he had used appropriate business protocol. An example: "I'm sorry you aren't happy Joe, what can I do to correct the problem?" No he acted like a spoiled child who didn't get his way and totally ruined a good relationship.
I've been in business for 35 years and have handled a number of complaints. I've found that attacking the complainer, defending your behavior does nothing for the business except lose a potential client, something Mr. ** easily accomplished via his negative behavior. He could have saved me had he been a professional rather than a spoiled child who doesn't belong where he is. "You can be right but wrong and you can be wrong and be wrong." Who's the real loser here?
Company Name:

Acura

Website:

http://www.acura.com/