A new report suggests the 'novelty' of Amazon is fading
11/04/2019
|
ConsumerAffairs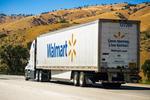 Consumers are increasingly shopping at Walmart instead of Amazon, according to a new survey by First Insight. The retail analytics firm polled 1,000 consumers and found that 55 percent prefer shopping at Walmart rather than Amazon.com. 
In 2018, the same survey found that 47 percent preferred Walmart. First Insight found that the percentage of people who favor Amazon has fallen to 45 percent from about 53 percent last year. 
"The excitement of the Amazon box coming to you...
More
The retailer will start offering deals before Halloween
10/24/2019
|
ConsumerAffairs

By Mark Huffman
Mark Huffman has been a consumer news reporter for ConsumerAffairs ... Read Full Bio→
Walmart is getting a jump on Black Friday by rolling out holiday shopping deals before Halloween.
In announcing its move, the retailer points out that there are fewer shopping days between Thanksgiving and Christmas because of a quirk in the calendar. Black Friday falls on November 29, leaving 25 days before December 25.
"Saving our customers time is also paramount at this time of year, especially with fewer days to get ready for big family meals, parties and gift-giving,...
More
Sort By