Consumer Complaints and Reviews

XG8000E - This was the third Generac we had fly into pieces. Each of the previous units' catastrophic failure was blamed on the operating conditions the generator was running in. This time we bought a Premo unit, housed it in an environmentally controlled area, and still had a catastrophic engine failure after 300 running hours. Generac was no help as in the previous failings. In this case, the low oil shutdown failed to terminate operations after the oil filter vibrated loose and hemorrhaged oil. Generac's answer was that the shutdown function did operate because there was oil in the crankcase, just none reaching the cylinder. They offered to pay for the connecting rod ($20) provided I pay the 6 hours ($600) labor at a certified Generac repair facility. 3rd time is the charm, I will never own a Generac again.

Generac Guardian generators are junk. My 17kw standby generator failed at 5 years. It had very minimal use. Only used with a power outage. Now it quit working. Had a company look at it that is Generac certified and over $400 later which was a scam I have a pile of junk that is too big to be a paperweight. Generac customer service sucks. I called them and spoke with a useless woman that sounded like she hated her job. Someone was to call me back from my complaints and over 2 weeks later nothing. Don't buy these overpriced pieces of junk. Do your research. Consumer reports say Kohler is the way to go. I am not sure if I want to invest this much again but it certainly won't be with Generac. I had less than 100 hours use on it.

Purchased a 25 kW unit when we built our home (2007). Unit exercised itself properly and seemed fine. First power outage it triggered a low oil pressure light. Had the engine tested and oil pressure was fine. This problem happened again. We had Generac installer come out and test the unit... could not find any problems. This has happened over and over. Long story short... if the power goes out for a short duration (15 seconds or less) the generator will start then shut down with low oil pressure fault. If the power goes out and stays out for extended period (minutes, hours, days) the unit operates properly. I contacted Generac three times about this problem during and after the warranty period. They never called, wrote, emailed or otherwise acknowledged my correspondence. I finally just gave up and have been living with this problem. I read the reviews on this site so I thought I would share my experience. Nonexistent customer service!

We bought a 75000 Generac 3 yrs ago, it has 25 hours on it, the engine went on it and Generac won't do anything about it. We only used it when we lost power. You pay 1000.00 for something that's only good for one full day. Never buy a Generac.

Bought their generator, not cheap!! Got 25 hours out of it and motor seized, will not fix or warranty it to fix it. $1000 down the drain and right when it was needed. Don't waste your money or time. Go with Honda.
How do I know I can trust these reviews about Generac Power Systems?
742,108 reviews on ConsumerAffairs are verified.
We require contact information to ensure our reviewers are real.
We use intelligent software that helps us maintain the integrity of reviews.
Our moderators read all reviews to verify quality and helpfulness.
For more information about reviews on ConsumerAffairs.com please visit our FAQ.

We bought our Guardian 14kw generator in 2014. Since then it has continuously gone out on a 1902 fault about every other time it tries to run. We have had the local Generac service shop here come out and look at it, but they are having an extremely hard time getting Generac to pay for the repairs (or even troubleshooting), even though it is still under warranty. They are the only shop in Interior Alaska that does service on the generator. We have spoken to the customer service numerous time (when we could reach them), and they told us that service and parts were covered on the generator, but not replacement. Please explain to me how we should get the things serviced and repaired, when the previously mentioned shop is not even carrying Generac anymore because of their shoddy customer service, horrible warranty execution, and overall nasty fashion of doing business.

I built a house in Montana in 2001 and installed a Generac 15kw propane generator. The generator has worked great mechanically but a 10 cent part break has cost me hours of headaches. One of the two fuse holders broke. Not the part in the generator but the cap that held the fuse. One of the small metal clips broke not allowing the fuse to be held in place. No problem, call general and get an overpriced replacement. Took hours to get through to customer service so decided to research it on the web. Found the part by referencing the part number in the owner's manual. Ordered the part and when it arrived it did not fit. It turned out that Generac changed the part but kept the same part number.
They, as well as any other supply house, did not carry the old part. It had literally disappeared off the face of the planet. Since I need the generator work I bought a couple of the new parts @ $8 each plus postage and then needed to find someone who could take apart the generator cover and replace the fuse holders. I called Generac and they advised that the closest approved person that they had to do this was in Seattle, WA and my house was in Western Montana, 450 miles away. Home Depot, where I bought the generator, was also of no help. I finally got it fixed at the cost of time and money, much more so than it should have. Again, the generator is great and runs great and have had no problems except as noted. Customer service was terrible.

I am truly shocked to read all the negative reviews about the problems that folks have had with their Generac generators. We purchased an 8k stand-by generator in October of 2009 because of the terrible ice storm we had in Schenectady, NY in December of 2008. We were without power for 4 nights, and had to finally move to a hotel for 2 nights, since the house temp got down to 34 degrees. We researched generators after that, and had three different authorized electricians come out to give us an estimate. We chose the one who seemed the most detail-oriented, and they were licensed electricians as well. The generator did get zapped by lightning while running during a power outage once, but the control panel was quickly replaced under warranty without any issue by our electrician. Then there was a loosened and disconnected exhaust hose that would not allow the generator to start.
Again the electrician came out and quickly found the problem and it was a 5 minute fix. The generator does its weekly test, and we failthfully have the generator serviced by the electrician as required. Oil is changed on schedule, and the unit tuned up. They replaced the battery after 5 years, even though it was still working, just to make sure it didn't fail when needed. We have had various power outages over the 7 years that we've had it, and it is such a comfort to have this generator. Furnace runs, refrigerator runs, and the designated lights and outlets work. Most homes in our large development have Generac stand-by generators. We have not heard any complaints from the neighbors. Sure hope we haven't jinxed ourselves by writing this positive review. Our advice is to make sure to use a licensed electrician to install and service the generator - an electrician trained to install and service Generac stand-by generators.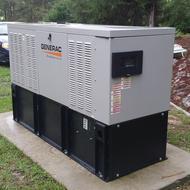 I purchased this Diesel 20KW Home Protector Generator RD020 in Nov 2014 and had nothing but problems. The Controller went out 5 or 6 times over an 18 month period and it took Generac 2 weeks to 3 months to repair each time. What good is it to have a backup if it keeps going out and it takes 2 weeks to 3 months to repair! After complaining to The Better Business BBB in Wisconsin, and after approximately 18 months, The Resolution Specialist (Who lacked any Customer Service) informed me that Generac would swap out the Generator with a brand new one and the option (Which is what I wanted) to refund my money and pick up the generator was not an option. The swap took place 29 Aug 2016 (Almost 5 months) and as of present, there have been no problems, Knock on wood.
1 Major reason I wanted to get a full refund and for Generac to remove this stress machine from my property is the fact that if anything goes wrong, they drag their feet to send the authorized dealer a part and the time it takes to repair which defeats the purpose in owning their product as by the time it is repaired, the crisis is over. 2 Weeks to 2 months to repair a product such as this is unacceptable and what is even more unacceptable is their resolution specialist who has no customer service skills whatsoever. I do not recommend anyone buying this product simply because of the length of time it took to repair it and the derogatory poor customer service of the resolution specialist.
Oh, also, The CIO is not accessible, nor anyone else at the executive level which sends a message to me that Generac does not care about listening to customers with legitimate complaints, especially after they have sold their defective products to them. We will see how this product does. Rest assured I will be back on this site and also to the BBB.

Purchased a 36KW Generac standby generator via their recommended dealer. A year after the purchase the transfer switch blew up. The Generac recommended company who installed the unit had no time for us thus we asked another authorized dealer. After seeing the wiring they refused to touch the system, claiming it was not installed as per Generac nor State code. We just had another issue with the unit and again called the recommended dealer (Generators by Wired, Houston) who again had no time for us and yet again we called another authorized Generac dealer, who too refused to touch the system due to severe code violations.
We keep ended up with extra bills for all these visits and we called Generac for assistance who advised it wasn't their problem I.e. between us and whoever installed same. Take careful note of this if you intend to get a system from Generac - although they list the certified dealers, they refuse to assist you even when they do not install the equipment to their or State codes. In talked with the many electricity companies we have had out, I hear Kohler has a far better system (better engine, easier to service) and above all their customer relations should be vastly better than Generac (can't really get any worse).

I have a new Generac XT8000E with less than an hour of use on it. It had plenty of oil in it and still threw a rod that exploded out of the top of the crankcase. Upon disassembly and further inspection it looks as though a connecting rod bolt was, or had come loose after incomplete or faulty assembly at the plant. Less than an hour of run-time on a $1300 machine and now I have to spend $450 for a new block, piston, crankshaft, rings... I definitely wouldn't buy another Generac product. Made in the USA??? Maybe that's not such a good thing anymore. Does Generac drug and alcohol test their assembly line workers? Or do they hire under-trained, low-paid temporary employees? How many out there have Generac generators that threw a rod with little use?

I purchased the 12KW propane-powered standby generator from Generac about fifteen years ago. Except for a burned-out starter (when it tried to start in -20F weather with a weak battery), the unit has worked flawlessly. We live in the country and have 3 or 4 power outages per year of a couple hours or more duration (the longest was 36 hours) -- 5 stars for the generator's functionality and reliability. The motor finally gave out after 15 years with no maintenance other than keeping the oil topped up, and we contacted the local Generac service guys (Ambrose Electric) and they were terrific - always available and always responsive. We elected to replace the unit's motor (rather than the entire unit) and then our troubles began. It took five weeks for a new motor to arrive after the order was placed.
The Ambrose guys were out to install it within a few days and, when the new motor was installed, it blew up (it actually blew a hole in the cylinder head when it was started). What bad luck, but a replacement engine was ordered and expedited -- it also arrived five weeks after order! The Ambrose guys were at our house a couple of days later to install it and - you guessed it - the second replacement generator started, ran for a minute or so, and blew up (another hole in the motor)! It's been almost three months since the initial failure, and still no working generator. So, give 0 stars for Factory Service. We're now on a track to get a complete new unit with a complete 10-year warranty (parts and service). We still like the unit, but attention to the customer by the Factory is about the worst I've ever seen from a major company.

I had to add my review here as someone researching this product might get the wrong idea. I've had my generator for 8 years now, and absolutely love it. Not a single issue. Saved me dozens of time over the years, and frankly I forget it's there most of the time. The only reason I gave it 4 stars was because the local independents companies which seem to service these generators are dodgy. Not Generac's issue really, but I'd give it 5 stars if Generac serviced their own generators. The old adage holds true I guess for generators, you only hear about them if something goes wrong. Would highly recommend my Generac.

HORRIBLE CUSTOMER SERVICE & PRODUCT! We purchased this piece of equipment in June 2015 for our new house that we were building because of the outages we experience while renting with the power turning on/off during the middle of the night. We have 2 children under the age of 5 and this was a piece of equipment that we could not live without. We purchased the 10 Year Extended Labor, 22kw Natural Gas, Maintenance Plan & Transfer Switch (OVER $5,600 PLUS INSTALLATION).
Our system was installed, set up to run weekly and there was never any issues until October 2016 when Hurricane Matthew rolled into Florida. We lost power and the system kicked on without any problems and ran the entire house (2 HVAC Systems, 3 Refrigerators & numerous outlets for electronics including T.V. & Internet). The problem occurred after just over 2 hours of run time and as fast as the Generator saved us it failed. I called and waited on hold with Generac for more than 2 hours trying to research the error code that I was getting. I had the installing contractor come out and there was nothing they could do to help because it was an internal engine issue.
We were not prepared to have no power and we did not have the necessary back up items needed since we had purchased this WONDERFUL PIECE OF EQUIPMENT that failed. I have less than 8 hours and it still has not been fixed yet. It took more than 3 weeks to get a GENERAC WARRANTY COMPANY to come out (NOT THEIR FAULT, WE DID JUST HAVE A HUGE HURRICANE). The problem I have now is the first company came out and he did a diagnostic and made his assessments to Generac and he was told that they will not compensate him to work on our unit because he works too far away!!!
Are you seriously going to not cover your contractor's time to fix a unit that has less than 8 hours on it to have a happy customer!!! I have since had to wait another 2 weeks for another warranty contractor THAT WORKS JUST MY AREA AND AGAIN I AM TOLD THE SAME THING, (THE ROTOR & STATOR AND THE BOLTS to the brushes have it to be changed, and this is not a common issue).
BASICALLY THE UNIT STARTED TO RIP ITSELF APART FROM THE INSIDE OUT and I still do not have back up power yet nor have the parts arrived... I have sent 4 emails to GENERAC for help & support and have only received 2 responses back basically saying you need to call this company or options. I am a small business owner and if treated my customers like this I would be out of business. My advice, do not purchase this product for lack of customer service, responsiveness and overall inadequacy.

We purchased 20kw home backup Generac Generator in November 2015. It has run weekly checks with no issues. Lost power about 3 weeks prior to hurricane Mathew and started up no problem and ran 6-8 hrs. The night of the hurricane we lost power about 6 pm on Saturday. Generator kicked in for 5 mins and shut down. Tried to restart and restart the controller as per the Generac operator. Would not start. Ended up 20 hrs without power. Fast forward a week later when we finally got a generator company out to the house it took two days to work on it because they have to go through a certain protocol and do a bunch of checks before they can determine what is wrong.
Bottom line both magnetos on each side were destroyed by the fan in the engine and required a whole new engine replacement. The part was ordered on a Friday and now is been almost 2 weeks and still no engine. I contacted Generac today and after my first 32 mins of talking with them and demanded to talk with someone higher to find out the status of this engine the representative hung up on me. Called back and after 45 mins and on hold trying to find out what is going on I was told it was shipped on the 22nd but could not tell me the delivery date. I am so glad we paid over $4,000 dollars plus installation and relied on a piece of equipment to fail in its time of need. I will never purchase from Generac ever again. Between customer service and how they do business is completely unacceptable. Say no to Generac!

Generator has only 57 hours on it and the controller has gone bad. This is a $550 repair. When I contacted them about it, I was told that they have seen this problem before but will do nothing about it. Stay away from their stand by generators or be prepared to dish out some serious money every 3 to 4 years. Horrible company to deal with. Cannot believe that people are giving good reviews about the generators unless they wrote it too early (before the controller died).

We recently had a brand new whole house natural gas 22,550 KW Generac generator professionally installed by Reliable Power Systems in Boca Raton, Fl. It was tested weekly but not needed until now, when Hurricane Mathew hit and we lost power in Palm Beach Gardens, FL. It went on but ran erratically, causing the power to boom off and on while running. It was so disruptive that we shut off the lights and TV and went to sleep around 2 AM. At 5:30 AM, what we thought was the fire alarm, woke us up out of a deep sleep. Thank God it did and the Fire Dept. showed up quickly. Turns out it was the CO detector alarm and the FD CO reading was at a dangerous level. We weren't allowed back in for over an hour till large commercial fans were used with every open window and door to get rid of the deadly levels. They also tested the unit outside that had an even higher reading.
The next day Reliable came out and found a faulty air filter and fuel mixer causing it to burn rich, running it in overdrive. If not for that alarm, we'd be DEAD. They want to just replace the faulty parts and be done with it, saying it passed inspection. UH-UH! No deal, we are suing, especially after reading all the many complaints about a grossly negligent company. Anyone wanting to partake in a class action suit can contact us at **. We spent $14,000 with permits and installation and this happened with the first use. This is totally unacceptable. We bought this for peace of mind but we will never trust this unit again.

48 kva generator - Just went through hurricane Mathew in Jacksonville, Fl. Finally the generator gets it test of all tests. Days, maybe weeks without city power. Friday morning the storm begins and boom a tree takes out the power lines and just as advertised the general roars to life. Three days later, generator overheats and auto shutdown. Technician arrives within an hour and half late Monday evening to find a tension spring for the fan belt has broken. Of course the technician has no approved general springs but does rig three automotive pedal return springs to get me through the night hopefully until the real general spring is installed. My point is 10's of thousands of $$$ spent for this very scenario and it general hinges it all on a 5$ spring? I am truly suspect of the engineering and commitment on Generac to high quality and superior generators.

We purchased a Generac portable generator and had an electrician here to install the correct connections for the unit. As required we ran it monthly the first couple of years as directed, although we never had the need to use it for a power outage. When it stopped running we contacted Generac and were given the nearest authorized repair company. We are in a rural area in Duchess County NY, so the cost to have the authorized repair company come pick up the generator was almost as much as our local repair would charge us. And as there was no guarantee Generac would help, we opted to pay to have it fixed, and mailed Generac the information they required, to see if they would offer any money towards the repair. After numerous phone calls and not one return call from Generac, or not one follow through from Generac on anything they promised, we chalked it up.
Again we ran the generator monthly for another 8 or 9 months until while running it made a large bang and stopped once again. It is now sitting in the local repair place needing another $400 to be repaired. This unit has a little over 1 hour run time on it. It has never been used for an outage and basically it is a piece of junk. After calling Generac approximately another dozen times and dealing with people at what we think might be a few levels, we have still never had a return call - even to tell us there is nothing they can or will do. Not a call! The lack of concern, follow through or common courtesy is appalling.
We will junk this unit and never, ever consider purchasing anything from Generac as well as trying to use our consumer influence to warn others about this company. Products can be lemons - as ours must have be, but it is the lack of any customer concern that is by far the worst part. Stay away from Generac - save yourself aggravation!

We purchased a Generac GP17500 portable generator from NorthernTool.com the end of May and put it into service on June 1st for our summer-only business. It ran for 20 minutes on the first day of our new business and then immediately quit completely. Generac told us to contact an electrician, which we did and paid for at our own expense. He informed us that the switch was bad. It was then sent to Generac's "authorized service center". The authorized service center has claimed that it was a bad generator sent from the manufacturer and he has suggested that we be refunded. He was still waiting for a part on July 6th, when we last spoke to him. For the first 10 days, we rented another Generac and it quit after 10 days.
It is obvious that Generac is not able to handle our needs due to the quality of the Generac generator. Generac and Northern Tool have both refused to refund our money even after the authorized service center informed them that it was a factory defect that caused the problems in the first place. WARNING... if you have any problems after purchasing this generator, you will likely be ignored.

I bought a Generac power washer. I used it for a couple of hours until it ran out of gas. Per the instructions, I made sure the tank was empty, wiped it down so it was clean and looked like new and parked it in my garage. Two months later, I did the same thing. Next time I tried to use it, it would not start at all, not even a cough. I called Tractor Supply where I had bought it and they gave me the name of a local dealer to service it under the warranty. I dropped it off and a month later he called and said that Generac would not warranty it and I should come and pick it up. I went there and after questioning him discovered that he was actually NOT an authorized Generac facility.
So I called Generac directly and got the name of a real authorized warranty repair shop. I took it there. It also sat for about another month before the service tech called me back. He told me the whole engine was totally rusted out and that Generac would not warranty it. He had not called Generac and refused to call them. I have called Generac several times and eventually got a case number but so far nothing is happening but a snow job. I don't blame him for not wanting to call Generac. Good luck with that. Their wait time is too lengthy and when you choose the * key to get a callback, it does not happen. I called them again this afternoon, 6 hours ago and no callback. I was assured that I would not lose my place in the call line. Seriously???
So to summarize, I bought this power washer in December of 2015 and used it once; I then used it again around February for approximately 2 hours; in March it would not start and it is now August 2016. We want a whole house generator but will look at Honda. I would not buy a screwdriver from Generac. We took very good care of this equipment as we do everything. We are self-employed fabricators and have a workshop full of expensive tools. This power washer was only used to keep our house and sidewalks clean here in Florida. Caveat emptor.

I bought a new Generac 5500 watt portable generator a couple of years ago. I never needed it for the first two years. Finally in 2016, I removed the generator from its box. I had to put the tires and handle and a few other things together on the unit. After doing as the owners manual instructed to do before starting the unit, I then test run the unit. It started just fine and ran well, it seemed. I paid an electrician to wire into my house electrical box with a box connection outside. That was great and done well. Now the kicker. I plugged in the provided cord that came with the generator into the outlet box on the house. Started the generator and plugged in the cord to the generator. Now turning on each breaker one at a time that was to be used on the control box as one should do.
Once the 4 breakers were turned on, I went into the house to smell an electrical burn smell. The generator fried my garage forced burner, fried my central heating unit to the house, fried my 1500 watt electric oil heater, fried my surge protector to my computer. Generac never paid for the damages and it took forever to get any response from the.
I hired an electrician and come to find out the generator was never set to specs at the factory. The outlets on the generator should have been around 120 to 125 volts output. This generator was putting out 187 volts, good reason it would burn up items in the house. The electrician made the necessary adjustments and it works fine now. SO DON'T trust a Generac generator from the company and think it is going to work properly nor trust them to stand behind their unit. I will never buy a generator from them. I will look for a different company and brand. I was wanting to get a whole house generator some day but not from them.

I bought a Generac generator with my RV. It has always been very hard to start. If I can get it to run it frequently will not charge. It is a piece of junk. Totally undependable.

I ordered a part through AP Electric. It was a Generac part that was shipped directly from Generac. When the package came the part we ordered was not correct... The box it came in was correct but the part inside the box was wrong. Between both companies no one wants to take responsibility and now almost a year later we still do not have the correct part. Mind you we paid almost $300.00 for this incorrect part. Generac is the worst company to deal with. All you get is the runaround and they will not exchange parts for us. All we want is the correct part...

June 1-16 we had a rash of severe thunderstorms. Within 2 weeks we had 2 direct, explosive lightning strikes to our generator (yes. To the generator) & it was dead, along with all the power in house that it was supposed to protect. We were the only house in a large community to be hit. Comments please.

Purchased a 15KW ecogen. We live off grid and have solar and the backup generator. It ran 2 hours and died. I requested my money back. They said, "No" but they would fix it. It was not fixable, it was under their very limited warranty, and it was replaced 3 months later. The new one just died. It has 441 hrs on it and has been well taken care of. The service dealer is 100 miles away because service people must go to Generac's school which costs them about 5k, 3000.00 for the course, 2000.00 for rooms, meals, and the other stuff they require them to purchase. This particular model is guaranteed for off grid, but it really just a piece of junk like all of their products. NEVER BUY GENERAC PRODUCTS.

I bought a Generac generator and a 25 K.W. generator (tractor supplied engine) in the mid nineties. Had the gen. in for service over and over but it never would work properly. I finally gave it away. The 25 K.W. was sold as brand new. The fellow that bought it called me and I gave him the paper work he needed for warranty work. Didn't hear from him again so don't know if he got it fixed or had a boat anchor. 2 out of 2 is not a good score. I'm looking for a 2000 w. gen. but the Honda looks like a better purchase for a couple of hundred more.

Generac warranty is a joke. My generator is 5 months old. It stop working, so I call the a generac dealer JACHS Electric Inc. 257 Jericho tpk., Mineola NY 11501 to learn that they only take come to look at the equipment if you provide your credit card in advance of the visit. The unit was not starting and in Generac's manual clearly indicates that you should contact the dealer if it does not start after you try to start on manual. JACHS electric service guy, starts the unit after he uses starter spray for engines and claim that the visit is not under warranty, because they cannot find the problem. They charge $304.00 to my credit card after a 15 minute visit.

I called Generac to obtain the name of distributors to install a standby generator. They specifically advertised this service -- instead of directing you to their website for a list. While there are 23 distributors within 50 miles of my home, they recommended 2. The generator was finally installed 6 months after we signed a contract. After a few curious incidents, we called again and got another referral to their "top" distributor -- who came out and told us the generator looks ok -- but the installation was totally wrong and has to be pulled out and start again -- for several thousand more dollars. I called Generac -- who says they will do NOTHING about this -- relying on their warranty -- which has nothing to do with this situation. They invited consumers to call for a referral, they gave 2 -- with NO disclaimer -- and now are unwilling to stand behind it. NOT a company to do business with.

Absolutely unacceptable that owning the Generac XG8000E, purchased new, for less than 3 years and less than 10 hours of running time, that the motor needs to be replaced. Totally froze up and the only solution provided by Generac Customer Service to the authorized repair shop is a $850.00 replacement of the motor. All manufacturer's maintenance, fuel, monthly start-ups were followed to the letter. This is most infuriating that they don't have a warranty based on length or running hours. Going to get it fixed so that I can sell it to some other sucker and get me a Honda.

ConsumerAffairs Research Team
The ConsumerAffairs Research Team believes everyone deserves to make smart decisions. We aim to provide readers with the most up-to-date information available about today's consumer products and services.
For over 50 years, Generac has been making residential standby generators. Today it also makes portable and industrial generators, fully automatic transfer switches and accessories for backup power applications. Consumers can choose from multiple fuel types for their generators and many different series and models based on their specific needs.
Generators for homeowners: Generac makes over 40 models of residential generators across six series: The Guardian, Synergy, EcoGen, PowerPact, QuietSource and Protector series. Each model in the homeowner generator category runs on natural gas or liquid propane and sits outside like a typical air conditioning unit. Each model delivers backup power directly to your home's electrical panel, eliminating the need for extension cords, and runs on your existing natural gas or liquid propane fuel supply so you won't run out of fuel.
Generators for business: Generac offers businesses with multiple standby power solutions including gas- and diesel-fueled, bi-fuel and modular power systems. Its single generators offer up to two megawatts of power, while its paralleling systems allow for multiple units to be installed together, offering standby power of up to 7,000 watts.
Mobile generators: Generac's line of mobile generators can be fueled by diesel or gas, have a rugged, durable design and come with wheels for easy transportation across multiple types of terrain. Mobile units include generators, light towers, heaters, pumps, water trailers and government/military-used generators, which are customized for remote military locations.
Mobile remote monitoring: Generac's residential generators come with Mobile Link remote monitoring. This feature allows you to check your generator's status from your laptop, tablet or smartphone.
Pricing: Generac has a tool on its website to help you locate the nearest dealer to your location. A dealer's website site generally lists pricing for the models they carry, or you can call for pricing.
Best for homeowners or property owners wanting reliable backup power.
Generac Power Systems Company Profile
Company Name:

Generac Power Systems

Website:

http://www.generac.com/