Consumer Complaints and Reviews

I bought a home with a Generac 15kW guardian genset already professionally installed. So, it's a 2006, and now 10 years old. We have lived here now 5 years, and besides the weekly 15 minute test run, it's only turned on once with a live power failure. I service the unit myself, replace the battery once, oil changes with M1, and even put on a cold start kit, not cheap.
Last week I notice the red light on, indicating low oil. Yeah, it's at the bottom line, something to do with a crankcase that now has a hole in it, due to a piston rod failure. Oil sprayed out of the hole during its death throes. This is the 990cc Generac sourced motor with propane power. It's a catastrophic loss. A large, heavy piece of junk. I do have the original owner receipt, luckily not me.

I started shopping around at Home Depot and Lowes looking for a portable and light-weight generator for an excellent price. There are a few features I like about my new generator which is the ease of portability and how light it is. I also like the regular prong plugs on the side of the generator. But one thing I would like to see improved on my new Generac Generator is to increase the amount of regular prong plugs on the side along a USB charging port.

We purchased our 15 kw ecogen generator a little over 2 years ago. Ecogen techs installed it. It failed in 2 hours. It took a couple weeks to get a tech out here. Closest tech over 100 miles away. After a couple visits they decided it needed to be replaced. The new one worked fine until our solar failed. When we tried to use it the generator failed again. After 2 weeks we got a tech out. He found the problem but had to order the part. A circuit board in a box that had to be replaced. It's happened twice since. Each time when we needed it when our solar failed. Now it's out of warranty and failed again. Same problem again. This generator is useless off grid.

I selected this particular brand because I did some research on these generators and I found this one brand to be the best and that it was one that could sustain through all types of situations that may occur through storms. I like how easy it is to program and to hook up and how easily kicks on when the power goes out in the house and how much power it has and also how long it last. It works exactly the way I need it to work. Strong and consistent and able to hold power.

I like the fact that it works fundamentally with outages, easy to use due to propane, turns on with ease, long lasting, reliable, consistent, etc. It has served its purpose thus far and in retrospect goes above and beyond. Also, purchasing it was a pretty fluid process. First I asked friends which brands they would recommend, then did some online research and also asked professionals about it. From there that is when decisions were made and ultimately it seemed pretty universal that Generac was the correct brand to choose.
How do I know I can trust these reviews about Generac Power Systems?
791,967 reviews on ConsumerAffairs are verified.
We require contact information to ensure our reviewers are real.
We use intelligent software that helps us maintain the integrity of reviews.
Our moderators read all reviews to verify quality and helpfulness.
For more information about reviews on ConsumerAffairs.com please visit our FAQ.

I select because was the size I need and it fits in all my tents that I have. I'm very stratified with this product. I will buy more of them from this company. I have been using mine for while and it held up to what I need it to do. I can take it anywhere. It has different setting. It keeps my family warm when we're outside and it can't be knocked over. When it knocked over it shuts off. I love love love that fact so my tent cant burn down. I like that it portable and comes in my favorite color. I really enjoy taking it on my camping trips. However, I would like to see some in ports in it to charge cellphone, mp3. I think that would be very interesting to see in one of these.

I bought my Generac generator mostly because Generac is known to be the very best generator on the market. It also had all of these features I was looking for as well as an extensive warranty. It is the best in the industry, no doubt. I like that it comes on automatically in case of a power failure and it has a warning audio signal to tell me when it is running low on fuel and also gives me maintenance warnings as well. The only thing I can think of that would improve my Generac generator would be if it would put the fuel cans in my truck, go up to the gas station, purchase fuel and come back and put it in the generator for me.

The purchasing process was easy. I went online to research and chose the right kind and select it and bought it. I look at major stores like lowes.com and many more. My Generac generator helps me use my lights at night especially when I go on long trips. My family loves to camp and fish and hunt so when it gets dark outside I can charge my lanterns and digital devices. However, I would like a smaller generator design for certain task. Not so bulky and easy to handle which I can take it anywhere. I like the most newer models at major stores.

We research and price different brands and models for about 2 months before making a purchase. Most of the ones we research were very expensive, too large and we didn't need all of the output that was available. In the end after reading numerous review we landed on this perfect Generac. We bought what we thought was this smaller sized generator to have just in case, however after a bad patch of weather lasting about 4 days we really had to use it a lot, it worked perfectly. It was great on gas, powered all the sources that we needed, ran continuously, wasn't loud or off putting, and for the price we paid, we were elated. But it could have probably used some bigger wheels, although we didn't need to move it off of our driveway, it seems that it would have some trouble moving over rough terrain. Also if we chose to carry it I would have extended the cradle arms to make it more convenient to carry.

Generac offers all the features I wanted and more. It has a 6,500-watts of power, 389cc OHV engine, has a sturdy portable steel frame with wheels, has a steel fuel tank, four 120-volt outlets, easy to start, uses minimum amount of gas to run for hours. The price was very reasonable for what I got, as is it's power, it portable which was important to me. Quality brand name. It was recommended by a family member who owns one and loves it enough to suggest I purchase one.

I like that Generac Power Systems is simple. It covers the entire home and extra power is available if needed, not that expensive. It is reliable, runs on natural gas and has a permanent tie in to the home's power system. Easily installed, simple to operate, does not need maintenance very often and is covered by a great warranty. I have relatives that have the same units and love the simple set up and automatic start system, easy to maintain. Best brand for the money I invested

I have had the unit since 2009 and have not had any problems. Have done routine maintenance like changing oil and filters but have not adjusted valve clearance on the engine. Recently noticed the smell of gas and in doing some online research it may be the fuel regulator. At the time of purchase I paid $25 for the diagnostic repair manual which is about 1/2" thick. Nowhere in this manual is a list of parts!
I did an online request for a parts diagram and it was just a 2 page affair with drawings and part numbers for the power head. There is a line that would connect to the fuel regulator on another drawing for the control system. I called and asked for that diagram and they were unable to find and supply the drawings and parts list for the rest of the unit. This is an absurdity if you are dealing directly with the manufacturer. I prefer to do my own work but now I am forced to seek the services of a Generac dealer and pay a substantial price.

It's pretty modern and easy to use. It had easy to grip handles and wheels for easy mobility. It's probably a good choice. I have no regrets so far. I'd get 2 or 3 more if I could. It met my expectations, I chose it because a friend of mine recommended it. We had a bad storm down here in the south that knocked everyone's power out. All except those who had generators. If it had a bigger gas tank it would be a lot better. Other than that I'm completely satisfied with what it does and its features. Everyone should invest in one of these if they haven't already.

Fairway Suites purchased a 100 kW generator for standby purposes. The unit never ran on demand. Within one year it threw a piston during its weekly maintenance run. We called Generac and were told it was not under warranty because the oil needed to be changed because it breaks down in less than a year. These people are idiots. It took almost a month to hear from anyone and it wasn't until I posted pictures on their website that I got a response. Generac is a fraud and worthless company.

XG8000E - This was the third Generac we had fly into pieces. Each of the previous units' catastrophic failure was blamed on the operating conditions the generator was running in. This time we bought a Premo unit, housed it in an environmentally controlled area, and still had a catastrophic engine failure after 300 running hours. Generac was no help as in the previous failings. In this case, the low oil shutdown failed to terminate operations after the oil filter vibrated loose and hemorrhaged oil. Generac's answer was that the shutdown function did operate because there was oil in the crankcase, just none reaching the cylinder. They offered to pay for the connecting rod ($20) provided I pay the 6 hours ($600) labor at a certified Generac repair facility. 3rd time is the charm, I will never own a Generac again.

Generac Guardian generators are junk. My 17kw standby generator failed at 5 years. It had very minimal use. Only used with a power outage. Now it quit working. Had a company look at it that is Generac certified and over $400 later which was a scam I have a pile of junk that is too big to be a paperweight. Generac customer service sucks. I called them and spoke with a useless woman that sounded like she hated her job. Someone was to call me back from my complaints and over 2 weeks later nothing. Don't buy these overpriced pieces of junk. Do your research. Consumer reports say Kohler is the way to go. I am not sure if I want to invest this much again but it certainly won't be with Generac. I had less than 100 hours use on it.

Purchased a 25 kW unit when we built our home (2007). Unit exercised itself properly and seemed fine. First power outage it triggered a low oil pressure light. Had the engine tested and oil pressure was fine. This problem happened again. We had Generac installer come out and test the unit... could not find any problems. This has happened over and over. Long story short... if the power goes out for a short duration (15 seconds or less) the generator will start then shut down with low oil pressure fault. If the power goes out and stays out for extended period (minutes, hours, days) the unit operates properly. I contacted Generac three times about this problem during and after the warranty period. They never called, wrote, emailed or otherwise acknowledged my correspondence. I finally just gave up and have been living with this problem. I read the reviews on this site so I thought I would share my experience. Nonexistent customer service!

We bought a 75000 Generac 3 yrs ago, it has 25 hours on it, the engine went on it and Generac won't do anything about it. We only used it when we lost power. You pay 1000.00 for something that's only good for one full day. Never buy a Generac.

Bought their generator, not cheap!! Got 25 hours out of it and motor seized, will not fix or warranty it to fix it. $1000 down the drain and right when it was needed. Don't waste your money or time. Go with Honda.

We bought our Guardian 14kw generator in 2014. Since then it has continuously gone out on a 1902 fault about every other time it tries to run. We have had the local Generac service shop here come out and look at it, but they are having an extremely hard time getting Generac to pay for the repairs (or even troubleshooting), even though it is still under warranty. They are the only shop in Interior Alaska that does service on the generator. We have spoken to the customer service numerous time (when we could reach them), and they told us that service and parts were covered on the generator, but not replacement. Please explain to me how we should get the things serviced and repaired, when the previously mentioned shop is not even carrying Generac anymore because of their shoddy customer service, horrible warranty execution, and overall nasty fashion of doing business.

I built a house in Montana in 2001 and installed a Generac 15kw propane generator. The generator has worked great mechanically but a 10 cent part break has cost me hours of headaches. One of the two fuse holders broke. Not the part in the generator but the cap that held the fuse. One of the small metal clips broke not allowing the fuse to be held in place. No problem, call general and get an overpriced replacement. Took hours to get through to customer service so decided to research it on the web. Found the part by referencing the part number in the owner's manual. Ordered the part and when it arrived it did not fit. It turned out that Generac changed the part but kept the same part number.
They, as well as any other supply house, did not carry the old part. It had literally disappeared off the face of the planet. Since I need the generator work I bought a couple of the new parts @ $8 each plus postage and then needed to find someone who could take apart the generator cover and replace the fuse holders. I called Generac and they advised that the closest approved person that they had to do this was in Seattle, WA and my house was in Western Montana, 450 miles away. Home Depot, where I bought the generator, was also of no help. I finally got it fixed at the cost of time and money, much more so than it should have. Again, the generator is great and runs great and have had no problems except as noted. Customer service was terrible.

I am truly shocked to read all the negative reviews about the problems that folks have had with their Generac generators. We purchased an 8k stand-by generator in October of 2009 because of the terrible ice storm we had in Schenectady, NY in December of 2008. We were without power for 4 nights, and had to finally move to a hotel for 2 nights, since the house temp got down to 34 degrees. We researched generators after that, and had three different authorized electricians come out to give us an estimate. We chose the one who seemed the most detail-oriented, and they were licensed electricians as well. The generator did get zapped by lightning while running during a power outage once, but the control panel was quickly replaced under warranty without any issue by our electrician. Then there was a loosened and disconnected exhaust hose that would not allow the generator to start.
Again the electrician came out and quickly found the problem and it was a 5 minute fix. The generator does its weekly test, and we failthfully have the generator serviced by the electrician as required. Oil is changed on schedule, and the unit tuned up. They replaced the battery after 5 years, even though it was still working, just to make sure it didn't fail when needed. We have had various power outages over the 7 years that we've had it, and it is such a comfort to have this generator. Furnace runs, refrigerator runs, and the designated lights and outlets work. Most homes in our large development have Generac stand-by generators. We have not heard any complaints from the neighbors. Sure hope we haven't jinxed ourselves by writing this positive review. Our advice is to make sure to use a licensed electrician to install and service the generator - an electrician trained to install and service Generac stand-by generators.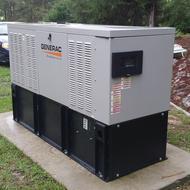 I purchased this Diesel 20KW Home Protector Generator RD020 in Nov 2014 and had nothing but problems. The Controller went out 5 or 6 times over an 18 month period and it took Generac 2 weeks to 3 months to repair each time. What good is it to have a backup if it keeps going out and it takes 2 weeks to 3 months to repair! After complaining to The Better Business BBB in Wisconsin, and after approximately 18 months, The Resolution Specialist (Who lacked any Customer Service) informed me that Generac would swap out the Generator with a brand new one and the option (Which is what I wanted) to refund my money and pick up the generator was not an option. The swap took place 29 Aug 2016 (Almost 5 months) and as of present, there have been no problems, Knock on wood.
1 Major reason I wanted to get a full refund and for Generac to remove this stress machine from my property is the fact that if anything goes wrong, they drag their feet to send the authorized dealer a part and the time it takes to repair which defeats the purpose in owning their product as by the time it is repaired, the crisis is over. 2 Weeks to 2 months to repair a product such as this is unacceptable and what is even more unacceptable is their resolution specialist who has no customer service skills whatsoever. I do not recommend anyone buying this product simply because of the length of time it took to repair it and the derogatory poor customer service of the resolution specialist.
Oh, also, The CIO is not accessible, nor anyone else at the executive level which sends a message to me that Generac does not care about listening to customers with legitimate complaints, especially after they have sold their defective products to them. We will see how this product does. Rest assured I will be back on this site and also to the BBB.

Purchased a 36KW Generac standby generator via their recommended dealer. A year after the purchase the transfer switch blew up. The Generac recommended company who installed the unit had no time for us thus we asked another authorized dealer. After seeing the wiring they refused to touch the system, claiming it was not installed as per Generac nor State code. We just had another issue with the unit and again called the recommended dealer (Generators by Wired, Houston) who again had no time for us and yet again we called another authorized Generac dealer, who too refused to touch the system due to severe code violations.
We keep ended up with extra bills for all these visits and we called Generac for assistance who advised it wasn't their problem I.e. between us and whoever installed same. Take careful note of this if you intend to get a system from Generac - although they list the certified dealers, they refuse to assist you even when they do not install the equipment to their or State codes. In talked with the many electricity companies we have had out, I hear Kohler has a far better system (better engine, easier to service) and above all their customer relations should be vastly better than Generac (can't really get any worse).

I have a new Generac XT8000E with less than an hour of use on it. It had plenty of oil in it and still threw a rod that exploded out of the top of the crankcase. Upon disassembly and further inspection it looks as though a connecting rod bolt was, or had come loose after incomplete or faulty assembly at the plant. Less than an hour of run-time on a $1300 machine and now I have to spend $450 for a new block, piston, crankshaft, rings... I definitely wouldn't buy another Generac product. Made in the USA??? Maybe that's not such a good thing anymore. Does Generac drug and alcohol test their assembly line workers? Or do they hire under-trained, low-paid temporary employees? How many out there have Generac generators that threw a rod with little use?

I purchased the 12KW propane-powered standby generator from Generac about fifteen years ago. Except for a burned-out starter (when it tried to start in -20F weather with a weak battery), the unit has worked flawlessly. We live in the country and have 3 or 4 power outages per year of a couple hours or more duration (the longest was 36 hours) -- 5 stars for the generator's functionality and reliability. The motor finally gave out after 15 years with no maintenance other than keeping the oil topped up, and we contacted the local Generac service guys (Ambrose Electric) and they were terrific - always available and always responsive. We elected to replace the unit's motor (rather than the entire unit) and then our troubles began. It took five weeks for a new motor to arrive after the order was placed.
The Ambrose guys were out to install it within a few days and, when the new motor was installed, it blew up (it actually blew a hole in the cylinder head when it was started). What bad luck, but a replacement engine was ordered and expedited -- it also arrived five weeks after order! The Ambrose guys were at our house a couple of days later to install it and - you guessed it - the second replacement generator started, ran for a minute or so, and blew up (another hole in the motor)! It's been almost three months since the initial failure, and still no working generator. So, give 0 stars for Factory Service. We're now on a track to get a complete new unit with a complete 10-year warranty (parts and service). We still like the unit, but attention to the customer by the Factory is about the worst I've ever seen from a major company.

I had to add my review here as someone researching this product might get the wrong idea. I've had my generator for 8 years now, and absolutely love it. Not a single issue. Saved me dozens of time over the years, and frankly I forget it's there most of the time. The only reason I gave it 4 stars was because the local independents companies which seem to service these generators are dodgy. Not Generac's issue really, but I'd give it 5 stars if Generac serviced their own generators. The old adage holds true I guess for generators, you only hear about them if something goes wrong. Would highly recommend my Generac.

HORRIBLE CUSTOMER SERVICE & PRODUCT! We purchased this piece of equipment in June 2015 for our new house that we were building because of the outages we experience while renting with the power turning on/off during the middle of the night. We have 2 children under the age of 5 and this was a piece of equipment that we could not live without. We purchased the 10 Year Extended Labor, 22kw Natural Gas, Maintenance Plan & Transfer Switch (OVER $5,600 PLUS INSTALLATION).
Our system was installed, set up to run weekly and there was never any issues until October 2016 when Hurricane Matthew rolled into Florida. We lost power and the system kicked on without any problems and ran the entire house (2 HVAC Systems, 3 Refrigerators & numerous outlets for electronics including T.V. & Internet). The problem occurred after just over 2 hours of run time and as fast as the Generator saved us it failed. I called and waited on hold with Generac for more than 2 hours trying to research the error code that I was getting. I had the installing contractor come out and there was nothing they could do to help because it was an internal engine issue.
We were not prepared to have no power and we did not have the necessary back up items needed since we had purchased this WONDERFUL PIECE OF EQUIPMENT that failed. I have less than 8 hours and it still has not been fixed yet. It took more than 3 weeks to get a GENERAC WARRANTY COMPANY to come out (NOT THEIR FAULT, WE DID JUST HAVE A HUGE HURRICANE). The problem I have now is the first company came out and he did a diagnostic and made his assessments to Generac and he was told that they will not compensate him to work on our unit because he works too far away!!!
Are you seriously going to not cover your contractor's time to fix a unit that has less than 8 hours on it to have a happy customer!!! I have since had to wait another 2 weeks for another warranty contractor THAT WORKS JUST MY AREA AND AGAIN I AM TOLD THE SAME THING, (THE ROTOR & STATOR AND THE BOLTS to the brushes have it to be changed, and this is not a common issue).
BASICALLY THE UNIT STARTED TO RIP ITSELF APART FROM THE INSIDE OUT and I still do not have back up power yet nor have the parts arrived... I have sent 4 emails to GENERAC for help & support and have only received 2 responses back basically saying you need to call this company or options. I am a small business owner and if treated my customers like this I would be out of business. My advice, do not purchase this product for lack of customer service, responsiveness and overall inadequacy.

We purchased 20kw home backup Generac Generator in November 2015. It has run weekly checks with no issues. Lost power about 3 weeks prior to hurricane Mathew and started up no problem and ran 6-8 hrs. The night of the hurricane we lost power about 6 pm on Saturday. Generator kicked in for 5 mins and shut down. Tried to restart and restart the controller as per the Generac operator. Would not start. Ended up 20 hrs without power. Fast forward a week later when we finally got a generator company out to the house it took two days to work on it because they have to go through a certain protocol and do a bunch of checks before they can determine what is wrong.
Bottom line both magnetos on each side were destroyed by the fan in the engine and required a whole new engine replacement. The part was ordered on a Friday and now is been almost 2 weeks and still no engine. I contacted Generac today and after my first 32 mins of talking with them and demanded to talk with someone higher to find out the status of this engine the representative hung up on me. Called back and after 45 mins and on hold trying to find out what is going on I was told it was shipped on the 22nd but could not tell me the delivery date. I am so glad we paid over $4,000 dollars plus installation and relied on a piece of equipment to fail in its time of need. I will never purchase from Generac ever again. Between customer service and how they do business is completely unacceptable. Say no to Generac!

Generator has only 57 hours on it and the controller has gone bad. This is a $550 repair. When I contacted them about it, I was told that they have seen this problem before but will do nothing about it. Stay away from their stand by generators or be prepared to dish out some serious money every 3 to 4 years. Horrible company to deal with. Cannot believe that people are giving good reviews about the generators unless they wrote it too early (before the controller died).
Generac Power Systems Company Profile
Company Name:

Generac Power Systems

Website:

http://www.generac.com/