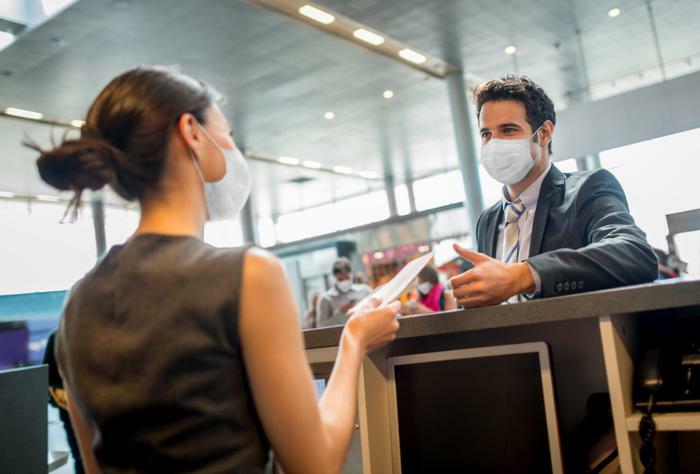 Hopeful international travelers are coping with new reports from the White House. On Wednesday, Biden administration Coronavirus Response Coordinator Jeff Zients told the U.S. Travel and Tourism Advisory Board that the Biden team has zero plans to relax any travel restrictions anytime soon.
Citing the rising COVID-19 delta variant cases in the U.S. and around the world, Commerce Secretary Gina Raimondo supported Zients, saying that, before the U.S. can fully reopen, it has to prove it can handle the COVID-19 situation at home first, "which requires us to get everyone vaccinated."
While that's an obstacle, Reuters reports that the U.S. is working on creating a "new system for international travel" that will include contact tracing when it ultimately lifts the current travel restrictions that keep many travelers from entering the U.S. 
For travel companies who feel this development might hinder their return to normal, Zients urged them to pick up the pace on mandating employee vaccinations and sharing contact tracing information so the Centers for Disease Control and Prevention (CDC) can make contact with travelers who have been exposed to COVID-19.
"The American people need to trust that the new system for international travel is safer even as we -- I mean at that point -- we'll be letting in more travelers," Zients told the board. 
"Long overdue"
In response to the White House's intentions, the American Society of Travel Advisors (ASTA) claimed that the plan to restart international travel is "long overdue."
"We urge the Biden Administration to finalize this plan as quickly as possible and to otherwise make safely restarting international travel occur by opening borders an immediate priority," ASTA wrote in a statement.
"The plan should incorporate the common-sense measures we called for along with our travel industry colleagues last week, including expeditiously developing clear vaccination and testing standards, loosening entry restrictions for fully-vaccinated travelers and aligning standards with the governments of our main outbound markets, including Canada, the EU and the U.K. Given its enormous impact on the global economy, an expedited recovery of cross-border travel is critical."
It's not exactly news that the travel and tourism industry has been devastated by the pandemic, but ASTA feels that any help the sector has been given by the U.S. and other governments has been "uneven at best."
"The travel industry as a whole will not recover from COVID until international travel restarts in earnest. We urge the Biden Administration in the strongest possible terms to do its part to make that happen," the group concluded.
Tit for tat?
While the U.S. is keeping international visitors at arm's length, countries around the world are forcing Americans into a holding pattern, too.
In late August, after seeing the rise in COVID-19 cases in the U.S., the European Union (EU) recommended that Americans be banned from nonessential travel to its 27-nation bloc, which includes France, Germany and Italy.
The EU's move prompted some countries, like the Netherlands, to reinstate quarantines for American travelers, according to Travel + Leisure's Stefanie Waldek. "It remains to be seen if those restrictions will be lifted in time for Christmas, a traditionally popular period for overseas travel," she wrote.
Nonetheless, Americans hoping to get out of the country for the holidays aren't giving up hope -- just shifting how they approach their travel plans.
Matt Clarke, the VP of marketing at online travel agency Kayak, told Travel + Leisure that, unlike the pre-pandemic era when Americans would book holiday flights weeks or months in advance, he thinks they're patiently waiting for changes to settle in before they leap for the 2021 holidays. "The trend for last-minute bookings is strong," he says.