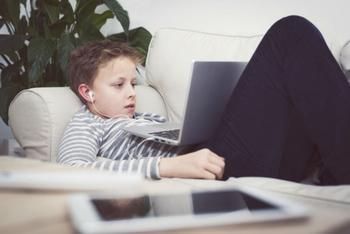 They may be at opposite ends of the age spectrum, but teens and 60-year-olds may have something in common -- their activity levels.
A recent study by Johns Hopkins Bloomberg School of Public Health suggested adolescents are coasting through their days at the speed of your average 60-year-old.
"Activity levels at the end of adolescence were alarmingly low, and by age 19, they were comparable to 60-year-olds," said the study's lead author, Vadim Zipunnikov, assistant professor in the Bloomberg School's Department of Biostatistics, in a statement.
Study details
For the study, the researchers monitored the activity of 12,529 participants who wore tracking devices for seven consecutive days.
The only age cohort to demonstrate an increase in activity levels were 20-somethings, who spread their activity throughout the day, with an increase in activity in the early morning. The authors suggested this may be related to starting full-time work or other life transitions.
Younger adolescents were about as physically active as adults 60 and older. Across all age groups, males generally had higher activity levels than females. Among adults 60 years and older, males were more sedentary and had lower light-intensity activity levels than females.
"For school-age children, the primary window for activity was the afternoon between two and six P.M," said Zipunnikov. "So the big question is how do we modify daily schedules, in schools for example, to be more conducive to increasing physical activity?"
Not meeting recommendations
More than half of teens were not meeting recommendations for physical activity set forth by the World Health Organization (WHO), according to the study's results. 
Per WHO recommendations, children ages five to 17 should get at least 60 minutes of moderate-to-vigorous physical activity a day.
Findings from the study correlate with those of another recent study, which found that the amount of active play among children has taken a dip in recent years, likely as a result of kids' attachment to their digital devices.
Increasing activity
In light of the growing obesity epidemic, the researchers say there is a "growing consensus for the benefits of reducing sedentary behavior and increasing even low-intensity levels of physical activity."
"The goal of campaigns aimed at increasing physical activity has focused on increasing higher-intensity exercise," says Zipunnikov. "Our study suggests that these efforts should consider time of day and also focus on increasing lower-intensity physical activity and reducing inactivity."
The full study is published in the journal Preventive Medicine.