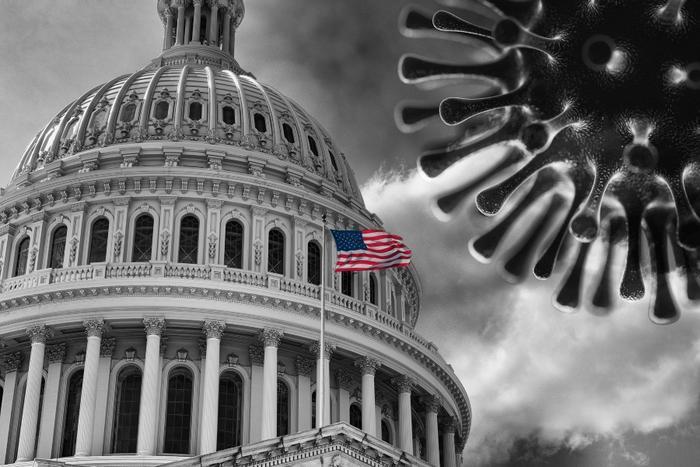 President Trump and first lady Melania Trump have both tested positive for the coronavirus (COVID-19), demonstrating that the highly contagious virus can invade even the White House and potentially affect dozens of others on the president's staff.
Trump announced that he and his wife had tested positive in a tweet Thursday night, saying the first couple would immediately begin a quarantine period and recovery process. It isn't known whether either of them has displayed symptoms, although Melania Trump tweeted that both she and her husband were "feeling good."
In a statement Friday morning, White House physician Dr. Sean Conley said the president and first lady were both "well at this time" and that the president would continue to carry out his official duties.
The announcement that the Trumps had tested positive for the virus came just hours after Hope Hicks, a top presidential adviser, made a similar announcement. Hicks had traveled extensively with the president during the last few days.
Medical experts say Trump's age -- 74 -- automatically puts him at an elevated risk for severe symptoms of the virus. According to the Centers for Disease Control and Prevention (CDC), people over age 60 are "at higher risk for severe illness than people in their 50s."
Campaign events in doubt
The president's illness comes during the final stretch of his 2020 election campaign as he seeks re-election against former Vice President Joe Biden. The two candidates shared the stage Tuesday night for a debate, and a second debate is scheduled for Oct. 15. It, along with just about everything else on Trump's official schedule, is now in doubt.
Trump's infection comes as more than 7 million Americans have tested positive for the virus and more than 205,000 have died. The virus increasingly has spread among the population that is unable to self-isolate but -- because of the nature of their jobs -- must remain engaged with other people.
Amazon announced Thursday that 19,000 of its frontline workers have tested positive for the virus since the pandemic began. Amazon warehouses have worked around the clock in recent months as home-bound consumers began doing most of their shopping online.
Inner circle infections
Operating the government and running a high-stakes political campaign has also proven to have risks. Others on the president's staff and in the chief executive's inner circle have been affected by the virus in recent weeks.
National security adviser Robert O'Brien tested positive for the virus and has recovered, as has Katie Miller, news secretary to Vice President Pence. Kimberly Guilfoyle, a friend of Donald Trump Jr., one of the president's sons, has tested positive as well.
Trump's handling of the coronavirus and the U.S. response has been the subject of criticism and has emerged as an issue in the campaign, with Biden alleging that Trump failed to act with the urgency the crisis warranted.