Putting in new flooring is a huge home renovation project, but choosing the floors for your home can feel like a whole other battle. Because the popularity of specific styles ebbs and flows, there are a few flooring styles that match this year's aesthetic more than the rest. If you're getting ready to renovate and want some on-trend design inspiration, check out our favorite flooring trends for 2021.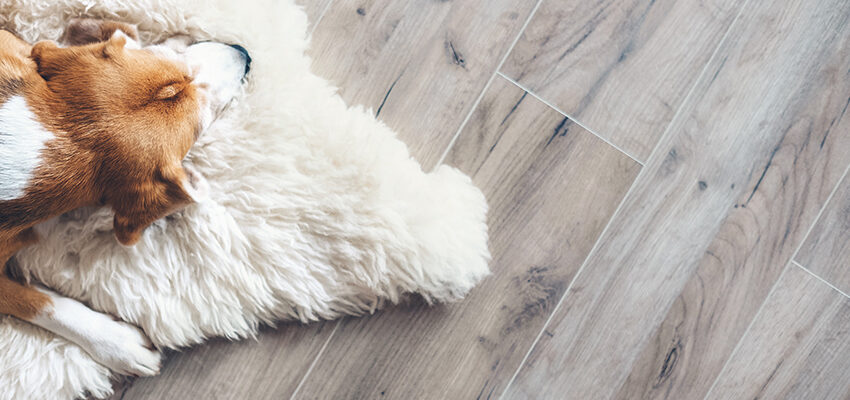 Wood alternatives
It's hard to beat a classic wood floor, but true hardwood isn't always practical (parents with young kids and dog owners — we see you). If you want the look of hardwood but don't want to fear spills, scratches and water damage, you're in luck. Flooring options that only look like hardwood are on point in 2021.
Wood-look vinyl
Vinyl flooring that looks like wood used to be easy to spot, but in the past few years it's grown more realistic — some manufacturers are offering wood-look vinyl planks with grain and texture. Wood-look vinyl has a leg up on hardwood in performance, too. It's waterproof, and there are scratch-resistant varieties available that make it a great option for high-traffic areas.
Wood-look tile
Wood-look tile burst onto the scene a few years ago, and we've loved it ever since. It's extremely durable and moisture-resistant, so you can get the look of hardwood in every room of your house, including bathrooms and laundry rooms where water damage would normally be a concern. Typically, wood-look tile is made from porcelain, which is a bit more expensive than ceramic, but the extra investment is worth it if you want a sturdy alternative to hardwood.
Wood-look laminate
Wood-look laminate is similar to wood-look vinyl but at a potentially lower cost. Like wood-look vinyl, there are waterproof versions of laminate, making it a great flooring option if you're sticking to a budget and want to invest in something durable. Wood-look laminate comes in a variety of styles, so you shouldn't have to compromise your vision or aesthetic if you choose it.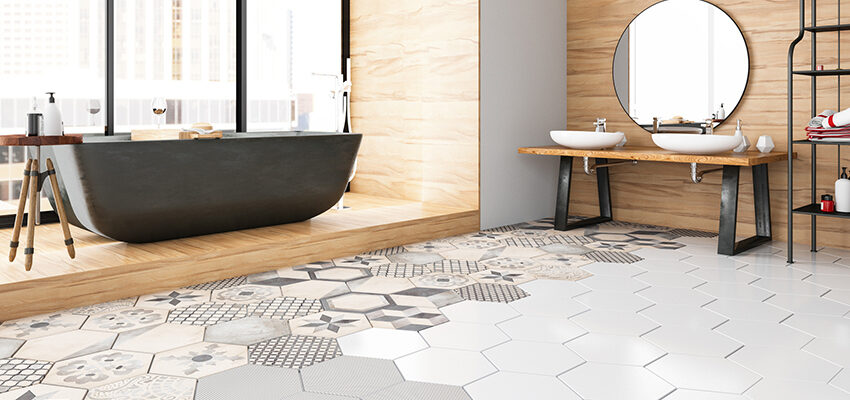 Patterned flooring
Patterned floors are contemporary, fun and, surprisingly enough, very versatile. From Tuscan-style tiles that warm up a room to black-and-white hexagon tiles that create a clean, sharp aesthetic, 2021's tile options have so much more to offer than basic 12-by-12 beige squares.
Patterned tile
If the phrase "patterned tile" automatically conjures images of black-and-white Mission-style squares, you're not wrong — but you're not completely right, either. Mission-style tile is still very popular, but the tile trend we're excited about in 2021 doesn't have as much to do with how the tile looks as the pattern in which it's laid. So, rather than choosing a tile with a pattern, opt for two colors of tile arranged in a cool pattern or interesting shape and let them do the talking. If you're daring, bring extra light into your space by combining tiles in Pantone's 2021 Colors of the Year — "Ultimate Grey" and "Illuminating" (a bright yellow shade).
Patterned carpet
This year's flooring trends are averse to one thing: beige. So, if you love the coziness of carpet but don't want the traditional tan look, check out the soft, light patterns now available on low-pile carpet. If a pattern seems too daunting, you can always opt for a textured carpet that's more subtle.
Pattern-laid wood
Parquet and herringbone wood floors have exited the '60s and entered the 21st century. Once the staple flooring choice of the midcentury modern movement, parquet flooring involves creating a design or mosaic out of wood pieces. Herringbone floors, also referred to as chevron parquet, involve laying wood planks in a repeating chevron pattern. Both of these pattern-laid flooring options bring a level of depth and interest to a space.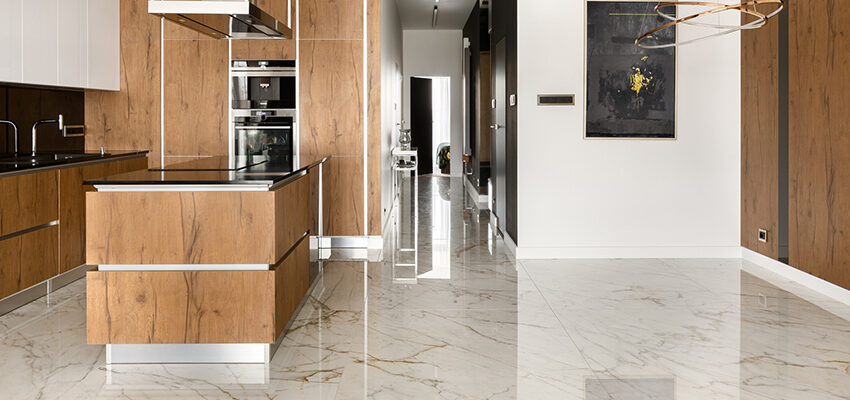 Stone flooring
Stone floors bring an earthy presence to your home. They're easy to clean and fairly low-maintenance, so they're definitely worth considering for your next project.
Imitation stone
Natural stone flooring is beautiful but pricey, making imitation stone flooring a more practical, affordable option for homeowners who want the look of natural stone flooring without the high price tag. Consider dodging the beige tile squares in favor of a warm rust color in a funky shape.
Natural stone
While imitation stone and tile have a uniform appearance, each piece of natural stone is unique. This material is available in a range of colors and textures to suit your home.
Concrete
Cement isn't relegated to the garage anymore. It's a minimalist's dream flooring because it's easy to maintain and extremely affordable to install. If laying a slab of concrete isn't feasible but you love the look, don't worry! Some manufacturers make tiles to mimic the look of concrete.
Popular flooring features in 2021
Your floor's features and characteristics are just as important as its overall appearance. Some popular flooring features worth noting in 2021 include:
Waterproofing
Possibly the most useful feature to watch for when choosing a flooring type is whether or not it's waterproof. Waterproofing improves both your flooring's longevity and its appearance over time.
Scratch resistance
Scratches can seem inevitable, but they're less likely if you install scratch-resistant flooring. Harder floor types, like tile, are less likely to scratch in the first place, and there are multiple styles of scratch-resistant vinyl flooring as well.
Eco-friendliness
As millennial homeownership numbers rise, so does interest in environmentally friendly flooring. There are some sustainable flooring options, like cork and wool carpet, but many flooring materials are less eco-friendly. If environmental impact is important to you, keep an eye out for green practices and materials when you're comparing flooring options.