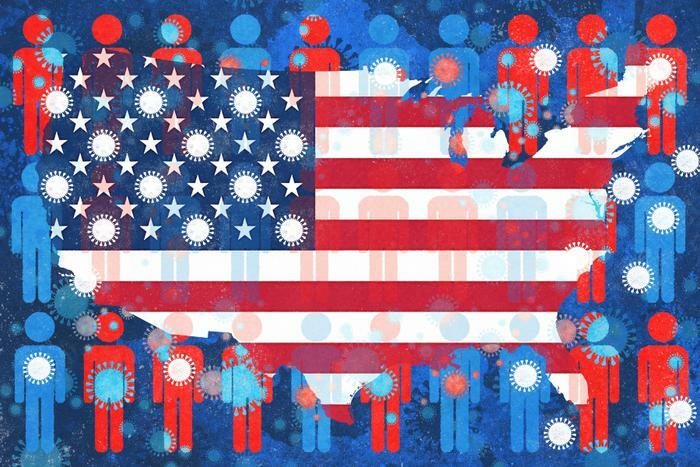 Coronavirus (COVID-19) tally as compiled by Johns Hopkins University. (Previous numbers in parentheses.)
Total U.S. confirmed cases: 29,611,598 (29,551,973)
Total U.S. deaths: 538,182 (536,978)
Total global cases: 121,400,246 (120,861,983)
Total global deaths: 2,683,381 (2,673,264)
U.S. ahead of schedule on vaccinations
As he took office in January, President Biden set a goal of having 100 million Americans vaccinated against the coronavirus (COVID-19) in the first 100 days of his administration. He's on track to accomplish that goal.
The Centers for Disease Control and Prevention (CDC) reports that 72 million Americans have received at least one dose of a vaccine. That amounts to about 21 percent of the U.S. population.
That's allowing many people to resume normal activities. The CDC reports that there is emerging evidence that fully vaccinated people are less likely to transmit the virus to others. While research continues, health experts say vaccinated people should err on the side of caution.
Employers struggle with how to get employees back in the office
A new survey from Forrester finds that U.S. employers are trying to deal with the question of getting employees back in the office. After a year of working remotely, many employees have gotten accustomed to the new routine.
According to the survey results, employers are grappling with how to accelerate a "return to normal" without overstepping their bounds. Among the issues they must face are new privacy, ethical, legal, and compliance challenges.
"While COVID-19 is loosening its grip, it's not going away," said Enza Iannopollo, senior analyst at Forrester. "Vaccine passports don't offer the silver-bullet solution that many might hope for easing pandemic protocols and restrictions, and businesses should be planning for life with COVID in the medium to long term. Our overarching message to organizations everywhere is one of caution. With the right planning and consideration, the return to work will be smoother and more successful for all involved."
New claims for jobless benefits tick higher
Despite optimism about a reopening economy, the coronavirus is apparently still serving to dampen the job market. The Labor Department reports that first-time claims for unemployment benefits rose to 770,000 last week when most economists were expecting a further decline.
Claims rose by 45,000 from the previous week, even as more restaurants and entertainment venues began to reopen. AMC Theaters announced it would reopen most of its theaters this weekend.
Despite last week's increase, the long-term numbers are moving in the right direction. The total number of continued weeks claimed for benefits in all programs for the week ending February 27 was 18,216,463, a decrease of 1,902,005 from the previous week. 
Disneyland will reopen next month
California officials have given the green light to Mickey and his pals to reopen the Disneyland theme park, but with some limitations. Out-of-state residents are barred from visiting the Magic Kingdom.
The gates will reopen on April 30 after being closed for more than a year. California's public health directives have kept all theme parks in the state closed since last March, but new guidance released this week has allowed for the reopening.
"It's been a long, long time since we've been able to create magic for our guests, and put our cast members back to work and help the associated businesses around the Anaheim area that currently depend on Disneyland for their livelihood," Disney CEO Bob Chapek said in an interview on CNBC.
Researchers find aspirin may reduce severity of COVID-19
Low-dose aspirin has long been recommended by some physicians for patients at risk of heart attack or stroke. Now, researchers at George Washington University say their study suggests that it could also prevent COVID-19 patients from requiring ventilators or treatment in an intensive care unit.
The researchers say it's no coincidence that aspirin helps prevent strokes and severe forms of COVID-19. Dr. Jonathan Chow of GW's School of Medicine says it has to do with aspirin's blood-thinning properties.
"As we learned about the connection between blood clots and COVID-19, we knew that aspirin – used to prevent stroke and heart attack – could be important for COVID-19 patients," Chow said. "Our research found an association between low dose aspirin and decreased severity of COVID-19 and death." 
Around the nation
Colorado: Colorado has joined the states employing mass vaccination sites to speed up the vaccine rollout. State health agencies opened vaccination sites in Colorado Springs and Grand Junction this week, with four more scheduled for Denver, Commerce City, Loveland, and Pueblo by early April.

Minnesota: The state has relaxed some virus mitigation restrictions, but health officials warn that cases have started to trend higher. The positivity rate has seen a small uptick to about 4 percent but has remained below 5 percent for the last month. Officials say they would be concerned if the rate reached the 5 percent threshold again.

Tennessee: The University of Tennessee Volunteers football program has halted all program activities due to a COVID-19 outbreak. The team had been scheduled to start spring practice next week.