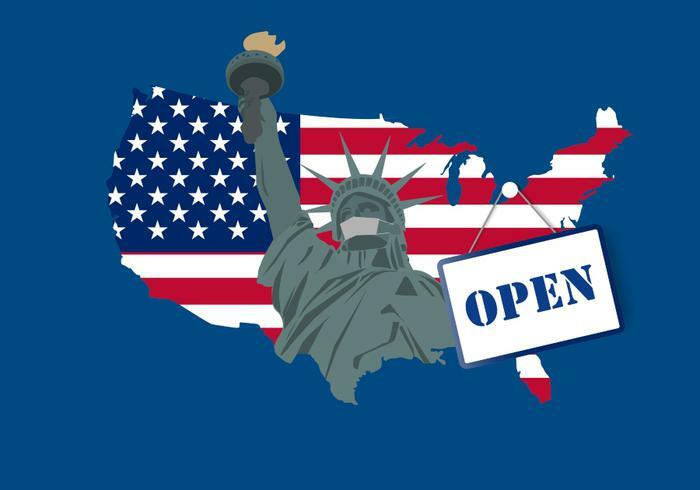 Coronavirus (COVID-19) tally as compiled by Johns Hopkins University. (Previous numbers in parentheses.)
Total U.S. confirmed cases: 32,477,368 (32,423,048)
Total U.S. deaths: 577,671 (577,054)
Total global cases: 153,676,825 (152,974,685)
Total global deaths: 3,216,016 (3,204,478)
States are lifting COVID-19 restrictions
Life is getting back to normal in the nation's largest metro. Officials in New York, New Jersey, and Connecticut have announced that their states will drop most coronavirus (COVID-19) restrictions by May 19.
"The tide is turning against COVID-19 in New York, and thanks to our increasing vaccination rates, as well as our successful, data-based regional approach, we're able to take more steps to reopen our economy, help businesses and workers, and keep moving towards returning to normal," New York Gov. Andrew Cuomo said in a statement. 
Texas dropped its mask mandate and capacity limits in early March. This week, Florida Gov. Ron DeSantis also ended most virus mitigation rules and declared that Florida no longer faces a state of emergency.
FDA reportedly ready to vaccinate adolescents
Plans are reportedly in motion to start inoculating adolescents against COVID-19. Various media reports cite unnamed officials at the U.S. Food and Drug Administration (FDA) who say the agency is prepared to authorize the Pfizer/BioNTech vaccine for children between the ages of 12 and 15.
If and when the FDA takes that action, a federal vaccine advisory committee will meet to discuss whether to recommend the shot for 12- to 15-year-olds. Shots could begin immediately after the CDC adopts the recommendations.
Pfizer is likely to be the only approved vaccine for that age group at first. In late March, the company released preliminary results from a vaccine study of 2,260 U.S. volunteers between the ages of 12 and 15. It showed that there were no cases of COVID-19 among fully vaccinated adolescents, but there were 18 cases among those given a placebo.
Experts: Herd immunity might not be necessary
From the very beginning of the pandemic, health experts stated that "herd immunity" was the silver bullet that would vanquish the coronavirus. Now, many of these same experts believe it might not be necessary after all.
Herd immunity is the concept that whenever a large percentage of the population is protected from a health threat, then it will fade away. The threshold has always been steep in the case of COVID-19, with estimates suggesting that 70% of the population would need to be vaccinated to achieve it.
With cases of the virus falling rapidly, Dr. Robert Wachter, professor and chair of the Department of Medicine at the University of California, San Francisco, tells USA Today that it looks like a 50% vaccination rate might stop the disease. Currently, about 44% of Americans have had at least one shot.
Mayo Clinic adds vaccination tracker tool
Data scientists at the Mayo Clinic have added a vaccination tracker to the medical center's COVID-19 Resource Center. It features state-by-state data and trends so users can follow the COVID-19 vaccine rollout in all 50 states and compare progress on one- and two-shot vaccinations.
The clinic says the tool may prove useful to consumers who plan to travel in the U.S. this summer because it will inform them about states where the virus is less likely to be prevalent.
"In 2020, Mayo Clinic's predictive models correctly predicted the scope and severity of COVID-19. In 2021, our models show that if properly used, vaccinations will severely restrict the impact of COVID-19," said Dr. Sean Dowdy, Mayo Clinic's Midwest Quality chair. "They also show that if people do not become fully vaccinated, COVID-19 will continue to limit our health, activities and economy."
JPM's Dimon is 'done with Zoom calls'
While many people in business have grown accustomed to working remotely and even prefer it, JPMorgan Chase CEO Jamie Dimon is not a fan. He's ready to get back to the office.
"We want people back to work and my view is that sometime in September, October it will look just like it did before," Dimon said Monday at the Wall Street Journal CEO Council. "And everyone is going to be happy with it, and yes, the commute, you know people don't like commuting, but so what."
The company has already informed employees in the U.S. that they should begin getting used to returning this month, with the goal of having 50% of workers being in the office at least some of the time by July. "I'm about to cancel all my Zoom meetings," Dimon said. "I'm done with it."
Around the nation
Indiana: In another sign of normalcy, officials have announced that there will be a 2021 Indiana State Fair this summer. "We are thankful to the State Department of Health for their collaboration and continued guidance on getting us back to hosting this important community event," said Cindy Hoye, the fair's executive director.

Oregon: While other states are loosening COVID-19 restrictions, Oregon has not. But Baker City Mayor Kerry McQuisten is bucking the trend. She's declared that her city is a "common sense sanctuary" and is lifting restrictions that she says are hurting businesses.

North Carolina: In the days since Gov. Roy Cooper lifted the outdoor mask mandate, large crowds have gathered at events across the state. That's raising concerns among state health officials. "There are lots of concerns about it," said Dr. Dennis Taylor, head of the state nurses association. "If you have not gotten the vaccine yet, the virus hasn't gone away. It's still there. It's just as virulent, or more so, with the various mutant strains that are still out there."