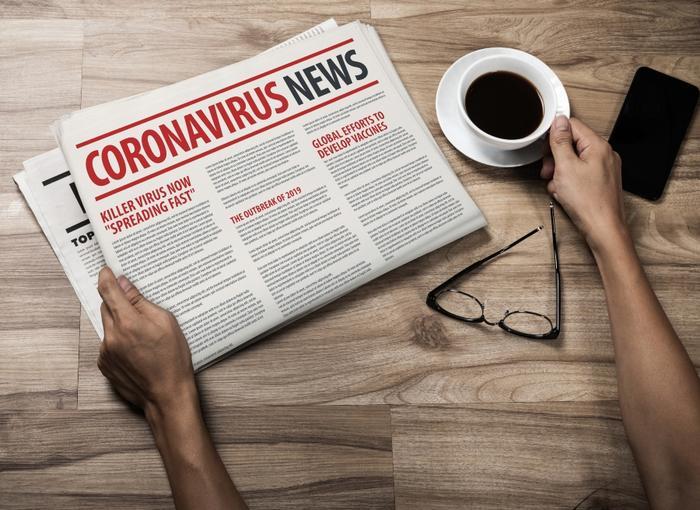 Coronavirus (COVID-19) tally as compiled by Johns Hopkins University. (Previous numbers in parentheses.)
Total U.S. confirmed cases: 761,991 (746,379)
Total U.S. deaths: 40,702 (37,379)
Total global cases: 2,432,092 (2,382,064)
Total global deaths: 166,256 (165,336)
Shake Shack giving back loan
Fast-casual restaurant chain Shake Shack is returning the $10 million small business loan it received under the CARES Act. The company came in for some social media shaming since it got a loan that many "mom and pop" businesses, for which the Paycheck Protection Program was designed, did not receive before the funds ran out late last week.
Company executives say they were successful in raising more money in the capital markets, so the chain no longer needed a government loan.
Congressional Democrats and White House officials are reportedly close to agreement on additional funding for small businesses affected by the coronavirus (COVID-19). Treasury Secretary Steven Mnuchin says an agreement on $370 billion in new aid could come later this week.
Facebook produces COVID-19 symptom map
Facebook, working with Carnegie Mellon University, has launched a map of the U.S. using data about residents who are experiencing coronavirus symptoms, or symptoms consistent with the virus.
The information will supplement the map produced by Johns Hopkins University showing active cases. The Facebook map will show users where there are people with symptoms but who have not been confirmed as active cases.
Some Facebook users will now see a link at the top of their news feed that will lead them to an optional survey operated by Carnegie Mellon. Information from the survey will be used by CMU for its pandemic forecasting efforts, and it also will be shared with other collaborating universities. Aggregate information from the survey will be shared publicly.
Fauci says protestors should stay home
Dr. Anthony Fauci, head of the National Institute of Allergy and Infectious Disease (NIAD) and a key member of the White House coronavirus task force, has some advice for people protesting the continued economic shutdown: Go home.
It's not that Fauci doesn't think people have a right to voice their opinion, but he worries their tactic will backfire. On ABC's Good Morning America today, Fauci says it is far too early for groups to gather in one location. It will only serve to spread the virus, he warned.
Over the weekend, there were sporadic protests around the nation in states where governors have extended emergency orders keeping businesses closed.
The worst of times, the best of times
A Goldman Sachs forecast warns that the economic dislocation from the coronavirus will be four times worse than what the U.S. experienced during the financial crisis, when home values plunged and the stock market lost half its value.
The report projects an official unemployment rate of 15 percent, which won't reflect the full jobless rate because many out of work won't be looking for a job and thus won't be counted. But then, things should get better. A lot better.
Jan Hatzius, Goldman's chief economist, says the economy will experience a sharp rebound when industries idled by the virus begin to ramp up. That should produce an improvement in economic growth that Hatzius said would be "unprecedented" for the U.S.
Struggling restaurants
Millions of consumers have missed going to their favorite restaurants and may be dreaming of visiting again in the future. But the economic reality is that some of those restaurants may never reopen.
A survey by the National Restaurant Association shows America's eating establishments are on pace to lose as much as $240 billion by the end of the year. The survey found that two-thirds of restaurant employees are among the newly unemployed. An estimated 8 million people have either been laid off or furloughed. 
Four in 10 restaurants are closed, while the rest are providing takeout and delivery service only. A majority of the operators included in the survey said existing federal aid programs won't prevent future layoffs.
Around the nation
Texas: State parks reopened today after Gov. Greg Abbott announced a phased plan that allows for some facilities and businesses to expand operations. However, social distancing protocols are still in force, and visitors to parks are required to wear facial coverings and be in family groups of no more than five people.

Oregon: Social distancing is taking a steep economic toll on the state's coastal communities that rely on tourism. Hotels and restaurants in cities like Cannon Beach and Seaside have taken a hit, as have municipal governments, because of a drop in tax revenue.

Virginia: Gov. Ralph Northam says it's "delusional" for President Trump to say states now have the necessary coronavirus testing capacity. Northam told CNN that Virginia not only lacks testing capacity, but there also aren't enough cotton swabs.