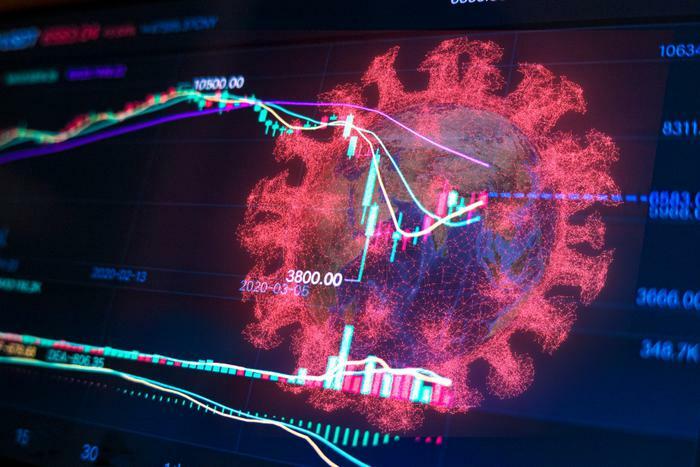 Coronavirus (COVID-19) tally as compiled by Johns Hopkins University. (Previous numbers in parentheses.)
Total U.S. confirmed cases: 29,677,422 (29,611,598)
Total U.S. deaths: 539,868 (538,182)
Total global cases: 122,036,229 (121,400,246)
Total global deaths: 2,694,915 (2,683,381)
Economy shows signs of shaking off the pandemic
Vaccinations are up, and cases of the coronavirus (COVID-19) are down. As a result, more Americans are traveling and dining out, pleasures largely put on hold over the last 12 months.
The Wall Street Journal reports that not only are restaurants filling up, but so are hotels and planes. Economists questioned by the newspaper now estimate that the U.S. economy will grow nearly 6 percent this year.
"You're looking at the biggest surge in economic growth that most people who are working today have ever experienced in their working lives," Tim Quinlan, senior economist at Wells Fargo Securities, told The Journal.
European health regulators clear AstraZeneca vaccine
European health officials have given a green light to the resumption of vaccinations using the AstraZeneca vaccine. Several countries stopped using it in the last week after it was linked to potential blood clots in recipients.
After an investigation of these reports, health officials issued a statement saying the vaccine is "safe and effective" and does not contribute to blood clotting.
Following the statement, officials in Germany, France, Italy, Spain, Portugal, and the Netherlands said they would resume vaccinations because the benefits of the vaccine appear to outweigh its potential risks.
Masks still provoke arguments
Dr. Anthony Fauci, the White House's chief COVID-19 adviser, got into a tense exchange during a Senate hearing this week with Sen. Rand Paul (R-Ky.), over whether vaccinated people still need to wear masks in public.
Fauci, citing the COVID-19 variants, insisted that masks are still necessary. Paul, who is also a physician, was just as insistent that masks aren't necessary and accused Fauci of engaging in "theater" by wearing two masks, even though he has been vaccinated.
″Can I just state for the record that masks are not theater," Fauci shot back. "I totally disagree with you."
Doctors say Tamiflu could be an effective COVID-19 treatment
Even after most people are vaccinated, health experts believe people will still get COVID-19 from time to time. There will be far fewer cases, and they won't be as severe.
A growing number of physicians say having an easy-to-obtain, easy-to-administer treatment will help keep the virus from becoming a major health threat. They suggest that taking Tamiflu pills early in the illness may become the preferred treatment.
"One of the real things for controlling the pandemic is making sure that drugs can get to the people who need them," Merck researcher Dr. Jan Butterton told MedPage Today. "An oral drug for COVID-19 would be something that people could take quickly. You wouldn't have to go to a clinic to get an infusion or have a van drive around and bring the infusion to you. It could be something that you could just order and pick up at a pharmacy."
Three major retailers join Ad Council campaign
There's no question that millions of Americans have been eager to roll up their sleeves and get the COVID-19 vaccine. At the same time, there are some people who have expressed doubts about getting vaccinated.
CVS Health, Walgreens, and Walmart have joined with the Ad Council to overcome vaccine hesitancy by providing information about the process. The campaign features pharmacists addressing common questions about COVID-19 vaccinations.
"As people across the country seek answers to their questions about the COVID-19 vaccines, we know local pharmacists are among the most trusted resources for the latest information," said Lisa Sherman, CEO of the Ad Council. "This extraordinary coalition of companies – CVS Health, Walgreens and Walmart – plays a critical role in getting Americans the information they need about COVID-19 vaccination so they can make the right choice for themselves and their families."
Around the nation
Florida: Gov. Ron DeSantis is telling state residents to take whatever vaccine is offered. The one-dose Johnson & Johnson vaccine has proved to be popular, but the governor says supplies of that vaccine are nearly depleted and it could be weeks before new supplies arrive.

Louisiana: The state has launched an intensive effort to get vaccines into the arms of its residents. Gov. John Bel Edwards this week announced nine pilot programs — one in each Office of Public Health region of the state — and will include community vaccination events the second and third weeks of April.

Pennsylvania: State health officials are increasing the number of residents who can now line up for a vaccination. Gov. Tom Wolf and the COVID-19 Vaccine Task Force say they plan to use the next round of Johnson & Johnson vaccine for front-line workers, including those in food and agriculture; meat, poultry, and dairy processing; fresh fruit and vegetable packing operations; and food and feed manufacturing.