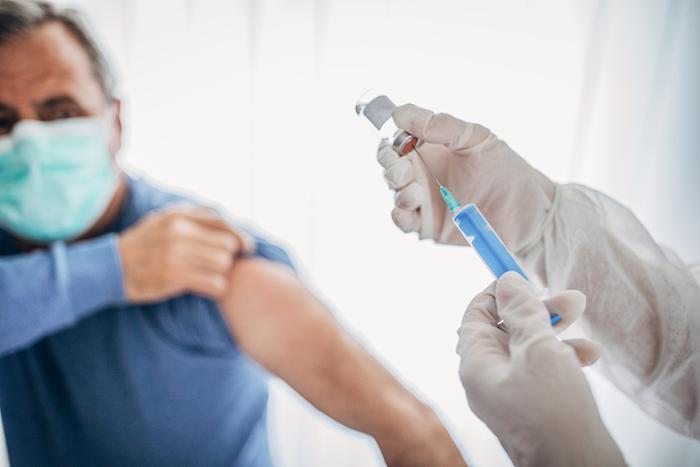 Coronavirus (COVID-19) tally as compiled by Johns Hopkins University. (Previous numbers in parentheses.)
Total U.S. confirmed cases: 4,375,217 (4,307,542)
Total U.S. deaths: 149,684 (148,295)
Total global cases: 16,797,288 (16,534,345)
Total global deaths: 661,724 (655,084)
Poll shows reluctance to get vaccinated
While nearly everyone hopes drug companies are able to quickly come up with a vaccine against the coronavirus (COVID-19), it seems no one wants to be first in line to receive it. Fewer than half of all people responding to a new WebMD poll said they would be vaccinated within the first year of availability.
The poll of more than 1,000 respondents comes amid the release of early data from vaccine clinical trials, with debates about education, travel, and the reopening of business sectors often hinging on approval of one or more candidates by early 2021.
"The vaccine hesitancy revealed in the poll should be a wake-up call to policymakers and the medical community that we as a society need more effective strategies for living with coronavirus," said Dr. John Whyte, WebMD's chief medical officer.   "Some people won't get it, others will wait, and still others aren't ready to commit either way.  Without widespread vaccine acceptance, we won't achieve the herd immunity that comes with it."
More states see a surge in cases
At first, the surge in coronavirus cases was seen in Arizona, Texas, and California. But over the last few weeks, more states have seen large increases in the number cases.
While nearly every state has seen increases between June and July, Florida, Arkansas, Mississippi, and South Carolina have reported record one-day increases in cases this week.
Even states where stringent mitigation measures had flattened the curve are seeing increases. Cases are rising again in Virginia, with the state reporting the largest number of hospitalizations in nearly two months.
Pandemic has made many of us more savings oriented
The coronavirus pandemic has changed many things about consumers' lives, and one change is how they approach money. When the economy shut down and millions were suddenly unemployed, a lot of people gained a new appreciation for having a rainy day fund.
A new survey of hourly workers from DailyPay and Funding Our Future found that just over half of those polled said they are more likely to save for the future. That contrasts with 15 percent of respondents who said they were less likely to save.
"Far too many Americans lacked savings even before this pandemic, and their struggles with financial stability have only intensified," said Kara Watkins, Funding Our Future's campaign manager. "This survey demonstrates the need for actionable solutions to help households save for an emergency and their future."
Gloves off
The evidence is fairly clear that masks reduce the likelihood of getting the coronavirus. It's less clear when it comes to wearing disposable gloves.
The Centers for Disease Control and Prevention (CDC) has issued guidelines saying glove use shouldn't be considered a necessary preventive tactic. The agency stresses that gloves "will not necessarily protect you from getting COVID-19 and may still lead to the spread of germs."
In the early days of the pandemic, gloves were thought to protect wearers from picking up the virus from surfaces. It's now believed that the virus is spread mostly through the air. Also, some health experts think wearing gloves may provide a false sense of security.
The virus hits graduate schools hard
While most colleges are grappling with the impact of the pandemic, schools with graduate MBA programs face even tougher times. The Wall Street Journal reports that these programs were struggling before the pandemic hit -- now the situation is worse.
Purdue University has announced that its Krannert School of Management has stopped admitting students to its two-year resident M.B.A. program for the 2021 academic year. Similar action has been taken by the University of Missouri's Trulaske College of Business and the University of St. Thomas' Opus College of Business in Minnesota.
Once considered a hot ticket to success, applications to MBA programs have dropped sharply in recent years, down 70 percent since 2009.
Around the nation
Illinois: A decision is expected soon about the future of high school sports for the fall. The Illinois High School Association will meet today and may take up the issue. "We expect this meeting will provide important guidance on how the IHSA will proceed with fall sports," said Craig Anderson, IHSA's executive director.

New Jersey: Gov. Phil Murphy says his state is far from being "out of the woods" when it comes to new coronavirus cases. New Jersey reported 565 new cases on Tuesday, its largest daily total since early June. 

Alabama: Alabama's statewide mask ordinance expires this week after being in force for two weeks. State health officials acknowledged a slowing of new cases of the virus and have urged residents to continue wearing masks in public.