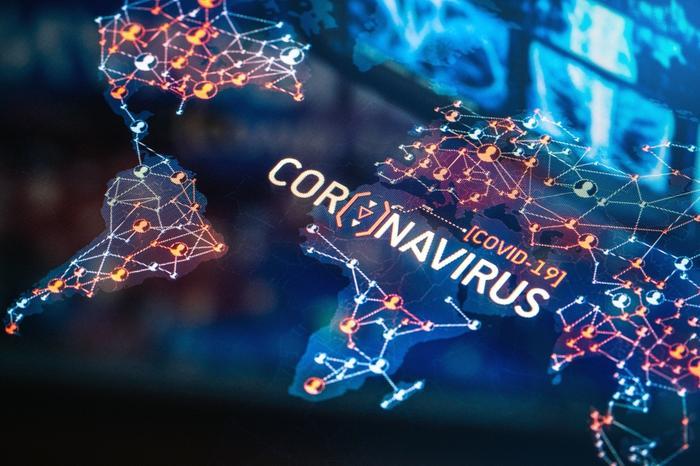 Coronavirus (COVID-19) tally as compiled by Johns Hopkins University. (Previous numbers in parentheses.)
Total U.S. confirmed cases: 788,920 (761,991)
Total U.S. deaths: 42,458 (40,702 )
Total global cases: 2,501,156 (2,432,092)
Total global deaths: 171,810 (166,256)
FDA approves first at-home test kit
The lack of testing supplies has been a major sore point among policymakers as the coronavirus has spread, but the Food and Drug Administration (FDA) just made it a lot easier to get tested.
The agency has granted approval to Labcorp to produce the first at-home COVID-19 test kit. LabCorp says it will give first access to health care workers and first responders.
Unlike an at-home pregnancy test, users will not get immediate results; they'll still have to send the sample to a lab for testing. But the FDA says the self-sampling sidesteps the need for a clinician to perform the test, reducing their exposure to symptomatic patients. It also frees up more personal protective equipment, which is in short supply. The test will sell for $119.
Coronavirus hits the housing market hard in March
Even though the coronavirus (COVID-19) was mostly under control in the early part of the month, sales of existing homes fell sharply in March, according to the National Association of Realtors (NAR).
Sales were down 8.5 percent compared to February, with most of the sales contracts signed in January and February, long before the coronavirus put a halt to most economic activity. NAR Chief Economist Lawrence Yun says that suggests the next few months could be even bleaker, with double-digit sales declines.
"More temporary interruptions to home sales should be expected in the next couple of months, though home prices will still likely rise," Yun said.
Shooting down rumors
A persistent rumor making the rounds on social media and cable TV is the suspicion that the coronavirus originated in a Chinese lab. The World Health Organization (WHO) addressed that today, saying the evidence shows the virus "likely" originated from animals -- specifically bats.
Reuters quotes WHO spokeswoman Fadela Chaib as saying: "All available evidence suggests the virus has an animal origin and is not a manipulated or constructed virus in a lab or somewhere else."  
NBC News reported in recent days that former and current intelligence officers were exploring the possibility the coronavirus was accidentally released from a Chinese lab that was studying diseases in bats. The lab in question has denied it, labeling the accusation as "a conspiracy theory."
Pandemic forces 10,000 layoffs at Hertz
The nation's skyrocketing unemployment rate just went a little higher. Due to the drastic drop in travel, Hertz has announced it is laying off 10,000 employees.
"Like the rest of the global travel sector, COVID-19′s impact on Hertz arrived swiftly, and the reversal in customer demand has been significant," Hertz CEO Kathryn Marinello told CNBC last month.
The jobs amount to less than a third of Hertz's international workforce, but they may not be gone for good. The company said it hopes to recall many of its laid-off employees in the post-COVID-19 economy.
McDonald's is providing 'thank you meals' for first responders
McDonald's has joined the legion of companies and individuals offering support for health care workers and first responders. The fast-food chain, which is operating delivery and drive-thru options at its restaurants, will provide free Thank You Meals between Wednesday, April 22 and Tuesday, May 5 to health care workers, police officers, firefighters, and paramedics.
"Emergency physicians and other health care workers on the frontlines are spending hours a day on their feet, often missing meals in their efforts to care for their patients," said Dr. William Jaquis, President of The American College of Emergency Physicians. "McDonald's Thank You Meal is a much-appreciated gesture for those risking their lives each day to take a break with a hot meal amidst the turbulence."
The free meals will consist of select items from McDonald's breakfast and lunch and dinner menus.
Around the nation
Louisiana: A Baton Rouge pastor who defied state orders and held large church services is asking people to donate their COVID-19 $1,200 government stimulus payments to the church. Pastor Tony Spell told CNN he wants to give the money to missionaries and evangelists, who he says don't receive the stimulus money. 

Wisconsin: Milwaukee's health commission says seven state residents have been identified as getting the coronavirus from activities related to voting in the state's April 7 Democratic Primary. State officials went forward with the voting despite pleas from health officials to postpone it.

Montana: Montana is one of the least-affected states by the coronavirus and has among the fewest confirmed cases. On Monday, it reported no new cases.