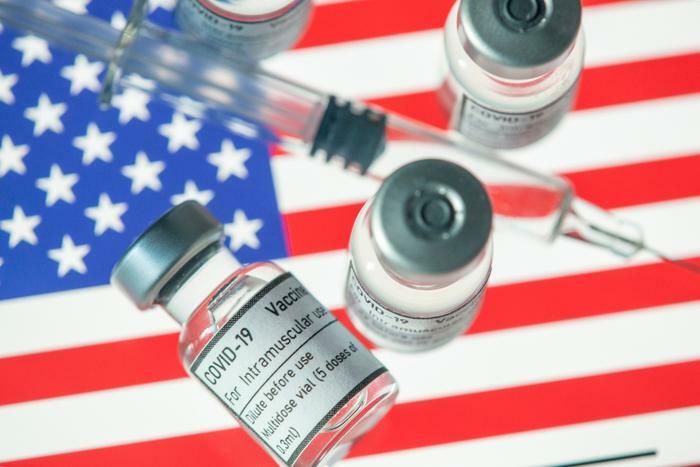 Coronavirus‌ ‌(COVID-19)‌ ‌tally‌ ‌as‌ ‌‌compiled‌‌ ‌by‌ ‌Johns‌ ‌Hopkins‌ ‌University.‌ ‌(Previous‌ ‌numbers‌ ‌in‌ ‌parentheses.)‌ ‌
Total‌ ‌U.S.‌ ‌confirmed‌ ‌cases:‌ 33,542,425 ‌(33,538,571)‌
Total‌ ‌U.S.‌ ‌deaths:‌ 601,825‌ ‌(601,780)‌
Total‌ ‌global‌ ‌cases:‌ ‌178,572,940 ‌(178,308,964)‌
Total‌ ‌global‌ ‌deaths:‌ 3,‌868,089 (3,862,031)‌ ‌
Moderna is preparing for vaccine booster shots
Moderna, which produces one of the three coronavirus vaccines being used in the U.S., plans to add two production lines in preparation for the distribution of booster shots for people who have already been vaccinated.
The company said the production expansion is designed to help Moderna increase overall production capacity by 50% at its plant in the Boston suburb of Norwood. Production is also being expanded in other countries.
"Our plan and our hope is that, as soon as the U.S. has enough doses, we're allowed to export so we can help as many countries as we can around the world," Moderna CEO Stéphane Bancel told the Wall Street Journal.
A few states may see a spike in cases
The pace of vaccinations has slowed in recent weeks, primarily because a handful of states are recording lower inoculation rates. Alabama, Arkansas, Louisiana, Mississippi, Tennessee, and Wyoming have fully vaccinated less than 35% of residents.
That compares to a national average of around 45%, according to the Centers for Disease Control and Prevention (CDC). Health officials worry that states with low vaccination rates could see a spike in cases of the virus.
Officials are particularly worried about the spread of the Delta variant because it appears to be easier to transmit. It may also cause more severe infections among people who are not vaccinated.
CDC finds 'troubling' increase in severe cases in teens
A study by the Centers for Disease Control and Prevention (CDC) has raised concerns about teenagers who have yet to be vaccinated. It found a "troubling" increase in the hospitalization rate of people aged 12 to 17 years old in March and April, a group that was only beginning to be vaccinated.
Among those young people, over 31% were admitted to an intensive care unit and nearly 5% were placed on ventilator support. All of the patients recovered, the report said.
Health officials believe the severity of the illnesses may be traced, in part, to the virus variants that have been circulating in the U.S. since the beginning of the year. Not only are they more transmissible, but they seem to cause more severe illnesses among some younger patients who have not been vaccinated.
One-third of older Americans delayed health care 
Health researchers warn that the pandemic, which has lasted for well over a year, may have health repercussions down the road. A poll by the University of Michigan (UM) found that one-third of older Americans put off seeking regular medical treatment because of COVID-19 concerns.
The percentage was even higher among older people who have asthma, who are Black, and who report that their mental health is fair or poor. Men, and those over 65, were less likely to say they'd delayed care, with 27% of both groups saying they had put off seeing a doctor, nurse, or other health professional due to COVID-19 concerns.
"What these findings suggest is that health care providers and older adults both need to make a concerted effort to get back on track with the care that can help manage chronic conditions and spot complications, as well as regular preventive care," said Preeti Malani, M.D., poll director and a Michigan Medicine infectious disease physician. 
COVID-19 survivor wins the U.S. Open
As we noted last week, PGA golfer Jon Rahm expressed regret that he didn't get vaccinated sooner because he tested positive during the final round of the Memorial tournament last month and had to drop out. At the time, he was cruising to a victory and a $1.7 million purse.
He made up for it over the weekend. After a 14-day quarantine and a pair of negative COVID-19 tests, Rahm returned to the course and won the U.S. Open by six strokes. He doesn't dwell on what happened two weeks earlier.
"I believed from the biggest setbacks we can get some of the biggest breakthroughs," Rahm told reporters. 
Around the nation
New York: Music and sports venues were busy over the weekend because many of these entertainment locations lifted capacity restrictions. All restrictions expire today at Citi Field, home of the New York Mets.

Arizona: While cases of the virus continue to fall in most states, Arizona is an exception. State health officials are reporting a small spike in coronavirus cases in the last seven days. Arizona reported 600 new cases on Saturday alone.

Vermont: Vermont is the first state in the nation to reach an important vaccination milestone, reporting that more than 80% of the eligible population has received at least one shot. As a result, the state has lifted all remaining COVID-19 restrictions.