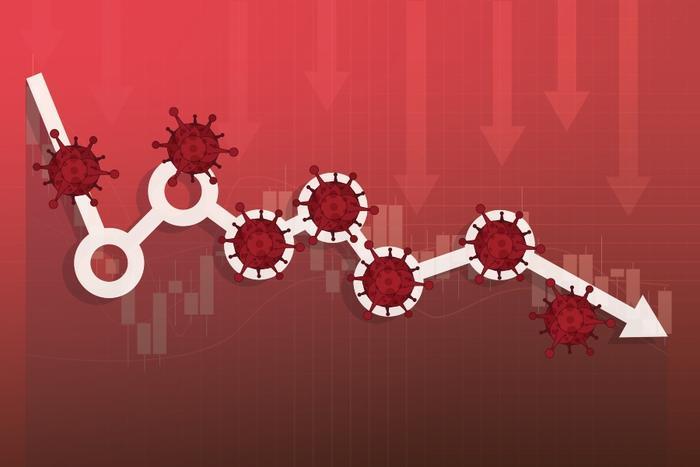 Coronavirus (COVID-19) tally as compiled by Johns Hopkins University. (Previous numbers in parentheses.)
Total U.S. confirmed cases: 2,168,497 (2,141,306)
Total U.S. deaths: 117,832 (117,033)
Total global cases: 8,391,551 (8,214,571)
Total global deaths: 449,695 (444,853)
New unemployment claims holding steady
The economic pain from the coronavirus (COVID-19) isn't over yet. The Labor Department reported today that initial claims for unemployment benefits totaled 1.5 million, about the same as the previous week, showing the unemployment rolls have yet to shrink.
Economists had expected the number to go down significantly, especially since May's employment report showed the economy added jobs last month. Last week's claims were lower than the previous week, but not by much.
"The 58,000 drop in claims this week is very disappointing, given that the level still remains so high; the worst single week after the crash of 2008 saw claims at 665,000," Ian Shepherdson, chief economist at Pantheon Macroeconomics, told CNBC.
'Some states about to lose control'
Former Food and Drug Administration (FDA) Commissioner Dr. Scott Gottlieb appears on CNBC each morning to discuss the latest coronavirus developments. Lately, he's voiced increasing concerns about outbreaks in the South and West, where many states have lifted restrictions.
"They're on the cusp of losing control of those outbreaks in certain parts of those states. Arizona, Houston, Austin, parts of Florida certainly look very concerning right now," Gottlieb said this morning.
Cases in these regions have been rising since the Memorial Day weekend when many people began gathering at beaches, lakes, and parks. Meanwhile, cases in some of the hardest-hit areas, such as New York, have declined sharply in recent days.
Complaints about financial companies rising
In spite of forbearance programs put in place by the CARES Act, consumers apparently are having a harder time dealing with financial services companies. A survey by NerdWallet shows that complaints against financial institutions are on the rise amid the COVID-19 outbreak. 
According to the analysis, which looked at all complaints filed with the CFPB from Jan. 1 through May 31, the bureau received 142,782 complaints -- 31 percent more than in the first five months of 2019.
Coronavirus-related complaints about credit or prepaid cards were the second most commonly cited financial product -- accounting for 23 percent of complaints.
Health care workers infected less than you might think
A study of antibody test results in Colorado shows that health care workers have had a lower rate of coronavirus infection than the general public, despite working in close proximity to infected patients
The results come from recent tests conducted by UCHealth -- Colorado's largest health care system -- which showed its staff and providers actually showed lower infection rates than the general public.
Since UCHealth began antibody testing two weeks ago, over 15,000 people have opted to find out if they have been exposed to COVID-19. The results revealed that 4.1 percent of the general public tested positive, compared to a 2.45 percent positive rate of UCHealth staff and providers.
Watch out for work-at-home scams
Just about everyone who still has a job is working from home these days, and there are plenty of people who are out of work and stuck at home. Florida Attorney General Ashley Moody warns that this is a perfect situation for scammers.
Moody has gotten reports of students receiving emails that appear to come from a college or university looking for people to work from home. While posing as a representative from the university, the scammer collects highly sensitive personal information from the victim.
She says other scams try to get victims to pay upfront fees in order to get the job, which she says should be a red flag that you're dealing with a scammer.
Around the nation
Michigan: State education officials say they plan to hold summer school despite the coronavirus, but each district will implement tailored mitigation measures. In Detroit, schools will offer the option of online and in-person classes starting July 13.

Arkansas: Since the state began its Phase 2 reopening on Monday, Arkansas health officials report that there have been more than 1,100 new confirmed cases of the coronavirus. On the bright side, only a third of the state's nursing homes now have any confirmed cases.

Georgia: As a result of an executive order from Gov. Brian Kemp, more restrictions have been lifted throughout the state. At restaurants, there is no longer a party maximum for the number of people who can sit together at one table. There is also no longer a limit on the number of people allowed per square foot.