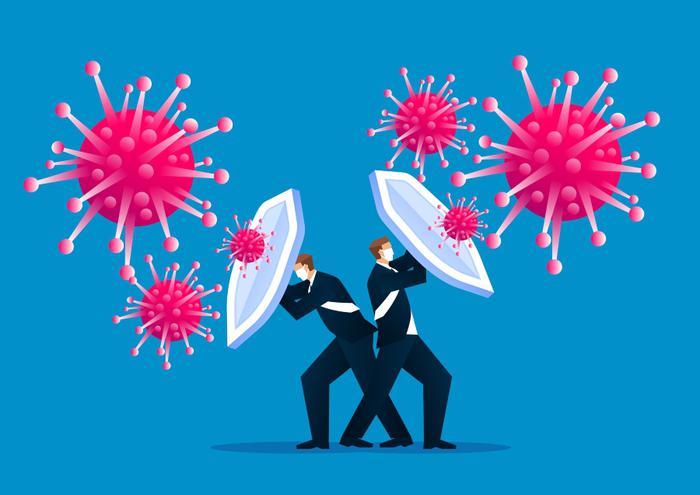 Coronavirus (COVID-19) tally as compiled by Johns Hopkins University. (Previous numbers in parentheses.)
Total U.S. confirmed cases: 6,816.046 (6,767,634)
Total U.S. deaths: 199,552 (199,268)
Total global cases: 31,110,407 (30,815,617)
Total global deaths: 961,544 (957,633)
CDC: COVID-19 spreads mostly through the air
We're six months into the COVID-19 pandemic, and health officials are still learning about the virus. In new guidance, the CDC says it has determined that the coronavirus spreads mostly through tiny droplets that can remain suspended in the air for an extended period of time and be inhaled by others.
The CDC says the droplets are produced when an infected person coughs, sneezes, sings, talks, or even breathes. "These particles can be inhaled into the nose, mouth, airways, and lungs and cause infection," the CDC says. "This is thought to be the main way the virus spreads."
Originally, health experts believed the virus spread mostly by an infected person touching a surface, which was later touched by a healthy person.
Update: The CDC announced Monday that this guidance was erroneously published to its website. The agency is reportedly in the process of updating its guidance and will publish an update soon. ConsumerAffairs full coverage of this revision can be found here.
Cruise lines submit health protocols
Cruise lines were among the hardest-hit businesses when the coronavirus (COVID-19) began spreading across the globe, but the industry is planning ahead for better times. A group set up by Royal Caribbean and Norwegian Cruise Line has submitted a report to the U.S. Centers for Disease Control and Prevention (CDC) that outlines the health and safety steps for cruise ships when they start sailing again.
The companies outlined 74 measures they said would protect passengers and crew from the virus. They include practicing extra sanitation protocols, tightly controlling on-shore visits, and enhancing protection measures for crew members.
The plan also calls for rigorous screening measures that will require passengers and crew members to be tested for the virus before they board the ships.
Colleges called 'reservoirs of COVID-19'
In many states, colleges have been responsible for a recent upsurge in coronavirus cases. College officials have had difficulty enforcing social distancing rules among students, many of whom live in close quarters in dormitories.
Now, health officials are wondering what will happen at Thanksgiving when all those students go home for the holiday. Will they take the coronavirus with them and spread it in their home communities? Gavin Yamey, director of Duke University's Center for Policy Impact in Global Health, says it was a mistake to bring students back to campus.
"This is beyond our wildest nightmares," Yamey told Bloomberg. "It has been a debacle, a national catastrophe and, in many ways, you could consider it a third wave. The third wave is a university reopening wave. It was a self-inflicted national wound."
Don't confuse cold symptoms with COVID-19
We're entering cold and flu season, but health experts say those symptoms should not be confused with COVID-19. They are very different.
Yale University scientists have emphasized that COVID-19 is often associated with fatigue, shortness of breath, and fever, whereas the common cold is not. Sneezing happens a lot when you have a cold but is rare when you have the coronavirus.
Doctors say there is no evidence that symptoms of a cold and COVID-19 are similar. They caution that social media posts making these claims have provided no supporting evidence. They also point out that COVID-19 cases can be confirmed by a specific test.
Researchers blame the virus for a rise in stress
Feeling stressed lately? Researchers at the University of California Irvine say they aren't surprised, and they blame most of the rising tension on COVID-19.
The coronavirus, they say, has produced multiple stress triggers. Many people have lost income and are wondering how they'll make ends meet. Millions are consuming way too much coronavirus news. And then there's simply worrying about whether you or your family will get sick.
The research highlights the connection between mental health and exposure to media coverage of the COVID-19 pandemic, suggesting that there may be a need to step away from the television, computer, or smartphone to protect psychological well-being. 
"The media is a critical source of information for people when they're faced with ambiguous, ongoing disasters," said Roxane Cohen Silver, professor of psychological science and one of the study's principal investigators. "But too much exposure can be overwhelming and lead to more stress, worry, and perceived risks."
Around the nation
Michigan: Gov. Gretchen Whitmer says a GOP-led effort to challenge her emergency powers threatens to allow the coronavirus to make a comeback in the state. Whitmer said enforcing mitigation rules has sharply reduced the number of cases in Michigan.

Arizona: A group called Accountable Arizona is attempting to recall Gov. Doug Ducey, claiming he mishandled the state's response to the coronavirus. The group has to collect more than 594,000 signatures to get the recall on the ballot.

Virginia: St. Catherine's and St. Christopher's Upper School divisions in Richmond have closed after some students tested positive for the coronavirus following a party attended by 60 students.