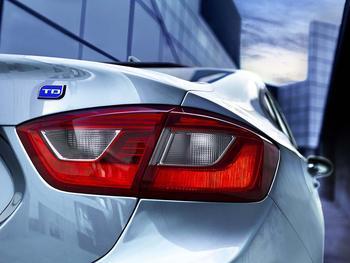 The 2017 Chevrolet Cruze Diesel has won top place in the fuel-sipping derby, qualifying for a 52 miles per gallon highway rating from the Environmental Protection Agency and 30 mpg in city driving with a six-speed manual transmission.
It's the first non-hybrid vehicle since the tiny Geo Metro to get an EPA rating of at least 50 mpg on the highway. The question is whether consumers, who fell for Volkswagen's discredited "clean diesel" claims, will chance it once again.
General Motors is obviously betting they will. 
"Chevrolet is dedicated to offering customers a wide range of propulsion options. We know there are customers looking for the right combination of fuel efficiency, driving dynamics, fuel type and more. With the EPA-estimated 52-mpg highway Cruze Diesel Sedan, they can get it all," said Steven Majoros, director of Chevrolet Marketing.
The car features a new Ecotec 1.6-liter inline four-cylinder turbo-diesel engine offering 137 horsepower (102 kW) and 240 lb-ft of torque. Cruze Diesel passed all stringent U.S. environmental standards and validation, including Tier 3 Bin 125 emissions standards, GM said, hoping to quell any doubts about its clean air bona fides.
Buyers will be able to option their Cruze Diesel Sedans with either a standard six-speed manual or a new, optional Hydra-Matic nine-speed automatic transmission that includes fuel-saving stop/start technology.
GM is not taking a back seat to competitors in the fuel economy battle. Its Chevrolet Bolt recently achieved an EPA-certified range of 238 miles, making it the the first electric car in the U.S. to achieve a range of more than 200 miles.