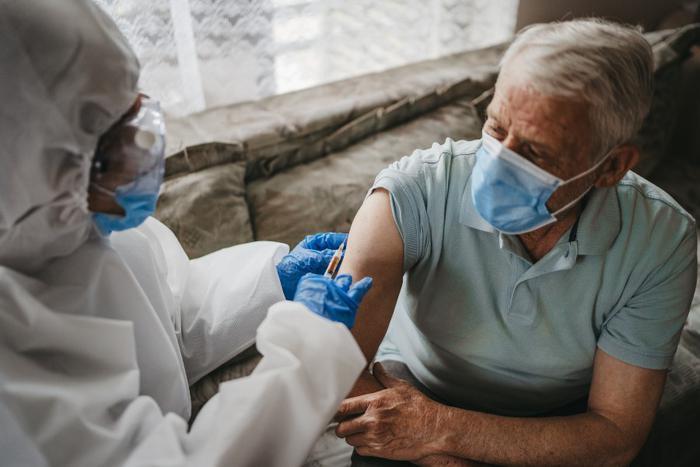 Vaccine advisers to the U.S. Centers for Disease Control and Prevention (CDC) have voted to immunize health care workers and people in long-term care facilities against COVID-19 first when a treatment officially becomes available. 
On Tuesday, the Advisory Committee for Immunization Practices (ACIP) voted 13-1 to include these two groups in "Phase 1a" of the CDC's proposed COVID-19 vaccine distribution timeline. 
Officials from the ACIP said these "exceptionally high risk" groups should be first in line to receive any COVID-19 vaccine that gets emergency authorization from the FDA. So far, two vaccines -- one from Pfizer and one from Moderna -- have been found in clinical trials to be both safe and highly effective. 
If both are approved, the government says 40 million doses could be available in the U.S. by the end of December. However, the CDC said it expects between 5 million and 10 million doses to become available each week for the first few months while manufacturers ramp up production. 
"We expect a constrained supply environment," the CDC's Sara Oliver said at Tuesday's meeting.
Vaccinating high-risk groups first
The CDC has defined long-term care facility residents as "adults who reside in facilities that provide a variety of services, including medical and personal care, to persons who are unable to live independently." These residents account for 40 percent of the deaths linked to COVID-19. 
While these vulnerable individuals receive COVID-19 vaccines, health officials say it would be practical to also vaccinate those working in the care facilities. Health authorities say anybody who works within a health care facility that could have contact with someone who has the virus should also be immunized as soon as possible. 
"That includes individuals such as the persons delivering food, those persons in housekeeping who rapidly turn over rooms in the emergency room or who perform cleaning in the patient's rooms," ACIP chairman Dr. Jose Romero told CNN. 
According to the four-phase vaccine distribution plan currently being considered by the CDC and ACIP, the next groups in line to receive vaccines after health care workers and long-term care facility residents would be essential workers (such as food production workers), emergency personnel, and people who are likely to experience severe COVID-19 complications or death.