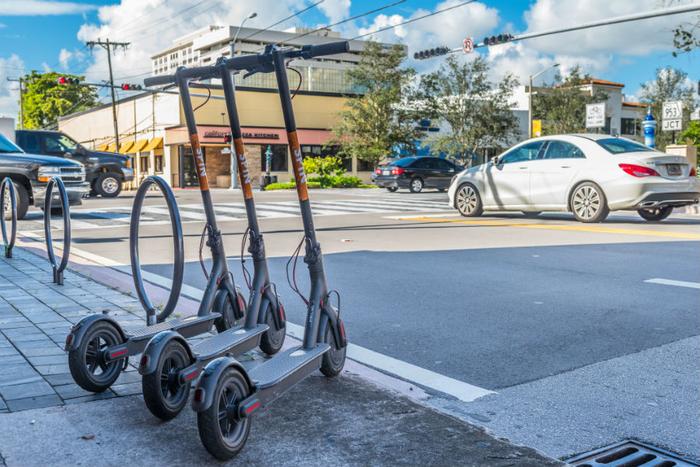 A 62-year-old street performer known as "Davy Rocks" was working near the Santa Monica pier when someone struck him from behind and knocked him over -- not with a motor vehicle, but with an e-scooter. The driver fled the scene, the performer David Petersen alleges in a new lawsuit filed against numerous e-scooter companies.
Los Angeles residents are no stranger to the area's hit-and-run epidemic in which as many as 50 percent of drivers are estimated to flee the scene of crashes. That behavior is apparently crossing over to people who use dockless e-scooters.
According to the class-action lawsuit filed by Petersen and other plaintiffs, the dockless e-scooter industry is to blame for unleashing dangerous products on public sidewalks without providing proper safety instructions, equipment checks, or other safeguards.
A "human meat grinder"
The suit, filed last week in Los Angeles Superior Court, says that Bird, Lime, and other dockless e-scooter companies should be banned from doing business in California .
The suit charges that the companies fail to provide "adequate warnings and/or instructions" on their devices. It also says that the scooters often contain defective electronic or mechanical parts. It all adds up to an industry that takes "a wanton disregard for the safety of others," the lawsuit claims.
Peterson told the Washington Post that following the crash, he required surgery on his arm. He now has five-inch scar and poor rotation thanks to the scooter that he described as a "human meat grinder."
Most companies named in the suit declined to give a statement to the paper.
"We believe that the climate crisis and our car dependency demand a transportation mode shift, and clean energy vehicles like e-scooters are already replacing millions of short car trips," a Bird spokesman responded to the Post in a statement.
Deaths and injuries on the rise
The fact that e-scooters are replacing gas guzzling cars is a familiar talking point, but it doesn't address whether that means scooters should be treated and regulated like cars.
The devices can reach up to 25 miles per hour, but many users ride on the sidewalks with their scooters rather than using the streets or bike lanes. Where exactly scooter riders should travel in remains a legal grey area.
Scooter-related injuries and even deaths have shot up as the industry comes to more United States cities. In Dallas, a 24-year-old was recently killed after trying to ride a dockless e-scooter home. He was reportedly found unresponsive next to a scooter that was cut in half, and his family has asked police to investigate the possibility of a hit-and-run.