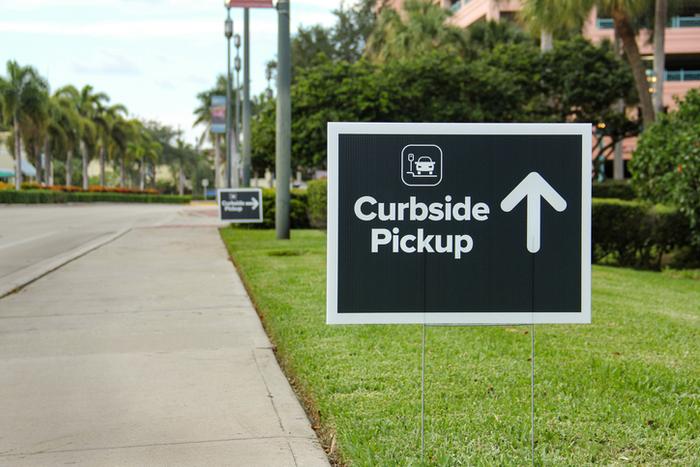 Now that consumers aren't as nervous about shopping in-store as they were during the pandemic, are retailers pulling back on curbside options? It depends on the retailer.
Target and Walmart are still committed to offering curbside pickup as an option to shoppers. In fact, Target just added curbside delivery for Starbucks Café beverages and food in 240 locations – adding a food component to curbside delivery.
However, curbside delivery is dropping precipitously at other retailers. A recent report found that the offering of curbside pickup dropped from 34% in 2021 to 25% in 2022. And while some retailers are continuing to offer the service as a holiday shopping perk, it's possible that the number offering it could drop further after the first of the year.
It may make customer service sense, but not necessarily economic sense
Even though customer service is king, the pluses and minuses of curbside delivery depend on several factors. For some customers, it's a no-brainer, but for retailers who have to set up special holding sections and people to take orders to the cars, it can be a burden. 
It's also a buzzkill for retailers who count on foot traffic perusing their aisles and maybe doing some added impulse shopping. 
Then, there's the issue of returns. Not being able to go in-store and look at the products in person could increase the chance of returns and with returns now costing 21% of the value of the order, curbside may not be the best choice. 
"During the pandemic, employees were available to run items out to customers' cars. Today, the situation is the opposite. Brands are struggling to hire and retain associates, meaning there is rarely enough staff to ensure the curbside process runs smoothly," Rick Berger, president of NewStore, told ConsumerAffairs.
What are customers missing not shopping in-store?
In terms of experience, is there anything shoppers miss by not going in-store? Berger thinks there is.
"Curbside isn't ideal when shoppers are looking to purchase higher-price, specialty items. Brick-and-mortar offers a much better experience in these scenarios because shoppers can touch and try out products before they buy," he said. Walmart was probably thinking the same thing when it recently rolled out its in-store Netflix "experience."
The other plus Berger sees is that at the same time, shoppers can consult with store employees. Something you can't get from someone who's delivering an order and putting it in your backseat.
"Associates aren't just there to bag up items and take shoppers' money. They are product and brand experts," he said.
As an example, he used skiing equipment – a product category that shoppers rely on the expertise of their store guides to help them find the right board, bindings, or boots for them.
"Many factors go into this decision, such as skill level, age, body type, riding conditions, and more," he said, things where personal and professional insights can benefit a shopper.
As another example, Berger said his company's researchers found that 72% of the brands they looked at in the luxury segment – such as jewelry – don't offer curbside pickup because it simply takes away from a curated in-store experience certain retailers pride themselves on. 
"In both cases above, shoppers are making significant, long-term investments that require the personalization that can only happen from an in-person shopping experience. It all comes down to the brand and the products it sells," he added.