Listeria Recalls and Warnings
The products may be contaminated with Listeria monocytogenes
11/28/2016
|
ConsumerAffairs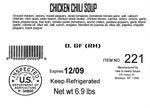 Hale and Hearty Soups of Brooklyn, N.Y., is recalling approximately 455 pounds of ready-to-eat chicken chili soup product that may be adulterated with Listeria monocytogenes.
The following item, produced and packaged on November 9, 2016, is being recalled:
The recalled product, bearing establishment number "P-34800" inside the USDA mark of inspection, as shipped to food service distributors in Maryland, Massachusetts, New Jersey, New York and Vermont.
Customers who purchas...
More
The recall is tied to the Sabra Dipping Company recall
11/28/2016
|
ConsumerAffairs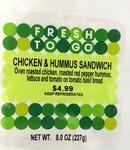 Greencore, USA is recalling Fresh to Go Mediterranean Chicken Hummus sandwiches (UPC 5254858888) manufactured solely for 7-Eleven.
Sabra Dipping Company has recalled the red pepper hummus ingredient used in this sandwich because of potential contamination with Listeria monocytogenes.
There are no reports of illnesses associated with the recalled product.
Because of the two day shelf life of the product, Greencore is recalling only lots distributed since October 15, 2016. t...
More
Sort By