Consumer Complaints and Reviews

I just purchased Amana Dishwasher Model # ADB1700ADS through HD online. As noted by another reviewer, this model has a serious engineering flaw. It does not have an exterior handle attached to the body of the door. The model has been designed so that you are forced to pull on the underside of the black plastic control panel. You can see the panel flex outward (more than .25 inches) under the pressure needed to open the door. I tried opening the door by pulling on the outer door corners and from the top edge without success. There is absolutely no question the plastic control panel will break due to material fatigue - and it will break either fast or slow depending on how often you pull on it and how hard you pull. I recommend you buy your own stainless steel door handle from any appliance parts store and install it yourself. It will cost you about $30.
Amana may have saved themselves $10 (for this same part) but they will take a ding to their reputation and have a lot of unhappy customers in the future. If Amana took into consideration that in buying a dishwasher, it is not just the cost of the dishwasher for the buyer - it is also the cost of time lost from work waiting for an install that never happens within the time frame given, install fees, taxes, delivery and haul away fees. There is a lot of time, effort, and money involved in buying a dishwasher. So much so, that the buyer would not blink to pay that $10 with an upcharge to prevent the destruction of the control panel of a daily use item they don't want to have to repair or replace for years to come.
As others have noted, this particular failure will not be covered under the manufacturer's warranty. Otherwise, the dishwasher is noted to work properly, is better suited for a smaller family, holds fewer dishes than others of the same size, has a very long cycle, and is hoped to be of similar quality to that Amana has been noted for in the past -- with the exception of this one very serious defect. We don't really know about the quality, because it has not been out long enough to have proven itself. I would have given the dishwasher a 2.5, a 2 is too low and a 3 is too high, considering the time, effort and expense I have put into purchasing it, the day lost for install, and finding and installing a handle to safeguard the most expensive component to repair - the control panel. Once the control panel goes, it will be cheaper to buy another dishwasher than to repair it, IMO.

Amana Gas Range AGR5630BDS - We purchased this range from Home Depot and took delivery in Dec 2014. In October 2016 the oven began to shut down after about 30 minutes cooking time and an F2 code showed in the display. We've had the service tech here 3 times. An oven temp sensor was replaced but the problem was not solved. We then replaced the top ECR module and still the problem exists. Now however when the oven shuts down there is a spewing of natural gas and we have to manually shut the oven off and throw open a window. We are stuck with a stove that won't work and is unsafe, and we are out of about $300 over the price of the stove. We cannot sell it and are hard pressed to afford a new stove. We called Amana and they had a "so what" attitude. I know that we will never buy any Amana/Whirlpool product again.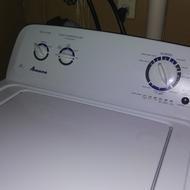 I purchased an Amana Washer and Dryer 4 months ago and just now moving into my house. I connected it it worked well on first wash. Now it won't spin, drain, had to unplug because it stopped in middle of wash. The sensor lights won't come on just to have a washer full of wet clothes. We tried to turn on now washer won't work. We wasted 800.00 on this set just to have to go somewhere else and purchase another set. This is ridiculous and upsetting. I am going public with our local news station for selling this mess. It was purchased at Handy TV Appliance in Centerpoint Al ( Birmingham).

I had an Amana washer for 3 years and it broken down 4 times. I got a Sears warranty on it in June and it's December now and it's broken again. My clothes are locked in and I had the control panel replaced 3 times. I was told that this was a great washer, but I have been having a great problem with it. It broken down after buying it a month. I got it repaired 4 times and I think I will sell it because it's not any good. Don't waste your money and time with this product. I feel I have been robbed by the company because of this defective product.

We recently purchased an Amana washer Model# NTW4605EW1. Supposedly high efficiency. It takes at least 2 full washes to get clothes clean and that includes an extra rinse each time. My husband's work clothes are on a 3rd wash right now. Fed up!! What a waste of money time and water. Now spending money to go to a laundromat until we can afford a new washer. We can't even sell it. How can I do that to some other family? Brand new and headed to the dump. Shame on you Amana.
How do I know I can trust these reviews about Amana Appliances?
668,037 reviews on ConsumerAffairs are verified.
We require contact information to ensure our reviewers are real.
We use intelligent software that helps us maintain the integrity of reviews.
Our moderators read all reviews to verify quality and helpfulness.
For more information about reviews on ConsumerAffairs.com please visit our FAQ.

We bought an Amana washer and dryer set 3 years ago, the washer won't advance to rinse/spin and sometimes won't unlock unless the unit is unplugged. The dryer is also failing, before the washer started having issues the dryer stopped working efficiently and has to be run for 120 minutes to get clothes dry. I'm dissatisfied and disappointed!

AER6303MFS - My hope in ordering this range was to receive a reasonably-priced, decent quality product that would serve me well over the next several years. Granted, I was aware that this was by no means a top-of-the-line appliance, but upon researching it I found that it had good reviews overall and felt confident about purchasing it. Fast forward to last week, when my range was delivered on a Monday. Everything appeared to be working well upon arrival when I inspected it, and I was excited to have a nice-looking, well functioning appliance for my kitchen.
On Friday evening, I decided to use my new oven for some baking. When I pulled the handle to open the door, the whole thing just fell into pieces. Little pieces of plastic and a strip of trim scattered on the floor. The door handle itself was hanging by a thread, and the glass panel front of the door was loose and I was afraid that it was also going to fall off. Needless to say, I did not do any baking that day. The following Monday, I called the Amana customer service line (they are not open on weekends) to report that my product was defective.
After talking with them, and the appliance customer service line for the retailer where I bought the product, and being transferred to several different representatives over the course of 1.5 hours, the bottom line was that I was stuck with my defective range unless I wanted to pony up the cash for a brand new one. Amana is willing to "repair" the defects, which of course I am skeptical about because who knows what else is broken in that hunk of junk? Oh well, I guess I'm just the sucker in this situation. I would not recommend this product or any other Whirlpool product (that includes Amana and Maytag) as they are clearly not willing to stand behind the quality of their products (or lack thereof).

Amana washing machine model NTW465OYQ. We bought this Amana washing machine after losing our shore house in hurricane Sandy. It is only 2 years old and is rarely used since it is in a vacation home. The machine already needs a new control board since the cycles do not advance. It will wash over and over forever and never advance to rinse or spin, even when the dial is turned manually. Between the repair call and the cost for the new control panel, the total to fix it is more than we paid for it. The customer service representatives stated "it doesn't matter that you rarely use it, if it is over 2 years old there is nothing we can do for you." Will NEVER buy an Amana again!!

Hello my roommate bought a used Amana washer because the other Amana washer didn't work. She paid 200 for it... And found out it didn't spin. So she spent 100.00 more. Then the door would not close for it to turn out. She arranged for another certified Amana repair guy to come... He traded the door with other broken machine. The door closed and it turned on. He did not stick around long enough to hear the spin cycle sounding like a helicopter... And still delivered your clothes on the wet side and not very well washed. So 450.00 later we still have a broken Amana washing machine and the repair man said he fixed the door problem and it would cost more for him to look at any other problem. It's heavy but if I can I will throw it in the trash... Or put it online for salvage. Expensive lesson. Never buy another Amana after the first one broke down? But no one asked me...

We have had our washer and dryer for 3 years and they have never been any good. My washer timer stopped working so we are having to sit and listen out for the machine to complete or it will continue to repeat the cycles all over again if we don't stop it ourselves. The washing machine also knocks so loudly that even the dogs next door begin to bark. Our dryer timer has also stopped working causing the heating element to not blow heat.

We bought the most recommended fridge (Consumer Reports) the Amana Model AFF2534FEW 1 (or maybe 11... the Amana people can't quite figure out what the model number is... check it out). After very little use the fridge stopped working. Diagnosis... bad thermostat... blocking the coils. Thermostat replaced. A year later (and more ruined food) same problem... Again the thermostat was replaced. And guess what... it happened again. Third time... don't even bother asking the Amana group for help. They cannot even figure out the correct model number and they are not interested in helping in any way. This product and the company are not worthy of your hard earned money. I will NEVER purchase Amana again.

We bought an Amana washer in February 2015. We bought the biggest headache ever. Right before the manufacturer warranty went out we had our first major issue, the washer would not drain and spin. They came out to fix that. Three months later no water would go in. They came out to fix that. A few months later it was back to no spin and drain. A few months later we had to call them back and the leveler was out. Now I am calling them back it is so loud you can't stand it. Do not purchase from Amana. It has never really washed the clothes. I have to hand wash baby clothes before wash or food residue is still on the clothes.

WARNING. The Amana clothes washer I purchased does not wash clothes. It moves clothes around and gets some of them wet. I have tried to manually add water to the wash and rinse cycles with a bucket. I recently hurt my back and was not able to manually wash my clothes with this piece of poop. I finally had enough and have upgraded to a automatic clothes washer that agitates the clothes instead of me. This Amana HE washer is the slowest, least efficient, manual clothes washer on the market. I had the piece of junk hauled to the dump before I grabbed the model. It was a Amana HE with no agitator. Should not be sold as a clothes washer. False advertising.

Do not buy Amana!! Purchased a washer and dryer on 5/24/16. Washer will not drain but is full of water. They want me to sit at home on a Thursday (NEXT WEEK), today is Monday, until a repairman shows up. No idea when. Just wants me to wait. Informed them I will have the washer, water supply and a cord to plug into outside because they aren't entering my house. I am an independent driver for people needing rides to Dr, Grocery and so on. I did inform them I could wait but a $20.00 an hour fee will be charged. I'll let you know what happens if I can.

I purchased this Amana washer in March 23, 2015. In February 27, 2016, this problem occurred: I turn on the washer, but as soon as the wash fill ups with water, it does not move to "wash" and it does not "lock" to start the wash cycle. The water drains and then I have to start the wash all over again. So I thought it was the lid switch, and my solution was to push down on the lid hard enough until I heard a click sound. This worked for several months. Another problem occurred on August 12, 2016: my load would complete the cycle, but when I open the lid, I clearly see that the clothes are soaked so this means that during the "drain/spin" cycle, the speed was too slow to fully squeeze out all of the water from the clothes. So my next solution was to start the "drain/spin" cycle only, but again. With all these problems that keep coming up, we decided to use our warranty, so we called in to have the washer repaired.
We called HHGregg to repair the washer, and we gave all the detailed information as to the problems and the possible fixes to it. Their representative's solution was to replace the washer because they "deemed the necessary repairs to the washer as costing more than the value of the washer." Well, we were shocked, because this washer is only 18 months old, so how could its value decrease so quickly in under 2 years? I researched and found that the drain/spin and lid switch is a very common problem with Amana washers. So we understood that we got what we paid for. So back to the washer replacement with HHGregg. They shipped us a new washer for around the same price of our old purchase.
Again, we purchased the first washer in March (we got a St. Patrick's Day Sale Price), and now we're getting this new washer that is smaller and still is an Amana. HHGregg refuses to repair it, they would rather give us a washer that is smaller in capacity and would most likely last for a year but no more than 2 yrs. In a nutshell, we were screwed over by HHGregg, because they saved on repair costs, and gave us a washer of lesser value than what we originally started with. Oh ya, we had to pay on taxes, obviously, so they profited from that too. AMANA WASHERS ARE TERRIBLE!!! Save your money and purchase a more reliable washer!!!

Gentlemen I buy all my appliances on July 2013 on Home Depot and in Oct 2014 my washer machine does not work. I call the company and they replace the computer, now 6 month later all the paint was rust and peeling. My refrigerator since the first day the Home Depot installs never delivery water on the door, and now the icemaker water conduct is freezing every two days and don't make ice. I will have a very bad experience with your products and never ever will buy again.

Warning do not accept delivery of stove if when it's plugged it says F1E1. It means the stove control panel is broken and oven will not work! An Amana electric stove was ordered online via Home Depot. Delivery time a week. A week passed no stove. Phone call made told they were out of stock and would be in a few weeks. Got a call after a few weeks, delivery would be in the next 2 hours. 4 hours later calls made and no stove would be delivered on next day in a 4 hour open window. Stove arrived, mover said "See it works" and turned on top burner, was in a hurry and disappeared. Finally a stove top & oven. Went to grocery store did the "big shop" roasts, baking goods, quiche supplies etc. Got home prepared food for oven. Started preheat and nothing seemed to click or change. Thought it might be user error entering in temp, bake, time etc in wrong order.
Called Amana they are not open Sat and Sun. Called Home Depot not helpful since store did not sell it to me, was bought online. Provided a Maytag number called that. Rep wanted model number it was on the stove. It was not on the directions. I read off what was on the stove front and saw no model. Tried oven door, no, no model number. Finally she asked a colleague and said "Look in the pull out drawer." No not there but I noticed a thin metal stamped striped hidden by the drawer. Down on my knees, head upside down tried to read print. Too tiny. Gave her model number based on Home Depot photo but then she needed a serial number, on the thin strip. Could not read it. I asked her as I had asked Home Depot what the code meant and had I entered in bake the wrong way and why did it say F1E1.
Finally she said I needed a technician since that meant the control panel was broken but without a serial number nothing could be done. That was on a Sat.
Tue someone stopped by and was able to write the number down using a flashlight. Called back in and next appointment if keep by Amana will be in a week.
Summary a basic stove, no special adaptions, was ordered and it will be between 4-6 weeks before it might be useful. Food had to be thrown out, other items quality diminished by freezing. Why a new stove is delivered with a non working control panel is unacceptable. No remuneration was offered by Amana nor Home Depot for inability to cook, time wasted for delivery and now technician. If your product is not available and does not work you should not be advertising it.

We bought our Amana fridge from Sears when they first came out with the freezer drawer, at the bottom. Thought it was the coolest thing ever. 3 months after getting it the freezer handle fell off, so my husband screwed it back on. Again it came off. Needless to say it keep coming off. Finally I just got fed up with it and stuck it in the garage. My husband put it back on again. it was on for maybe 6 months, then came right off in his hands again. Well I'll never own a Frigidaire again and I will add Amana to that list too now. Had this fridge for 16 yrs. My next one will be a Samsung.

I bought an Amana gas dryer less than a year ago, the paint on the inside started peeling off and messing up our clothes. So I get a hold of customer service and they tell me it don't cover anything after 30 days!!! Are you kidding me 400 dollar piece of scrap metal... stay far away from this brand - they do not support their product!!

I have known it to take so long to wash and dry clothes. It is an all day affair to wash two loads of laundry. I will never purchase an Amana product again.

Bought my Amana top-loading washer in April 2014. Most of my laundry isn't deeply soiled, so didn't think much of it for a while. However, becoming more obvious now that my clothes are not getting clean enough. I garden and have a dog, so sometimes get socks soiled and dirt on clothes when dog jumps up. My whites are not white and the soiled areas don't come out. I had my previous Whirlpool washer over 20 years and didn't have this problem. Have checked the manual to be sure I'm using right detergent and loading the washer correctly, but hasn't solved the problem. I liked the price, capacity, and no-frills model of the washer I bought, but not happy with the cleaning results. Don't want to have to buy another one, and always thought Amana was a reliable brand, but I personally could not recommend to others.

Bought brand new Amana washing machine from Home Depot and am very disappointed with the product. It does a lousy job of cleaning my clothes and will not fill up while I am loading (lid has to be closed for water to fill). Very disappointed not only has my money been wasted but also my time. Will never again buy anything Amana.

This refrigerator functions properly and over time is reliable. HOWEVER, corners have been clearly cut in quality of the exterior handles (fridge and bottom freezer) which have seriously yellowed, making it a complete and embarrassing eyesore in my kitchen!! I no longer consider Amana a trusted brand and will not purchase any Amana appliances going forward. Customers beware!! I find it especially appalling that the yellowing of course occurs outside of any warranty period = Amana is all about profit at the expense of the customer... short sighted, penny-wise and pound-foolish for such an established brand. Amana - fool me once but never again!

I bought a Amana electric stove 4 years ago. I'm extremely picky with my stuff so I just now decided to clean the oven. I ran the self cleaning mode on the stove twice even and the oven looks terrible. Honestly it looks worse than it did before I cleaned it. The bottom of the stove looks like it's a real old stove. So disappointing, never again will I buy from this brand!

I was the lucky one chosen by a bad quality control department to miss the 30-day requirement for defects. They call it a cosmetic issue. My new side-by-side stainless steel refrigerator (matching the range) has a clearly unaligned door, unaligned according to manufacturer specifications. From the top view it looks like the seals are 'off'... One is wider in spots. However they are stating to me that it is a cosmetic issue beyond the 30-day window. And I DO HAVE PHOTOS. For AMANA to not consider this issue for what it is has been unbelievable to me. They won't replace the door... Nothing. Am I mad? I no longer consider them to be a respectable company. They would rather I have it as it is with bad quality control, using a 30-day extreme rule. So I lose.

We purchased a new home in 2013 and had Amana appliances put in home. We figured since Amana had been around so many years that they would be a great choice! WRONG! The washer is a nightmare! It will not spin clothes on any cycle without going into a huge across the floor thumping dance! It doesn't matter what size load either! It simply will not spin without going unbalanced. It slams so hard it has scratched up the dryer sitting beside it! NEVER will I purchase another Amana product! From the sound of these comments, it will do no good to contact the company! And this thing has been doing this straight out of the box!! Don't buy Amana!!! Very disappointed from Cottonwood, Alabama!

Purchased fridge about 2 weeks ago. My main issue is that it is very noisy. The compressor and fan are too noisy. For the price I paid I expected a quiet fridge. If it wasn't such a pain to take it back (I brought it home myself) I would return it. I am going to contact Amana and go from there. I am very disappointed.

I just purchased an Amana washer this February and already it's stop working. I haven't even got to use it much. It has been down since May 26, 2016 and counting. DON'T BUY AMANA! You hear me. Their product is junk.

My washer is still under warranty and I called a service representative. It was supposed to be dispatched and serviced today. The call was never made and I had to make several phone calls to reschedule. In the meantime I'm having to spend an enormous amount of money at the laundromat. Amana is not giving me a refund for this huge inconvenience.

It has been over 2 months now that I have went without my washer. It isn't even a year old yet. First time I called Amana it was a runaround. The person I talked to was very rude, didn't even send over my information to IAM Appliance in Piqua, Ohio. So I had taken the day off work to wait for someone. When they didn't show, I called IAM and asked why no one showed. They said they didn't have any information that they were supposed to be out. So I called back to Amana and the guy I talked to was very rude and said, "Looks like it wasn't sent over." So he told me I had to call another place, that he couldn't call them, I had to. So I called and no answer so I called back to Amana and they again was very rude. So finally they send my information over to IAM appliance.
A week later, on Tuesday a tech came out. He looked at my washer after I had already explained what was wrong, it was the lid lock not locking, it would fill and that was it. So the next Tuesday, he came out and ordered a lid lock, the board, and another part all the parts worked but the lid lock. So here is to another week of waiting. Came out again that following Tuesday that lid lock didn't work. Each time he came out something didn't work. Then the board didn't work the new one he had replaced. This happened for over a month.
So I called corporate. Talked to a lady last Monday. She said she would send me a new washer. Got my new washer today. They told me I was getting a Whirlpool but I go another Amana same model number. They took the old washer today and this washer doesn't work, it doesn't wash clothes. It fills the drum doesn't wash clothes or spin, and the lid lock works but when finished the clothes are dripping wet. So this is another lost. I will not recommended Amana or Whirlpool to anyone. Since they have been around for a while now I figured they would be a great appliance. Guess not. So now I'm out of a washer and here goes to washing my clothes in the tub again!! Very unhappy!! DO NOT BUY AMANA.
Amana Appliances Company Profile
Company Name:

Amana Appliances

Website:

http://www.amana.com/