How to buy a used car
Knowing what to look for can make your purchase easier



Written by

Edited by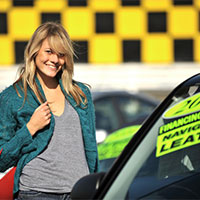 As of January 2023, the average transaction price for a used vehicle was $26,510, according to Kelley Blue Book. With the average price for a new vehicle significantly higher, you might be considering shopping the used market to save some money.
The right used car can be just as good as a new one and may even have some factory warranty remaining. But how do you find the right used car for you, and how do you drive off the lot knowing you got a good deal?
---
Key insights
Buying a used car is a lengthy process, but if you follow the right steps in order, it can be simple — and save you tons of money if you score a good deal.
The average cost of used car ownership is much more than your car payment. Financing may only cost about $400 a month, but when you factor in insurance, maintenance, repairs, parking — it adds up. Consider public transit or tuning up your existing car while you save.
Sites like Autotrader, Edmunds and CarEdge can help you narrow your search and find the perfect car much faster. You can also crowdsource suggestions on Reddit.
You can lower your cost of ownership by raising your credit score, finding multiple quotes for insurance and pitting dealers against each other for the lowest possible out-the-door price.
10 steps to buying a used car (the right way)
What does it look like to buy a used car smartly and efficiently? Our checklist includes the following steps:
1. Consider the true costs — and whether you need a car at all
The average used car list price was $26,510 in January 2023. For a car of this price, if you put 20% down and finance the remaining $21,208 for 60 months with a 5.99% interest rate, you could be paying as little as $410 a month for a "new" car.
But that's just the cost of the car. To own and operate it, you'll have to consider other costs, including:
Registration, taxes and fees
Insurance
Fuel/charging
Maintenance and repairs
Parking
AAA estimates that for a 2017 Toyota Camry worth around today's average used car price, the annual ownership cost is around $8,641, including your monthly car payment and depreciation. That's roughly $720 a month to own a car while you're making car payments.
The cost can be higher if you have poor credit, have higher-than-average insurance needs or buy a vehicle with high ownership costs, like a Mercedes-Benz or BMW.
» MORE: BMW maintenance: cost, plans and service schedule
That's why it's important to consider the true cost of owning a car before heading off to buy one. Around $700 per month is a high bar — you may decide to tune up your existing car for $500 or take public transit while you save.
2. Set a budget and prepare your down payment
As a general rule, 35% of your gross (pretax) annual income is a good budget to set for a car. So if you make $60,000, $21,000 would be a reasonable budget.
But 35% isn't a one-size-fits-all rule. If you really love driving and have been pining for a used luxury vehicle for years, it might be worth spending 45% to buy something that truly makes you happy. On the flip side, if you're just looking for something simple and safe to get you to work, you can probably spend 25% and still be plenty satisfied.
In general, planning to spend about 35% of your gross annual income on a used car is reasonable.
Once you have a budget in mind, make sure you have the cash ready for a solid down payment. About 15% is a good down payment to make on a used car, for a few reasons:
It reduces the amount you need to borrow, so you can choose a shorter loan term (like 48 versus 60 months) and save on interest.
It can help prevent you from going underwater on your loan (owing more than the car's worth).
If you put down more than 15%, you might not have enough savings left to cover the cost of ownership or to simply save or invest elsewhere.
The No. 1 reason to put down at least 15% is to protect yourself from going underwater on your car loan. If you put down 10% or less, there's an increased risk that the car will depreciate faster than you can pay it off — so selling it wouldn't clear your debt. But if you put down at least 15%, you'll create a better buffer to help keep you above water.
That said, there are still times when you can get away with putting down just 10%, depending on the make, model and rate of depreciation.
3. Maximize your credit score
Your credit score will have a heavy influence on your monthly payment; lenders reward higher credit scores with lower interest rates.
Let's see how your credit score might impact your monthly payment on a $22,000 loan as of publishing:
If you have a 660 FICO score, a lender might offer you a 16% annual percentage rate (APR) on a 48-month loan, with a monthly payment of $624.
If you have a 740 FICO score, the same lender might offer you 7.5% APR, with a payment of $532.
In this scenario, improving your credit from "fair" to "very good" could save you $92 per month, or $4,416 total on a 48-month used car loan.
Granted, improving your credit by 80 points isn't something you can do overnight — but if you have the time, improving your credit is almost always worth the effort.
You can view your credit report in most online banking dashboards or by visiting a credit reporting site.
» NEED HELP? How to fix your credit
4. Get preapproved for an auto loan
Once you've analyzed and improved your credit as necessary, it's time to apply for auto loans (if you don't have the cash on hand). We recommend getting preapproved early in the process because it can help you determine how much you can borrow, what your monthly payment will be and how much your credit score affects your payment (and if you need more time to repair your credit).
If you're new to the process, getting preapproved for an auto loan looks like this:
Spend about 15 minutes filling out an application with each lender, sharing information like your age, Social Security number, employment status, income and more.
The lender looks at your application, pulls your credit and either approves or denies you. If approved, you'll see how much the lender's willing to lend you and at what rate.
You'll get a preapproval letter with terms that are typically good for 90 days. Once you've chosen a car, the dealer's financing office will request full payment from your lender, and you'll begin making monthly payments to the lender.
Dealers generate a lot of revenue through financing, so they may try to beat the terms on your preapproval letter.
Keep in mind that applying for an auto loan involves a "hard pull" of your credit, which may lower your score by a few points — but if you apply for multiple offers within a short span (usually two weeks), the credit bureaus will treat that as one single pull with minimal impact to your credit.
5. Research and pick three to five cars within your budget
Now that you know precisely how much you can afford, the research becomes faster, easier and safer. With concrete numbers on the table, you're far less likely to get distracted (or tempted) by a car you can't really afford.
For now, find three to five makes and models you'd like to test drive. To begin narrowing your search for the right car, try out Autotrader, selecting filters for your preferences when it comes to the following:
Make
Model
Body style (crossover, truck, sedan, etc.)
Mileage
Minimum and maximum year
Distance (how far you're willing to drive to pick it up)
Fuel type
Color
Technology features
Safety features
And try to have fun — don't rush it.
Once you've found a handful of models you like, cross-reference your findings with the Edmunds True Cost to Own tool to get an idea of how much you'll pay out of pocket in fuel, repairs, maintenance and more during the first five years of ownership.
Some other helpful places that can help narrow your search by budget, features and more:
Cars.com and CarGurus feature detailed listings of used vehicles currently for sale.
CarEdge is run by a former car dealer and his son and features buying guides, email scripts and more in a tell-all fashion.
Reddit has a forum called r/whatcarshouldIbuy where you can anonymously post your needs (e.g., "safe family crossover," "performance on a budget") and crowdsource suggestions from the Reddit community.
YouTube has a rich library of video reviews for nearly every make, model and year.
6. Test drive every car on your list
It's important to get behind the wheel of each car on your list to learn which you form a connection with. Some of the best places for test drives are CarMax and your local dealership.
Test-driving at CarMax
CarMax is one of the largest retailers of used cars in the U.S. and offers friendly, low-pressure test drives. During our last visit, the salesperson didn't even come out to ride in the passenger seat; they simply handed off the keys and suggested a route.
CarMax also lets you drive vehicles from multiple brands in one visit. If you can't decide between a few different models, CarMax may let you drive all three back to back.
You can book test drives with CarMax online, and even if your local CarMax doesn't have the model year you're looking for, a model from the year just before or after may offer a similar driving experience (if they're from the same generation).
A quick note: Carvana provides "test drives," but not until you buy the car; after purchasing the car, you have seven days to return it for a refund.
» COMPARE: Carvana vs. Vroom vs. CarMax
Test drive at the dealer
Given the countless stories of price gouging and manipulative sales tactics, you might feel nervous stepping into a dealership these days.
The truth is that some car dealerships offer world-class service and some offer no class at all. The reason there's such a wide discrepancy is that dealers are typically independently owned and operated and don't necessarily share the values and integrity of the global brands they represent.
To schedule a test drive with a dealer (with minimal hassle and sales pressure), follow these steps:
Check to see if the car is still there
Vehicles move in and out of dealerships on an hourly basis, so the vehicles you see online may not reflect what's actually left on the lot. That's why it's best to call ahead to confirm the car is still there, unsold and ready for a test drive.
Play hard to get
When you're test-driving a vehicle, it's best not to sound too excited and eager to buy the car. A dealer may turn your infatuation against you, applying more pressure or raising the price in subtle ways. By contrast, acting neutral or disinterested forces the dealer to work harder for your business and can give you leverage.
Bring a pen, paper and a test drive checklist
Have an idea of everything you want to know about the car. In addition to the actual driving experience, this should include an exterior walk-around to examine the body, a look at the interior condition and a check to make sure all the car's features work.
7. Get your insurance ready
Unless you're trading your Ferrari for a Toyota Prius, your car insurance is probably about to go up. Newer cars are more valuable than older ones, so they cost more for insurance companies to repair or replace.
It's best to get quotes before you buy another car so you can factor the higher insurance premiums into your budget. You can do this by calling up your existing insurance company and simply telling it which specific vehicle you're considering (having the vehicle's VIN handy can expedite this process). While you're at it, you might as well get quotes for some of the other vehicles in your top five. You might find that some are shockingly expensive to insure, while others are a bargain.
This is also an ideal time to shop around for a new insurance provider. Most providers will provide a quote online in just a few minutes, and there's a decent chance one new quote will be less than what you're already paying.
If you're happy with your current provider, you can always bring a competitor's quote to ask if it can match the price — or at least come down in price.
Good to know: If you're financing your used car, your lender agreement likely states that you need full-coverage auto insurance until the loan is paid off. Full coverage means liability plus collision plus comprehensive, and your agreement might require minimum limits for each. So be sure to factor your lender's insurance requirements into your quotes.
8. Find listings and start negotiating (the easy way)
Once you've tested your favorites, narrowed down your list to one or two models and gotten quotes for new insurance, it's time to find your car.
Head back to Autotrader, Cars.com or CarGurus to browse used car listings. Don't forget the big national retailers that may not list on those sites, including CarMax, Carvana and Vroom.
Once you've found three to seven cars you could see yourself buying, it's time to start negotiating (where applicable — not all used car retailers will entertain negotiations). CarMax, Carvana and Vroom have firm pricing models that don't allow for negotiating, for example, but most local dealerships will negotiate on a used car price, even if they say they won't.
Most folks dread this step of the process, but that's only because they don't know how easy it can be. You can successfully negotiate the lowest possible price with a dealership in just a few emails. Here's how:
Ask the dealer for its best possible out-the-door (OTD) price.
Find similar cars at other local dealers and get their best OTD price.
Keep asking dealers to beat each other's OTD price, and then buy the lowest.
It's best to perform all three steps over the phone. Not only does this save you time, gas and hassle — it prevents the dealer from wearing you down by attrition, making you wait around until you have to leave or accept weaker terms.
Why the out-the-door (OTD) price matters
The out-the-door price is an industry term used to describe the exact dollars and cents you need to pay to legally walk out the door with the keys. You can think of it as the ultimate, bottom-line, all-inclusive price.
To illustrate, a 2023 Mazda3 may have an MSRP ("sticker price") of just $23,800, but when you factor in tax, title, tag registration, dealership fees, dealership extras and more, the OTD price is $26,103.23.
Try to focus on the out-the-door price when speaking with a dealer. Dealers tend to describe cost in terms of monthly payments, but ultimately this can make a deal sound better than it really is.
By default, most dealers won't speak in terms of the OTD price. They prefer to speak in terms of the monthly payment because it:
Sounds cheaper ($450 monthly versus $25,000)
Makes it easier to upsell you on extras (an additional $9 a month versus $1,200)
Makes it easier to sneak in fees
You can circumvent this by framing every conversation around the out-the-door price.
Staying focused on the OTD price keeps things simple, honest and transparent. It also sends a message to the dealer that you've done your homework and that the usual tactics and shenanigans probably won't work on you.
What to say when the dealer asks if you're paying cash or financing
At some point early in the process, a dealer will ask if you're intending to pay cash or finance the vehicle. 
It's best just to say, "I'm interested to see what rates F&I can offer once we finalize the out-the-door price." ("F&I" refers to the finance and insurance office, where you finalize your purchase of the car.)
Dealers like to probe about cash or financing because they tend to make more money in financing deals. If you say, "I'm paying cash," a dealer might hear, "You won't make as much money off me in the financing office." This, in turn, can reduce your ability to negotiate a low out-the-door price.
So, when a dealer asks if you're paying cash or financing, just play coy and focus on these three steps to a successful negotiation.
How to negotiate with dealers (the easy way)
Keep in mind that CarMax and Carvana don't negotiate. But if you find the car you want with a dealership, you stand to save a few hundred or even a few thousand dollars if you follow these steps:
Call/email the dealer asking for the lowest possible OTD price: Some dealers will knock a few hundred dollars off right away just because you asked. Others will say the listed price is the lowest price. Either way, take what the dealer offers and move on to the second step.
Ask for invoices: Don't settle for the price alone. Ask the salesperson to email you the full invoice so you can see absolutely everything they're baking into the OTD price. If you see dealer extras like coatings or tints factored into the price, let the dealer know you'd like them removed for now but are open to letting F&I sell them to you.
Repeat the first two steps with multiple dealers: Try to get at least two more OTD offers on similar vehicles you could see yourself buying. Remember to use sites like Autotrader and CarGurus to find listings.
Take the lowest offer and ask the others to beat it: If Dealer 2 gives you the lowest offer, ask Dealers 1 and 3 if they can make a better offer. If Dealer 3 beats it, go back to 1 and 2. Rinse and repeat until you've found each dealer's true lowest number.
As mentioned, negotiations should always be done remotely via phone or email. Once you have an amazing deal set up, it's time to make sure the car is truly ready for a new owner.
9. Schedule a pre-purchase inspection
Once you've negotiated the OTD price and the dealer knows you're serious about buying, the hard part is over. The next step is to have your future car inspected to make sure it's not a lemon.
Keep in mind that when you buy a pre-owned car instead of a brand-new one, you don't know how the car was treated, and you may not have any factory warranty protection remaining.
As a result, even a car that looks impeccable online may have hidden mechanical issues that could cost you thousands out of pocket within weeks of purchase.
Granted, you can always improve your chances by purchasing a certified pre-owned (CPO) car. These vehicles typically come with at least one year/12,000 miles of extended warranty protection and have passed some sort of seller quality inspection (although the thoroughness of these quality inspections can vary by dealer).
You can also protect yourself from expensive repairs down the road by investing in an extended auto warranty. The best way to save yourself from a lemon with hidden repair needs, however, is to schedule a pre-purchase inspection.
A pre-purchase inspection (PPI) is a common service where you hire a trustworthy local mechanic to inspect the car and produce a detailed report on its condition. PPIs typically cost between $150 and $200, and the report you receive will look something like this (courtesy of Lemon Squad).
A PPI will reveal issues big and small. You might learn that the car has faded brakes and request that the dealer replaces them as a term of the deal. Or you might learn that the car has a serious transmission issue that would cost $8,362 to fix — and run for the hills.
When should you schedule your PPI?
Most of the big retailers have return windows of at least seven days, so that's the ideal window to schedule your PPI. If you find major issues, you can simply return it or ask the retailer to address some of the issues (e.g., new brakes or tires).
If you buy from a private seller, ask if you can perform an on-site PPI. If they refuse to have the car inspected, it might be best to walk away.
The same goes for dealerships. In our experience, many dealers happily welcome an on-site PPI and will even provide the keys to the mechanic so they can drive it around. But, again, if the dealer outright refuses to let you inspect the car before buying it, walk away.
10. Seal the deal — and skip the add-ons
Once you have found the right car, negotiated the lowest possible price and are satisfied with the PPI results, it's time to seal the deal.
When you arrive, the salesperson you've been working with should offer another chance at a test drive and visual inspection. Once you're confident in your decision, they'll hand you a big pile of forms to sign.
Soon, you'll be escorted to the F&I office, where a finance manager will start the conversation by trying to upsell you on dealership extras like protection packages, GPS tracking, ceramic coats and more. In general, you should decline these optional extras, which tend to be expensive and of questionable value.
Here are some much cheaper alternatives to the three most common dealer add-ons:
You can get GPS tracking with a $29 Apple AirTag (as of publishing).
Nitrogen-filled tires are unnecessary, but nitrogen is free at Costco if you want it.
Ceramic coats and window tinting are almost always cheaper at a local specialist shop.
Dealers will often try to force ceramic coats and GPS into the price "because they're already installed on the car." But don't forget that you've already negotiated the out-the-door price and the manager of the dealership has signed the invoice. That means you have the right to purchase the vehicle at the agreed-upon price and do not have to agree to any extras or financing options with F&I as a condition of the sale.
Speaking of financing, it's now safe to reveal whether you'll be paying cash or financing. In the latter case, let the F&I manager know you've already been preapproved for a loan and see if they can beat the terms of your existing offer. Make sure to compare apples to apples, and don't let them talk you into a longer term than you've already chosen (e.g., 72 months instead of 60).
If you choose to stick with your existing lender, the F&I manager will reach out to them to secure the funds. You'll sign a few more piles of paperwork, and soon you'll be handed the keys.
Don't forget to update your insurance in the next couple of days, and enjoy your new car.
FAQ
How much should I put down on a used car?

Generally, 20% is the sweet spot for a down payment on a used car. Any more and you risk putting too much equity into a depreciating asset. Any less and you'll not only pay more in interest, but you'll have a higher risk of going underwater on your loan.

That said, if the car is more than 3 years old and past its new-car depreciation phase, you might be OK putting down 10%.
What affects used car prices?

Supply, demand, artificial price inflation, model popularity and other factors affect the price of used cars. Used car prices soared during the pandemic because demand rose as global supply stagnated. Certain makes and models have always depreciated more slowly due to their popularity, such as the Kia Telluride and Porsches.
Do I need a warranty for a used car?

If you buy the right car, you won't need a warranty. The best "warranty" you can buy is a reliable car from a trustworthy manufacturer that's passed its pre-purchase inspection. If you're knowingly purchasing a vehicle with reliability issues and a high cost of ownership as reported by Edmunds and RepairPal, an extended warranty might be a good idea. 
Did you find this article helpful?
|
You're signed up
We'll start sending you the news you need delivered straight to you. We value your privacy. Unsubscribe easily.