Carvana vs. Vroom vs. CarMax
Compare warranties, money-back guarantees and home delivery fees



Written by

Edited by
Buying a car online should be easy, straightforward and convenient. Unfortunately, not everyone has that experience.
The COVID-19 pandemic has led to semiconductor chip shortages, supply chain constraints and inflation, which have hurt new car inventories and driven up the price of used cars. The result: More people are buying cars online than ever before. Below, we compared three popular online car buying marketplaces on guarantees, warranties, fees and more.
Carvana vs. Vroom vs. CarMax comparison
Carvana, Vroom and CarMax offer similar inventory selections at comparable prices. We like that all three of their websites are relatively easy to navigate. There are some differences between the limited warranties, money-back guarantees and home delivery fees.
Keep reading to learn about how each company works and see their price ranges, financing programs and warranty options. We also analyzed thousands of verified reviews to understand the reasons behind average customer sentiments better.
| | | | |
| --- | --- | --- | --- |
| Limited warranty | 100 days or 4,189 miles | 90 days or 6,000 miles | 90 days or 4,000 miles |
| Home delivery fee | $0 within local market | Varies | $0 within 60 miles of select markets |
| Money-back guarantee | Seven days | Seven days or 250 miles | 30 days |
| Customer satisfaction | Read reviews | Read reviews | Read reviews |
All information is accurate as of publishing.
Carvana
Carvana sources cars from auctions, partnered dealerships and customers who sell or trade in their vehicles. Through its partnership with CARFAX, you can look at the history report for any automobile in Carvana's inventory. Keep an eye out for cars marked with a "Great Deal" logo — these are at least $1,500 cheaper than their suggested Kelley Blue Book value.
Carvana
Warranty: 100 days or 4,189 miles
Delivery fee: $0 within local market
Money-back guarantee: 7 days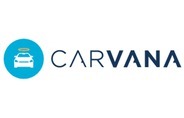 Get Started
How does Carvana work?
With Carvana, you can choose to shop online or at one of its Car Vending Machines. Each car comes with a limited warranty, and financing is available.
Carvana buying process
Filter your search by price, model, body type and other features. Once you find the car you want, go to the vehicle details page to learn more and potentially place an order. Once you click the "GET STARTED" button, you can select additional coverage for your new car and choose whether you want home delivery or prefer to pick it up. Entering your information and completing each step extends the time the vehicle is reserved for you. Most pickup or delivery appointments take about 30 minutes.
After you get the car, you have a week to decide if you want to keep it, exchange it or get a refund. You can exchange up to three vehicles — the third won't come with the same seven-day money-back guarantee.
Be aware that there is an additional fee if you return the car within seven days and put more than 400 miles on it. Carvana also won't refund the delivery fee if you live outside one of its local markets and had your car delivered to your door.
Carvana pricing
Carvana does not negotiate on pricing. As of publishing, the cheapest cars we could find on Carvana start at around $9,000. The estimated monthly payments start at about $200 (for a 69-month loan at 16.25% APR with $0 down).
On the high end, we found vehicles priced at up to $142,990 with monthly payments of around $2,000 (assuming a 72-month loan at 9.77% APR and a $34,500 down payment). For a more accurate monthly payment estimate, use Carvana's calculator tool to factor in your credit score, down payment, loan length and annual income.
Carvana financing
Carvana's terms are nonnegotiable and based on the vehicle you want, your credit history and your income. There's no minimum credit score required to finance with Carvana— as long as you are 18 or older, make at least $4,000 per year and don't have any active bankruptcies. Financing terms are good for 45 days from the date you received them.
Carvana warranties
All cars are certified and come with a 100-day/4,189-mile limited warranty and a seven-day money-back guarantee. If you're financing, gap coverage is available in most states. The company also offers an optional extended CarvanaCare protection plan for most vehicles. This plan has no deductible for covered repairs at a preferred facility, three levels of coverage to choose from and included roadside assistance. If added, CarvanaCare coverage begins the day you get your vehicle.
Carvana reviews
According to one reviewer, Carvana's site is easy to use and the customer service is outstanding. Another review stated that Carvana's used cars are more expensive than some competitors' sites but added that the inventory is decent in terms of quality and price.
However, about half of Carvana reviews on our site from the past year indicate some level of dissatisfaction. Sometimes, Carvana reviews mention issues with customer service and delivery. Interestingly, customers who were "happy," "satisfied" or who "would recommend to a friend" also frequently mention customer service, which makes it difficult to say if the company's representatives are consistent.
Vroom
Vroom is an online marketplace to buy, sell and trade in used vehicles. Listings don't offer an estimated monthly payment like Carvana, but Vroom might offer more flexible payment options for some buyers.
Vroom
Warranty: 90 days or 6,000 miles
Delivery fee: $599
Money-back guarantee: 7 days or 250 miles

Learn More
How does Vroom work?
Vroom is an entirely online marketplace with no physical locations. If you choose to purchase a car from Vroom, it will come shipped directly to your door for a fee. Vroom offers flexible payment options.
Vroom buying process
To browse cars on Vroom, you can search by make, model or body type and filter by many other factors, like price or mileage.
Once you place an order and Vroom approves your contract, the company books your new car for transport through its network of carriers. You should get an email with an estimated delivery date within five days of when the funds are received and the contract is approved. Vroom delivers to all states except Alaska, Hawaii, Colorado and Massachusetts.
If you finance with Vroom, the company registers the vehicle for you and mails your registration and plates to you after your local DMV has prepared them.
Like Carvana, Vroom gives you a week to decide if you made the right choice. If you return the vehicle within the 7-day/250-mile window, Vroom does not charge a fee to pick it up. However, the delivery fee is nonrefundable.
Vroom pricing
As of publishing, Vroom car prices start at around $11,500. On the higher end, we saw vehicles priced all the way up to $95,000. You'll need to pay a nonrefundable deposit to complete your purchase, and Vroom charges another nonrefundable fee to deliver your vehicle.
Vroom financing
Vroom makes it easy to apply for financing online and compare rates. The company partners with more than a dozen banks and lending partners. There's no minimum credit score requirement, and Vroom claims its lending partners can accommodate most credit profiles. If you choose to finance elsewhere, you will likely need additional paperwork, such as a preapproval letter.
Alternatively, you could avoid financing altogether by paying in full, in which case funds must be transferred directly from your bank account.
Vroom accepts the following forms of payment: 
Online payments via automated clearing house (ACH)
Credit card payments up to a total of $5,000 for deposits, down payments and other sale items on deals not done with Vroom financing
Bank wire transfers
Vroom warranties
In addition to its complimentary coverage, Vroom offers warranty options like gap policies, tire and wheel coverage and vehicle service protection (VSP) plans. If you're financing your purchase, the gap policy can waive covered losses up to $50,000.
Vroom's Platinum VSP plan provides mechanical coverage for up to 10 years or 120,000 miles. VSP plans can include coverage for the engine, transmission and drive axle as well as 24/7 roadside assistance, rental car reimbursement and lockout assistance.
Vroom reviews
Positive Vroom reviews describe a smooth car buying experience. People seem to like that the site is easy to navigate. Customers' issues with Vroom are sometimes related to the company's return policy or problems with customer service. One customer described the sale itself going well, but they were still dissatisfied because of issues relating to a voided warranty. Overall, most of the Vroom reviews on our site from the last year indicate some level of dissatisfaction.
CarMax
Like Carvana and Vroom, CarMax lets you browse a wide selection of used cars at fixed prices. CarMax also buys cars that aren't trade-ins. In many locations, both curbside pickup and home delivery options are available.
How does CarMax work?
CarMax has an online platform for shopping — or you can browse cars on the lot at one of its locations. CarMax will only deliver within certain markets; otherwise you can pick up the vehicle at the nearest CarMax store. All CarMax vehicles come with a warranty.
CarMax buying process
You can search for vehicles by make, model or keyword and filter the results by type, brand, price, year or other factors. CarMax makes it easy to compare different vehicles by providing details about features, mileage and the vehicle's history. Car history reports are available through AutoCheck.
If you plan to finance, getting preapproved gives you an idea of how much you will spend financing a used car from CarMax. CarMax doesn't accept credit cards for down payments. You must make payments online or with a debit card, cash or a personal check that has your correct name and address.
Delivery is available within 60 miles of select markets. You should note that if the car requires shipping, those costs must be paid separately from the vehicle purchase.
CarMax pricing
As of publishing, CarMax prices start around $10,000 (the estimated monthly cost is $145 with financing, assuming a 72-month loan term at 5% APR with $2,000 down). On the high end, we found luxury vehicles priced up to around $150,000.
If you live within 60 miles of select stores, CarMax doesn't charge an extra fee for home delivery. Shipping fees vary by location but are clearly displayed on each car's detail page.
CarMax financing
According to CarMax, loan rates range from 2.95% to 25% APR, and term lengths range from 36 to 72 months. Financing is available for people with most credit profiles. If needed, you can have a co-borrower on the preapproval and finance applications. Most financing decisions are available in about 20 minutes or less. If you find a better loan later, you can take advantage of CarMax's Three-Day Payoff Program.
CarMax warranties
Every CarMax car automatically comes with a 30-day money back guarantee and a limited warranty, even if it's still covered under the manufacturer's warranty. The limited warranty coverage is for 90 days or 4,000 miles, whichever comes first.
MaxCare, an optional extended service plan, is also available. You can pay for MaxCare upfront or include the cost in your regular car payments, but you cannot purchase it after you already own the vehicle. The deductible is per visit, not per repair.
CarMax reviews
Positive CarMax reviews frequently mention good trade-in values, an easy-to-navigate site and helpful customer service. As of publishing, CarMax is the highest-rated of the three companies we've covered in this article, though the majority of reviews we've received in the past year have been from dissatisfied customers who may be feeling the effects of shopping struggles in this used car market. Recent CarMax reviews also occasionally mention long wait times for vehicles to arrive.
Online used car prices
The table below shows the price (as of publishing) for three different vehicles with similar mileages, trim levels and model years across each online car buying site.
| Vehicle | Carvana price (approximate mileage) | Vroom price (approximate mileage) | CarMax price (approximate mileage) |
| --- | --- | --- | --- |
| 2020 Chevrolet Malibu LT | $22,553 (50k) | $22,499 (46k) | $24,998 (48k) |
| 2019 Ford F-150 XLT | $37,990 (31k) | $40,499 (30k) | $38,998 (30k) |
| 2017 Toyota Sienna LE | $27,990 (63k) | $26,999 (62k) | $28,998 (59k) |
All information is accurate as of publishing
Bottom line: Carvana, Vroom or CarMax?
There are advantages and disadvantages to each of these three online car buying sites. Ultimately, inventory and pricing will be major factors in which online marketplace you choose, but you should at least be aware of the issues other consumers have had with each company. As of publishing, CarMax is the highest rated on our site of the three. Vroom comes in second, leaving Carvana as the lowest rated. Compare their offerings, read reviews and check out each site to decide which is right for you.
Did you find this article helpful?
|
You're signed up
We'll start sending you the news you need delivered straight to you. We value your privacy. Unsubscribe easily.