Toyota Prius
Maintenance costs may outstrip fuel savings
Consumer Complaints and Reviews

2007 Prius Dashboard goes black about every 3 months. Engine shuts off, dash goes black. Can't steer. Uses a quart of oil every thousand miles. 1995 Honda Del Sol looks terrible but no problems compared to Prius.

I bought my 2007 Prius new. It has performed flawlessly for nearly 10 years and 100,000 miles. A few weeks ago it failed to start -- lots of warning lights on the dash. It turned out to have a couple of inches of water in the battery well in the boot (trunk). A quick Google search revealed a design flaw that opens up a small crack just near the rear hatch hinges aft of the roof rack gutter trim. The car has paid for the 'hybrid premium.' The UK tax saving and fuel efficiency have easily mitigated the additional purchase cost. And, when I bought the car, I took the view that I was investing in green technology development and knew that I was taking a risk.
Overall I am very happy with my 2007 Prius. With some sealant, rust treatment and a few hours of my time, hopefully I can effect a fix (work in progress) that will allow me to get another few years' out of the car. If not, I am happy that I have played my (small) part in creating a slightly lower carbon world. We have an 17 year old Porsche Boxster in the family that has served the same time for us and is going strong at 11600 miles. It represents nearly as good value for money (low capital depreciation, etc.), but it is doing nothing new to invest in in the future of the Earth.
The Prius lives on on the street and the bodywork had begun to rust, a little -- this is not unusual in the UK. But then again, I have not been very kind to the car -- washed infrequently, rarely waxed, etc. All in all it has been a great car. It is just a little disappointing that a panel weld/design defect appears to be the age limiting feature. Then again, I'll see if I can fix it and get another 50-100k miles from the car. I'd be interested in any other experiences of water ingress into the boot (trunk) and battery well. Happy motoring!

I have had endless problems with this car. The first problem was with the passenger side headlight going out after about 2 years and because I was over the warranty mileage Toyota would not replace it and had to pay $600.00 then 2 months later the driver side headlight goes out. Now I got a problem with the dash light going out – combination meter and the warranty was for 9 years and the problem started a month after the warranty ended. I also have a problem with the clear coat. This is not my first Toyota but it will be my last.

I have 3 Toyota Prius. A 2004, 2005 and 2008. The 2004 and 2005 have had the same problem in that the dash lights go out. When this happens you cannot open the rear hatch unless you turn the car off which is another problem. I am a mail carrier and use both cars on the mail route to save gas. It makes it hard to get packages out of the back especially around the holidays when we are overloaded. The lights not coming on affect whether it is time to fill up with gas or not, the mileage to the next oil change as the odometer stops working and never resets if and when the lights decide to come back on. I have run out of gas because of this.
When the lights come back on it still reads what it did before the lights went off and that could have been days before. There is no reason that I can determine why the lights work sometime and sometime they don't. It happens when you turn the car on. The lights are either on or off. They never come on or go off when the car is running only when it is turned on. I have had the 2004 checked at the Toyota dealership. No answers. That car has 269,000 miles, but the 2005 only has 112,000 miles. Not to mention you don't know how fast you are going. The other screen works continuously. Therefore the temp controls and the audio controls are not affected. The information such as the outside temperature and the mile/gas consumption do not work.

This is my 2nd Prius. I love the amazing mileage I get with a Hybrid and the dependability. When it DOES need service, which is almost never, it is always inexpensive. Lots of pep and power too. My NEXT car will be a Prius!
How do I know I can trust these reviews about Toyota?
695,474 reviews on ConsumerAffairs are verified.
We require contact information to ensure our reviewers are real.
We use intelligent software that helps us maintain the integrity of reviews.
Our moderators read all reviews to verify quality and helpfulness.
For more information about reviews on ConsumerAffairs.com please visit our FAQ.

This is our second Prius and we love the gas mileage we get and its durability. Love the Prius and will buy another soon. Mileage is great, interior space very good, no major problems and great service.

I just leased my 3rd Prius. I previously lease the Prius 5, which was their top of the line. Now the top of the line is the Prius 4 Touring, and the only package available is Premium Convenience Package. Most things are included as standard in this model. The one thing that is not on this car, and cannot even be purchased, is the Heads Up display. This makes no sense that their most expensive car in the category cannot get this simple option.

It's a very good car except for 1 very important thing.The traction control on the 2011 Toyota Prius completely stops the wheels from turning on slightly snow covered hills causing the car to start sliding backwards down the hill. And because the wheels aren't rotating there is a loss of steering. Toyota told me not to drive the car when it was raining or snowing I find their answer absurd. Toyota refuses to address the problem.

I am very angry and disappointed that Toyota did not recall certain models of its Prius due to faulty headlamps. I found out that my 2007 Prius has faulty headlamps driving at night. The problem is on both the right and left side headlamps. The lights have intermittently gone off and on for the past several months while driving at night. I have been lucky to get where I'm going most times by switching the lights off and on (common with other owners). There have been 2 times when both lights have gone completely off at the same time. Toyota should have recalled these models because it's a known safety hazard. There was a lawsuit and if you didn't get in on it, you're left to pay for repairs yourself, which is a shame! I have made attempts to discuss my problem with Toyota customer care and was referred to no one who could help me. Shame of Toyota!

This is my third Prius. Buying this car is the most expensive mistake I have ever made in my life. The improved hybrid system and exterior are great, the inside of the car is absolutely garbage. Not usable. The air vents are directly in your face. I developed a sinus infection in my right sinus only where the vent blows, my left sinuses are fine. I developed this sinus infection within 48 hours and it won't go away. My passengers complain about it also. The internal storage has been reduced by 75% from previous Prius. I am an Uber driver. The reduction in the total internal passenger space has reduced this to a 4 passenger car. This car cannot be used by Uber drivers. Prius was the definitive Uber car up until the 2015 model. Now it can't be used for Uber at all. You can't stay in this model for 12 hours at a time because the air vents will make you sick and there is no storage space to keep your stuff. Plus you can only fit 2 full size people in the back seat.

I have owned 2 Prius. I had a 2012 Toyota Prius C Two and currently drive a 2013 Toyota Prius Four. About the C and why I don't have it anymore...The C is a great car for the price. I averaged 48 mpg over the 35k miles I had the car. I did have one accident where another person rear ended me and it cost about $8k for insurance to fix. My only complaints with the C were cabin noise was pretty terrible, the dash started rattling at about 10k miles, and the rear visibility could be better. I typically drove without the headrests but obviously with passengers this is not an option. I originally bought the C because it was affordable to me at the time I needed a new car and I wanted a Prius.
Why I traded for the regular Prius...I traded in 2016 for a 2012 used Prius Four with similar mileage to my C. I wanted the larger cargo space, less road noise, more options, and better MPGs. This car in 2012 new would have cost me 10k more than the C. I have had no issues with the car and can only talk highly of Toyota and the Prius lineup. If you are concerned about reviews you read here...please look up the definition of voluntary response bias. Online reviews are extremely biased towards the negative because people that have issues want to tell everyone. (Not a bad thing). Those that are happy tend to not be as vocal. Happens a lot with car forums especially.
If a Prius is damaged...yes the costs to repair may be greater than a conventional car. The high tech components in the Prius are not cheap to make and the entire system is quite unique and fine tuned. Also the location of different systems may cause the Prius to be considered totalled more easily (front collision). Of all the hybrids I have owned (3 now) I have never ever replaced the brakes because I use the regenerative braking almost exclusively when driving. I do this by leaving excessive distance in front (so I have plenty of time to respond to speed changes ahead) and looking far ahead for reasons traffic will slow such as stop signs, red lights, construction, etc. I brake so far in advance sometimes I never actually stop completely because traffic ahead is already moving.
If you want better MPGs out of your car...look up hypermiling. Also keep your tire pressure at spec, put low rolling resistance tires on, and don't smash the gas. My average so far in the Prius Four is 49 mpg and that includes mostly highway driving. When I am stuck in stop and go traffic my average for the trip is typically about 70+ mpg with AC on. I have recommended the Prius to others both the C and the liftback (standard Prius). If my Prius got totalled tomorrow I would happily buy another one. They are great cars that are quite versatile and have amazing fuel economy (especially if you try for it).

When I bought this car It had 15k miles, I like the gas mileage, does not require fixing because I do regular maintenance, easy to handle. But the worst part are THE SEATS. I hate the ** SEATS: they are horrible. One they are hard to sit on. If I take over 30 min ride, it's a nightmare. Two, so tight the my hamstrings are always giving me problems and my gluts are always tight which affect my lower back. Three, the way the god damn seat and headrest are the worse... The worst. Badly designed that it's causing me neck problem and lower back problems too.
If any of you guys in sales, delivery, or any trade that requires you to be on the road and your Prius seat is giving you back or neck problems please post it here and let's get an attorney. If you don't know or you just bought the car, check youtube videos or ask your doc about how a car seat should be designed especially the head rest.

I have a 2014 Toyota Prius C. Having a problem with deep scratches on all four door windows. Toyota won't accept responsibility. Have had multiple window and repair shops agree bad coating process or cheap coating material used. Also been told may not have been hardened right. They blame the two small dogs I have. Always drove Toyota and always had small dogs. Never had scratches on glass. Also have a 2006 Hummer H2. No scratches on it. Never will I ever buy another TOYOTA. Has anyone had this issue. Next step to call Toyota in japan and the newspapers. Did call California headquarters.

I am happy with my purchase. But I have few issue with this 2016 model. First, model TWO doesn't come with a garage door opener, which is a very very basic option and it would not cost more than $5 for the manufacturer, and almost every car has this option as standard. It is very DISAPPOINTING to carry a garage opener for 2 locations in my pocket all day. Second, the sun visor does NOT extend, so if you are taller than 4' and move your seat back the visor will not help. Such a pity that they couldn't have the same type of visor that they have in the Camry, which extends back. Again, another simple, and very cheap improvement which they could have done.
Third, hand rest of the left side is very far out and you can't rest your left hand while driving, nor you can grab the wheel on the bottom center to rest your arm. If you drive more than 30 mins your arms will get tired by holding the wheel. Fourth, your rear view is obscured by the hatchback section of the trunk, which is annoying, and does not gives you a clear view of your cars behind you. I just had the car for few days. I Will post more once I have more driving time.

I am looking for feedback on the 2016 PRIUS. My 70-year old parents purchase one about 2 months ago and they have been involved in two very serious situations. One incident occurred on the freeway and one on a large highway. Once my mom was driving and the other time my father was driving. Incidents less than a month apart. THE CAR JUST STOPPED! Decelerated from 60-65 miles per hour to stopped in less than a minute and an alarm came on. After stopping they put the hazards on. Had to hit park and start all over again and it took off. The first incident they thought was a fluke and that they had done something so they did something wrong since car was new. NOW both are afraid to drive it. Has anyone else experienced this type of problem?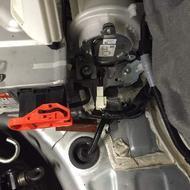 Recently after shopping the hybrid battery system check light came on in my 2011 Prius. I immediately took it to the dealer where I purchased it. They found that a bottle of window cleaner had spilled onto the hybrid system and damaged the cooling fan. Fortunately they were able to dry out the battery and I only had to replace the damaged cooling fan. This is concerning because the I always put my shopping into the back of the vehicle and never would have thought that fluid would be able to get to the hybrid system. I am writing a letter to Toyota so that this problem can be addressed and not happen to anyone else.

Let me start by saying I have loved my Prius 2010. I can fit anything in that car... even my kayak! I get great gas mileage and commute 80 miles to work and back. I take it on trips (gas mileage not as good in the mountains). So I do a lot of open miles on my car... as of this writing I have 154,000. It has been unbelievably quiet and a smooth ride. BUT I AM SPENDING A FORTUNE ON BRAKES!
I have been a great driver for many many years and owned a lot of used vehicles; this is my first new car. I have always driven a lot to work and brakes usually last me 5 years. For the Prius, I replaced the front and back brakes in 3/2012 and again in 2/2014. The back breaks in 11/2015 and now the dealership told me both need replacing AGAIN! (6-2016). I have replaced the headlamps twice but that now seems like a cheap repair. The AC compressor has a hole in it I am now told and this will cost me over 2,0000! I want to cry right now. This estimate is now over 4,000!!! Is anyone else having this problem? I am at a loss as to what to do.

My 2013 Prius wants to go 8 MPH all the time. With the foot off the gas, anytime the car is on, it will start up on its own. If you are decelerating, it will get to 8 MPH and then add engine power to stay at 8. The dealer says this is normal. I think it is dangerous and annoying. If I am at a stoplight, I have to keep jamming on the brake to avoid lurching into the car in front of me. It also seems to waste gas. Because when I apply the brake, to get below 8MPH, the "energy display" shows that engine power is still being applied, meaning that the car is fighting my attempt to stop. I am afraid of inadvertently hitting someone due to this problem, and I think Toyota should be sued because of it.

This was my first Toyota. I always heard of Toyota's going at least 300k miles before any major problems. I wish I saw this website before I bought this used 2007 Prius with 83k miles on it, probably would of gone with a gas powered Honda Civic instead. I am getting about 47.8 mpg average which seems good, but they claim 60 in city and 51 on highway so I would think I would average about 55.5? I have been having the dreaded headlamp problems already. Have been pulled over by the police for headlights and have only had the car about two weeks. I pull over for the police and they inform me about the one headlight out. I get out to check on that and both headlamps are on. Now the one side goes out and you turn them off and they light back up. Some folks are saying the ballast or the bulbs. I never saw a car that was so difficult to put in new bulbs for the headlights and that may not fix the problem.
Some of the prices I am seeing to fix the Prius are just astounding. I have an old 2004 Ford Taurus with 245k miles and never had any problems with it so far. Am I lucky or is the 2004 Taurus just reliable transportation at 23 mpg. I see there was a recall on this headlamp problems but it has expired. When you hear the stories of both headlamps going out that is definitely a safety concern and I do a lot of night driving. I also have this slight knocking noise on the passenger side front you can hear going slow over a dirt driveway or slow on a bumpy country road. Could be struts maybe or sway bars or steering gear? Whatever a car with 83k miles should not being making that sound on one side. The older corollas never had any of these type of problems. Agree with the seating ergonomics are quite terrible in the 2007 Prius. When I sit back into the 2007 Taurus it's like ahhh... so comfy for long distances.
I would like to believe that Toyota makes some decent cars but I guess it was not the Prius. I will post again about this 2007 Prius, I am keeping my fingers crossed that I can fix these two issues and have many more carefree miles before something else happens and it costs a boatload of money to fix. I am 60 years old and have had many cars in my lifetime, mostly domestic cars and never had many problems with them. I trying to give Toyota a chance but after reading many of these posts I just don't know? The worst car I ever had was a Fiat 850 Spyder. Nice name but a nightmare of problems.

I totaled it when an suv struck the front left fender. We had no repair issues, but because I drove with the headlights on for safety, had to replace bulb frequently and the manual didn't say how to approach that. My wife who is only 5'2'' loved to drive it (so if she's happy, guess what!) We had almost 215000 miles when I was hit by and SUV in the left front and the insurance company totaled it. We loved every minute of it. Acceleration was good, ride very comfortable, quiet, agile maneuvering and about 44 in summer and 37 mpg in winter. I'm going to buy a 2013 plug-in to replace it!

In 2014 I purchased a new Toyota 4runner 4x4 Limited fully loaded. Myself, friends and family all noticed my 4runner was lisping badly on the passenger side. Long, long story short they kept my car for a month and the service bills came to over 9 thousand dollars in fees. Fortunately I did not have to pay that. Unfortunately they were not able to fix my car and flat out lied to me about fixing it in the future. They will not return my calls and have no interest in fixing my car.

I bought my Prius July 2011 and to date (3/24/16) I have spent $9,184.23 on maintenance. I even had the extended warranty but it only covered the "big" things. I just replaced a defective seat belt at a cost of $898. Ridiculous! I feel soaked every time I take it in. I will probably, no make that NEVER, buy another Toyota product. Oil changes are $70 every 10K miles but the oil change alert comes on every 5K miles. No one bothered to tell me that I was changing the oil twice as often as I needed to until I was at 90K miles. The seat belt issue which should have been covered under a warranty, was the last straw. DO NOT BUY A PRIUS. WHAT YOU SAVE ON GAS YOU WILL SPEND ON MAINTENANCE! !

I wish to respond directly to: Jabir of Ogdensburg, NJ on Sept. 9, 2015 who wrote this: "My hybrid battery stays low and engine keeps revving as if I'm accelerating all the time, even on deceleration. Anyone else has that problem?" Here is my response to that:
YES! mine too. It just starts revving for no reason. (This brings me to another topic. This car needs an RPM gauge, a TEMP gauge, and I mean engine temperature, not indoor/outdoor temps for the fan, and also an engine oil gauge, although using the dipstick periodically does suffice for that). Sorry to digress, let's get back on the main point. The engine revs. It's weird behavior, but maybe it's designed that way, to charge the battery or something. So I won't fault this too much. But now I present problem #2. My engine, especially in B mode (engine braking, i.e. downshift into low gear) will sometimes (it's not always) make a rattling sound. I brought the vehicle to the dealership for repair, but they said they can do nothing since the problem is not reproducible (it's random).
That noise, rattling or grinding, kinda hard to describe it, just a loud engine basically, which is definitely different sound than the normal engine which I have been driving for 10s of thousands of miles (currently at 30k miles in my 2014 brand new Prius) so this sound sucks. I hate it, and I am pretty sure it's not normal. Waiting to break down. Ryan. Peace out. Oh yeah, maybe I will mention my avg MPG since everyone else is (I heard numbers 40-52 was the highest, so far). Well my MPG is avg 38 but I made adjustment (started using ECO mode always) and now I get 40-41 MPG. So I don't know how people are breaking into the 50s. Also I coast in Neutral whenever possible. It should save the engine, and maybe improves MPG, although I do realize Neutral will not charge the battery. (Engine must be engaged for charging to occur).

Bought a 2014 Prius for my daughter so that she can commute to college and back. What a junk! Barely 2 years old and making all kinds of noises. Going over a pothole feels like the car will break apart. Gas mileage ain't that great either. Has been in the shop multiple times over the past year and half with different issues. Overall maintenance cost has been higher than my BMW M6. Garbage car. Garbage company. Would never buy Toyota. Disgusting.

2012 Prius 4 & 2010 Prius 3 & 2007 Prius 2 were ALL electrically inept where we'd been exposed to life threatening defects. 1st car was eventually bought back so it looked like a fluke until discovering other people died from these defects! That car appeared 'possessed' & dismantling, it was the only remedy that Toyota really had! We bought another Prius that seemed to be a solution, White one on a commercial but that one started failing when the entire computer system required replacement. It got worse when seats turned mushy from seat heater module defect & interior's fabric was falling apart.
So we received a fake "Authorized Factory Sale" voucher to trade it on a "qualified" replacement from a dealer who didn't have to honor it after switching the loan from our customary Credit Union over to their predatory lender instead. We were stuck with an extra $8333 on the loan by them not honoring this initial deal. Then that car's problems began with higher mileage as on the other two w/ intermittent airbag light illuminated-computer screen flickers-heated seat module
& PUSH BUTTON NOT TURNING VEHICLE OFF. That defect killed 13 people but it was not recalled - as it's NOT REPAIRABLE!!
Our car experiences were disastrously disappointing to say the least! My daughter was terrified to ride in the front seat as we had NO IDEA when and if the airbags would deploy unexpectedly! We were not notified of recalls then saw them on National News Programs & Good AM America! When you come across internet articles & see your exact car on tv it's Despicable! We had to purchase another used car to have reliable transportation as the lender auctioned the vehicle to an unsuspecting person after we warned them. We'd been in the process of having an independent expert examine the car for buy-back again. This car caused what physicians referred to as "Prius PTSD" with physical symptoms such as migraines & nose bleeds from so many years of repeated stress!

My new Prius has nearly 15K miles and overall I like it so far. It has decent power and handling, good gas mileage, no major maintenance issues, has been very reliable transportation and deserves five stars. The low use engine and transmission design, infrequent friction braking, keyless entry and ignition, all make me expect (hope) that significant maintenance will be infrequent. I particularly like being able to start the car on electric power without spending a few minutes warming up a cold engine. And the idea of the keyless entry is great, saving me time when my hands are full of kids or groceries, but I am concerned about security issues described below. And I like the way the floor mats lock down.
That said, I have some gripes as follows: The a/c condenser in the car is starting to smell AWFUL! In the summer heat I was always leaving the a/c on and the vent on recirculate. After reading a few articles on the internet from others with similar problems, I now turn off the a/c and set the vent to outside air a few minutes before parking. This has helped a lot, but not completely removed the smell. I never had this problem in my Honda. Neighbors are reporting people breaking into Prius using a microwave amplifier. I asked the local dealer about preventative measures and possible recall and they had no idea what I was talking about.
The average MPG over the 12,000 miles I've driven so far is 43. Not as high as I had hoped. I wish I'd bought a darker color interior to hide dirt better. I had a long trip (7 hours) hauling equipment slightly too long for the trunk, so I tied the hatchback door down with equipment sticking out the back. I kept the windows open to prevent any exhaust fumes from accumulating. Nevertheless there was an EXTREMELY ANNOYING WARNING BEEP throughout the 7 hour drive, which was not easily disabled. So I had to wear earplugs throughout the drive to tolerate the constant beeping. My Honda hatchback never used to beep when driving with lumber sticking out and the hatch up or tied down.
The reflective sun cover, from the dealer, has a piece of velcro to tie it closed when it is all rolled up. This velcro keeps adhering to the dashboard cover, also from the dealer. When the velcro is adhered, and I remove the sun cover, it lifts the dashboard cover right off the dashboard and it takes me three minutes to straighten and put everything back in place. These accessories were not engineered to work well together.
The owners manual talks only about RECEIVING a jumpstart does not CLEARLY AND EXPLICITLY say whether the Prius can GIVE a jumpstart. If the prius 12V supply cannot give a jumpstart please SAY SO CLEARLY. When I called the dealer the people I spoke with were not sure. If it is a design limitation that is fine just TELL ME CLEARLY. They dont make mud flaps/guards for this car. The dealer says it would interfere with the aerodynamics.

I purchased my 2013 Prius C because it was a four door, four passenger sedan. Unfortunately, the rearward visibility is SO bad with the rear seats up, and especially with rear passengers, that it is unsafe IMHO to drive in reverse. I backed into a low fence post that I couldn't even see. Thankfully, it wasn't a child, but it could have been. To further complicate matters there is NOTHING behind the rear bumper cover near the ends/corners. Nothing. It's soft and if you do back into something it completely destroys the bumper cover. Mine is torn beyond repair. And how did Toyota respond to my complaint? They said their engineers could back up using the rear view mirrors. DUH. So can I... but I can't see what's behind!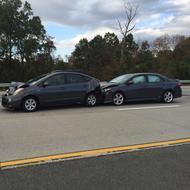 October, 14, 2015, I was traveling on route 66 to Manassas at 4.15pm. in my Toyota Prius. (I love Toyota Prius ). We were crawling and stopping intermittently. In one of those conditions a Jeep in front of me stopped again and I stopped also. After few minutes, there was a Big Bang at my rear. A vehicle crashed my car. My car skidded and crashed into the Jeep ahead and the Jeep crashed into another car. My car was totaled. The airbags did not deploy. Why?

I have read so many horror stories on here. We had our 2004 Prius since 63,000 miles. When my husband totaled it, it had 235,000. Great car. Sad to see her go.

August 31, 2015 I was starting to program the GPS in my 2013 Toyota Prius-v. When I touched the screen on the GPS the glass simply cracked. Toyota's service managers are saying it was caused by an outside entity. Who or what is the outside entity? There is only 9,000 miles on the car. The only drivers other than myself and wife were Toyota's service technicians.
Toyota Prius Company Profile
Company Name:

Toyota

Website:

www.toyota.com