Consumer Complaints and Reviews

I recently noticed an negative impact on my credit score from a property I moved out of 3 YEARS ago! The people that moved in just started paying the bill that showed up and moved out a few months ago. They said they let anyone pay your bill and they refused to remove the negative hit on my credit even though I paid someone's last bill in full. It should be a crime to accept payments from people with completely different names and at least should removed it off my credit when I paid another person's bill in full.

I recently moved into the house after purchase and I noticed that the first bill was EXTREMELY high... $459 to be exact. I called and the rep told me that the sprinkler system was running a lot... 45min 4 days a week. She then explained that sometimes when the power gets turned back onto the sprinklers it sets itself to the highest setting. Okay unbelievable but sure I will reset the settings. Set my sprinkler system to water 5 minutes three days a week. My bill... $400. They have NO explanation for it. WORST company ever. Petition for some competition.

My power was shut off for nonpayment. I never received a reminder / cutoff notice. I called and paid the bill. I travel extensively and sometimes I use the reminder to REMIND me when the bill is due. After waiting awhile, I called JEA to find out when my power would be restored. I was told by the JEA rep that because of the recent hurricane, the reminder / cutoff notices went out late and that a lot of people had their power disconnected without notice. A cursory glance at my payment history would have shown that I am not a delinquent customer.
Furthermore, a phone call would have gotten them paid INSTANTLY. Instead, JEA elected to waste company time, resources, and manpower to make two trips to my house, not to mention the incredible inconvenience to me and my family. In today's world of automated systems and technological advances, think of all the time, manpower and resources that could be saved with a simple automated phone call to account holders on the day that their power is to be disconnected.
I am as dissatisfied as I can possibly be with JEA. If there was another choice, I wouldn't be a JEA customer. I guess that is exactly the reason that JEA can get away with treating customers like this. Combine this with way that power restoration was handled after the recent hurricane and it obvious that whoever is running the show at JEA needs to be fired, and a thorough policy review needs to take place. As customers, we shouldn't stand for it, even if they are a monopoly.

Just recently moved into the Saint John's area and my bill for the last two months has been around 120.00 for the time. Suddenly my bill jumps 2,700% for my water and sewage but there is no leak... no break in my pipes or anything. They said that I used over a thousand gallons a day!! Completely rude and told me to PAY UP. I am off the charts on my water bill. No idea how what this company is doing. Definitely taking this up with the city. I am not the only one they are trying to do this to either. Will switch companies if I can.

Oreyell ** was extremely rude and incompetent. I called about a $290 addition deposit that they required and was cut off at every given chance, put on hold at every given chance. When I asked to wait on the line to speak with a supervisor, I was told "I don't have time to wait." She was rude at any given moment and GHETTO. I do not recommend.
How do I know I can trust these reviews about JEA?
671,681 reviews on ConsumerAffairs are verified.
We require contact information to ensure our reviewers are real.
We use intelligent software that helps us maintain the integrity of reviews.
Our moderators read all reviews to verify quality and helpfulness.
For more information about reviews on ConsumerAffairs.com please visit our FAQ.

Woke up to no power at 7 am Sept 2, reported to JEA in which they gave a time of 7 pm to have it fixed. Got a atomic callback it was fixed. I pull up at 7 pm, seen the JEA truck but still no power. Talked to the JEA worker who said the Transformer needs to be replaced. He will be right back. Then 10 pm comes still no power. Call JEA. They said a truck came out at 5 pm. Said we had power. I SAID no it was 7 pm and he said we needed a transformer, that he'll be back and never came back. She noticed I was upset. Said she will get another truck out.
Trucks comes at 12 am Sept 3. Yes we're into the next day. Stays 10 min and leaves. Still no power so I call JEA back. Got a different rep who was very rude. Said the truck was out to see what the issue was not to fix it. I SAID why is that when the 7 pm truck already gave info the transformer needs fix. I just bought my kids grocery that are now ruined and no more money to replace it, wow 12:37 am Sept 3 still no power. SMH. We need another choice for an electric company, then JEA would appreciate their customers more. I'm really upset. Wow.

So we live in a small two bedroom apartment upstairs and we keep it at 78, most of the time it's hot in our house at that temp. So why in the hell is our bill $270.00 a month on the MyWay - it's costing 9.00 a day and that is not including water because water is included with our rent!!! It is a crooked company! We've had them come out twice to check everything and they said its normal! No the hell it is not!!! My friends around here keep their temp at 72 and their upstairs home all day only paying 135.00!! Don't get JEA. They only want your money - very crooked company!

Many of the homes in Jacksonville have been around for many years. Things get old, especially items that Jacksonville Electric installed many years ago. They charge a lot for us to use their service, which I feel is one of the highest in the nation. It was brought to my attention that every year they give millions maybe even billions to the city of Jacksonville. If they have that kind of money to throw away then why do we have to pay out of our pocket to have their things fixed, like the meter box. I feel this is an unjust to the average citizen. People in the US are struggling to make a living. I feel we deserve better. In the end God will win.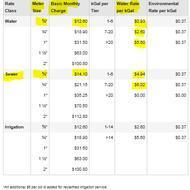 JEA Billing Basic Monthly Charge is the minimum amount all customers pay for a portion of system infrastructure and fixed costs regardless of consumption, such as meters and the meter network, the distribution system to deliver your utility service. JEA replied to an email indicating that due to the size of my pipes. Violating their own policy basic monthly charge for all other customers regardless of distribution system to deliver the utility service. Basic monthly for all customers water $12.60 and sewer $14.10. So now due to my pipe size is 3/4 my basic monthly charge $18.90 Water and $21.90. Water usage charge is $2.90 and sewer is $14.82. I charge JEA with a violation of policy in billing due to my delivery system. Note I have been in my home over 10 years and I have never re-piped my home. I have noticed an increased in my water and sewer in the last few years and I've been complaining to no avail.

After numerous times of trying to pay my balance both online and over the phone, the representatives kept telling me that there is no other option than going into a physical location. I am handicapped and unable to do so. Both the online payment options and the pay by phone options freeze and representatives are unable to take a payment over the phone. I am not having internet problems or issues with any other site. The representative are courteous but unable to help insisting that the problem is on my end. When asked to speak with a representative, I was told none are available and someone would call me back within 24 hours. My bill is not past due. My complaint, representatives are unable to help solve any problems paying my bill.

Jea is a very crooked company. So now they want to give our deposits back for being such great customers and paying our bill on time. But instead of giving us our $200 deposit back in cash like they received, they want to credit it to our next bill. Um no I want my money. I go onto the website to see who I can call to get my money back and I see my bill has a balance, a few cents. My bill has NEVER been over $120 and that's on a cold month. But all of a sudden my bill is a little over $200. These people think they're doing a good thing. All they did was steal my deposit! Crooks! I also don't know who is doing the math but $200 from $215 is not 22 cents. It's hard to make a decent living for your family when all greedy people want to do is steal your hard earned money. It hurts even more when you know you can't do anything about it. I dislike this company very much! My deposit should of covered at least a bill and a half.

The problem with JEA is they sell electricity which they do not own. God created electricity and JEA charges you an arm and a leg to store it. When JEA takes away electricity you and I get piss. You find yourself sitting in a house with no lights cussing and yelling because nothing works because you didn't pay the bill or because of an outage. JEA does not care about taking electricity from you because they control it in Jacksonville. If other companies had control over electricity, then JEA would be nicer than they are because they would have to worry about customers switching.
Multiple times I had to deal with the carelessness of reps on the phone. One rep couldn't even credit me 5 dollars. JEA will raise your bill, then you will come home to a dark house and wonder why is your bill so high. JEA needs to be deregulated, that's when you have multiple electric companies. The only way for this to happen is the people of the city have to go to the lawmakers. If you're content with only one company controlling all of the electricity then don't do nothing.

My normal water bill is $55 (for 3000 gallons of water) and has been for 3+ years. I then received a bill for $80 (for 6000 gallons of water), and then the following month I received a bill for $414 (for 54,000 gallons of water). Now for the 6,000 gallons of water they sent someone out to physically read the meter. Ok, I'm happy with that but they did nothing for the 54,000 gallons of water. So when I called they explain that they never make mistakes, the meter is never wrong, and gave me the normal spiel about lawn watering, swimming pools, outside faucets, and running toilets. I live in an apartment with no outside faucets, no swimming pool to fill, no lawn to water, and I had one toilet fixed that ran for approximately 20-30 minutes max because it is only a 15 minute drive home from work and I was on my way home when I got the call. I had the flapper valve replaced as well as the ball valve.
According to JEA's own site a leaking toilet wastes about 2,700 gallons of water a YEAR. So what about the other 51,000 gallons of water that went poof? When I contacted the JEA office we arranged for a representative to do an inspection of my apartment and guess what...... you guessed it NO LEAKS. So I sent in the paperwork... it took me several days to send in the paperwork. I talked to a manager at the office when we set up the apartment inspection and I specifically asked if they were going to turn off my water or wait till it was done. She said NO. So I come home from work today and guess what my water had been turned off and still no reply from JEA about an adjustment to their obviously inflated bill. Now I will be forced to suck up a $414 water bill, late fees, disconnect fees, and of course a reconnect fee bill. So their fraudulent bill will cost me over $500.
Updated on 1/6/2016: This is an update to the one before. Yes, they charged me $125.37 for water, $15.12 for sewer, and then a reconnect fee of $14.00. They gave me a credit of $140.00 as an adjustment. So basically, they over charge me $414 then give me a credit of $140 of the original $413 that was erroneously billed to me and I'm supposed to be all happy and giddy about that. That is the equivalent to a robber stealing your car and returning a wheel from said car. Then the $140 that they credited me with will be used to pay the other fees they so nicely leveled on my account.
Now, how is it that for 3 years I used 3000 gallons of water a month exactly? Not 3001 or 2609 but 3000 on the dot. I would say that they are rounding up their customer's water usage, which is basically charging them for water that the customer didn't use, which is the same as stealing to me. I mean, if you look at their number of customers and if they over charged by even $10 each month to every customer, they could be stealing 100,000 to 1,000,000 a year from their customers. How is that legal? Where is the legal overview or accounting?

I have just received a residential deposit fee for $700 on my most recent bill due to a returned check and notice of disconnection. How ironic JEA says the reason is due to the two infractions which caused my internal score to go down. First and most importantly how can they say two infractions when the one goes hand in hand. 2nd I was never aware of the returned check which was due to my card info not updated as my card had already expired. I then immediately paid my bill including the fee.
I find it absurd that I can make on time payments for years and then one accident can cause my "internal" score to drop significant. I have a great credit score with bureaus but JEA I don't. I find it crazy JEA can continue to operate in this fashion. Please help me understand how a one time offense (which in JEA terms counts as a two part fraction) can result in an $700 fee. Thanks JEA for the holiday season gift. Sad where greed has driven America. The fact that nothing can be done about this speaks volume to where we are as a country.

I have a total of 3 light bulbs in my entire house. I do not pay for water and from 6 in the morning till 4:30 in the afternoon no one is in the house. All the lights are out and we only have one television. How was it that my bill reached $1,100 and has been close to $1,000 for the last 3 months? This is ridiculous. JEA they don't do audits. How is this possible? Someone in the office has got to be doing some kind of scam money laundering or something. It's crazy. There's no one here. You can go over in the office here. If something isn't done about this soon I'm going to get a lawyer and go to the mayor's office and find out something because this is not right. Mind you I live in a apartment building. JEA has cheated me out of some money recently and they fix the problem. I had a bill for a negative hundred and something dollars. My next bill in this apartment was $600.

Bill date August 8th 2015 - seen on other activities additional deposit and my lights have not been disconnected. The amount is 362.49, and so do not understand for the charges JEA put on my account. I guess you cannot fight against the only light company in Duval County. Either pay, have no lights.

I am very angry that JEA keeps telling me that I am getting an accurate read from my meter and that it is not an estimate. I HAVE BEEN ON THIS PROGRAM FOR 2 YEARS AND AS OF LATE I FEEL A SCAM… I live alone so I typically know what my usage would be depending on what I did. I was out of the state from July 9 until the 13th. My average usage the week prior up to the 10th was 20 to 30 gallons of water which is typical usage for me. On July 11th it jumped to 200 gallons, then July 12,13 back to 20 to 30 gallons. My daughter came back with me so I started to see an increase. Not mad at this point because I'm thinking she is taking extra long showers, but on the 30th she went home.
Since then JEA has said I used 390 gallons of water on the 30th, 380 on the 31st and on August 1, 287 gallons on the 2nd, 463 gallons on the 3rd, and today at 4:30 am which the bill cycle just started 3:30 am I have already used 390 gallons of water. And by the way I live alone and nothing has changed and I don't have any leaks (these are the excuses JEA is trying to use in their defense). Something has to give. I'm calling the media and hiring an independent contractor to figure out what's going on. WHEN IT COMES BACK IN MY FAVOR, MY NEXT PHONE CALL WILL BE TO AN ATTORNEY!

Reading several of the stories on here brought me comfort knowing that this has happened to enough people that it can't go on forever. I too have suffered such high bills from 340-800+ on and off for close to 10 years between 2 different rentals. I've exhausted all options with the company itself time and time again. I'm unemployed and every month is beyond a struggle just to keep the lights on... often at the expense of basic amenities. I've replaced or repaired everything that could possibly cause high electricity usage and eventually switched to energy saver everything.
Recently I got a bill for 100+ during local election time and then back to 208, and now 340 again with no change in usage habit on my end at all. Customer service at every level has several excuses they resort to (which always lays blame away from the company) and sometimes my bill has increased insane amounts after complaining which makes me hesitant to submit this, but I am at my wits end. I have a friend who lives on a nice side of town and who's house is twice the size of mine with many more devices running including a washer and dryer and pays only 35.00 a month!
I'm past angry and now just sadly in resignation at the way this can be allowed to happen for so long with no possibility of choice or recourse. It does seem cruel and bizarre that anyone can get away with something like this in a modern civilized society. It seems like most who have suffered (according to this site's post alone) have no normal means of action at the time of dispute. I wonder if that is what the "internal credit score" is really used for. I report this now because I assume for every filed complaint on this site there are many more who have not come forward and/or have no knowledge of any legitimate avenue to report... But at this point it's only a matter of time before this company's deeds are fully brought to light once again.
By my records, over the years, I've over paid at least thousands of dollars over what a normal and even high end ($100-$200) bill should be. Sometimes I've gotten a normal bill but often it's very high for no plausible reason on my end and it's been happening more and more often just in the past few years. All I know to do at this point is document and wait. I hope change comes soon.

Having recently lost my job and my only income has been unemployment while trying to find other employment I have had to pay a little later than when my bill is actually due. I had another incident whereas there was another expense that came through and I was 2.54 dollars short. I noticed it and paid the bill the next day after depositing more funds. After that according to the CSR I spoke to whom had no empathy, no good customer service skills at all and I have been in customer service for over 12+ years, I was told that my "internal credit score" had dropped below a certain number. A credit score with a monster monopoly? A company that can charge us as high as they want because they have no competition.
A credit score means nothing with these people. It's just another way to bully the community! They have the power and control to charge high prices. To punish those that are falling behind, those that have lost income and a means to pay by saying "Hey your credit score dropped because you've been having problems with paying your bill so we're going to charge you more than what you've been having difficulty paying"...This doesn't even make sense. Yet we politely eat the Bull Crap they are feeding us and pretend that it's OK. Does the City of Jacksonville agree with this kind of abuse? We can't go on strike because we will be in the dark, no water, freezing, dying of heat strokes, etc. but because life isn't fair we have to roll with the punches because there is only one seller, one producer that we have to depend on. This is really sad and upsetting for many not just me. It's a means to an end when the majority is being kicked down and beaten by the same monster.

Our home has been vacant since July 2014 yet each month the bills and reported water usage have increased, even after the end of Summer when usage normally decreases. My bills for October and November show water usage about three times during those same months a year ago when we had four people living in our house. We checked our house and there are no leaks in the plumbing or flooding on the property. Virtually no water is being used yet our monthly bills have been over $200!
I have asked JEA to review these bills and see if they have made an error. A similar event happened to us about 8 years ago and it took a while for JEA to correct the error. We will see how long it takes them this time. My problem is that such errors should never occur. The standards of any industry today would never allow for such high error rates in billing. Don't these people have a way to audit their own activity or institute proper control procedures to prevent errors? It appears that this organization has no quality control procedures.

JEA has charged me $300 on my bill. Says me and my husband used 11,000 gallons in one month. At the most in the 3 years we have live here it has been 5,000. This is right after a water main busted in the road and my husband called about the water pouring in the road. I don't get why I should have to pay for something that had nothing to do with me. Called, they told me I have to pay and to fill out a form, only form is when your own house leaks water. Not my fault, JEA's fault. Even all the neighbors water bill went up. Please tell me how my bill changed on water and sewer but nothing in my house changed nor my routines or husband's. CSR on the phone was a joke. Just hope they resolve this quickly. Next if not resolved will have to contact BBB and a lawyer. This is not right. I will not let them rip me off, a waitress that makes $5/hr.

I received my "e-bill" this morning from JEA. I was so happy when I saw my bill was 160.00... In the not-so-distant past, my bill averaged 300-400 dollars, so anytime it starts with a 1, I am pleased. Well, I then scrolled down the page to see that I had "other activities", the total was 340.91!!! I was livid, to say the least. I called and spoke with a CSR, who informed me that my "internal credit score" had dropped below a certain number. First of all, what is the incentive for even maintaining a "high credit score" with them!??!? (I do pay each month, typically a couple of days after it's due). Second of all, why did I not receive any warning that this would happen, no letter, email (happily emailed the bill though), no phone call (all my info is up-to-date with them).
Well the CSR was rude and not helpful at all, suggesting to me that I call one of the agencies that they partner with (very convenient) or set up a payment arrangement. I told him, "I am not paying what I do not owe!".... I will pay for any electric I have used (my apartment complex charges us 50.00/ month for water use) and that is it! He said, "Well, I can't tell you what to do, but services will be interrupted if it isn't paid!" I asked the obvious, "Where else can I go for Electric???" Of course, he said, "Nowhere in Jacksonville"... So I either pay it, have my lights turned off, or move...
So, to RECAP: I will have my lights disconnected for PAYING MY BILL- Just to also mention I have been a Jacksonville Resident my whole life - since 1979. I opened my JEA account at age 19. Highest amount I've paid them was 2009 - it was a little over 1,700.00!!! My average bill is over 300.00, until I moved to my apartment in March 2014, my bill has been considerable lower. When I suggested that this "deposit" was to cover what I haven't paid, due to moving... the CSR basically said (not in so many words), "Yes, we review your payment history and issue a deposit based on that." BUT FOR WHAT!!!! In my opinion I believe people like me are the "neighbor to neighbor" program - PAYING BILLS FOR THOSE WHO HAVE LEFT THE CITY WITH UNPAID BILLS OR GOTTEN LOCKED UP OR HAVE THEIR BILL TURNED ON IN SOMEONE ELSE'S NAME!!!!

I was a resident along with another in a home. We split up. I called JEA month after month to disconnect service so I could get it in my name. JEA refused to allow me to do so. I called again after many many times and spoke with a rep. She stated since she could not disconnect service without permission she could not assist me any further, however felt badly with the situation I was in. At that point I asked what if the person did not pay their bill and it got cut off.... She stated then I could get it connected if I could prove he was taken off lease. I followed this (because after trying and begging him to do the right thing) I took new lease down to JEA office..... was willing to put new deposit down and all..... The supervisor told me that she would not allow me to get it on in my name without paying and being responsible for his bill!!! I DON'T UNDERSTAND WHY I AM RESPONSIBLE FOR PAYING THE BILL BUT HAD NO AUTHORITY TO DO THE RIGHT THING IN THE FIRST PLACE AND HAVE IT DISCONNECTED!!!
SO.... JEA SAYS, "YOU HAVE NO RIGHTS TO DISCONNECT BUT YOU WILL BE HELD RESPONSIBLE FOR PAYING"????? My name was nowhere on the agreement with his bill.... I SIGNED NOTHING.... I could not do anything to protect myself from a situation..... They have placed the account in my name and his (if you pull the bill... it shows BOTH our names). THEY HAVE PUT IT ON MY..... YES..... MY CREDIT... Not only did I have to move.... but unless I pay the bill in HIS name... I can not use JEA...... I have tried writing JEA... I gave his number and he still refuses to speak with them since 2012.... and even though I am honest and trying to resolve this..... JEA will not budge. They advised me I have to resolve the issue with him and get him to come into the office!!! I have cried over this.... so many times.... lost my house and forced to either find housing that is less than what is desired.... or pay his bill.....!!! JEA has never contacted me back about this issue when put in writing..... They will not address this issue... when I ask... why is it on my information????

I've called several times to see why this newer house we are renting electric bills have consistently over 300 per month. We have complained to the management company. They put a fresh timer on the pool pump... brand new ac system. And the house already had new appliances when we moved in. We keep the ac set on 78. We don't turn on lights hardly at all... Since the new ac system it has gone up. House is roughly 1600 sq feet. Heck I lived in El Paso, Texas and electric still didn't run this high. They claim we're using 7000 gallons of water. Our sewer alone is 70.00... and they just don't care. They tell us to turn off lights and ceiling fans which we already do that. We are gone for most of the day as well. Still trying to understand why it's so high...

My house was not connected to City Sewer since 2003. After many scandals, in August 2013 JEA fixed the sewer but refused to return my money I paid during 10 years. JEA also charged for water how they wish. I live along and never use 1000 gallons they charged for (sometimes they put in my bill 5,000 & 8,000 gallons). They charged for water and sewer even I was on vacation and used none of their services. Sometimes, I have a bills with "0" gallons and, any way, charged for "AVAILABILITY". JEA is collecting non-utility money on behalf of City of Jacksonville (Franchise Fee). They're charging us FUEL FEE (we never bought from them any! They say: we use the fuel to produce electricity. However, we're paying our electricity bills.
They use also some other tools and stations to produce electricity. Should we pay for all of these including their salaries?). They do not respond properly to my Complaints, they say they charged us pursuant to the Florida Laws, but never said which one. There are no such Fla. Rules exist whatsoever! My neighbor pays about $800.00 of JEA's bills for little house like mine. What should we do? This is 100% ripoff. And if we will not pay, they will cut our utilities...

I am here because I am angry and feel victimized by this so called "not for profit" community owned utility company, and I want to warn others so they do not find themselves in the situation my family along with who knows how many other people are unfairly in. In April, we made 2 separate payments by check on our monthly bill. Long story short, the checks bounced and when we realized what happened, the next day we immediately paid our bill without debit card. We have 2 children in diapers and we are on a tight budget. We have lived in the same house for nearly ten years and have never bounced a payment before or had our service disconnected.
When I called JEA to make the payment and assure everything was ok, I was not informed about their credit score points policy or that those 2 bounced checks or "infractions" had brought our score down, nor that this would result in us being required to pay a deposit of $700 on top of our regular monthly bill. So we were shocked and confused when we got our bill for this month stating we owed over $1000 in order to keep from getting disconnected. I understand we made a mistake by bouncing those checks, but I feel it is unfair as JEA does not make its customers aware of this credit score policy until AFTER you have an infraction!
When I called this morning, I asked why they do not inform their customers about this policy. Why not put this information on your monthly bill and make people aware of the fact that they can have a perfect score for nearly ten years but be penalized for one mistake? The rep just kind of stuttered and had no answer or explanation, except, that is their policy. I am outraged, we already struggle to pay $350-$400 a month for their ridiculously high rates! And reading other people's similar stories just makes me angrier. This greedy company is making billions off the backs of struggling families, the elderly and handicapped, etc. How do they sleep at night?!

I mistakenly had a return check payment on my power bill. After I realized my check would be returned, I quickly made a payment in cash to avoid cancellation but they still disconnected my power and this company not only charged me a return check fee but they are also charging me another deposit fee without any notification. When I called to inquire about why I was being charged for another deposit. The customer service rep advised me my credit score fell below 800 because of 2 infractions on my account. They are now saying the returned check along with the disconnection counts as 2 infractions.
This "imaginary credit score policy" is nowhere to be found on their website Jea.com nor is that information sent along with monthly statements. This company has a long history of overcharging consumers and price gouging their customers but they continue to report record earnings. Miscellaneous fees, overcharging, price gouging and recharging deposits is how this company is able to make these record earnings and it is not good for the consumer. Unfortunately for Duval County residents, Jea is the only utility company in our area so we have to get service from this horrible company. People are already struggling to make ends meet in this bad economy adding miscellaneous fees and overcharging consumers an additional $100-$300 is not good business. I believe this imaginary credit score rating policy is just another ploy to get more money from their customers without validation. Consumers should only be required to pay for consumption of electricity not ridiculous fees padded up by ridiculous policies.

I had been hospitalized three times the beginning of this year with heart problems including a heart attack. I was left unable to work and a lot of bills. I struggled to hang in there as they say, but it finally caught up to me and after 3 months, I had two checks returned. I made good on the checks within a week of being returned. I understand the need for rules, but there are extenuating circumstances. I called and explained my situation and the response was sort of "We can work with you, but if you are late with a payment, we will disconnect your services." I have been a long time customer of JEA and can't remember ever having been disconnected. I went from a zero balance to being billed for three months service. One month of service and two months deposit and I don't get my disability check until next month.

So recently I went through a change from one financial institution to another, so you have to go through all your bills and make sure your bills are updated correctly. For JEA, I was on auto payment. So I made the change and the website updated the information and went back to the home screen. No notice or email communication of any hold. I also emailed the contact us on the webpage to wait for feedback. After 1.5 weeks, still no response. So I called into customer service. They said, "We got your email and your change." So I asked, "Will next payment come out of my new account?" The response is it might.
I asked for a supervisor because I said might does not give me any confidence that my money is going to go through. I was told you cannot speak to a supervisor. I said, "Are you ever going to respond to my email?" They said, "We got it and everything should work." All the while on the website, the amount due says 0.00 because the due date in the future is already paid. It is not already paid. It will not pay until the due date. JEA needs to severely update the webpage so at the very minimum it should say amount due is still amount due and then after the due date, it goes to 0 to show it was paid. Or, at least enable a payment history feature if you're not going to change anything else, so we as customers know if auto payment is not going to work. We can see we have to manually pay.
I have never had such horrible customer service and piss poor technological information in my life. I hate to say it, even Comcast is doing better than JEA at this point. Now my credit gets hit because all this showed I never made a payment on time when I was misled from every possible direction from JEA.

I have a complaint. Yesterday, I scheduled an online payment of $218 as I always do and my husband went in to a JEA location and made the payment in cash without telling me. So, I called in to JEA this morning to ask them to please cancel the online pending draft because my husband took the cash out that would have covered the online payment. And I was told that I had to let the payment bounce, then send in proof that it bounced which by the way would cause my mortgage payment to bounce as well. Then they could submit a request to have the funds reimbursed back to me which is the craziest mess I've ever heard of because that wouldn't be helpful at all. There should be a way to cancel a scheduled payment if it hasn't taken place yet.
Furthermore, I spoke with a Ruby today, 1/5/13, at around 8:27 am and she told me that I could not wait for her supervisor to get off another call because I would hold up her phone line from assisting someone else and that I would have to wait until Monday for a call back on my situation because her managers were too busy on Saturdays to do call backs. So I said, "So what if I didn't accept that answer and choose to wait anyway, what then?" She said she would just release the line and "hang up" on me and she did just that. So I called back and spoke with a Yolanda at 8:38 am. And she just lied and said there were no supervisors on Saturdays and when I called her on that lie, I pretty much got the same treatment.
Is this the way JEA treats their customers because they're the only electric company in Jacksonville? Well, I'm going to tell you what I'm going to do which is what I did to get IRS straightened out for the same kind of treatment. I sent a letter to my president and I will call the news stations and bring some light to JEA's customer care practices.
Company Name:

JEA

Website:

https://www.jea.com/