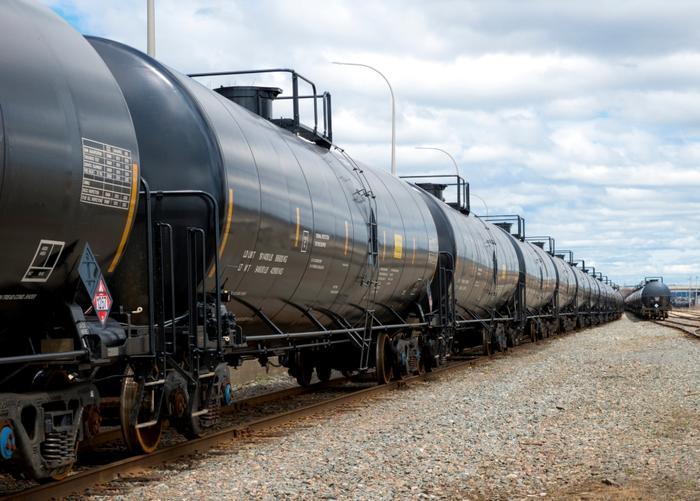 President Trump is trying to make it even easier for the oil and gas industry to remain the dominant source of energy. He signed executive orders on Wednesday that the oil and gas industry hopes will strip states of their authority to reject pipeline projects and expand the transport of fossil fuels by rail.
"When states say 'no' to the development of natural gas pipelines, they force utilities to curb safe and affordable service and refuse access to new customers, including new businesses," said the CEO of the  American Gas Association.
One of the executive orders that Trump signed Wednesday will give the president's office full authority to approve or deny an international pipeline permit. Trump cited "obstruction" in New York when signing the order.
State leaders in New York recently voted to block a natural gas pipeline project that already received approval from the Federal Energy Regulatory Commission (FERC) in 2014. Though any order stripping states of regulatory authority is likely to be fought in the courts, Trump says his move will prevent states like New York from "hurting the economy."
"President Trump's executive order is a gross overreach of federal authority that undermines New York's ability to protect our water quality and our environment," New York Governor Andrew Cuomo responded in a statement.
For years, the  pipeline regulator known as FERC has taken what tribes, states, environmentalist activists, and others describe as a lax approach to pipeline approval, leaving it to states to decide whether to allow a project after a minimal federal safety review. Many states in the South, Midwest, and Northeast have also been welcoming to pipeline projects, though some are starting to change their tune.
In Pennsylvania, state regulators recently decided to stall construction on a massive Energy Transfer Partners project after a series of environmental violations.  
Risk of train explosions
The second executive order that Trump signed allows the industry to transport natural gas by rail car. Currently, only crude oil can be transported by rail domestically or outside U.S. borders.
The oil and gas industry and freight industry says that using trains to transport natural gas is safe and will help consumers in the Northeast get cheaper energy. But after a 4,000 percent increase in shipping crude oil by rail over the past fifteen years, experts have counted an unprecedented amount of explosive train accidents and deadly spills.
The most famous example of a so-called "bomb train" is the runaway train carrying crude oil that killed 40 people in a small town in Quebec in 2013.
"It's a disaster waiting to happen," Emily Jeffers, a staff attorney with the Center for Biological Diversity, told Bloomberg News about the plan allowing natural gas on trains.  "You're transporting an extraordinarily flammable and dangerous substance through highly populated areas with basically no environmental protection."