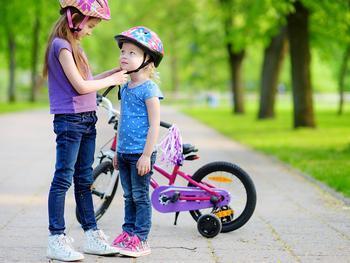 As long as there have been bicycles, kids have fallen off them and scraped a knee. But pediatricians suggest the injuries are getting more numerous and more serious.
In many cases, they say they are also preventable.
A new report from a child safety group, Safe Kids Worldwide and Nationwide insurance, found about 40% of parents it surveyed admitted their children don't always wear helmets. If they did, the group says there might be a significant reduction in the 426,000 children who typically visit the emergency room each year due to a wheeled sports related injury. The injuries include skateboards as well as bicycles.
The report focused on parents' role in preventing the injuries, stressing there would be fewer injuries if parents insisted their children always wore a helmet while riding.
Helmet use rising
The good news is that helmet use is rising, but as usual, there are huge gaps that doctors say need to be filled. And they point to research showing helmets and other protective gear provide the best way to do that.
"We know that kids follow their parents' lead, and if they see their parents wearing their helmets, it's much more likely they'll do so as well," said Torine Creppy, Interim President at Safe Kids Worldwide. "And just making sure that kids have a comfortable, properly-fitted helmet will do wonders to keep that helmet in place and give kids a safe ride."
Unfortunately, these injuries can be fatal. The Centers for Disease Control and Prevention (CDC) tracks unintentional injuries to children, and while the majority occur in auto accidents, the CDC found "a substantial number" of cyclist deaths among children from 2000 to 2006.
Head injuries
Over a 10-year study period, the National Institutes of Health counted 845 serious non-fatal bicycle accidents involving children and 46 fatalities, in a population of 1,000,000. In 70% of fatalities children had head injuries.
There is some good news, however. Lately the rate of ER visits stemming from a bike or skateboard accident has gone down, even as scooter-related injuries surged by 40% over a decade.
"While it's encouraging that the bike-related injuries are down, the number of kids still getting hurt is far too high – especially considering that many of these injuries could be avoided by simply wearing a helmet and other safety equipment," said Mike Boyd, Senior Vice President of Marketing at Nationwide. "We're hoping this information will remind parents and children alike about the importance of wearing a helmet every time they bike, skate or ride a scooter."