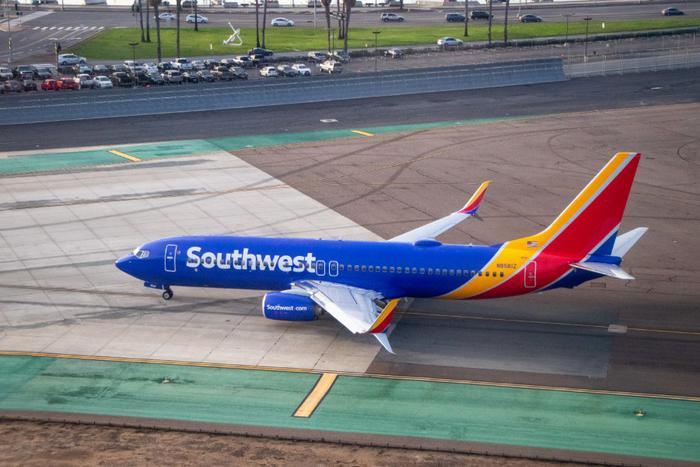 Southwest Airlines fans who have been missing the opportunity to have a beer or cocktail are about to get a reprieve.
After a two-year absence, the airline has announced that it will resume alcohol sales on most of its flights starting later this month. However, that move is already being met with some pushback from its 16,000-strong flight attendants' union, which called the move "unsafe and irresponsible."
Flight attendants have good cause to be concerned after experiencing a rash of belligerent passengers on flights. ConsumerAffairs previously reported on two SWA flight attendants who were seriously assaulted, resulting in injuries to the face and a loss of two teeth.
Alcohol returning gradually to flights
Southwest is the next-to-last holdout on liquor sales. United Airlines resumed inflight liquor sales in late 2021, and Delta, United, Alaska, and JetBlue are all offering beer and wine for coach passengers. American Airlines' posture on serving alcohol differs from cabin to cabin and from domestic to long-distance international flights. The lone holdout for the moment is American Airlines, company officials say they're monitoring the situation closely.
"We haven't established a specific date for the return of onboard alcohol in the main cabin of our aircrafts," an American spokesperson told ConsumerAffairs. "We will continue to evaluate the situation and work closely with the union that represents our flight attendants, the Association of Professional Flight Attendants, and medical experts on this process to determine when we will return to full service in the main cabin."
ConsumerAffairs reached out to Jay Sorensen, a consultant to the airline industry whose IdeaWorksCompany helps carriers boost revenue, for his take on Southwest's move. He told us that, historically, the airline has had a very pro-alcohol stance – including free drinks. He believes the airline is bringing alcohol back purely for customer service reasons. 
"All of this is not the type of activity undertaken by an airline wishing to maximize revenue/profit from alcohol sales. So it's safe to believe their disclosed rationale - - the policy change is due to passenger demand. I also think it removes an element of conflict during the flight - it's one less reason for passengers to dislike pandemic flying," Sorensen said.
How dangerous is the dance between alcohol sales and mask requirements?
Although alcohol is coming back to Southwest flights, masks are still a requirement for all passengers. Some people, like ConsumerAffairs reviewer Robert from Virginia, can't wait for masks to be a thing of the past.
"Great flight; smooth and on time both ways," he wrote about his experience flying with Southwest. "Only negative was requirement to wear COVID masks both ways for entire flight w/ exception of eating or drinking. Advice to Southwest - ditch the masks, especially for passengers who have gotten their shots!"
Last year, the Federal Aviation Administration (FAA) reported that there were 4,290 mask-related incidents. Just two weeks ago, the FAA levied fines of $161,823 against eight passengers for alleged alcohol-related unruly behavior, six of which were mask-related. However, Sorensen said the problem with alcohol is not an inflight issue.
"From a purely casual observation basis, I would say the majority of inflight problems involving alcohol can be traced back to intoxication occurring on the concourse at an airport bar," he said.
The FAA has come to the same conclusion and is asking airports to pull back on the availability of alcohol at their restaurants.