Consumer Complaints and Reviews

Southwest was quite the experience. The seats are too small for anyone over 5' and 110 pounds to be comfortable. Also, the plane was crowded. I felt like I was in a tube. But the refreshments were good & so was the service. Thankfully, it was somewhat of a short flight.

I purchased tickets online, no problem there. However, I didn't care for the boarding experience. I'm very particular about where I sit and if I can't book the seat I like, I prefer time to mentally prepare for it.

I've been flying American Airlines on a weekly regional flight for several years and decided to try Southwest since it opened a new route for the cities I fly to and from. SWA beat American on price, but the service has been awful. I called today (Sunday, noon) and spent over 29 minutes on hold, listening to stupid recordings telling me how important SWA customers are, before a person actually answered the phone. I told her that I was absolutely baffled by the ridiculously long hold, in contrast to the BS recordings I'd begun to memorize, and what that really says about how SWA sees their customers. She said they had heavy call volume - yeah, right - mid-day on Sunday.
As to the substance of my call, after another hold, a supervisor finally confirmed - 40 minutes later - that I should have booked one-way flights instead of round trips so I would be in A status months ago, instead of seat B 54 tomorrow. Bottom line - if you're a business/frequent flyer - you are better off paying more for good customer service, and not being treated like a farm animal by Southwest Airlines.

I was traveling with my friend and I was her traveling companion, since she needed a wheelchair. I was very nervous about the whole thing. I had never checked in by myself. When we arrived in Milwaukee, we were treated with respect. A young man came to us and got us all checked in and we were soon on our way. He got us to the family restroom and waited patiently until we were through. He then took us right to our flight. It was a huge blessing for me and my friend, too! Someone met us in Atlanta and again took us to the next terminal. On our way back home, we were helped in the same manner. I definitely recommend Southwest Airlines!

From purchasing ticket online and using an electronic ticket to boarding, the process was expedient. The plane was clean and seat comfortable. Friendly customer service throughout travel experience.
How do I know I can trust these reviews about Southwest Airlines?
762,011 reviews on ConsumerAffairs are verified.
We require contact information to ensure our reviewers are real.
We use intelligent software that helps us maintain the integrity of reviews.
Our moderators read all reviews to verify quality and helpfulness.
For more information about reviews on ConsumerAffairs.com please visit our FAQ.

Been flying with Southwest for several years on the California coast leg, only once had a notable problem with awaiting plane arrival (mechanical problems). Other trips, if late, were not that far off the mark. Best trip of all was on either Memorial or Veterans Day, on a night flight that was sparsely seated. The flight attendant announced her thanks for all service people on board and sang them a song - she had a beautiful voice and it was a moving tribute to those who risk their lives for our country. Will never forget that experience.

We recently flew Southwest for a short Disney vacation in Southern CA. The flight was fine but the steward and stewardess on our return flight home were awful! As we boarded the plane and attempted to find an empty row to sit in, we came upon the male and female employees chatting it up - one blocking an entire row on the lefthand side of the plane and one blocking the row on the right side of the plane. I attempted to say "excuse me," thinking either of them might move so passengers could utilize this row of seats, but they refused. Passengers were inconvenienced as we headed for the back of the plane. When all seats in the back were filled, this rude duo made their way to the front of the plane. The last to board ended up with the better seats. Very rude behavior -- and they were not any more polite in serving a courtesy beverage either.

It was very easy and very enjoyable. Flights were on time and crew was polite and helpful. Tickets were easy to purchase and were very reasonable. Check in was smooth also. All in all it was a wonderful experience. I would definitely fly with Southwest Airlines again.

On 4/29/17, flight 4866 from LA to Phoenix, Arizona we were delayed departing by about 45 minutes. This was due to incoming flight being late. We were asked to return our tray table to the upright position before we got our drink order. We were in row 7!! Once we got it we were told to drink it quickly and get our tray up. We had to "chug a lug" it. Not enjoyable. When I commented to the attendant that I was surprised that SW would even charge us since we were 45 minutes late in leaving. She said "Thank you" with a Cheshire Cat smile. Why wouldn't they just say they could not serve drinks due to the short flight (55 minutes). We have been on several other SW flights that were late departing by just a short amount of time and they apologized and no charge for the drinks. Who makes these decisions?
My husband and I are very disappointed In the rude response of the flight attendant. Being told to hurry up and drink it was not a comment that should ever be spoken by a flight attendant as a representative of SW. If there isn't time to enjoy the drink, the customer should be given the choice of denying it or accepting it. One thing that contributed to the delay of us receiving our order was the flight attendant had to return to the galley 3 times before she could get the orders filled correctly and that was before she got to row 5! Thank you for listening to our concerns.

The entire experience was great with Southwest Airlines. Purchasing tickets was easy to do online, boarding process was easy, and the customer service was great. Friendly staff. I enjoyed and will definitely fly Southwest Airlines again. They have and always will be my first choice when flying.

If this company really wants to provide a service, they should train their employees better. It should not be giving good customer service as an option.

They are efficient and professional. They exceed my expectations for travel! I acquire points with a SouthWest Visa card and my husband flies free as my "companion" everywhere I fly. Yes = FREE. Such a deal!!!

We've traveled Southwest numerous times. The flight attendants are very helpful and snacks are the same as on other airlines. We pay the extra fee so that we can check in online 24 hours prior to our flight, which usually lets us be in the first 50 passengers to board the plane. They do not have assigned seats so it is worth it to us and we can have a better selection of seats. One disadvantage to this airline is that all seats on the plane are the same - narrow with limited legroom. When we were on a 3 hour flight recently, I had the bad fortune of sitting in a middle seat and was extremely uncomfortable the entire flight. I will not make that mistake again!

I've been a member of the Rapid Rewards program for over 15-years. I've had great service. My only complaint was the gate agents in Ft. Lauderdale and the luggage handlers.

On April 23rd my S.W. flight was cancelled. (Air traffic control was the reason given.) I was not offered re accommodation to my destination. I was offered another flight to a different airport the next day. I was not offered compensation for an extra overnight stay. There were many other airlines flying into my destination that day so the airport was functional. I ended up rebooking on another airline with very little notice at hefty price, I contacted S.W. requesting reimbursement for the extra flight I had to purchase as they did not offer me a means to return within a reasonable amount of time or to the same location. The response was, "Since the matter was beyond our control we do not offer to reimburse."
While the cancellation was beyond their control the matter of re-accommodating me was not, I firmly believe they could have helped me find a way to my original destination on the same day. Because they did not take care of their part I am confident that they can and should cover the cost of my additional flight. This type of service, or lack thereof is appalling. In the past I have found Southwest to be an upstanding business, I am sorely disappointed and will share my experience with as many others as possible. Should they choose to cover my cost I will amend my review.

As I am a cardiac patient, sometimes I just not up to flying that day, (I have 15 stents in my heart) and I have never had a problem changing my flight. Never have to pay for checked luggage, too hard for me to cart though the airport. Plane leaves on time over 90% of the time. If it leaves a little late, they seem to make up in the air, and I've flown with them well over 100 times. The prices are always fair. I am a happy customer.

I explained I have 2 flights currently booked on Southwest. I needed to change the return flight on the June flight. By mistake, I changed the return scheduled for this coming week. I had to pay $100.00 extra for 1 ticket and an additional 7700 miles for the 2nd one. I realized the mistake within 5 hrs and called immediately to change back. The original agent was unwilling to accommodate me at all. I ask that the $ be put into my Southwest account and the miles back into the account. Impossible she said. I immediately contacted customer relations. The agent Mariam ** has no interest in helping me. Again saying nothing she can do. As we all know anything can be done. I was not asking for any money returned to me, and I also believe miles cost the airline nothing in the big picture.
I am a very loyal customer and expected more. Mariam's comment to me was they have taken my feedback to heart and hope for smoother sailing in the future. Are you kidding me? I fly this airline at least 8 times/year, and at times have paid full fares to Nashville ($1400.. no bargain)... and this is what I get? No consideration at all. Terrible, terrible, terrible. I accept it was my initial mistake, but caught within 5 hours and not days. Help could have and should have been given. Very Disappointed.

Southwest is a good airline. Their rates are good. The snacks are okay. I do think on longer flights they could have a little something filling. Overall, we have been pleased.

Southwest was a lower cost airline at one time but now seems to be on par with all of the others. The main problem that I have had with Southwest is their animal policy. I am very allergic to dogs and cats and on my last two flights with them, it was a nightmare. One young lady (early 20s?) was sitting in the very front seat and had a full sized golden retriever type of dog that laid in the aisle for the entire trip - there is no reason that a large dog like this needs to be in the cabin. On the other flight, one from Oakland to Chicago, someone behind me put their dog in a carrier under my seat. I guess the dog could not hold its bowels on takeoff and I had to put up with that awful smell all the way to Chicago. That was two years ago and I have not flown on Southwest since.

I travel with Southwest often. Last week, much of the East coast was shut down due to inclement weather. My flight was only from Phoenix, AZ to Ontario, California. Others were stranded in the airport because their flights had been rerouted or cancelled all together. The Southwest representative at the gate check in kept her cool, and tried to accommodate all of the many angry passengers. If ever I am in a similar situation, I hope it is with Southwest. They seemed to really care about getting their passengers to where they needed to get to no matter the situation.

The flight was on time with comfortable seats. The stewards and stewardesses were courteous and pleasant. I do wish the price from Philadelphia to Houston was a little cheaper when staying for 2 weeks though.

As a long time Southwest customer, I trusted Southwest. Then this week, I booked a four season hotel on Southwest.com. Big mistaken. They switched to Booking.com which is overpricing. Their culture is pretty bad. Will never book hotels on Southwest.

WARNING! When buying gifts, be warned that Southwest will only accept TWO gift cards for your flight!! This is nowhere advertised, you only find this out when you book your flight. This is so wrong for their customers. My son wanted to take a trip but could not afford it. Weekly I purchased a $25 gift card to help him out, but when he attempted to pay for the flight... they would only take two gift cards or $50. So much for gift cards being like money!!! Southwest is the only company I've ever heard of treating their customers so poorly!

Made a reservation for my granddaughter to return home on 04/08/2017. The rep charged me twice and now may account is charged double. Southwest has taken their sweet time to answer my calls. I am very upset and Southwest is taking this lightly. My account has yet to be reimbursed.

My son flew from Providence to Baltimore to Pittsburgh. After hours of delays he arrived at Pittsburgh airport, only to find his bag torn apart and the clothes lying out of it and on the conveyor. The clothes were destroyed - shredded, actually - and Southwest gave him an incident number and told him they'd get in touch within 30 days! That's all! Oh, wait! They offered him a voucher for future flights!!! I called six days later and was told by Stephanie there was nothing they could do and nobody I can talk to until somebody reviews his case!

While booking three tickets for my family on the Southwest Airlines website, I selected flights and fares that I wanted. The fares were $430 round trip each. (It should be noted that I was an A-List Preferred passenger on SWA for years, so I was not new to this.) I clicked next to go to the payment page only to learn that Southwest doesn't have a payment method that allows for a passengers to use both Southwest Airlines points and credit card payment. You would think that this would be possible? At any rate, I end up going to book the first ticket using points. No problem. However, when I returned to book the other two tickets using credit card payment, the fares were no longer available. What! I was in the process of paying for a rate that they published to me, and right in the middle of the process, they changed the fare?? HOW IS THIS NOT AT WORST FRAUD, AND AT BEST A DECEPTIVE PRICING PRACTICE?
Suggestion to SWA management: When a guest is checking out, his purchase price should be guaranteed. A customer commits to a purchase based on a price. Your system should commit those seats at the price you published, until a reasonable time has elapsed for the check out process to be completed. To not do so, is self serving and reeks of greed and deception.

Southwest used to have amazing customer service and care about their customers. No more. This has been declining for a while now, and today was the straw that broke the camel's back. Am officially done with them. We were headed on vacation to Ft Lauderdale today. They overbooked the flight by 30 people. Because of my husband's boarding position, he was not able to get on the plane and was one of the 30 people 'kicked off'. They had, however, confirmed with us prior that he would make the cut. This was also after us waiting on a 2 hour delay for this plane. No seats available for a few days to get out, so we cancelled. Had to battle just to get this flight refunded (for which we couldn't even travel on). When they refunded it, they acted like we should be grateful for that. Travel voucher was also provided, but this is useless. I no longer want to deal with the headache anymore that is traveling Southwest. Will take my money elsewhere.

Last April I purchased a ticket to Florida for my nephew's wedding. Three days before the flight I had a stroke. I was in the hospital for weeks and off of work for four months. At the time my sister called and canceled the reservation and I had a year to use the ticket. I didn't even remember I had a ticket until two months ago. I couldn't transfer ticket and health reasons was not going to fly. I called and they told me what I needed for a refund. I sent them confirmation of cancellation and paperwork from doctor regarding stroke and continued health concerns. Just received response saying they will not refund me. I am telling everyone I know how they treat people and if I do have to fly it won't be with them.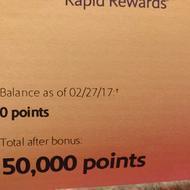 I called on February 21, 2017 regarding my points. As of this day I have accumulated 4,617 points, due to my traveling with Southwest. However I have called regarding this matter, some person stated that have took my points because I haven't travel with Southwest over a year. This should not be the reason, why southwest took my points away.
Customer service stated when I do my next trip I would get my points back, however I have booked another trip and I have not receive anything but some mail stated that my points is 0. Someone need to explain this situation. On March 21, 2017, I went online to pull my itinerary up and my point balance is still saying 0. I need someone to explain to me how I'm building points and lose them from February to March and didn't use it? No free drinks ticket, no explanation, no customer service.

I checked my laptop into my luggage as I was traveling with my granddaughter and the laptop was an older hp - very heavy. I was flying from Minneapolis to San Diego. Somewhere along the way, my laptop was stolen from my luggage, along with the chord. The first thing SW says when you call them is, "I'm sorry - we are not responsible for stolen electronics". I just told them I wanted to do a lost and found report... just in case. Their air of indifference to their customers is disgusting. It's as if they expect their employees to steal your items.

Erika ArmstrongAirlines Contributing Editor
From the front desk of a busy FBO to the captain's seat of a commercial airliner, Erika Armstrong has experienced everything aviation has to offer. She is the author of A CHICK IN THE COCKPIT and her aviation articles can be found at Consumer Affairs, Plane & Pilot, Flying.com, Disciples of Flight, NYC Aviation, Contrails, Mentor, General Aviation News and Business Insider. More about Erika→

After incorporating in 1967, Southwest Airlines did not start taking passengers until 1971 after a long battle through the court system. Today, Southwest is the largest budget passenger airline in the U.S., launching more than 3,800 flights per day on peak travel days.
Discount pricing: Southwest is best known for its low-price philosophy and offers very competitive prices on flights throughout the U.S.
Cargo flights: Southwest combines passenger flights with cargo to offer fast shipping when needed, with top-tier options guaranteeing delivery on the next flight out.
Budget corporate travel: Businesses that do more than $100,000 in travel per year can build a customized travel program.
Bags fly free: Southwest offers every passenger two free checked bags that weigh fewer than 50 pounds.
Package discounts: When booking airfare and ground transportation through the Southwest website, access to exclusive discounts are available.
Best for Vacationers, business travelers, holiday travelers and frequent fliers.
Southwest Airlines Company Profile
Company Name:

Southwest Airlines

Year Founded:

1967

Address:

2702 Love Field Dr.

City:

Dallas

State/Province:

TX

Postal Code:

75235

Country:

United States

Website:

http://www.southwest.com/