Consumer Complaints and Reviews

Booked a segmented flight first week in October for a round trip from Cleveland to Milwaukee with a stop in Baltimore for January 2017. Great - I can pick up my dad and we can fly non-stop to Milwaukee together. Then Southwest changes my flight and routes me through St. Louis and getting into Milwaukee 7 hours later than the original flight. They changed the BWI to Milwaukee flight which then had my dad going to Minneapolis and then to Milwaukee arriving 5 hours later. So - that didn't work. I need to fly with my dad. They CHARGED me $75.00 for me to change my flight to fly to BWI first. It was their change and I got charged. This is the third time where I don't like the underlining rules of Southwest. I have one more outstanding flight and I am canceling my Rapid Rewards and never flying with them again.

Rapid Rewards points were removed from account within an hour of attempting to make a purchase. Customer Service unwilling to assist with the issue. I went to complete a reservation for a one-way ticket from Chicago to Las Vegas that was $74 or 4,010 points on October 13th. My account was showing that I had 4,793 points to be used towards a new reservation. I was at the point in checkout to input my credit card for the charge of $5.60 but did not have my credit card on me. I went to complete the reservation a few hours later and had 0 points in my Rapid Rewards account. I called customer service on October 14th and was told by multiple CS reps that they were unable to assist me with this issue as the points had expired in August. I was very confused as to why I was able to see the points and use them towards a reservation if they had expired and asked for an explanation and resolution. None was given.
The first rep I spoke with, Charlotte, told me that I was mistaken when I was checking out and that the points were never there. Then I spoke with her supervisor, Marissa, who explained that the section of customer service I had reached was unable to make any exceptions and to call 1-855-234-4654 and hit option #5. Once I called this number, I spoke with Wes. Wes explained that nothing could be done and he "didn't know what they thought he would be able to do anything." He told me that there are zero people working at Southwest that are able to make an exception and add the points back to my account.
He would not be able to have the tech team look into it and explain what happened for me and that he believed that I would have received an error message anyway if I had completed the reservation in the first place. While I understand that points have expiration dates and that it would be difficult to see what I was seeing on my screen 24 hours prior to a phone call, I do not believe the treatment I received was deserved. To not be willing to look into this issue or provide some sort of resolution is unacceptable.

I will never fly with Southwest Airlines again. I purchased flights for a cruise but found out that I was pregnant and canceled my trip. I was under the impression that as long as I booked another flight before the credits expired I would be fine. Tried to book a flight the day the credits expired and was told that I would actually have to travel before the credits expired but was also told by the representative that I could contact customer relations and they could extend the credits for 6 months. When I contacted customer service they said that they could not do anything to help me and that even if they did extend the credits that $100 would be taken off of the amount of the credits that my credit amount would not qualify. Even though I was unable to travel due to being pregnant and just having a baby they still didn't care and lost my money. I am very disappointed and will never use this airline again. I hope this shady airline goes out of business!

I am just wondering what is Southwest's issue? I had my SECOND flight canceled for today into FL and now, to be honest, I don't trust that I can even take my THIRD flight that has been scheduled for tomorrow. My original flight was to Orlando but was canceled for, why exactly? If an 80 year old grandmother can tell me that everything is fine there, and other airlines are flying in, then there's no reason why I should have to continue to book different flights into the state. ALSO, because I needed to get back to FL today, I had to ask to switch destinations, hoping it would help. THAT anxiety-stricken phone call was enough for anyone to ever deal with.
This company wanted $400 extra dollars to do such a thing. Luckily, I didn't have to pay that fee because I absolutely refused to pay any more into this airline and THANK GOD I didn't because THAT flight was canceled. Why? I don't know because yet another person in Jacksonville said it was fine and all other airlines (other than Southwest) are flying into that airport today. As I called to rebook my flight for the third time, I was told the Orlando airport was opening back up tonight (Saturday), but customers had been moved to those flights already and were filled.
As a customer who was ORIGINALLY supposed to fly into Orlando in the first place, I should have been called and asked if I would be able to take a flight once the Orlando airport opened up. This is the ONLY company canceling flights into FL right now. I don't know if it is because you guys are trying to soak every penny out of people for trying to rebook flights, but it this is getting out of hand and TRULY has made a lasting impression on which airline I will NEVER fly again. Also, I will be posting on social media, as well as speak to family and friends, recommending they never fly this airline either.

Purchased a ticket for my son to come home from college for Christmas, but he ended up driving home because of an emergency. I tried to use the ticket funds for another ticket but was told they EXPIRE and they will deduct $100 if he wants to use them at a later date. In the past I have been able to reuse the ticket with NO penalty. I also asked if I could apply this to a flight I needed to take, they said NO... even though I had paid for the ticket. In the past I had to get an authorization notarized to transfer the funds to another passenger... but NO LONGER. SW Air use to be an "easy to do business with" and kind company. NO LONGER. Today they are NOT flexible, NOT easy to do business with and hateful. They NO LONGER put their customers first or care about their customers.
They were given a new directive and told they can NOT deviate from it. I'm all for companies making money and in the past I would have paid a little more to fly SW since they were the best airline to fly. Goodbye SW, I'm on the hunt for a new company. Hopefully a new "friendly" airline will surface. Watch your customer base decline over the near future with this type of underhanded stealing of customer's money and your lack of customer service. I will miss the old Southwest Airlines. You know how to get in contact with me if you want to make it right... but until then I will post on every social media site so people know the OLD SW Air we use to all love and support is history.
How do I know I can trust these reviews about Southwest Airlines?
611,656 reviews on ConsumerAffairs are verified.
We require contact information to ensure our reviewers are real.
We use intelligent software that helps us maintain the integrity of reviews.
Our moderators read all reviews to verify quality and helpfulness.
For more information about reviews on ConsumerAffairs.com please visit our FAQ.

My wife called me from Minnesota, which is several hours away from where we live, telling me that because southwest had double booked her flight. Even though she was there on time for her flight, she had to wait until the other guy got there who had the same seat number because he apparently gets first dibs on the seat even though he wasn't there. She was told she had to wait until 530 pm a whole 12 hours by herself as her two work friends, she went up there with, got to go home. I am very upset this has happened to her. The stress she had to go through "WHILE PREGNANT I MIGHT ADD" IS VERY CONCERNING. Even though she got to go home because the guy never showed up I recommend Southwest should change their policy for double booked flights and fix it fast. She had to go through unnecessary stress and tears because she thought she was going to be stuck there by herself.

We were just in time for our flight and it is the first time traveling domestically through an airport where the staff doesn't guide you through the process of checking in bags. I have no problem with that, except we are just in time and we have no time to figure these things out. I have seen in the past the flight attendants or staff unstick the little sticker at the end of the long sticker and paste it in the bag, so I did that. And waited for my turn in line in order to turn our bags in. The lady behind the counter got out of the counter when it was our turn and went straight behind us to help the gentleman that was behind us in the line. I didn't understand why she skipped us but I was trying to wait; we were just in time.
Some other lady came from the back of the counter and my sister asked her if she could help us. The lady got out of the counter and walked towards my sister who was right behind me and told her to read the label. My sister was clueless and there was a small print behind the label. We were running out of time and started sticking things like we thought it was. My sister was having a hard time with the sticker as it is the first time doing it. We were unsure whether we were supposed to keep a part of the label or not, we asked again and the lady came back and impatiently said "I can't believe you don't know". She took the label and also got very closed and spoke close to her face in a very intimidating manner.
The lady scolded my sister in front of everyone and kept repeating every time we were trying to speak "Read the label", "read the label". At that time we desperately needed help not to miss our flight and she was sassing around and scolding us. I could not take it anymore. The attitude was almost making me cry! We needed help and she decided to emphasize how wrong it is to be late and how we are supposed to read the instructions. We asked for help because we are late. She kept repeating "that's why you are supposed to be on time, 2 hours early". I know I am late and I feel horrible for it, no need to scold.
I, my sister and my two kids stood in there taking it. It was like talking to us was insulting to her. I became very upset after taking it all I stared at her tag to see her name. After that, in a very challenging manner she said "you can take my name if you want". I was not planning on saying anything at the time. I was curious about her name, but her getting closed to me and raising her voice I immediately felt threaten and I said to her, "You are disgusting!" She then told me "oh hell no" and she turned around and dropped the task that she had not yet finished, because instead she was busy scolding, then she went to the other Southwest lady a third person and started screaming like I had just committed a crime. She told the other employee to call someone else. For a moment I thought they would call security on me and I felt like a criminal. The supervisor of this lady (the third person) refusing to help or even talk to us, she wouldn't even look at me.
We needed help but it was an impossible mission. We are still waiting and want to drop our bags and we had achieved nothing. We were there for about 20 minutes. We were unable to drop our bags. The whole team had turned against us. We had become a criminal gang of a mom with two little kids and her sister.
Are we supposed to take this kind of treatment? Talking so close to people and raising her voice is very humiliating and unappropriated and threatening. We stood there and we didn't know what to do with our bags. We asked a guy that was behind the ladies if he could help. He just made a gesture with his face signaling the ladies. Like there is no other way. We had to wait for some other supervisor to come, some security guard, or someone who seemed like one had already showed up too. I only remember his name (Alex) he helped us take the bags. Missed the flight by 2 minutes.
The Southwest team of ladies teamed up on us very horribly. The ladies had a really bad disposition and very abusive. Unfortunately we lost! As customers, we missed our flight, at the same time we had a very sour moment. This ladies realized they had the power to help and it is up to them. We need something from them and they know it. They can make you suffer or they can facilitate the travel. What they did was abusive and should be illegal! The way they act provokes customers and if the customer reacts to their treatment the customer loses. Southwest ladies at the front desk in DCA might be good at something, but they sure are not safe with people.

They don't let you use the restrooms. Basically if you are lucky they will turn off the seatbelt sign to be able to move, then they don't want you waiting for it, and last they just kick you out in a very ruthless way because the pilots are going to use the bathroom after you are waiting for it for a while. What is wrong with customer service, and kind... where is the ATTENDANT PART OF THEIR TITTLE "FLIGHT ATTENDANTS". Doesn't say RUDE, HUGLY OR MEAN anywhere in their job description.

I am travelling to Austin on Southwest. For ease of convenience I booked the hotel and car on their website as well. Unfortunately the event I was going for moved to a different location and I needed to change my hotel. Note that I made this booking in Sep 2016 and I am supposed to fly in Dec 2016. I was shocked to learn from the hotel and Southwest that I could not change my hotel without forfeiting the entire amount of $241 or so. I called the hotel and they informed me that my reservation was made through Orbitz. I called Orbitz and they said it was Southwest and I need to get in touch with them. The hotel though would cancel my reservation if I had made the reservation directly with them, as their rules allow cancellation before 72 hours of arrival.
Southwest has no direct contact with hotels and is actually making these reservations through Orbitz. In the process it restricts cancellation, though it gives notices on its website which may or may not be read by the passenger. This is misleading because the passenger believes that there is an advantage in booking the hotel, car and the air ticket together. There is actually a disadvantage - which misleads passengers.
Southwest provides booking all three aspects of travel on their website but as far as hotels are concerned Southwest provides a disadvantage to its passengers for cancellation. This is a sharp practice of pretending to offer a service but actually behind the scenes subcontracting it to others to the disadvantage of the passengers. There is no monetary benefit or negligible monetary benefits by booking through Southwest. Southwest should cease this practice as it is disadvantaging its passengers when they can obtain the same services from hotels directly on much better terms that hotels generally provide.

I booked a flight and must have encountered a technical glitch, as I never received a confirmation email or even a courtesy email indicating that my flight was taking off. I asked to be reimbursed but Southwest refused to even give me so much as a credit, despite my proof that they had never emailed me. When I spoke to their Customer Service agents, they told me it was my responsibility to make sure my email was working - even though I use Gmail and have never had email issues with any other companies.

Do NOT buy points from the Southwest site! The points are sold through a 3rd party company and they will charge you a hefty fee (I learned this the hard way). I needed some more points for two tickets (I had enough points for one ticket). During the reservation process a window popped up and asked if I wanted to buy points to complete the reservation. Thinking that the cost of buying the points would be the same as if I had paid cash for the second ticket I clicked yes and bought the points. I was charged around $600 for these extra points, which I thought at the time was a bit expensive.
After I completed the reservation I realized that the extra ticket I needed would have cost me only around $400 if I bought the ticket with cash. Instead I paid $600 for points for the exact same ticket. When I contacted Southwest to complain about this deceptive sales practice (no mention of a fee was given prior to buying the extra points) and to request a refund, a customer service rep laughed a bit and said, "Poor baby, we don't give refunds. You'll have to contact Customer Relations." She then told me that the points are sold through a 3rd party company and that they do not control the transaction fee the company charges (what a dismissive attitude that SW customer service rep exhibited!).
I've reached out to SW Customer Relations several times but they are doing nothing about my problem. It is not that I waited for a few days before I contacted them about what had happened. I reached out to them immediately after the initial reservation was made when I realized what had just happened to me. Customer service at Southwest is nonexistent. Well, no more. I'm done with Southwest. They herd you like cattle onto their planes and they treat you like cattle when you ask for help or submit a complaint. Southwest, shame on you!

I woke up this morning with an e-mail stating that my reservation had been canceled, but I did not cancel it! Contacted Southwest and they took care of it... for an additional $200. They said they did not cancel it, so I must have canceled it. Their lack of security cost me money, and I have no assurance that it won't happen again when I wake up tomorrow. As a customer who had "companion fare" a couple years ago, and currently spending over $5000/year with Southwest... that is an expensive $200! Goodbye Southwest.

I encountered the most disturbing flight attendant by the name of Jaime. She asked me if I was aggravated with her for telling me that there was a man in front of me, in line for the lavatory. I replied "No. I know this man." She told me I gave her a dirty look, which when I then denied, she responded by saying, "It must just be your face!" I asked her what does it matter if I had given her a dirty look, and that it is sometimes better to just not say anything. Jaime then said, "Yes, I agree, Yes, I agree, I agree 100%, sweetheart!" in a very menacing way, but using the exaggerated smiling face. I shook my head in disbelief, she then mocked me by shaking her head with the strange smiling face! She later came to me and said, "You are talking about me!" I replied, "Please just leave me alone."
She then came by and said, "Jaime, my name is Jaime!" I said, "Oh my gosh, please just go, leave me alone!" We then moved seats, explaining to the other attendant why we needed to move. Jaime shot up to the front, and I was taken off of the flight to talk with a supervisor, who then told me, "She was probable just being friendly." I replied, "There is a pilot back there, ask him, and if he thinks she was being friendly then I am crazy." I told the supervisor, "I just want her to stay away from me and go on the plane to go home!" Very frightening, as who knows what this attendant could have made up and maybe had me removed from the flight! I will not be flying those with those friendly skies again! BEWARE!

I incurred an unscheduled 2.5 day delay earlier this summer thanks to Southwest Airlines. When I finally got my reimbursement check and they SHORTED me nearly half of my out-of-pocket expenses, expenses incurred while following THEIR DIRECTIONS all along. I documented $889.21 in costs and they cut me a check for $494.63, less the refund of the original ticket price of $379.98 which they would have had to reimburse me for anyway since they weren't able to fly any planes! So, as a loyal "A-List" customer flying heavily for going on nine years I've been lied to and ripped off by a company that I'd come to respect and really did like doing business with.
Not only did they delay me for those many days claiming a "technical outage" (partially true), they lied right to my face while doing so since I personally saw - and filmed - the picketers at Love Field in Dallas. It wasn't only a technical issue, it was an embarrassing labor relations issue that they're still working diligently to hush up. Since then I've been repeatedly delayed, lied to continually with their BS company line, and never able to talk to a supervisor (who are conveniently never available no matter what)...and now they took nearly $400 out my pocket. Do yourself a favor and AVOID SOUTHWEST AIRLINES.

I recently received an email offer regarding a double points offer. Upon trying to enroll I was denied. According to Southwest, after several hours on the phone and multiple emails, that this was sent in error and I could not enroll. When I asked why I was told that Southwest has the right to rescind offers when they wish and that regardless of the offer and my eligibility I would not be able to enroll and that if I did not stop pursuing this matter my current account would be cancelled. All points earned to now would be forfeited and I would no longer be able to travel on Southwest airlines. In my opinion this seems rather harsh as I was attempting to register for a promotion for which I was offered. In closing beware when dealing with Southwest as they become rather Draconian when issues are pushed or questions asked regarding their policies.

I booked a ticket in the amount of $319.96 in April of 2016 for a vacation in Oct '16 using a $50 credit that was originally from Oct 2015. Unfortunately I had to cancel the reservation for this Oct. When I logged on to verify my travel credit I saw that the entire amount ($319.96) expired in Oct '16. When I called customer service they said that when you use a credit from a prior reservation the expiration date is one year from the original date of booking. The remaining $269.96 would also expire at that time instead of the April date. This is an extremely confusing way of issuing credit & the agent told me it happens VERY often. This used to be a great airline to deal with. Not so much anymore!

During a delayed layover in Florida our baggage was left in the pouring rain without a cover. When we arrived home and began to unpack we realized our clothes were soaking wet - everything. Things in our two suitcases were ruined. We stayed up to 4am in the morning washing and drying clothes to prevent further damage. Expensive shoes and suits are now ruined. Southwest has the WORST customer service! We called customer relations and got the same no care attitude. They offered a $100.00 voucher on the next ticket purchase which does not cover the damage and inconvenience. It would have taken the baggage handlers a few minutes to cover the suitcases to prevent the damage. We travel frequently to Florida for business. WILL NOT USE SOUTHWEST AGAIN DUE TO THE WAY THIS WAS HANDLED.

Had a horrible experience on Southwest airlines on my family vacation. I wrote them a letter telling them about the experience and never even responded to me about my dissatisfaction. What can I do about that. That alone is ridiculous.

On September 5, 2016 we noticed that our rapid reward miles were not accruing properly. Upon being transferred here and there, we finally called 800-792-0001 and talked to Esther about 8:24 PM CDT. She transferred my wife and I to Leanardo ** in San Antonio Texas. When asked why we didn't get the 50,000 miles they promised us he told me that my wife had enrolled for the card through the wrong portal and we would only be getting 25,000 even though we paid as much as everyone else for this card. When I told him that I had kept the promotion for receiving 50,000 miles that was sent along with our credit cards, and yet he refused to honor the 50,000 offer. I don't know if was the inequality, the unhonored offer, the wasted time on the phone, or just the unmistakable understanding from Leonardo ** that he couldn't have cared less.

Several hour delay and a nerve-wracking experience with a gate attendee with an attitude that was out of control. On Saturday September 3, 2016, I boarded a S.W. Flight 3621 connecting in Denver S.W. flight 3718 with a final destination of Fort Lauderdale, Florida. Flight 3621 in Seattle was delayed 3 hours as we Sat on the airplane due to a problem with paperwork and a computer plane lockout. Contacted customer service via telephone and was told that I would probably be booked on the 2:00 p.m. flight.
Upon arrival in Denver asked the S.W. agent what gate the flight was boarded at and he said gate 44. I went directly to the gate. Margo, the gate attendee was unaware of my circumstance and did not have me booked on the direct flight to Florida but instead on another flight departing later and routed through Houston, Texas. The Florida flight was now full. I was discontent and expressed my disagreement. There was no raised voice, no abusive language, I had not been drinking. I walked away from the counter for 2 seconds and returned saying "This cannot be so, that S.W. wants to add another stop. I won't arrive in Florida until late this evening."
Margo became angry and said "You're not going to talk to me this way and if you don't stop I won't service you." I said "I have just got off a 6-hour flight that should have been 2 hours." She said "I am notating your account." I said "You are threatening me?" She then said she was calling security. I asked for a supervisor and she demanded that I move aside.
When the supervisor arrived Margo, told him that she was not servicing me because I was rude. The supervisor asked me what happened but was supportive of Margo, stating that she had every right to notate the account if there is an incident. I said what incident. Because Margo perceives that I am rude, is not an incident. And if Margo has rights so do I. Now she will have to contend with a formal complaint against her refusal to serve myself. I asked for a boarding pass on the flight that Margo could not book me on because it was full. He said that it was Labor Day weekend and the flights are full. I said this is not my concern. If southwest weren't trying to maximize their profits by limiting routes and flights then they would have some wiggle room.
He took my boarding pass and went to the computer. When he discovered the reality of my circumstance and the delay myself and 150 other passengers had been through he became apologetic. He also had a cancellation and gave me a boarding pass. A second passenger from my flight approached the counter and explained her position and Margo Said "stand over there, we're working on it" No ma'am, no please. There was another cancellation and the second passenger was given a boarding pass.
The connecting flight was delayed 40 minutes as well because of fueling issues. And then delayed another 30 minutes because of weather. Margo, shame on you... Southwest, wake up and hold your gate attendees responsible for unprofessional behavior. Thank you to the supervisor that was helpful and did the right thing. You got a hug.

Extremely unsatisfied with the customer service. We tried to use our Rapid Reward points (11,600) and was told that they expired 1 week ago because no flight had been taken in 2 years however the last time we flew was actually only 9 months ago. We were told that we did not pay for that flight but used our Rewards points from our Southwest Rewards credit card from Chase. (Apparently, these are different rewards points) so it did not count and we lost all of our points. Also, the agent was holding our reservation for an upcoming flight while we contacted customer service (5 different people) about this dispute. In the meantime, the cost went up and additional amount. Southwest would not honor the lower price either. I would advise any college student attending school in the Pacific Northwest to use Alaska Airlines instead!

On Wednesday August 24th 2016 my mother took her very first flight ever from Rochester New York to Atlanta Georgia. When she received her luggage the suitcase was badly damaged, some articles placed in plastic bags, some shoes destroyed, and clothes get dirty. She was given a new suitcase and a $50 voucher to cover her damage. I don't feel that the $50 voucher was sufficient for the shoes that were damaged and having to rewash clothing so needless to say our first flight ended up on a negative note.

I had gone on vacation with my daughter to Orlando FL May 28th thru June 2nd, 2016. You definitely get what you pay for. I had to pay an additional cost to be sure that my daughter and I could sit together on the flight. They totally ruined my BRAND NEW LUGGAGE that I purchased for my vacation. I have pictures to prove it. Upon returning home to Cleveland OH, I had gone to their customer service area. They wanted to tell me what I could do to clean the luggage but it was a hazard that everyone takes and that is why people buy black luggage. Just poor customer service. I will not travel Southwest again unless I take a carry on where I handle my own luggage.

During a long and delayed layover in Dallas our baggage was left in the elements. When we arrived at our hotel and began to unpack we realized our clothes were soaking wet - everything. It was our 40th anniversary trip. We raced back to the airport and received a passive aggressive attitude instead of help. "Doesn't your hotel have a dryer?" Things in our suitcases were ruined. Now we are in a position where we have to collect receipts and dry cleaning - on our vacation! Southwest has the WORST customer service! We called customer relations and got the same no care attitude. Hey Southwest, thanks for ruining our trip, giving bad service. Oh yeah, how about replacing your lame in flight jokes with actual customer care?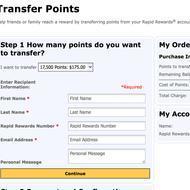 My girlfriend uses Southwest Rapid Rewards Chase Credit Card for a while. She bought me several flights recently using her rapid rewards points. I just recently applied the same credit card. Thus, I decided to transfer 35,000 rapid points to her as payback. When using Southwest Transfer Points website, I only got not clear and ambiguous instructions for transferring the points. First, in the Step 1 box, you could see the info ''I want to transfer 35,000 Points: $350.00''. To me, this means 35k points is equal to $350. I DIDN'T get any very straightforward information saying that $350 is the transfer fee here. Second, the right side "My Order" box gives you the Purchase Information: where you could get the following information: Points to transfer 35,000 points. Remaining Balance ** points. Cost of Points: $350.00 USD. Total Charge: $350.00 USD.
Again, when you see "Cost of points: $350", it verifies me again that 35,000 points is equivalent to cost $350. At the last "Total Charge: $350", which tells me that I would be charged for $350 in total for the transaction, which is the 35,000 rapid points in total. For the whole transferring process, you won't see any clear instructions that you will be charged for any transfer fee. All the information on the transferring website try to mislead you to believe that you won't be charged for transfer fee, but only for rapid rewards points(35,000), which equals to amount of money($350). But the truth is that, I was charged for 35,000 points and $350 in total, which is not matching the website saying "Total Charge: $350.00 USD" either!
After I finished the transaction, I realized their cheating "tricks". I called them to ask to cancel my transaction, refund or anything they could do for my lost. But they keep saying there is nothing they can do for now! The only thing they could do is to document the complaint about their transferring points website to improve it. I googled online about the transferring points complaints from Southwest and found that there are many other persons having the same cases from long time ago. If they did have improved their website and gave us very clear information about the transfer fee, I wouldn't transfer it! I can't agree more with the person saying that "THIS IS A SCAM!"

It is around a year and a half back that we (3 adults and a 2 year old) needed to go to Chicago as my mother in law was on her dead bed and we missed our early morning flight but they were very helpful and put us on the next available flight from Charleston to Baltimore. I don't remember the person who attended us. Another person named Vibhua ** managed to put us on a flight from Baltimore to Chicago. We reached and saw my mother in law. Am really thankful to the person I don't remember her name and to Vibhua ** for all their help that day.

I have not flown Southwest yet, my issue is with the group reservations. I have 22 customers that I had to go on flight but 2 couples (4 people) had to cancel due to an emergency. The flight is not until 08/19/16. I tried to cancel & they said no refunds. Now as group reservations should know things can change quickly especially when dealing with a number of people. So I should have been able to cancel up to 24 hr before the flight as a common courtesy. I am deeply disappointed that this is how Southwest conducts business. We are now out over $340.00 per ticket or approximately $1,360 that Southwest has now gotten for free, no services provided. If I would have known I would have made reservations with a more flexible airline. We for sure will never make group reservation with Southwest again & we book this event every year.

We were one of the thousands affected by Southwest's fiasco at the end of July, when flights were canceled for several days as a result of computer difficulties. The way the airline handled it for us, as for so many others, was more troubling than the initial problem. My wife was left at the airport all day before being told near midnight that she would not be able to board a flight. In fact, she was only able to reach her destination 60 hours (!!) after she was originally booked to arrive. This for an Oklahoma-Newark direct flight.
And she was compensated with a voucher for a future SWA flight that certainly did not cover the inconvenience of 60 hour delay, not to mention her having to make alternative arrangements to stay an extra 3 nights, her missing a family funeral and visit with family from abroad and from the other side of the country, and a 6 day trip shortened to 3 days. The customer service by Southwest was simply atrocious. Would highly advise against flying this airline, even when they offer the lowest rates. It's simply not worth the hassle.

Five months ago my fiance and I were approached in the Baltimore Washington airport by a sales representative for Chase Credit Card Services and Southwest Rapid Rewards. We were told that if we each opened a credit card account for $99 each we would each receive 50000 points and then we could transfer the points to one account and receive a companion pass. A companion pass allows one person of the couple to fly free. Now that we each have more than 50000 points on our accounts, we attempted to merge the points only to find out that transferred points do not count toward the companion pass and it will cost $10 for every 1000 points we want to transfer, bringing that grand total to a whopping $500. THIS IS A SCAM!!! After hours on the phone with Chase and Southwest Customer Service representatives and their supervisors, we are being told that there is nothing we can do now.

My fiance and I were one of the many affected by their glitch in their system a couple weeks ago that cancelled thousands of flights worldwide. I completely understand that things happen, but it's how they handled the situation that has me so angry. The glitch happened on July 20th and our flight (#2155) was leaving July 21 so when we heard this news the night before we double checked and our flight still said on time. We get to the airport, and see how insanely long the Southwest line is and then a couple minutes later our phone rang and it was them telling us that our flight was cancelled so they didn't even notify us until we were already there and in line. We then waited in that line for 3 hours because they only had 2 employees working. I'm sorry but if you have a major glitch in your system you should have all hands on deck and be ready for what you know is coming.
We finally get up to the desk and the employee we dealt with was extremely rude and unapologetic. She told us that she could not get us to our destination until 2.5 days later which was completely unacceptable since we already had tickets and activities booked. We needed to get out to Vegas that day. I then asked her if she could assist us in getting a flight with a different airline and she said no, that they do not help with other airlines. Now if you have a massive line of people that you know are dealing with cancelled flights, should you not have an employee going out to the line notifying people that you do not assist with getting flights with different airlines?! That would have been nice to know 3 hours sooner when there would have been more flight options still available.
By the time all of this happened there was only 1 flight option left with Delta and because it was such a last minute flight across the US it costs us $600 a person for one way. That is more than we paid for both of our original roundtrip airfare combined but again we did not have a choice because there were no other options left by that point. We also had to deal with a layover in JFK which our original flights were nonstop. With all this chaos and layovers and delays our travel time ended up being 21 hours. We lost pretty much our entire first day of our trip and also had to pay that $1200 for the last minute flight.
It is now August 8 (This all happened on July 21) and we have yet to be refunded for our cancelled flight. So I called their customer support line today because I also emailed a complaint 2 weeks ago and have never heard back. After spending 2 hours on the phone with them today nothing has been resolved. They claim that everything is delayed from that glitch and that we should be getting our refund soon, and they are doing nothing to make up for that $1,200 we had to spend because of their mistake. The only thing I was offered was a 50% off coupon which is pretty useless considering we won't be going on another trip anytime soon. I requested to have 2 roundtrip free flights to make up for this and he said he could not do that only the 50% coupon.
I don't understand how you can't offer customers free airfare to make up for this especially when it costs us so much unexpected money. When I explained what a terrible experience this has been and how it was the worst customer service I've ever dealt with his response was "Well Delta just had an outage too so it happens to other airlines too." Well let's hope that Delta actually cares about their customers and handles their outage better than you.

Erika ArmstrongAirlines Contributing Editor
From the front desk of a busy FBO to the captain's seat of a commercial airliner, Erika Armstrong has experienced everything aviation has to offer. She is the author of A CHICK IN THE COCKPIT and her aviation articles can be found at Consumer Affairs, Plane & Pilot, Flying.com, Disciples of Flight, NYC Aviation, Contrails, Mentor, General Aviation News and Business Insider. More about Erika→

After incorporating in 1967, Southwest Airlines did not start taking passengers until 1971 after a long battle through the court system. Today, Southwest is the largest budget passenger airline in the U.S., launching more than 3,800 flights per day on peak travel days.
Discount pricing: Southwest is best known for its low-price philosophy and offers very competitive prices on flights throughout the U.S.
Cargo flights: Southwest combines passenger flights with cargo to offer fast shipping when needed, with top-tier options guaranteeing delivery on the next flight out.
Budget corporate travel: Businesses that do more than $100,000 in travel per year can build a customized travel program.
Bags fly free: Southwest offers every passenger two free checked bags that weigh fewer than 50 pounds.
Package discounts: When booking airfare and ground transportation through the Southwest website, access to exclusive discounts are available.
Best for Vacationers, business travelers, holiday travelers and frequent fliers.
Southwest Airlines Company Profile
Company Name:

Southwest Airlines

Year Founded:

1967

Address:

2702 Love Field Dr.

City:

Dallas

State/Province:

TX

Postal Code:

75235

Country:

United States

Website:

http://www.southwest.com/