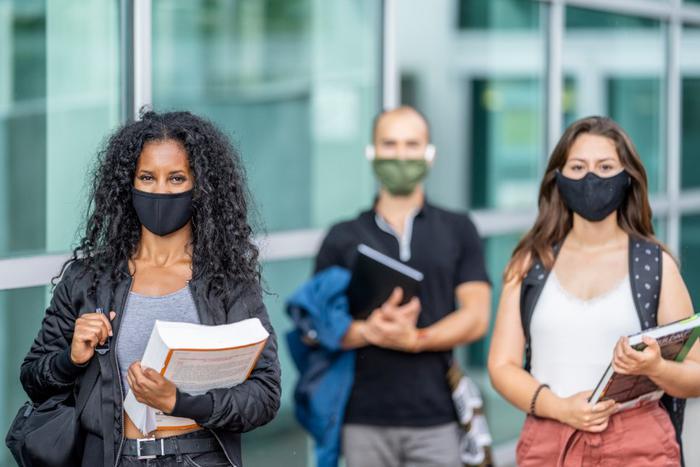 Researchers estimate that the reopening of colleges and universities led to around 3,200 more COVID-19 cases a day in the U.S. than there likely would have been if these institutions had not reopened for in-person classes. 
The Wall Street Journal cites a new study conducted by researchers at the University of North Carolina at Greensboro, Indiana University, the University of Washington, and Davidson College which suggests that there is a link between the return of students and a significant increase in case numbers. 
The report is set to be published online Tuesday on the preprint server medRxiv. 
"We're not saying it was a terrible mistake to open," Ana Bento, an assistant professor of infectious diseases at Indiana University and co-author of the study, told the Wall Street Journal. "Just that the influx of individuals, which was much greater where there is face-to-face [instruction], is correlated with a larger increase in cases."
Rise in cases
The researchers said their estimate of 3,200 extra cases a day could potentially be influenced by other trends that weren't accounted for in the study, like the fact that more tests were being conducted in counties where students had returned to campus. 
However, those cases "likely would have shown up quickly, and then at least plateaued if not declined after," the WSJ noted. The increases in cases came about two weeks after in-person classes picked back up at colleges and universities, and the numbers have continued to increase ever since.
Spikes in cases have prompted some schools to shift to remote learning. The University of Notre Dame in Indiana said Thursday that 304 students tested positive for COVID-19. The school announced Tuesday that it will have undergraduates switch to remote learning for the next two weeks. 
"The objective of these temporary restrictions is to contain the spread of the virus so that we can get back to in person instruction," said Notre Dame President Rev. John I. Jenkins.
North Carolina State University has also decided to have undergraduates switch to online classes, with school officials saying that parties led to clusters of cases. 
Perfect student behavior isn't realistic
Since the resumption of in-person classes, the number of COVID-19 cases among students, faculty, and staff at U.S. colleges and universities has risen to more than 40,000, according to a CNN tally released earlier this month. 
Experts contend that the outbreaks are primarily caused by poor planning on the part of colleges. Telling college students to refrain from socializing isn't enough to prevent outbreaks, Julia Marcus, an infectious disease epidemiologist at the Harvard Medical School, told CNN in a recent interview. 
"Any public health plan that requires radical changes in behavior and perfect compliance is doomed to fail," Marcus said. "And that's exactly what's happening."