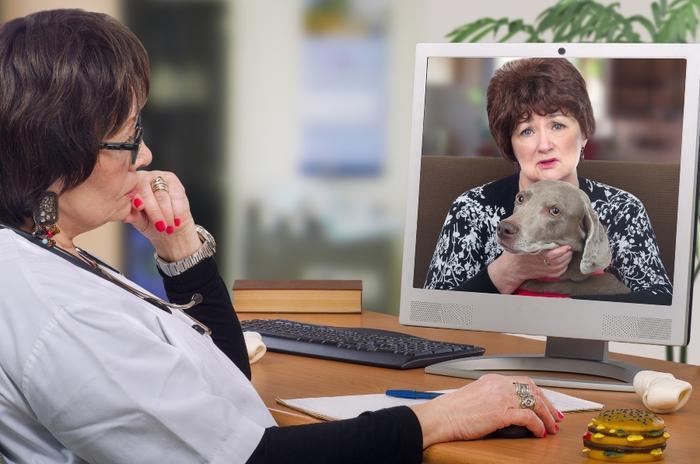 As coughs and rising body temperatures push nervous Americans to telemed services at a groundbreaking pace during the COVID-19 pandemic, the U.S. Food and Drug Administration (FDA) is pushing for telemedicine initiatives to take care of animal health needs, as well.
The agency says that it wants veterinarians to embrace telemedicine so that they can virtually take care of both pets and other animals during this time of crisis.
"The FDA recognizes the vital role veterinarians play in protecting public health. This pandemic has had impacts on many of our everyday lives and professions, and during this time, we need to provide veterinarians with the latitude to expand the use of telemedicine in the care of animals, not only pets but also the animals that produce our food," said FDA Commissioner Stephen M. Hahn, M.D. 
"The FDA is providing flexibility that will help veterinarians maintain the health of animals during the pandemic, while allowing for the social distancing that is so important in limiting the further spread of coronavirus disease across the country and the world."
The living room becomes the exam room
To address the FDA's call for help, ConsumerAffairs discovered that a new service called TeleVet has emerged. 
TeleVet allows veterinarians to make diagnoses from inside their clinic, and pet owners can mitigate their pet's anxiousness from the comfort of their home. The functionality seems pretty straightforward.
"TeleVet is a platform that connects pet parents to their vet through familiar channels such as texts, phone, and video calls to help veterinary practices provide care, conserve time and generate revenue on their terms while maintaining a healthy work-life balance and a thriving practice," Steven Carter, TeleVet's CEO and founder told ConsumerAffairs. "This is even more critical given the current pandemic and needs for staff and client safety."
The TeleVet service is something a vet or clinic would have to subscribe to in order to employ it in their practice, but the app is free and available on both the Apple's App Store and Google Play for pet owners.
Telemedicine -- an absolute necessity during the pandemic
What do vets say about providing virtual care? ConsumerAffairs asked Amy Garrou, DVM, DABVP, at Houston's Memorial 610 Hospital for Animals for her professional experience.
"We started using TeleVet about 6 months ago, primarily for post-operative surgical consults and follow-up evaluations on existing conditions. This allowed our doctors, our staff, and our clients to get comfortable using the service and the mobile app," Garrou said. 
Garrou said that the ability to use telemedicine consultations as more and more people elect to stay home and limit their contact with others has been an added advantage. 
"Our clients really appreciate the continuity of care that this service provides. While not all visits can be handled remotely, we can at least triage the problem via the app and determine if an in-clinic appointment is needed," she said. 
"While telemedicine is absolutely necessary during this pandemic, we see this as an extension of our practice that will continue beyond this global health event, as it provides an efficient level of service to our clients and extends our ability to care for more patients, more often, without the need for a larger hospital footprint."