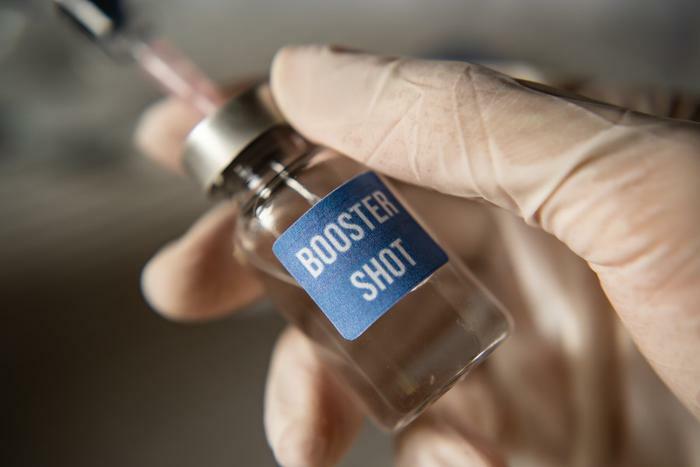 With the Delta variant spreading, Pfizer says it's speeding up efforts to develop a booster dose for its coronavirus vaccine. However, some health officials are unsure if this summer is the right time to ask those who were vaccinated early on to get a booster shot. 
Pfizer said Thursday that a decline in the vaccine's effectiveness was recently reported in Israel, primarily among people who had been vaccinated in January or February. The drugmaker has yet to release the Israeli data but promised that it would be published soon. 
"It's a small data set, but I think the trend is accurate: Six months out, given that Delta is the most contagious variant we have seen, it can cause infections and mild disease," said Pfizer's chief scientific officer, Mikael Dolsten. 
"The Pfizer vaccine is highly active against the Delta variant," Dolsten told Reuters. However, after six months, he said that there was a higher chance of reinfection as antibodies became less effective. 
Pfizer said it intends to publish data about a third dose of its vaccine and submit it to the U.S. Food and Drug Administration, European Medicines Agency, and other regulators. The company said it would seek emergency use authorization from the FDA to make booster doses available to the public in August. 
Health officials don't agree
Just a few hours after Pfizer published its statement, the FDA and the Centers for Disease Control and Prevention (CDC) issued a joint statement saying that booster shots aren't necessary for Americans yet. The agencies added that companies don't have the authority to decide when booster shots are needed. 
"Americans who have been fully vaccinated do not need a booster shot at this time," the FDA and CDC said. "We continue to review any new data as it becomes available and will keep the public informed. We are prepared for booster doses if and when the science demonstrates that they are needed." 
Americans who are fully vaccinated are "protected from severe disease and death, including from the variants currently circulating in the country such as Delta," the statement continued.
"FDA, CDC, and NIH (the National Institutes of Health) are engaged in a science-based, rigorous process to consider whether or when a booster might be necessary. This process takes into account laboratory data, clinical trial data, and cohort data -- which can include data from specific pharmaceutical companies, but does not rely on those data exclusively," the agencies added.