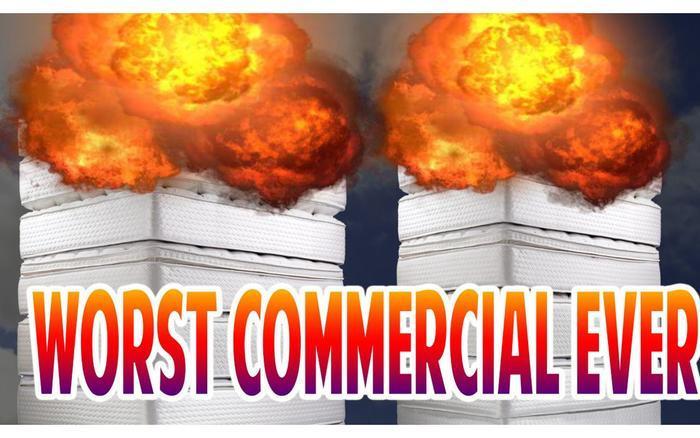 "What better way to remember 9/11 than with a Twin Tower sale?!" the spokeswoman yells at the camera. "Right now, you can get any sized mattress for a twin price!"
Two male employees standing behind her inquire about the cost of Queen and King-sized mattresses. "Twin price!" the spokeswoman says.
"Aaah!" the men respond. They topple back into two towers of mattresses stacked behind them, and the spokeswoman screams as the "Twin Towers" made from mattresses collapse. "We will never forget," she says. San Antonio-based mattress store Miracle Mattress learned too late that there are much, much better ways to remember 9/11 than with a mattress sale.
The old model of hawking bedding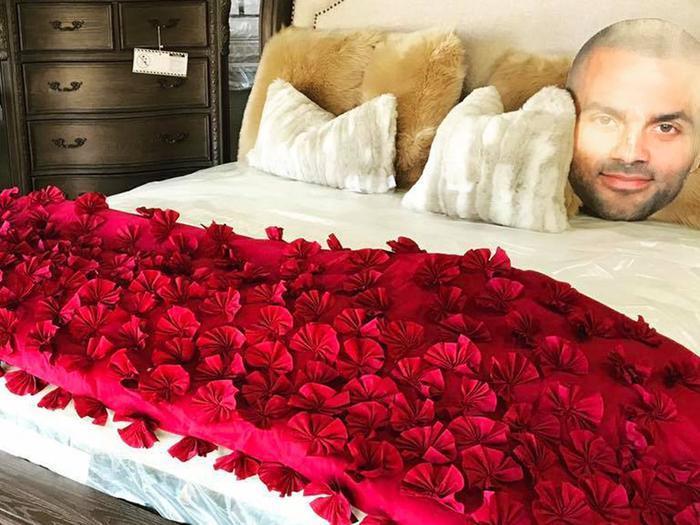 Cheaply-shot commercials featuring puns, questionably funny slapstick humor and a spokesperson yelling about deals are a hallmark of the mattress and mattress store business, an industry not typically known for its subtlety or artful ads. But even this mattress ad was too much for the world to stomach. 
Miracle Mattress, facing intense national backlash for its Twin Tower sale and advertising campaign, apologized shortly after the commercial aired, said they took full responsibility for their offensive advertisement, announced that they would "close indefinitely," and then announced seven days later that they were re-opening and begged the public for forgiveness once again.
While time and forgetfulness may have repaired that mattress store's public relations snafu, the more existential damage had already been done. A new group of mattress companies is using stylish advertising campaigns, promises of better manufacturing and the allure of inexplicably small delivery boxes to attract younger, newer customers.
This new crop of mattress companies are often described as "disruptors" of the traditional mattress industry, language adopted from Silicon Valley parlance. These start-ups "have leveraged consumer frustrations concerning confusing product information, high prices, and pushy salespeople," the market research firm Freedonia Focus Reports wrote last year.  "While still relatively small players, these start-ups have undergone sharp growth in the last few years."
The so-called mattress disruptors vary in pricing, but they tend to be cheaper than traditional industry players and advertise the appeal of having one's mattress arriving in a small box. "The bed-in-a-box model has particularly  resonated with younger consumers, who have been the driving force behind the trend," the firm adds.
Tempur-Pedic memory foam vs. new competition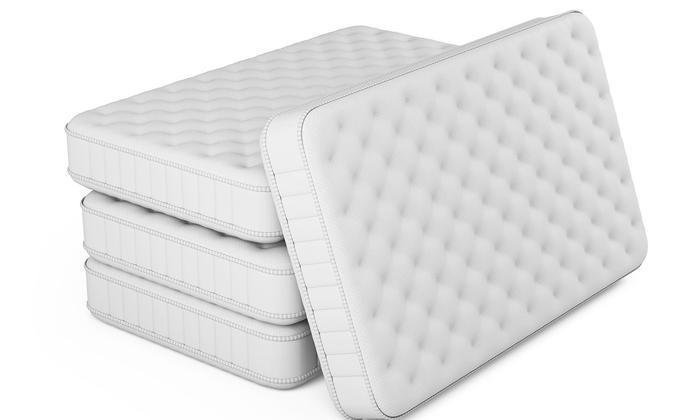 Customers typically have to wait for their mattress to arrive via shipping, even when they visit a traditional department store or mattress store.  People who order a Tempur-Pedic mattress, for instance, or the popular memory foam mattress produced by industry leader Tempur Sealy International, can expect to wait about 10 to 14 days for delivery drivers to show up and assemble their package, a process that the company describes as "White Glove" delivery service.
Once the heavy, luxuriously-priced package (Tempur-Pedic beds range from $1,100 for a twin to $8,600 for a high-end King) is assembled, comfortable sleep should begin, in theory. In practice, some customers have said it became immediately evident that the new bed in their home is not the bed they sampled in the store. This bed, they discover, has an unusual odor. Even the company itself has admitted that customers may need to wait a few days for the smell to go away, a process referred to as off-gassing.
"The noxious and toxic fumes from the mattress caused respiratory distress for me, respiratory distress for my husband," one customer complained of her Tempur-Pedic mattress. "The off gassing is so bad it seeped into everything in my bedroom," said another.
"I had a severe allergic reaction to my new Tempur-pedic mattress and ended up in the hospital," said yet another. Those complaints are all described in an ongoing class-action lawsuit originally filed against Tempur Sealy International over its Tempur-Pedic mattresses in 2013. According to the complaint, the characteristic odor some people notice on their new memory foam mattress is a byproduct -- volatile organic compounds -- that are apparently used in the production of memory foam mattresses. Included in the toxic bath of chemicals used to make the memory foam is formaldehyde, a known human carcinogen, according to the suit.
"Formaldehyde is not a raw ingredient in our proprietary Tempur® material," says an unsigned email from Tempur's investor relations office to ConsumerAffairs. "Like many consumer products used and worn by consumers every day, trace amounts of formaldehyde may be detected occasionally that, in some instances, result from the manufacturing and/or shipping process. If formaldehyde is detected around or near these products, the amounts detected are well below any that would bring about safety concerns."
Concerns about the toxic soup of ingredients used to produce memory foam aren't unique to Tempur-Pedic. In fact, an industry-led program called CentiPUR-US was created out of concerns that many mattress companies weren't using best practices when producing memory foam. The CentiPUR-US program promises to grant its certification to any mattress that is not produced with formaldehyde, flame retardants, heavy metals, ozone depletors and phlathalates. To gain the certification, the mattress must also have "low" volatile organic compound emissions, with "low" being characterized as less than .5 parts per million.
Tempur-Pedic mattresses, however, do not have that CentiPUR certification, and the investor relations team did not return a subsequent email asking why that is. "For those who notice an odor, they usually find that it dissipates in a week or so," the brand reportedly told CBS several years ago, otherwise dismissing similar concerns about chemicals in memory foam mattresses raised by that news report. 
Beds in boxes arrive
A Johnson City, Tennessee, company called Bed-in-a-Box LLC is identified by industry trade publication Bed Times Magazine as the pioneer in a growing, boxed bed market, though even the company's CEO reportedly said he got his idea after seeing roll-packed mattresses delivered from China.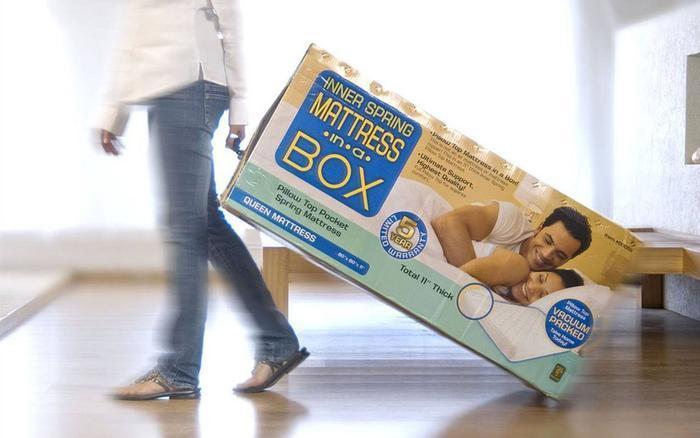 The mattresses, which landed on the market in 2006, are compressed in the company's Tennessee factories so that they fit in a box small enough to be shipped by a carrier such as UPS or FedEx. Bed-in-a-Box will then deliver these boxes to customers directly from the web — taking the furniture store out of the picture and likely explaining why boxed mattresses run cheaper. 
Once the box arrives, customers are instructed to drag the small if heavy package to the bedroom, remove the mattress and let it slowly expand in its new home as it is exposed to fresh air. No "white glove' service is required.
Like Tempur-Pedic, Bed-in-a-Box brand beds are made out of memory foam. Unlike Tempur-Pedic, Bed-in-a-Box touts that they are CentPUR-US certified.
In the last several years, a string of similar online mattress makers promising simple delivery, responsible manufacturing and small boxes have followed the Bed-in-a-Box lead. "Beginning in 2015, a ballooning number of vendors introduced beds that ship compressed, folded and rolled," Bed Times reported last year. "Most boxed beds are packaged to conform to standards set by small-parcel carriers such as UPS and FedEx, and can thus be shipped to the consumer at little cost."
Among the newer bed-in-a-box companies making a trendy, public relations debut is Casper. The company did not return an interview request, but a look at their press and marketing materials shows that the company is clearly going for a different type of audience and marketing strategy then, say, a company like San Antonio's Miracle Mattress, or even the better-known Mattress Firm. 
While other mattress stores have their silly commercials hawking sales and holiday-themed deals, Casper chooses to advertise at venues like South by Southwest, the hip Austin event that began as a music festival and has turned into an advertising bonanzaa catered to the elite in the entertainment and tech world. During the March event, Casper partnered with boutique hotel company Standard Hotels to offer a select amount of rooms at a reduced rate of $99. The rooms themselves, of which only 20 were available each night, were outfitted with Casper mattresses and other Casper-made bedding. And, for people who didn't win the cheap rooms, there were still "refresh rooms" available for free at the festival. These rooms were a Casper-sponsored opportunity for people to take a nap on a Casper mattress, eat milk and cookies, shower and charge their phones for a full 45-minutes. 
"During the event, tech and advertising executives were lauding the e-commerce mattress company for its smart business practices, including clever marketing campaigns and ease of purchase," said a CNBC reporter on the scene. "But mostly, Casper became a status symbol of sorts. People who owned one kept humble-bragging about having it at home." 
Cheaper prices
Casper, which is fawningly described by publications such as Inc as a "disruptor" in the mattresses industry, has become a $100 million company, and its mattresses range from $600 for a Twin to $1,150 for a King, cheaper than traditional store brands like Tempur-Pedic but more costly than other beds-in-a-box that have entered the market. 
Tuft & Needle, another online mattress company that promises a small box and free shipping, caps their king mattresses at $750, advertises their product on a similarly sleek and simple website and has also received glowing attention from the mainstream press. "The company's founders, who preferred to set one price and stick to it, decided their mattresses would never go on sale," says a New York Times quote proudly displayed on the site. 
Bed-in-a-Box, Casper, Tuft & Needle and the growing crowd of other straight-to-customer online mattress companies still only account for 5 percent of the market share, but there are signs that the traditional industry leaders are feeling the competition. As Bloomberg News reported in February, Tempur Sealy this year experienced its first annual sales decline since 2012. And retailer Mattress Firm was a major distributor for Tempur Sealy until the mattress-maker complained that its sales through the store had declined. The two split ways this year. 
Both corporations are clearly both paying attention to the small but growing bed-in-a-box market. "We believe one of the most important factors in the mattress industry right now is improving the selling experience, something that has give rise to [about] 50 online-only bedding players," one analyst recently explained to Market Watch.
Industry leaders make their own beds in boxes
In fact, they are doing more than paying attention. Mattress Firm last year introduced an online-only product called The Dream Bed, which they say is "shipped in our unique pack and roll box, which allows for easy mobility and transport."
And while Tempur-Pedic mattresses don't have that attractive CentiPUR-US certification, guaranteeing more responsible, environmentally safe manufacturing, a different brand produced by the same parent company does.
Cocoon by Sealy is Tempur Sealy's answer to Casper, Tuft & Needle and the estimated 50 other online-only mattress companies. On Cocoon by Sealy's website, featuring a tasteful, modern apartment in the background and positive quotes from the press, consumers learn about Cocoon's hassle-free shipping and the small box that the mattress arrives in. The website may look awfully similar to those of other bed-in-a-box brands, but that doesn't stop Cocoon by Sealy from describing its business as "A NEW WAY TO BUY A MATTRESS'."