Our promise. We provide a buying advantage with verified reviews and unbiased editorial research.
About Casper Mattress Reviews
Casper has multiple mattress options, materials and sleep-inducing features. While Casper's mattresses can be a little more expensive than other companies' mattresses, most Casper customers report sleeping better, waking up more refreshed and feeling more productive during the day. Its website is easy to use, and its customer support team makes ordering a new mattress simple.
Pros & Cons
Pros
Designed for comfort and support
Easy return policy
Free delivery
Bottom Line
Casper mattresses are designed for support and include comfort features like temperature regulation. Mattresses start out very firm and can take up to a month to break in. Customers enjoy a 100-night sleep trial.
Featured Reviews
Verified
New York, NY
Very comfortable for both my wife and myself and we have different mattress tastes. Great price of around $1100 for a king. I had to return something and their return service was ...
Read full review
Verified
Nepean, ON
The mattress is a little more firm than expected but still comfortable. The price exceeds the quality. We paid $1200 including a discount for mattress - no box spring. I think the...
Read full review
Casper mattresses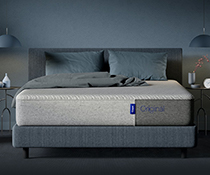 Our top pick for Casper
Casper Mattress
Casper Original
$1,095 (queen) as of publishing date
Made with soft foam around the upper body to comfort shoulders and firmer foam under the hips, waist and lower back to align the spine. Foam is perforated so it stays cool. Each cover is made with recycled bottles. Available in all-foam or hybrid models.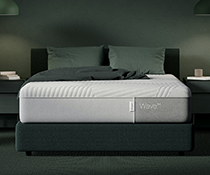 Casper Mattress
Wave Hybrid Mattress
$2,595 (queen) as of publishing date
Design combines supportive foam and springs for added lift. Features include continuous ergonomic zones and three layers of perforated foam with cooling gel to help you sleep cool throughout the night. Ideal for those who want a firm comfort level.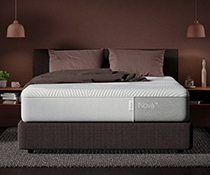 Casper Mattress
Nova Hybrid Mattress
$1,995 (queen) as of publishing date
Combines softer foam around the shoulders with ergonomic support under hips, waist and lower back. Features encased springs, contoured memory foam and pillow-life fabrics. Less firm than the Wave — good for those who prefer a plush comfort level.
What is a Casper mattress?
Casper is a mattress company that sells its products online and through retail partners. The company manufactures its mattresses with layers of latex and foam for balanced support and cooling, and it sells all-foam mattresses and hybrid mattresses that combine the comfort of foam with the flexibility of springs. All Casper models include a 100-night risk-free trial and a 10-year limited warranty.
Casper mattress prices
Casper mattresses cost between $356 and $1,116, depending on the version and size. Financing is available to qualified customers. For those approved for financing, monthly payments start between $32 and $62.
| | Twin | Full | Queen | King |
| --- | --- | --- | --- | --- |
| The Essential | $356 | $481 | $536 | $716 |
| The Casper | $506 | $846 | $931 | $1,101 |
| The Wave | $1,116 | $1,756 | $1,916 | $2,236 |
Casper mattress models
Casper's mattress models — The Essential, The Casper and The Wave — feature cooling technology to help regulate your temperature as you sleep. The Essential is best for those who want a low-cost option that gives softness and support, while The Wave is better for firmness and support.
The Essential: The Essential was designed with stomach, back and side sleepers in mind. It keeps you cool while you sleep and is the most affordable option for those looking to make their first mattress upgrade. The streamlined design is 11 inches tall and offers maximum support with three levels of open-cell foam.
The Casper: The Casper mattress comes in all-foam or hybrid models. It features breathable open-cell foam, four layers of premium foam and zoned support for extra comfort under your shoulders and hips. This mattress is 12 inches in height.
The Wave: The Wave mattress combines superior support, cooling and comfort. The Wave generates maximum airflow to keep you cool while you sleep. It also has a soft top layer, gel pods that offer targeted support throughout and five layers of premium foam. This mattress is 13 inches in height.
Casper mattress FAQ
What kind of mattress is Casper?

Casper offers both all-foam and hybrid mattresses. All-foam mattresses contour to your body, while hybrids use springs and foam to add lift, support and airflow to the mattress.
How much do Casper mattresses cost?

Casper offers three different models, ranging from $356 to $2,236.
Where do I buy a Casper mattress?

Casper partners with retailers in more than 2,000 popular stores across the U.S., including Target and Home Outfitters. You can also purchase a Casper mattress online and have it delivered to your doorstep for free.
Where are Casper mattresses made?

Casper mattresses are made in the U.S.
Do Casper mattresses need a box spring?

Casper mattresses have the foundation you need built right in, so you don't necessarily need a box spring. However, you may want to put the mattress on a box spring or platform so it is not directly on the floor.
How firm is a Casper mattress?

Each Casper mattress is designed with ultimate comfort in mind. The Wave is more firm under your hips and core, while The Essential offers consistent support throughout. A 100-night trial lets you test the firmness so you can find the mattress that works for your sleep style and body type.
What is the best Casper mattress?

The Casper is the most popular design, but The Wave and The Essential have benefits that make them perfect for different types of sleepers. Finding the best mattress depends on your sleep style, budget and the features that are most important to you.
What is Casper's return policy?

Casper provides a no-obligation, 100-night free trial. To return your mattress for any reason, log into your account, print a shipping label, repackage your bed and ship it back at no cost.
Do Casper mattresses come with a warranty?

Yes, Casper mattresses come with a 10-year limited warranty.
Are Casper mattresses good?
Casper is one of the leaders in the mattress industry for a good reason. Not only does it offer comfortable, award-winning mattresses, but the company has also earned a reputation for having a friendly and knowledgeable customer service team. The streamlined design, dynamic comfort features and high-quality materials make Casper a strong option for anyone searching for a new mattress.
ConsumerAffairs has collected 115 reviews and 281 ratings.
A link has directed you to this review. Its location on this page may change next time you visit.
How do I know I can trust these reviews about Casper Mattress?
4,315,640 reviews on ConsumerAffairs are verified.
We require contact information to ensure our reviewers are real.
We use intelligent software that helps us maintain the integrity of reviews.
Our moderators read all reviews to verify quality and helpfulness.
Page 1 Reviews 0 - 10
Reviewed Aug. 8, 2022
VERY COMFORTABLE mattress, 100% recommended, if you want a better quality sleep, buy this product, you won't regret it. If you're a first-time Casper customer, you can get 20% DISCOUNT off a Casper mattress* with this link: ** Hope this helps. :)
Thanks for subscribing.
You have successfully subscribed to our newsletter! Enjoy reading our tips and recommendations.
Reviewed June 8, 2022
The linen sheets were beautiful when they arrived, but were ruined within 2 years of use, and the company offered absolutely no customer service. They even let me know that they removed the product from sale because of concerns, but *still* did nothing to make this right with consumers. They clearly have no faith in the longevity of their own products. Shocked by the lack of faith in their own product, and terrible customer service. They've just proven why customers should shop at big box stores instead of with them.
Reviewed Sept. 17, 2021
I bought Original Hybrid Mattress $1000+, and it came with defective on day 1, it's not flat, and there's a **big** gap on the side. I reflect this to customer support, also with the picture on it deliver date on day 1, no response after a week. Then I made the call, there's a customer support said I received your email, not I need you to prove again, and you have to pat the mattress, you have to rotate the mattress, etc. which is funny. I'm the customer and I bought your mattress for $1000+ which your product is not even flat, and have gaps, and you want me to manually to fix it?? Then you should sell this mattress as a IKEA mattress price. That's really funny. However, I still did those steps, but it's still defective, which I take the photo again to show them it is defected. And then no response afterwards.
So all I could say is not worth it. If you willing to buy an expensive mattress, but is defective, with no customer support with no solution then, Casper it is. And I have all emails to prove what I said.
Reviewed June 26, 2021
Purchased for a guest bed and tried it twice. I love the feel - firm but "cushy." It's like sleeping on a cloud. It was fairly easy to unpack and the price is phenomenal for such a high-quality mattress.
Reviewed June 18, 2021
I heard such great things about Casper and decided to spend an extraordinary amount of money on a mattress for better quality and sleep. Was really excited to get it out of the box particularly since it advertised it was a foam/gel mattress that aligned with your body. I was so horribly wrong. I can't sleep on it - it's so stiff that I get up in the morning with BACK PAINS. When I called they won't take it back or offer anything to you until after you sleep on it for 30 days for your "body to get used to it". Um..no - I'm not going to get "used" to it. I can walk into a mattress store and try out a bed that is comfortable on day 1. NEVER EVER buy a mattress online. I wasn't even given any options on additional support or types of mattresses that would better suit my needs. Just nope - you're out of luck. Suck it up and call back in 30days. UGH! Never again.
Reviewed June 8, 2021
My problem is that the mattress keeps sliding around the foundation. Every time I get off the mattress I need to push it back into place. One time I was reaching for something on my nightstand & I almost fell off. Called Customer Service & the agent I spoke with told me that after conferring with his team, they didn't know what to tell me. Way to stand behind your product!
Reviewed Dec. 22, 2020
I purchased a WAVE mattress and Adjustable Pro Frame with white glove delivery. Secondary to Covid and need to distance, I did not look at the frame until after the delivery people left. Imagine my surprise that they assembled and left a frame with obviously torn fabric in multiple places on the side. I called Casper customer service and then received an email that they would arrange for a new frame to be delivered and assembled and the old defective one would be removed. Six days later two torn boxes with the new frame were delivered via UPS and laid across my garage floor. I called customer service only to be informed that they had NEVER reached out to the delivery service. I've made 2 subsequent calls without any communication back from Casper. The customer service is appalling.
I purchased the WAVE mattress because it was recommended for back support and to be used with the adjustable frame. I wanted to be able to sleep in zero gravity position to decrease my sciatic pain. Unfortunately, the WAVE mattress is too thick and it does not bend with the frame so there is no true zero gravity position with the combination of the WAVE mattress and adjustable pro frame. Overall, I am very disappointed with this very expensive mattress and frame combination. I still awaken with pain each morning. It is perhaps slightly decreased over the pain I experienced with my 30 year old mattress but that's hardly saying much!
Reviewed Dec. 1, 2020
I bought a queen Casper Mattress and everything was fine for the first 6 months until I found a family of mice living in it. I opened it up and took pictures and sent to Casper, their response was normal wear and tear and couldn't be mice, when I explained I could feel them under me, Casper said it was normal wear and tear and refused to send a new mattress...$1,700 down the drain. DO NOT BUY FROM CASPER.
Reviewed Nov. 17, 2020
The service we received for their bed was pathetic for the price we paid. First of all we paid $140 to have our bed disassembled and removed. Guys brought "just" the frame and assembled it in our room. They disassembled our old bed but said they had not been instructed to remove it. So they left it. We contacted Casper and they were able to make an appoint with 1-800 junk to come take it away on Saturday. Our bed was installed Tuesday so we had to find somewhere to store the old bed until then. It gets better, apparently the installers only do the framing because there were no mattresses. Casper told us the mattresses were arriving later via UPS which meant we had to haul them upstairs to the frame. Mattresses are not light at all! If we were an older couple we would have been screwed. So at this moment we have received only one mattress from UPS and it is 6:30pm. Totally unsatisfactory service. We're certainly not recommending this to anyone else.
Reviewed Sept. 21, 2020
I liked my Casper mattress so I referred my daughter who had her mattress delivered to a different name and state. She received the 15% referral discount but I never received the $75 gift card. I followed up several times over 3 months. They finally said it was a "self referral". They said I could return the mattress and reorder and should get the advertised referral savings. That sounds stupid to me and bad business for them.
Casper Mattress Company Information
Company Name:

Casper Mattress

Country:

United States

Website:

casper.com