Our promise. We provide a buying advantage with verified reviews and unbiased editorial research.
About Tuft & Needle
Tuft & Needle mattresses are made of cooling polyfoam, a 7-inch foundation and a plush cover. Cooling gel and heat-wicking graphite keep sleepers cool. Tuft & Needle's prices are affordable compared with other comfort mattresses — its twin mattresses start at $745, and California kings start at $1,395 (as of publishing).
Tuft and Needle mattresses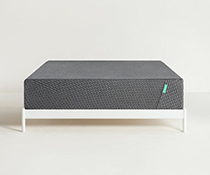 Tuft & Needle
Mint Mattress
$995 (queen) as of publishing date
Designed for those who have trouble staying cool while they sleep. Constructed with two layers of adaptive foam and a graphite-infused top layer to pull away body heat. Ceramic cooling gel beads add cushioned support. Ships in one to five days.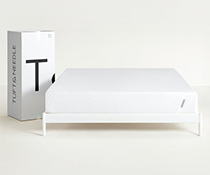 Tuft & Needle
Original mattress
$595 (queen) as of publishing date
Offers a lot of support and versatility for the price. Features two layers of open-cell foam that are infused with graphite and cooling gel. Mattresses can accommodate sleepers of any size or weight and are compatible with almost all bed frames.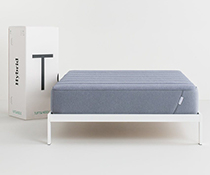 Tuft & Needle
Hybrid Mattress
$1,495 (queen) as of publishing date
Combines adaptive foam with pocketed spring support. Plush pillow top is filled with carbon fiber-infused foam. Built-in air channels help wick away heat and moisture. Springs are made from tempered steel and are individually wrapped. Firm comfort level.
A link has directed you to this review. Its location on this page may change next time you visit.
How do I know I can trust these reviews about Tuft & Needle?
4,247,447 reviews on ConsumerAffairs are verified.
We require contact information to ensure our reviewers are real.
We use intelligent software that helps us maintain the integrity of reviews.
Our moderators read all reviews to verify quality and helpfulness.
Page 1 Reviews 0 - 10
John of Pleasanton, California

Verified Reviewer
Original review: June 26, 2021
Initially the mattress was a little too hard and we were going to send it back but Tuft & Needle sent us a mattress topper that helps a lot - so great customer service. The mattress is wearing very well.
2 people found this review helpful
Thank you, you have successfully subscribed to our newsletter! Enjoy reading our tips and recommendations.
Kirk of Springfield, MO

Verified Reviewer
Original review: May 26, 2021
I've owned my Tuft and Needle king mattress for over 6 years and it is more comfortable than any Tempurpedic mattress out there! The quality and price of this bedding is far superior to any bed-in-a-box.
Be the first one to find this review helpful
Bill of San Antonio, TX

Verified Reviewer
Original review: April 18, 2021
My wife and I needed new mattresses. After years of using a traditional mattress with springs, we were looking for something that would work while saving money. We purchased the basic Tuft and Needle and then the next upgrade for her. (Yes we are both 70 and sleep on different beds.) I felt mine was a little better than what I had used before and but she constantly complained about hers. I felt my "Princess & the Pea" just needed more time for her body to adapt! She went along with my prodding but dropped the issue until AFTER the 100 days had passed.
Yep, my fault. Money has always been so hard to come by so I was determined to plow through with this. As for me, I have had constant back pain issues and they never got better when switching over. The final straw was when I had a guest who slept over and used my bed while I moved to single bed with a traditional mattress that we use for the grandkids. I slept great all night the first time and woke with NO back pain or stiffness. Go figure. BTW, my guest hated the foam.
After 3 years of increasing back issues, we decided to look into new mattresses but not these mail order foam deals. Mattress stores give you the big sales pitch with fluff but so do the mail order ones. After all, they don't want to pay for the overhead of a store where you can actually try these, and I think it's somewhat of a scam as well. DON'T BUY ANY MATTRESS WITHOUT TRYING IT! A third of your life is spent sleeping and you need the best you can for restorative health! This is not something you can scrimp on. We found great ones at Cantwell Mattress 100% cotton and worth checking out if you live in Texas. We are sleeping all through the night and love them. They're great people to deal with. Complete honesty.
4 people found this review helpful
MATTHEW of Decatur, TX

Verified Reviewer Verified Buyer
Original review: Feb. 25, 2021
We actually purchased 2 Twin XLs to serve as our King mattress. Both mattresses arrived quickly and in perfect condition without any annoying off-gassing or smell. My wife has been battling hot flashes and the graphite infusion technology really seemed to work as advertised -- she was very happy not sleeping hot. In fact, she loved the mattress and found it comfortable for back and side sleeping.
Unfortunately, I am a total princess and the pea, and I found the mattress supportive but too firm. It would have probably worked well for me with a 1" or 2" foam topper, but that would have made my wife sleep hot, so we contacted Tuft & Needle customer service after about 40 days into the 100 night trial. No hassle, no fuss, and totally AMAZING customer service team. We received a full refund right away, even for the 2x $50 mattress covers, without any attempts to loophole us in any way. You can trust Tuft & Needle to do the right thing. These guys are amazing!
Be the first one to find this review helpful
Stephen of Rochester, MI

Verified Reviewer
Original review: Nov. 22, 2020
I researched this as I have lower back pain. Reading the reviews I wonder if they're real? My lower back pain not only didn't go away, it got worse. Slept in a spare bedroom bed and no pain. Returned to this one and the pain returned. Feel like I was ripped off.
9 people found this review helpful
A of Phoenix, AZ

Verified Reviewer
Original review: Aug. 6, 2020
This is by far the most comfortable mattress I've ever owned. Was purchased to replace a $5,000 water-filled mattress system. This is more comfortable and so much less hassle to set up, move and maintain.
2 people found this review helpful
Susan of Brownsville, TN

Verified Reviewer
Original review: July 24, 2020
Took away my back issues and I am a much nicer person to be around since I am sleeping better and feeling better. The guarantee is amazing and they stand behind it! Several members of our family has tried our bed out and bought beds of their own from Tuft N Needle. My sister thought hers was too hard so they sent her a free mattress topper and she loves it! My parents like theirs so much that they bought another one for their camper!
Be the first one to find this review helpful
Robert of Herrin, IL

Verified Reviewer
Original review: July 23, 2020
I got an extra long single. It was more like box springs hard than a mattress. I definitely needed a mattress topper, a good 3" one at least. Now I am still using it after 5 years and it survived a move so there is that.
5 people found this review helpful
Leslie of Lawrenceville, GA

Verified Reviewer
Original review: May 8, 2020
We bought the Mint mattress in Queen and it has been great. It's soft but supportive. First we had bought a different more popular mail-order mattress but we're not satisfied that it felt any better than our old box spring. The Mint came at a slightly lower price tag. It was convenient shipping and felt softer but not too soft. I have a spinal problem and have not had noticeable back pain with this mattress.
4 people found this review helpful
Suzy of Pensacola, FL

Verified Reviewer
Original review: May 7, 2020
Mattress sleeps hot, but is very comfortable. Mattress should be sold with a cooling mattress topper and pillows. Shipping was very fast, and ordering was hassle free. Set up was a breeze and was accomplished with no help.
5 people found this review helpful
Tuft & Needle Company Information
Company Name:

Tuft & Needle

Website:

www.tuftandneedle.com