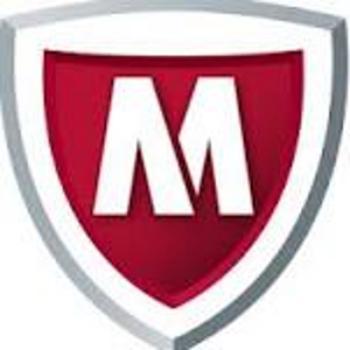 Here's a simple fact that too often gets overlooked: Once you sign up for subscription services, chances are you will find your subscription renewed automatically unless you take steps to prevent it.
Some consumers have trouble with that, particularly with McAfee anti-virus software, which is supposed to protect your computer from viruses and malware.
"I am disappointed in McAfee for auto-renewing my anti-virus subscription," Steven, of Richardson, Texas, wrote in a ConsumerAffairs post. "I did not authorize McAfee to charge me nor did I authorize McAfee to retain my billing information. I will not be doing business with McAfee again and I will instruct my staff to no longer do business with McAfee."
By now Steven and other consumers should realize that anti-virus software vendors – and not just McAfee – default to auto renewal when you set up an account. The companies realize that when the contract expires, there's a very good chance you will decide not to renew.
Beat the system?
Anne, of Gilbert, Ariz., thought she didn't have to worry about an auto-renewal since she got a new debit card from her bank and didn't update  her McAfee account to show the new card number. She figured when McAfee tried to charge her for another year, they would hit a brick road. She was wrong.
"I received an email stating that my debit card had been charged $103 for auto renewal," Anne wrote. "I called and had the charges reversed and cancelled McAfee online. When I asked how they had my new debit card number the customer service rep told me that they had a deal with the bank to send updated card info. Is this sharing of credit card info actually legal and if so then it is definitely not an ethical business practice."
It's legal, though some consumers might debate whether it is ethical. It's called Visa Account Updater, an automated system that Visa says "enables the electronic exchange of updated account information among participating merchants, their Visa Merchant Bank, and Visa card Issuers." So without your being aware of it, your bank will provide your updated account information to a company you have been doing business with so they can continue to charge you. 
How to disable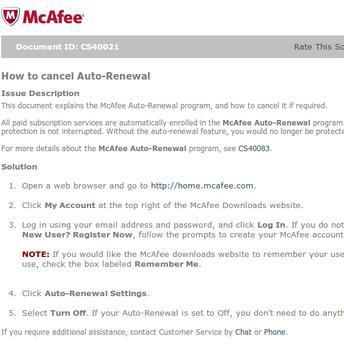 If you want to end your subscription service to McAfee, or any other service for that matter, you are going to have to go onto the company's website and disable the auto-renew. Here's how to do it for McAfee:
Open a web browser and go to http://home.mcafee.com.

Click My Account at the top right of the McAfee Downloads website.

Log in using your email address and password, and click Log In. If you do not have a McAfee account, select New User? Register Now, follow the prompts to create your McAfee account, then click Log In.

Click Auto-Renewal Settings.

Select Turn Off. If your Auto-Renewal is set to Off, you don't need to do anything.
If you require additional assistance, contact Customer Service by chat or phone. Other services likely have similar disabling procedures. To find instructions for the company you're dealing with, Google "how to disable auto renewal for (name of company).
One last thing: You need to disable auto-renew before the subscription renews. The day after is one day too late.