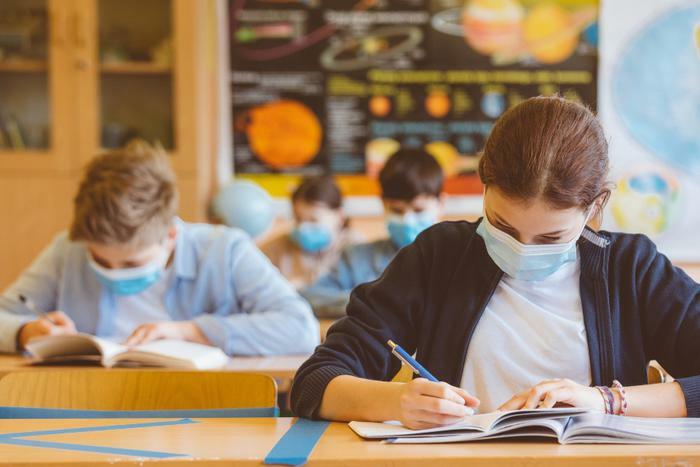 A new study conducted by researchers from Washington University School of Medicine explored the risk of COVID-19 transmission associated with students returning to in-person learning. 
According to their findings, using precautions like wearing face masks and social distancing are likely to be sufficient methods to protect students and teachers from spreading COVID-19 in schools. 
"Schools can operate safely during a pandemic when prevention strategies are followed," said researcher Dr. Jason Newland. "The pilot study demonstrates low transmission in schools and no student-to-teacher transmission -- and this was during the height of the pandemic in December, during high rates of community spread." 
Staying safe in school
For the study, the researchers analyzed data from nearly 60 public schools throughout Missouri. School officials reported any time a student, teacher, or faculty member was either infected with COVID-19 or exposed to the virus, both of which would require a two-week quarantine at home. There were several safety measures at play in the schools, including virtual learning options, an emphasis on hand-washing, rules for wearing masks, social distancing practices, and daily COVID-19 symptom screeners, among others. 
While some students and teachers did test positive for COVID-19 over the course of the study, the virus didn't spread rapidly within the school communities. Less than 40 of the nearly 200 people involved in the study tested positive for COVID-19. The researchers also looked at test results from the more than 100 people who had come into close contact with those who had tested positive, and less than 20 of those individuals later tested positive. 
The researchers determined that the spread of COVID-19 within schools was much lower than the rate of transmission within the general community when schools were taking the proper safety precautions. These findings showed that transmission within the school community can be contained, and in-person learning can be a safe option for students and teachers. 
"Schools with proper prevention strategies remain a safe environment for students and teachers during the pandemic," said researcher Dr. Randall Williams. 
The researchers hope that these findings spark change within schools across the country so that kids have the opportunity to return to in-person school.
"This work is imperative because keeping kids in school provides not only educational enrichment but also social, psychological, and emotional health benefits, particularly for students who rely on school-based services for nutritional, physical, and mental health support," said researcher Johanna S. Salazar, PhD.