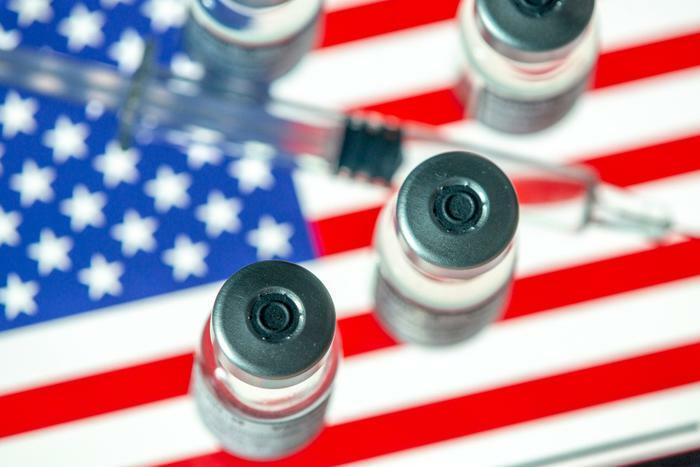 Coronavirus (COVID-19) tally as compiled by Johns Hopkins University. (Previous numbers in parentheses.)
Total U.S. confirmed cases: 32,514,808 (32,477,368)
Total U.S. deaths: 578,524 (577,671)
Total global cases: 154,469,379 (153,676,825)
Total global deaths: 3,230,336 (3,216,016)
Despite slowdown, U.S. vaccination numbers still rising
The rate of vaccinations against the coronavirus (COVID-19) has slowed, but the numbers continue to steadily rise. The Centers for Disease Control and Prevention (CDC) reports that 44.5% of the U.S. population has received at least one shot of vaccine and 32% are fully vaccinated.
Most of the population that's 65 and older -- 82.9% -- have received at least one shot, while 69.8% have completed the vaccination process. Health officials believe that is one reason case counts and deaths have fallen in recent weeks.
President Biden increased his vaccination goal this week, asking that 70% of Americans be at least partially vaccinated by Independence Day. He urged pharmacies administering the shots to open the process to walk-ins, suggesting more people might get vaccinated if they didn't have to make appointments.
Los Angeles County moves to loosen restrictions
Just a day after the three states that are part of the New York City metro announced plans to loosen COVID-19 restrictions, parts of the nation's second-largest metro are taking similar steps.
New cases of the virus threatened to overwhelm Los Angeles hospitals just weeks ago. Now, Los Angeles County is preparing to move into the "yellow tier," the designation with the fewest restrictions. Bars that don't serve food will be able to reopen with more indoor seating.
"This has been a long and difficult journey and we are so heartened to arrive at this latest milestone," the LA County Board of Supervisors said in a joint statement.
You should get that second shot, but…
U.S. health officials are urging Americans to get the second shot of either the Pfizer or Moderna vaccine for maximum protection against COVID-19. But a new South Korean study shows that the first shot is up to 87% effective at preventing infections in people age 60 and older.
The study focused on the Pfizer and AstraZeneca vaccines, both of which are administered in two shots several weeks apart. The study was based on more than 3.5 million people in South Korea and included more than a half-million people who received the first dose of either the Pfizer or AstraZeneca vaccine.
Even so, former U.S. Food and Drug Administration (FDA) Commissioner Dr. Scott Gottlieb said people should get the recommended second shot. While the first shot will provide protection, he said the second dose builds up a longer-lasting immunity.
Study suggests asymptomatic people don't spread the virus
There's more evidence that people who test positive for COVID-19 but don't display symptoms are not a threat to those around them. It reverses previous assumptions that asymptomatic people were very dangerous because no one was aware they were infected.
A study published by the JAMA Network focused on young, healthy male basketball players who remained isolated with fellow players for weeks at a time. The study found that those who tested positive but were asymptomatic did not spread the virus to their teammates.           
"This real-world experiment gives us even more important evidence into how the disease is transmitted," said Francesco Pompei, Ph.D., CEO of Exergen Corporation, which conducted the study. "The idea of transmission without symptoms is largely a fallacy and the only effective way to screen for fever, the number one COVID-19 symptom, is with an accurate thermometer."
No pandemic baby boom
Nearly 14 months ago, when Americans were ordered to stay home and hunker down for a while to "flatten the curve" of the infection, there were plenty of predictions about potential consequences. In nine months or so, the predictions went, hospitals would be packed with newly born pandemic babies. 
It didn't happen. In fact, government statistics show that the U.S. birth rate fell to its lowest point since 1979.
The CDC reports that there were 3,605,201 births in 2020, down from 3,747,540 during the year prior. That's a 4% decline, suggesting that perhaps all that togetherness didn't make the heart grow fonder.
Around the nation
Florida: Gov. Ron DeSantis is getting some pushback from local government officials in his state after he lifted all statewide virus mitigation rules this week. St. Petersburg Mayor Rick Kriseman says DeSantis moved prematurely and should have waited until more people have been vaccinated.

Louisiana: Getting a vaccination is suddenly easier because demand has plunged in recent days. "People are over it and you had people that were not going to do it," Health Educator Dr. Eric Griggs told a Louisiana TV station. "We're finally reaching that threshold, no matter what you say, we still have people that are hesitant and we are dealing with younger populations."

Michigan: After dealing with a surge of cases last month, state officials have lifted mask requirements for outdoor gatherings of fewer than 100 people. The Michigan Department of Health and Human Services credits the pace of vaccinations with getting the state over the hump.