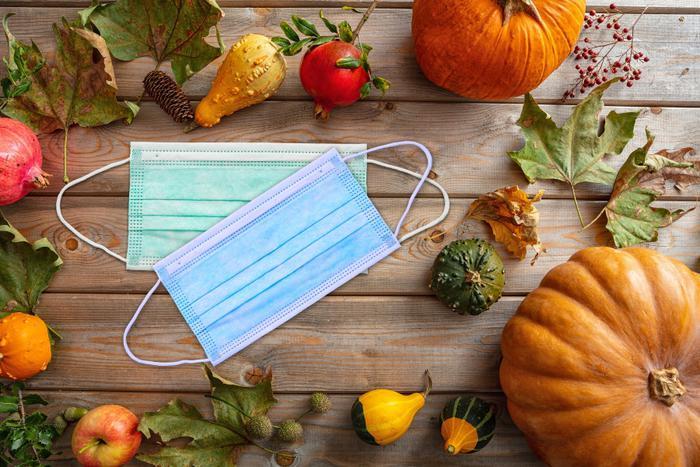 Coronavirus (COVID-19) tally as compiled by Johns Hopkins University. (Previous numbers in parentheses.)
Total U.S. confirmed cases: 12,619,931 (12,433,676)
Total U.S. deaths: 260,322 (258,172)
Total global cases: 59,985,053 (59,401,413)
Total global deaths: 1,413,325 (1,401,106)
States plan strict enforcement of COVID-19 guidelines
Various state and local governments are planning tough enforcement of coronavirus (COVID-19) mitigation guidelines during the Thanksgiving holiday. The crackdown comes as polls show that many Americans are ignoring health officials' pleas not to travel and gather for Thanksgiving celebrations.
Pennsylvania Gov. Tom Wolf reinforced his request to state residents to stay home, warning that Pennsylvania hospitals will run out of intensive care beds if cases continue to rise. Los Angeles Mayor Eric Garcetti took to Twitter to advise people to cancel non-essential travel.
"Travelers arriving at LAX or Van Nuys Airport from another state or country will be required, starting tomorrow, to fill out an online form to acknowledge California's recommended 14-day self-quarantine," Garcetti wrote.
110 million vaccinated by February?
U.S. regulators have yet to approve any of the promising COVID-19 vaccines that have completed clinical trials, but plans are already underway to inoculate Americans. Moncef Slaoui, an Operation Warp Speed advisor, says 110 million people in the U.S. could receive a vaccine by February. 
"The U.S. population as a whole should be covered in terms of vaccine doses available somewhere between the month of May and the month of December" of 2021, Slaoui told "CBS This Morning." 
UPS, meanwhile, says it has stepped up its production of dry ice to keep Pfizer's vaccine at the required ultra-low temperature. Pfizer has applied to the U.S. Food and Drug Administration (FDA) for emergency use authorization (EUA) and expects to receive it within days.
Some employers will require workers to be vaccinated
Now that as many as three promising vaccines appear to be headed to market within weeks, debate has occurred among some people about whether or not to take the vaccine. NPR reports that a growing number of employers are saying it won't be an option -- if you aren't inoculated you aren't coming to work.
"I'm not going to open until I can indeed be sure that everyone on my staff is vaccinated," Holly Smith, owner of Cafe Juanita in Kirkland, Wash., told NPR. "The immediate people on the team — you've got to take care of them. If you don't take care of them, they cannot help you take care of business."
Lawyers say a legal precedent is firmly in place. The U.S. Occupational Safety and Health Administration (OSHA) has ruled that employers can require workers to get a flu shot.
Unemployment continues to creep higher
The Labor Department reports that first-time claims for unemployment benefits last week totaled 778,000, an increase of 30,000 from the previous week. Claims have risen in each of the last three weeks, suggesting a weakening in the labor market caused by the pandemic.
There was one bit of good news, however. Continuing claims -- covering people who have collected unemployment benefits for at least two weeks -- fell by nearly 300,000.
FDA approves new antibody test
The FDA has given its approval to yet another antibody test, but this one is a little different. Most tests measure antibodies to determine whether someone has had the virus in the past.
The new test, the COVID-SeroKlir test, measures how many antibodies are in your system and how well they provide immunity against COVID-19. 
Scientists say the new test can help doctors better understand how the immune system counters the virus, and it may help explain why some immune systems are more effective than others. 
Around the nation
South Carolina: Most of the colleges in the state will not be bringing students back to campus after the Thanksgiving break. Clemson University, the University of South Carolina, Charleston Southern University, the College of Charleston, and the Citadel will finish out the semester online.

Vermont: Gov. Phil Scott says that students and their parents will be asked next week if they attended gatherings outside their households on Thanksgiving . Those who did will be asked to quarantine, the governor's office said.

Arizona: Gov. Doug Ducey says a COVID-19 vaccine may be in Arizona before the end of the year. "We've enrolled hundreds of providers who are ready to administer the vaccine, and we expect doses on the ground in mid to late December," he said.