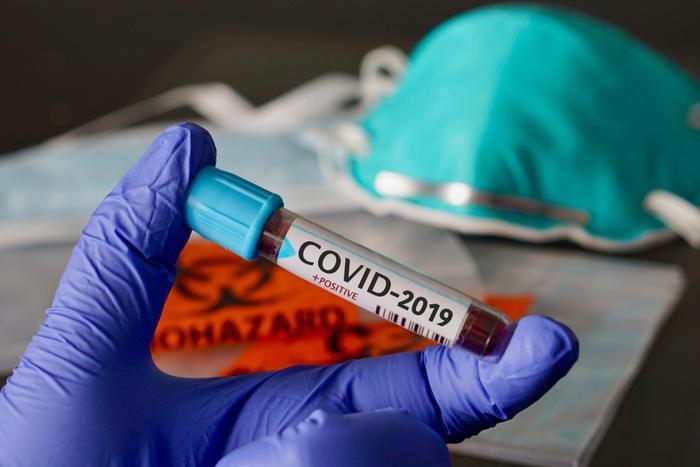 Coronavirus (COVID-19) tally as compiled by Johns Hopkins University. (Previous numbers in parentheses.)
Total U.S. confirmed cases: 401,166 (378,289)
Total U.S. deaths: 1,2936 (11,830)
Total global cases: 1,450,343  (1,381,014)
Total global deaths: 83,568 (78,269)
Doubling down on social distancing
New York City Mayor Bill de Blasio says New Yorkers need to "double down" on social distancing to prevent cases of the coronavirus (COVID-19) from occurring at a faster rate.
The mayor did have some good news at today's briefing. He said coronavirus hospitalizations are leveling off. But keeping up the social distance protocol, he said, is necessary to keep that trend on track.
"We know we're not out of the woods -- it's too early," de Blasio said. He stuck to previous forecasts that predicted half the city's population could get the virus.
Dr. Anthony Fauci, the director of the National Institute of Allergy and Infectious Diseases (NIAD), has a similar message. He told Fox News that new cases nationwide appear to be reaching a peak, but he also said it's not time to let up on mitigation measures that have proved effective.
More money for small business
The Small Business Administration (SBA) loan/grant program was so popular out of the gate this week that many participating banks were overwhelmed. In Congress, House Speaker Nancy Pelosi (D-Calif) and Senate Minority Leader Chuck Schumer (D-N.Y.) are proposing giving small businesses access to more money.
The original loan amount, under the CARES Act, is $350 billion, but the two Democrats say more is needed. Congressional Democrats are proposing an "interim" relief bill with another $500 billion to make loans to small businesses and provide direct aid to hospitals, state governments, and food assistance programs.
Tips for avoiding the increasing number of scams
The National Insurance Crime Bureau (NICB) is partnering with the Cybercrime Support Network to educate online users about scams surrounding COVID-19. The organizations are seeking to inform consumers about what they need to watch out for when surfing the web, working online, or e-learning from home. 
"It all starts with educating yourself about the scams that are happening surrounding the virus, and if it sounds too good to be true it probably is," said NICB Chief Operating Officer Jim Schweitzer. "As the lockdown continues, the fraudsters will utilize the phone and the internet to try to alleviate your fear and anxiety by promising anything that will cause you to trust them with your sensitive information."  
Hackers are also being drawn to people working from home because security on home WiFi systems usually isn't as robust as on corporate networks at now-deserted offices.
Restaurants becoming grocery stores
Restaurants are reinventing themselves to face the coronavirus. No longer seating customers inside, chains like Subway and Panera have begun meeting consumers' other needs by stocking and selling popular grocery items like bread, milk, and fresh fruit.
Subway is selling the ingredients that normally go into its sandwiches so consumers can make their own sandwiches at home.
Refunds from insurance companies
Millions of Americans are leaving their cars parked as they abide by stay-at-home orders. As a result, highways have fewer cars on them and a lot fewer accidents. In one 24-hour period, both AllState and Geico announced that they are cutting premiums for their customers.
Both insurance companies are cutting rates by 15 percent -- AllState for two months and Geico for six months. Geico says the savings will average about $150 per auto policy and $30 off motorcycle policies.
Other insurance companies are expected to follow the example.
Jack Dorsey donates $1 billion 
The individual and corporate response to the pandemic continues to show stark differences from the response to the 2008 financial crisis, when consumers received little to no help. Jack Dorsey, CEO of both Twitter and Square, has announced that he will donate $1 billion of his Square stock to charities working to help people dealing with the coronavirus.
"I'm moving $1B of my Square equity (~28% of my wealth) to #startsmall LLC to fund global COVID-19 relief," Dorsey wrote in a tweet. "After we disarm this pandemic, the focus will shift to girl's health and education, and UBI." 
Dorsey said the funds will be taken from his stake in Square stock. The initial grant will send $100,000 to America's Food Fund.
Around the nation
Tennessee: State Health Commissioner Lisa Piercey reports that the state has received its first shipment of new coronavirus test machines that can render results in as few as five minutes. The first machines went into the government's public health laboratory in East Nashville. Walgreens is expected to also deploy these machines at testing locations in the state.

Oregon: Gov. Kate Brown has extended her ban on eating at restaurants and bars in the state until further notice. The ban went into effect last month and was originally expected to last for at least four weeks. Under the new order, the ban will last "until lifted by the governor." 

Virginia: A widely followed coronavirus model predicts that cases will peak in Virginia much earlier than previously forecast. The model now shows April 22 will be Virginia's deadliest day. Previously, the virus was projected to peak in late May or early June.