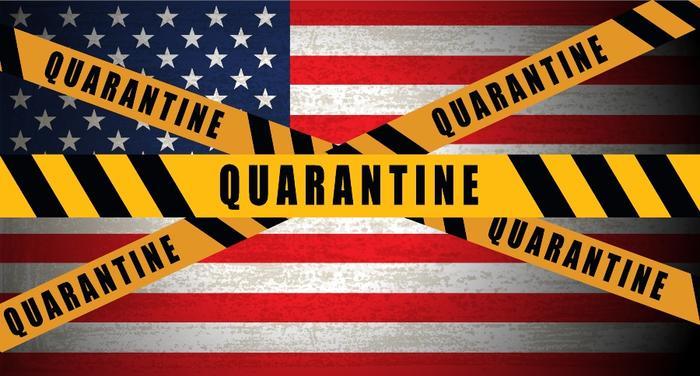 Coronavirus (COVID-19) tally as compiled by Johns Hopkins University. (Previous numbers in parentheses.)
Total U.S. confirmed cases: 972,969 (939,249)
Total U.S. deaths: 55,118 (53,934)
Total global cases: 3,002,303 (2,915,368)
Total global deaths: 208,131 (203,432)
New Jersey the new epicenter?
The coronavirus (COVID-19) pandemic nearly overwhelmed the state of New York, but a new poll from Monmouth University suggests that New Jersey has suffered a similar fate. More than 70 percent of the state's residents said the pandemic has had a "major impact" on their lives.
To back that up, 61 percent of adults said they know someone who got the disease, compared to only 26 percent throughout the U.S. New Jersey has more than 100,000 confirmed cases of COVID-19, second only to neighboring New York.
"These results should come as no surprise as they confirm what we have been seeing from other sources," said Patrick Murray, director of the independent Monmouth University Polling Institute. " New Jersey has been harder hit than most of the country. And people of color, who make up a sizable proportion of the state's diverse population, have been even harder hit overall." .
More states are relaxing restrictions on businesses
Some states are taking steps to remove tight restrictions on businesses as the number of cases of the coronavirus appear to be leveling off in the U.S. and around the world. New York, the hardest hit state, has seen the number of deaths and hospitalizations fall in recent days, though there's no talk of reopening the state.
States such as Georgia, Alaska, Oklahoma, South Carolina, Tennessee, and Texas are allowing consumers back into places of business, though not all business owners have reopened. Health officials have cautioned that reopening too early could lead to a spike in new cases, so these states may serve as a laboratory of sorts.
The Trump administration has issued guidelines that call for three phases of returning to normal, but it has left it up to individual states to determine when they should begin.
The pandemic may force Apple to delay the next iPhones
Apple may be eyeing a delayed start to production of the next generation of iPhones. The Wall Street Journal cites people familiar with the situation who say the start of production is being pushed back by about a month.
Those sources attribute the delay to two factors -- disruptions in the supply chain in Asia and an expected reduced demand for the product. Even with the delay, Apple is expected to release four new iPhones before the end of the year, some with 5G connectivity.
Focus on a vaccine
Microsoft founder Bill Gates says the non-profit foundation he operates with his wife Melinda has shifted all of its medical efforts to searching for a vaccine against COVID-19. In an interview with the Financial Times, Gates said stopping the virus is not only a health issue but an economic one.
"You're going to have economies with greatly reduced activity levels for years," Gates said. The pandemic could cost the global economy "tens of trillions of dollars." 
Gates said the foundation has been working on ways to eradicate polio, malaria, and HIV, but it has redeployed those efforts to search for a coronavirus vaccine.
The post-coronavirus workplace
As many states relax restrictions and allow people to go back to work, not everyone is likely to return to the daily commute, according to data gathered by Challenger, Gray, & Christmas, an employment firm. 
A majority of human resources (HR) executives interviewed by the firm said they plan to keep their COVID-19 plans in place for a while, with employees who can work from home doing so. In fact, Challenger predicts employees will be working from home well into next year.
"It is crucial that companies bring back their workers who have been laid off or furloughed, but it also must happen in a way that will protect them and the public, said Andrew Challenger, a senior vice president at the firm. "Employers are prepared to keep their teams working from home well into reopening, but for those who cannot, reasonable measures must be taken to protect these workers."
Around the nation
Illinois: Gov. J.B. Prizker says it's too early to know whether schools can reopen in the fall. He said teachers need to be prepared for both a return to the classroom and e-learning. Illinois schools have been closed since mid-March.

Nebraska: Gov. Pete Ricketts has announced plans to relax public health restrictions and allow a resumption of worship services, with some social distancing restrictions still in place. The Catholic Archdiocese of Omaha said Masses and other forms of public liturgy will be allowed again beginning May 4. 

Connecticut: Hospitalizations for COVID-19 dropped for a fourth straight day on Sunday. Gov. Ned Lamont said it's evidence that the state is able to "flatten the curve" of new infections.