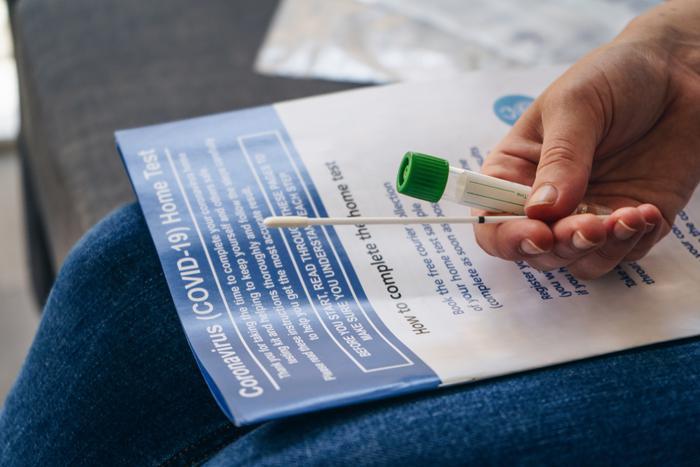 Coronavirus (COVID-19) tally as compiled by Johns Hopkins University. (Previous numbers in parentheses.)
Total U.S. confirmed cases: 16,751,562 (16,545,465)
Total U.S. deaths: 304,589 (301,264)
Total global cases: 73,696,995  (73,070,972)
Total global deaths: 1,640,867 (1,626,712)
FDA approves at-home COVID-19 test
The U.S. Food and Drug Administration (FDA) issued emergency use authorization (EUA) for the first over-the-counter (OTC) fully at-home diagnostic test for the coronavirus (COVID-19) on Tuesday. The agency approved the Ellume COVID-19 Home Test, describing it as a rapid, lateral flow antigen test. 
It's approved for use in individuals who are at least two years old. It detects fragments of proteins of the SARS-CoV-2 virus from a nasal swab sample.
"By authorizing a test for over-the-counter use, the FDA allows it to be sold in places like drug stores, where a patient can buy it, swab their nose, run the test and find out their results in as little as 20 minutes," said FDA Commissioner Dr. Stephen Hahn. 
U.S. to track the number of people who are vaccinated
Since March, the U.S. has counted the number of people who have gotten the coronavirus and the number who have died. On a more hopeful note, U.S. officials say they will keep a running count of those who have been vaccinated.
Health and Human Services Secretary (HHS) Alex Azar said the government is in the process of establishing an online dashboard that will track U.S. vaccinations, telling CNN "so we know exactly how we're doing on getting shots in arms."
Azar said health officials hope to have at least 20 million Americans vaccinated by the end of the month.
California stocks up on body bags
As the death count from the virus grows at a faster pace, California officials have purchased 5,000 body bags to help deal with the rising death toll. They're also acquiring 60 refrigerated trucks to store the bodies.
That sobering news comes as Pfizer has rolled out its vaccine against the virus and the Moderna vaccine may be days away from temporary approval. Both have been shown to be highly effective against the virus.
"There is light at the end of the tunnel, but we're still in the tunnel," Gov. Gavin Newsom said at a news conference. "And that means we're going through perhaps the most intense and urgent moment since the beginning of this pandemic."
Consumers spending less heading into holidays
Predictions that the pandemic would cause consumers to spend less on the holidays this year appear to be coming true. The government reports that retail sales dropped 1.1 percent in November, the first decline in seven months.
For starters, it's a very different holiday shopping season this year. Some consumers are leery of crowding into stores and have moved a lot of their purchases online. At the same time, widespread unemployment has made it impossible for many people to shop like they had in previous years.
Clothing retailers were the biggest losers last month, with sales down 6.8 percent from October. Restaurants and bars were also hard-hit because many were forced to close or curtail operations as cases of the virus mounted during the month.
Tom Cruise enforcing mitigation rules on movie set
While there are a lot of people who don't take virus mitigation measures seriously, actor Tom Cruise is not one of them. In leaked audio from the set of the latest "Mission Impossible" film, Cruise can be heard yelling at crew members who he believed were ignoring safety rules.
Two crew members were reportedly standing side by side, less than six feet from one another. "If I see you doing it again, you're (expletive) gone," he can be heard yelling.
Cruise was reportedly angry because he had gone to great pains to assure authorities that movie production could safely resume because crews would observe strict safety protocols, including wearing masks and maintaining a safe social distance.
Around the nation
Florida: The vaccine rollout isn't going smoothly everywhere. Gov. Ron DeSantis says his state is experiencing a delay in hundreds of thousands of doses of the Pfizer vaccine. "We're just going to have to wait," he said. "We don't know if we're going to get any or not."

Minnesota: The state legislature has approved a $242 million stimulus to help individuals and businesses affected economically by the pandemic. The unemployed will have benefits extended by 13 weeks. Bars, hotels, restaurants, and gyms will get direct support payments.

Colorado: Even with the surge in COVID-19 cases, state education officials are working on a plan to get students back in the classroom. "We know that what has been occurring this past semester simply hasn't worked for too many kids," said Gov. Jared Polis.